Getting to Tottenham Hotspur Stadium
Due to industrial action on Saturday 8 October, significantly reduced services on all national rail routes are expected. Services on Sunday 9 October may start later and some cancellations may occur before midday. Please check your route before you travel as national rail service may be affected however, there is currently no planned works or industrial action on the London Tube service, so we advise fans to use the Victoria line where possible.
Tottenham Hotspur Stadium is accessible by multiple transport networks. We recommend you plan your journey in advance and check before you travel.
White Hart Lane Station - 5 min walk, London Overground
Northumberland Park Station - 10 min walk, National Rail
Tottenham Hale Station - 25 min walk, London Underground Victoria line, National Rail
Seven Sisters Station - 30 min walk, London Underground Victoria line, London Overground
We advise that you keep up to date with local travel information at the Transport for London website tfl.gov.uk
We have partnered with National Express to offer fans coach services directly to Tottenham Hotspur Stadium. As the nation's Number 1 coach company, National Express run dedicated services from across the UK, and coaches will be there ready to take you home so you can soak up every minute of the occasion. Visit the 'Event Travel' section of the National Express website for more information.
We advise you do not travel to the venue via car. Local road closures will be in place around the Stadium on Gameday.
For alternative options please visit tottenhamhotspur.com and go to the 'Getting Here' pages for more detailed information.
Respect our NeighboursPlease ensure you use one of our many toilets located across the stadium campus before heading home. Should you require use of a toilet after leaving the stadium, the Club has installed public toilet blocks throughout the local area where we have identified a need.
Public toilets are available at the following locations:· Park Lane Close
· Tottenham Green
· Whitehall Street
· Willoughby Lane
· Tottenham Hale Station
· Seven Sisters Station
As you are arriving at or leaving the stadium, please be considerate to our neighbours. Information on our recycling bins located around the stadium will help ensure you correctly dispose of your waste.
COVID-19 regulations are based on current government guidelines. Should there be a change in policy prior to the Games in October, we may need to adapt our COVID-19 regulations or cancel tickets and issue refunds to meet new directives. All ticketholders must adhere to government guidelines at the time of the Game otherwise entry to the Stadium will be refused.
There will be no paper tickets dispatched for the 2022 NFL London Games at Tottenham Hotspur Stadium. All tickets will be digital and every fan attending will need to have their own ticket downloaded and saved to their smartphone. Emails with links to download tickets will be sent approximately 7 days prior to Gameday. For further information on how to forward tickets to friends and how to use your digital ticket on Gameday, please visit NFL.com/LondonGamesDigitalTicketFAQs
If you have any issues on Gameday, there will be plenty of stewards on hand to assist. Alternatively, you can visit the Ticket Office, located at the North West corner of the Stadium on Paxton Terrace.
A ticket is required for each person, regardless of age (including babies in arms). If you have a child under 18 months of age who you wish to bring to the Game, please visit the ticket office on Gameday to collect a ticket for your child (free of charge).
Please note, babies will need to sit on their parents' lap and will not be allocated a seat.
Pre-Game warmups will begin 40 minutes before kickoff, so we advise all fans to be in their seats for this time. Enhanced security checks will be in place so please arrive early to ensure you have sufficient time to enter the Stadium.
You are spoiled for choice when it comes to food and drink at the 2022 NFL London Games! With a variety of American-style refreshments in and around the Stadium, alongside an array of eclectic offerings from the local area, there is something to suit everyone.
Visit the NFL Shop at Tottenham Hotspur Stadium from Saturday 1st October through to Sunday 9th October for a range of exclusive activities, as well as the largest range of NFL products outside of America.  For opening times and more information on the NFL Shop offerings and events, click here
The NFL Store at Tottenham Hotspur Stadium will be open on Gameday from 9am until 9pm. Click and Collect will be available via the NFL One Pass app.
Tottenham Hotspur Stadium is a fully cashless Stadium which means no cash will be accepted for any purchase made within the Stadium and its surrounding campus. All payments can be made using the following methods:
All major contactless debit and credit cards, with chip and pin applying for purchases over £45. The payment limit is £100.
Mobile and wearable payments are available. These methods support high-value contactless payments.
Download or update NFL One Pass now, available from the App Store and Play Store, and have all the important Gameday information right in your pocket. Download and register for 2022 now... Head to nfl.com/ukonepass for more.
Security screening at Tottenham Hotspur Stadium will be significantly heightened for the NFL London Games. All items carried by spectators and staff will be carefully inspected and we will be adhered to the NFL's Clear Bag Policy. Security enhancements including metal detectors will be in place for this year's Games so please arrive early.
The following list is a guide only. Security reserve the right to prohibit additional items at their discretion.
Air horns or aerosol cans
Alcohol (unless purchased at an NFL venue)
Animals (except service animals)
Banners, signs (any object that obstructs the view of others)
Beach balls or inflatable devices (balloons)
Beverages (unless purchased at an NFL venue) Beverage containers, cans, thermoses, glass receptacles, and cups (unless purchased at an NFL venue)
Empty, transparent, reusable plastic water bottles up to and including 1 liter are permitted, whether purchased onsite or not
Drones/unmanned aircraft systems (UAS)
Food and Drinks (unless purchased at an NFL venue)
Footballs; inflated balls of any type
*Deflated footballs purchased on game day at an NFL venue will be permitted
Fireworks, explosives, ammunition, flares, or pyrotechnics of any kind
Frisbees and other similar items
llegal substances, drugs, and drug paraphernalia
Laptop computers and laptop sleeves
Laser lights and pointers
Mace / pepper spray / chemical irritants
Motorbike helmets
Motorized scooters, skateboards, hoverboards, or other self-propelled items (unless medically necessary and tagged at a gate designated for this purpose)
Musical instruments not used in sanctioned performances (e.g. trumpets, drums)
Noisemakers, horns, and whistles
Poles, sticks, Selfie sticks, missilelike objects of any kind
Strollers, prams, or pushchairs (unless medically necessary and tagged at a gate designated for this purpose)
Tripods
Umbrellas – fixed-shaft umbrellas of any size are prohibited
Collapsible umbrellas measuring less than 24" (61cm) are permitted but may not be opened within the stadium
NFL Store Clear Bag Policy
For increased safety and security, the NFL Store will be adhering to a Clear Bag Policy. If you intend to enter the Stadium after making a purchase, your NFL Shop bag must be sealed by the cashiers and remain sealed and untampered with until you are through the security checkpoints.
A clear bag policy (along with security screenings) will be in place at all NFL London Games, to provide a safe environment for all our fans. All clear bags entering the stadium must be no larger than 12"x6"x12" and will be inspected closely by security upon entry to the stadium, possibly along with a pat down. The NFL reserves the right to refuse entry of certain items into the stadium if security believes they are inappropriate.
All guests and staff are prohibited from bringing any bag into the stadium that does not follow the NFL regulations.
For more information see nfl.com/ukclearbagpolicy. Despite the stadium Bag Policy, Tottenham Hotspur and the NFL understand that some supporters will need to bring bags that do not meet these requirements into the stadium for medical reasons. In order to do so, an exemption certificate will be required. If you require a medical exemption please contact the Access Team at access@tottenhamhotspur.com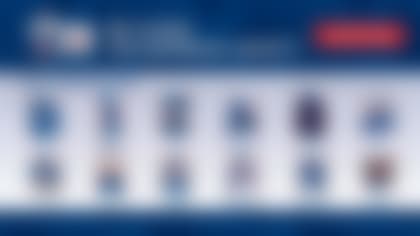 Small cameras and binoculars will be allowed. No spectator cameras with lenses more than six inches (6") long will be permitted. Camcorders will be prohibited, except for credentialed media. Binocular cases and camera bags must comply with the NFL bag policy. For the NFL's full prohibited item list please visit NFL.com/ukclearbagpolicy
Register now at nfl.com to receive exclusive content and special offers straight to your inbox
Tottenham Hotspur Stadium is a non-smoking venue. Smoking (including the smoking of electronic and vapor cigarettes) is not permitted anywhere within the stadium.
Alcohol will be sold at authorised concession stands within the Stadium. Guests must be 18+, and in possession of a valid government issued ID to purchase, handle and consume alcohol.
Please note the Stadium operates a 'Challenge 25' policy.
The Sensory Suite is located in the North Stand, block 416, and offers a comfortable and calming environment for supporters on the autistic spectrum or with sensory impairments to watch a match, complete with a tactile wall, a bubble tube and several other pieces of sensory equipment. For more information please contact the Access Team at access@tottenhamhotspur.com
Accessible toilets are available and accessed with RADAR keys.
Budweiser, Tottenham Hotspur Stadium and the NFL want to remind adult fans to drink responsibly on Gameday and respect the other fans. Excessive consumption of alcohol is prohibited (max 4 alcoholic beverages per purchase). Drunk or disorderly behaviour, or violation of any alcohol policy, will result in immediate ejection from the Stadium, without a refund (violators may be subject to arrest dependent on the situation).
To report anti-social behaviour; text NFL followed by the relevant ISSUE, BLOCK, and ROW to 07537 404821
Stadium Management and the NFL reserve the right to change policies and procedures at any time without notice.