NFL OnePass - your ultimate Gameday Guide!
Download NFL OnePass now – your ultimate Gameday Guide. Have all the important Gameday information in your pocket and get exclusive access to NFL activities on Gameday. Find out more at NFL.com/ukonepass or download directly from the App Store or Play Store. If you already have the app, make sure you update it before heading to the game and register for the 2021 NFL London Games using the 'register' button in-app.
Getting to Tottenham Hotspur Stadium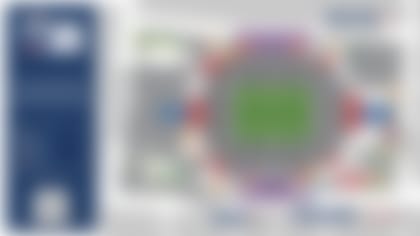 Please click on the below link to view the map as a PDF.
Tottenham Hotspur Stadium is accessible by multiple transport networks. We recommend you plan your journey in advance and check before you travel.
White Hart Lane Station – 5 min walk, London Overground
Northumberland Park Station – 10 min walk, National Rail
Tottenham Hale Station – 25 min walk, London Underground, Victoria line, National Rail
Seven Sisters Station – 30 min walk, London Underground, Victoria line, London Overground
We advise that you keep up to date with local travel information at the Transport for London website tfl.gov.uk
We have partnered with National Express to offer fans coach services directly to Tottenham Hotspur Stadium. As the nation's Number 1 coach company, National Express are running dedicated services from across the UK, and coaches will be there ready to take you home so you can soak up every minute of the occasion. Click here to book.
We advise you do not travel to the venue via car. Local road closures will be in place around the stadium on Gameday.
Click here for the latest and most up-to-date travel news so you can plan your journey.
These COVID-19 regulations are based on current government guidelines. Should there be a change in policy prior to the games in October, we may need to adapt our COVID-19 regulations or cancel tickets and issue refunds to meet new directives. All ticketholders must adhere to NFL and Government Covid/Vaccine/Testing guidelines at the time of the Game otherwise entry to the Stadium will be refused.
You will be asked on arrival to show either proof of a double vaccination via your NHS Covid Pass within the NHS app or proof of a negative PCR or rapid Lateral Flow Test (LFT) taken no more than 48 Hours before kick-off.
If you have not downloaded the NHS app previously (available to download from the Apple Store or Play Store on your smartphone), you will need to log in to your NHS account to set up your NHS Covid Pass. We highly recommend that you do this in advance of your arrival (available to download from the Apple Store or Play Store on your smartphone) and have it ready upon entry for quicker access.
For more information, see our COVID-19 FAQs here.
To coincide with Government Covid-19 advice regarding 'contactless where possible,' there will be no paper tickets dispatched for the 2021 NFL London Games. All tickets at Tottenham Hotspur Stadium will be digital and every fan attending will need to have their own ticket downloaded and saved to their smartphone. Emails with links to download tickets will be sent approximately 7 days prior to gameday. For further information on how to forward tickets to friends and how to use your digital ticket on gameday, please click here.
If you have any issues on Gameday, there will be plenty of stewards on hand to assist. Alternatively, you can visit the ticket office, located at the North West corner of the stadium on Paxton Terrace.
A ticket is required for each person, regardless of age (including babies in arms). If you have a child under 18 months of age who you wish to bring to the game, please visit the ticket office on Gameday to collect a ticket for your child (free of charge).
Please note: babies will need to sit on their parents' lap and will not be allocated a seat.
Pre-game warmups will begin 40 minutes before kickoff, so we advise all fans to be in their seats for this time. Enhanced security checks will be in place so please arrive early to ensure you have sufficient time to enter the stadium.
You are spoiled for choice when it comes to food and drink at the 2021 NFL London Games! With a variety of American-style refreshments in and around the Stadium, alongside an array of eclectic offerings from the local area, there is something to suit everyone. Check out what is on offer here.
Be sure to visit the NFL Store at Tottenham Hotspur Stadium on Gameday, open from 9am to 8pm, featuring an array of merchandise from all 32 teams. There is plenty going on at the NFL Store ahead of the games too, click here for more information.
There are an array of activities taking place outside the Stadium on Gameday – make sure you have downloaded NFL OnePass as this is the only way to access the activities! You can enjoy:
cinch Snap and Score - The perfect addition to your Gameday, pick up a FREE foam finger from cinch ahead of the Game
Valspar Cornhole Challenge - A US classic comes to Tottenham! Join in with the cornhole challenge and pick up some giveaways, including the fan-favourite eye blacks, from Valspar
Pepsi Recycling Throwdown - Grab a can and show your allegiance to a team with this fun throwing game, presented by Pepsi
NFL Mini Pitch
Hosted by Sky Sports Neil Reynolds, head to the NFL Mini Pitch for alumni interviews and some activities to get stuck in to
NFL Store Clear Bag Policy
For increased safety and security, the NFL Store will be adhering to a Clear Bag Policy. If you intend to enter the stadium after making a purchase, your NFL Shop bag must be sealed by the cashiers and remain sealed and untampered with until you are through the security checkpoints.
Tottenham Hotspur Stadium is a fully cashless stadium which means no cash will be accepted for any purchase made within the stadium and its surrounding campus. All payments can be made using the following methods:
All major contactless debit and credit cards, with chip and pin applying for purchases over £45
Mobile and wearable payments are available. These methods support high value contactless payments.
Security screening at Tottenham Hotspur Stadium will be significantly heightened for the NFL London Games. All items carried by spectators and staff will be carefully inspected and we will be adhered to the NFL's Clear Bag Policy. Security enhancements including metal detectors will be in place for this year's games so please arrive early.
For more information relating to our Clear Bag Policy and Prohibited items, please click here.
Tottenham Hotspur Stadium is a non-smoking venue. Smoking (including electronic and vapour cigarettes) is not permitted anywhere within the stadium.
Alcohol will be sold at authorised concession stands within the stadium. Guests must be 18+, and in possession of a valid government issued ID to purchase, handle and consume alcohol.
Please note the stadium operates a 'Challenge 25' policy.
Budweiser, Tottenham Hotspur Stadium and the NFL want to remind adult fans to drink responsibly on Gameday and respect the other fans. Excessive consumption of alcohol is prohibited (max 4 alcoholic beverages per purchase). Drunk or disorderly behaviour, or violation of any alcohol policy, will result in immediate ejection from the stadium, without a refund (violators may be subject to arrest dependent on the situation).
To report anti-social behaviour; text NFL followed by the relevant ISSUE, BLOCK, and ROW to 07537 404821
Stadium Management and the NFL reserve the right to change policies and procedures at any time without notice.