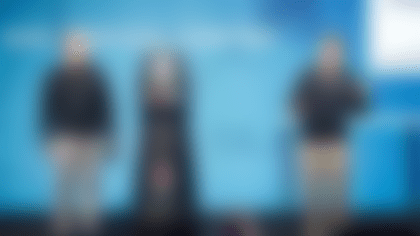 One-by-one, each finalist took the stage to compete in front of a live audience and a panel of judges, including two former astronauts, current and former NFL players, venture capitalists and a neurological surgeon. Judges peppered the finalists with questions about the potential impact of their inventions and their future plans.
At the end of the competition, the judges convened and chose winners in each category. Each winner was awarded tickets to Super Bowl LI and $50,000 from the NFL, which will be used to continue their innovative work, and a spot in the Texas Medical Center Accelerator (TMCx) from TMC:
1. Communicating with the Athlete: GoRout (Rochester, Minnesota)
GoRout created on-field wearable technology designed to streamline the communication between football coaches and players by allowing players to receive digital play diagrams and data from coaches on the sideline.
Mobile Virtual Player (MVP) is a self-righting, remote-controlled mobile training device designed to allow coaches to teach and train players effectively while reducing player-to-player contact.
3. Materials to Protect the Athlete: Windpact (Leesburg, Virginia)
Windpact developed the Crash Cloud padding system that uses air and foam designed to absorb and disperse impact energy to try to improve the performance of helmets and protective gear.
From the Lab to the Field
The winning pitches shared a common theme: demonstrating potential to translate research findings from the lab into meaningful outcomes for athletes.
"I think what captivated the judges and grabbed our interest are translational ideas," said Jeff Miller, NFL Executive Vice President of Health and Safety Initiatives. "If the league can help stimulate some of those changes, we're going to see the future faster."
Mike Rolih, owner and founder of GoRout, said winning in the "Communicating with the Athlete" category was a major milestone for his company.
"Being a young start-up, you're always looking for traction. You're always looking for the opportunity to take another step forward," he said. "The experience we've had over the last few days with the NFL, with TMCx, has been absolutely amazing."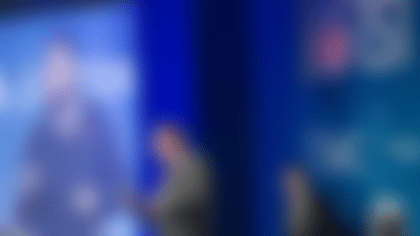 A Pro-Bowler and a Car Seat
Shawn Springs, who played 13 seasons in the NFL, was back under the lights to pitch for his winning company, Windpact.
"This is important to me because not only am I an entrepreneur in my post career after football," Springs said, "but playing the sport I loved so much and so many valuable lessons I learned from high school, college to the NFL, to be able to get on stage in front of executives and show them and support my effort to advance the game—I'm just excited."
It was a car accident that convinced him to get involved in safety technology.
Springs was driving home with his young sons after a visit to his grandmother in Virginia. "At about 10:30 at night we collided with a parked car in the middle of the highway," he said during a 2015 TED Talk.
No one in the car was injured but for "minor bumps and bruises," Springs said. "I saw the car seat that my five-year-old son was in, and I was just amazed that he could survive a major car crash like that."
"How could I possibly use this technology in this car seat that saved my son?" Springs said. "Could this possibly be applied to football?"
Inspired, Springs pulled together a team of engineers that designed the Windpact Crash Cloud padding system.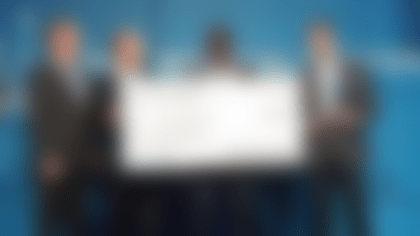 Engineering Meets Athletics
Research engineer John Currier was part of another winning team at this year's competition.
Currier and college classmate Buddy Teevens, head coach for Dartmouth's football program, teamed up with Dartmouth engineering students to develop the Mobile Virtual Player—a self-righting, remote-controlled mobile training device, and winner of this year's "Training the Athlete" category.
"We think this is a great example of how, at Dartmouth, we brought together the academics in the engineering world and the athletic world, and made something that we think can really push the game ahead," Currier said.
How Open Innovation Drives Progress
NFL Commissioner Roger Goodell and GE Chairman and CEO Jeff Immelt kicked off this year's event with a discussion on advancing technology in the market through industry partnerships and innovation challenges like 1st and Future.
In 2013, GE and the NFL teamed up for the Head Health Initiative, a four-year, $60 million collaboration to accelerate diagnosis and improve treatment for traumatic brain injury.
As part of the Head Health Initiative, GE and the NFL launched a series of open innovation challenges and offered grants of up to $20 million to winning scientists, academics, experts and entrepreneurs worldwide. More than 1,000 applicants submitted ideas through the three innovation challenges, resulting in innovations in equipment and technology like new diagnostic tools, advanced materials, and helmet and turf technologies designed to absorb impact.
"We're in this not just to make a few people healthy; we're in this to make the world healthier," Goodell said. "I think we're on to something."