The big NFL season finale headlined by the New England Patriots and the Los Angeles Rams wasn't the only exciting event to unfold over Super Bowl LIII weekend.
The day before the game $150,000 in funding was on the line at 1st and Future, the NFL's annual start-up competition designed to spur innovation in player health, safety and performance.
Nine finalists from across the country took the stage at Georgia Tech's Ferst Center for the Arts in Atlanta to pitch game-changing technologies seeking to better protect athletes and propose new rules changes designed to improve the punt play.
While judges deliberated on the winning pitches, NFL Network's Scott Hanson moderated a panel discussion with NFL Commissioner Roger Goodell, Atlanta Falcons President and CEO and NFL Competition Committee Chairman Rich McKay, and Arizona Cardinals Wide Receiver Larry Fitzgerald on leveraging technology and data to improve the game.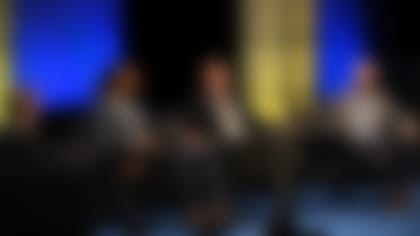 A Groundbreaking New Effort
Discussing the NFL's decision to crowdsource new ideas to improve player safety on punt plays, Commissioner Goodell said, "Well, it's very simple, there's a higher injury rate on the punt play."
"So, our focus was, how do we bring innovation in to make the play safer, but also more exciting," he added.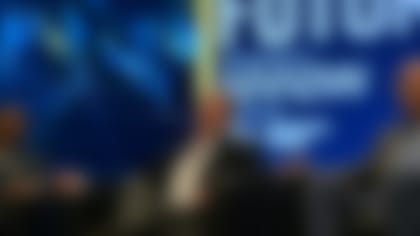 Of the 150 proposals submitted this year, two winning pitches stood out for their innovative thinking on data-driven rule changes.
Alex Wainger, a data engineer from New York City, proposed removing a 45-year-old rule that holds the kicking team on the line of scrimmage until the punt. Halla Yang, a financial analyst from Chicago, proposed three new changes: awarding a five-yard bonus on a fair catch, changing the allowed coverage on receptions, and requiring helmet sensors that can directly monitor physical deceleration. Both pitches projected fewer injuries, while also ensuring the play would be preserved.
Next, the punt play proposals will be presented to the NFL's Competition Committee for possible adoption.
"We used to make rule changes based on tape, plays and some statistics. Now, it's much more sophisticated," Rich McKay said.
"We get injury data and player tracking data – and we get engineers to look at it and give us a lot more in-depth analysis," he said.
"The idea that you can take the data we have and give it to people who know how to use artificial intelligence is really cool, and we're 100 percent in favor of it," he added.
Data-Driven Improvements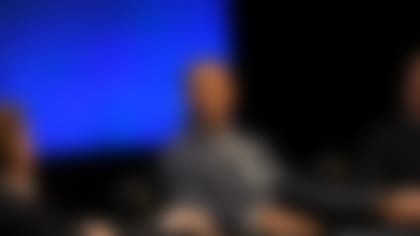 The NFL's commitment to leveraging data has already made a big difference on the field.
Before the 2018 season, a comprehensive injury data and video review showed that kickoff represented only six percent of plays but 12 percent of concussions. As a result, NFL clubs approved significant modifications to the kickoff play.
Those changes helped drive a 29 percent decrease in concussions this year.
"The changes we made on the kickoff gave us the outcomes we thought they would – and I think that's because the process has gotten so much better," said McKay.
Goodell emphasized that the kickoff rules weren't the only data-driven changes that sought to help improve player safety this year.
More data and research about helmet performance is available than ever before, and players are using those resources to choose protective equipment with better technology.
"33 percent of the league moved to higher performing helmets, and I think that had a huge impact," Goodell said.
Larry Fitzgerald, Arizona Cardinals star Wide Receiver, agreed with Goodell's assessment, and offered his perspective as a current player.
The "Culture Change"
Since 2002 alone, the NFL has made 50 rules changes intended to improve protections for players – but a larger cultural shift among players is also driving positive change.
"The game has changed a great deal and I really appreciate players taking ownership and wanting to make the game safer," Fitzgerald said.
"Back in the day, you'd see a guy who was struggling, and you probably wouldn't have said anything. Now, we take responsibility when we see something isn't right. I think guys know and understand that [the league] is looking out for their best interests, there's no negative stigma to speaking up," he said.
Goodell emphasized the importance of Fitzgerald's comment, noting that it speaks to a broader culture change around the sport.
"Everyone is collectively trying to make the game better," Fitzgerald said.