The Middies are The Checkdown's midseason awards for the best pop culture x football moments of Week 1 thru 9.
Most Missed Missing Bicycle
We have all been in that hopeless situation when our bike is stolen, well, JuJu Smith-Schuster has now joined the club. For over a day, Smith-Schuster's bike was playing hide and seek, luckily, he had a lot of people looking for the bike. Fortunately, this story has a happy ending, with Smith-Schuster being reunited with his beloved bike.--Daniel Greco
We were very impressed with the kitten, a girl named Rae, who sprinted along the sidelines during the Dolphins-Ravens game on Thursday Night Football. After talking over Rae's performance with league sources, we were able to share Rae's draft profile.
Outstanding speed and cuteness. Plays with sideline awareness and shows ability to drop feet in-bounds on boundary catches. Tremendous vertical leap and consistently lands on feet to prevent injury. Plays to her size. Requires very little supervision; a strong sense of self since birth. Excellent ball tracker with ability to search, find, and follow, particularly if ball is laced with catnip (not technically against the rules). Off-the-field behavior shows loyalty and pride; would likely be especially effective on home field. Takes care of body with a consistent cleaning, diet, and sleep schedule. Is not a human person.
Does not possess opposable thumbs necessary for most NFL catches. Limited reach, relies on all four limbs to catch the ball. Lack of size is a concern. Lack of discipline and focus; has been known to only play when she feels like it. Reportedly very lazy and may not have consistent competitive drive. Doesn't play well with others. Poor written communication skills; verbal communication frequently obtuse. Often rubs people the wrong way. Is not a human person.
Jeremy Meowclin, Purrier Garfield, Samaje Feline, Doug Pawldwin, Breshad Purriman, Antonio Meown, Darrius Heyward-Spaye --Grant Pardee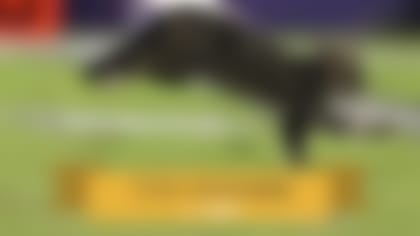 The lock was found and posted on eBay, where bids reached as high as $11,000 before eBay took the listing down.
Most Adorable Family Member
Family is everything, and J.J. Watt's great grandmother is his biggest fan. Not only does she root for her great grandson, but she even has her own Houston Texans jersey with Watt's number on the back. In September, she celebrated her 100th birthday, but age is just a number, right? --Daniel Greco
Most Cost Effective Vehicle
You may expect to see nothing but Ferraris, Lamborghinis, and Rolls-Royces in NFL team parking lots. That's partially true, you will see exotic and luxury rides, but you'll also see some cars that will surprise you. In the Dallas Cowboys' lot there is a one-of-a-kind Bentley that isn't worth six figures, but it passed the 100,000-mile mark a long time ago. The 1991 Mazda 626 sedan a.k.a. "Bentley" belongs to Pro Bowl running back Alfred Morris. The NFL veteran signed a $5.5 million contract last year, but still drives the car he bought from his pastor for $2 while attending Florida Atlantic.
"It just keeps me grounded, where I came from and all the hard work for me to get to this point," said Morris back in 2012.
Several years later, Bentley is still going strong thanks to Mazda refurbishing the car in 2013. --Ralph Warner