Yet as Manning stood in front of a ballroom full of the NFL's best players (30 of whom, as he pointed out, are at the game for the first time), Manning wasn't just being funny during this welcome meeting. He also had a very sharp message.
"The past two years, the play in this game has been unacceptable," Manning said. "If it was a walkthrough, your coach would say it was a bad walkthrough. And that's why (the league) could try to cancel this game."
When practices begin Wednesday, there is expected to be a very different tone, especially emanating from the AFC's team, in the wake of much public discourse about the future of the NFL's all-star game.
Commissioner Roger Goodell has made it clear that the current quality of the game doesn't meet the league's standard, and a rewarding week enjoyed by the NFL's best players is in jeopardy. The players now recognize there's one way to fix this.
"It's simple," Broncos cornerback Champ Bailey told NFL.com. "Just play hard. Like you do on a Sunday. If you do that, the rest will take care of itself."
Whether that's enough to truly save this game (and, perhaps as importantly, this event) remains to be seen. But if ever there was a year in which the right formula to save the Pro Bowl was in place, this is it.
Fox and Manning met over beers Sunday evening, with NFC quarterback Eli Manning also present, to discuss their intent to take things up a notch (or three) during practices. And since both men are very capable of balancing a good time with some hard work, they very well might be the right people to pull this off.
Bailey, for one, was glad Manning also addressed it with both the AFC and the NFC present in the ballroom Tuesday, setting an expectation for the week.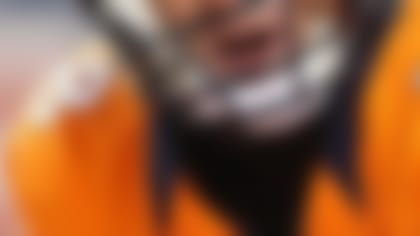 Peyton Manning showed he can sling zingers and footballs equally well on Tuesday. NFL.com has the highlights. More ...
"(Manning's talk) meant a lot because I think we do get over here and get relaxed," Bailey said. "The sense of urgency leading up to the game isn't there. It takes something like that to get you going, to understand the importance of it. I get it. We should play hard."
While some fans might continue to dismiss this rallying cry as a pointless effort to keep alive a game that doesn't satisfy the masses, this is much more about an internal desire among players to sustain a tradition that's important to some veterans, like Manning.
As Manning noted during his speech, his weeks at the Pro Bowl have afforded him the chance to play with seven players already in the Hall of Fame and six coaches who have won Super Bowls, all of which has benefitted him in his career.
"Peyton said it best," Bailey said. "The players who have played in this game are in the Hall of Fame. If they get rid of this game, guys are going to miss out. You won't even know who you played against because you never get a chance to meet them. It's good for that reason and many others."
Maybe it's a good thing many of these faces are new to this game, because the quality of play last year truly was terrible, as many players agreed.
So without question, the tone has been set. Will it matter? Will it be enough to convince Goodell to keep the game in Hawaii for years to come? We'll see. But if this indeed is the last Pro Bowl, these players plan on making it a good one.
"It's a really nice atmosphere, and it's great for relaxing," Bailey said. "But you've got to understand why you're here, and I think guys have gotten away from that, for whatever reason.
"We've got to get back to the way it should be."