Laboratory Testing to Assess Helmet Performance
The results of the laboratory tests are displayed on a poster and shared with NFL players, club equipment managers, and club medical, training and coaching staffs.
"Each helmet is ranked and the poster is in clear sight in the locker room. It's something you walk past every day," San Francisco 49ers Fullback Kyle Juszczyk said.
"The league also plays a video for us – so it's something we're all aware of," he said.
Sharing this research is part of the NFL's safety initiative to help get players into better performing helmets.
Working with Players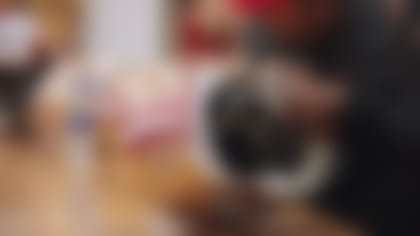 Players like Juszczyk work closely with equipment managers to discuss options and choose protective equipment that strikes the right balance of performance, fit and feel.
"Every player has different needs," Juszczyk said.
"Guys take it seriously when choosing the best helmet, shoulder pads and cleats," he said.
After sustaining a concussion during the 2017 season, Juszczyk had a long conversation with his equipment manager about his helmet choices.
"The equipment staff is very knowledgeable when it comes to all this data and research," he said. "It's important to have that dialogue."
This season, Juszczyk is wearing a new custom helmet.
"They brought in a 3D scanner and it fits specifically to me – I don't have to put air in it or change out the ear," he said.
"I feel like the best technology is available to us."
Using Data to Make Smart Choices
Sharing information, Juszczyk emphasizes, is critical to helping players make informed helmet choices.
"It's important for this to be research based," Juszczyk said.
"You want hard data and the best doctors in the world testing these things so that you have the right equipment you can trust," he said.
"If you feel like you have the best information and made the best decision it gives you a sense of [confidence] going into the game," he said.
Working to Improve the Game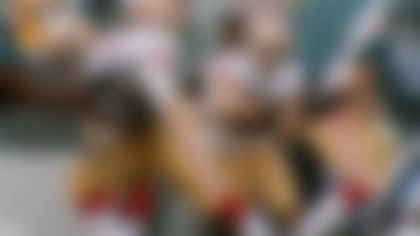 Juszczyk says he hopes the league's efforts aimed at making football safer can help move the game forward.
"Injuries are a part of football, but at the same time, whatever you can do to minimize those injuries is important," Juszczyk said.
"Changing techniques, new equipment, rules changes – these are all things that [players] are willing to work with to find that healthy balance to improve this game," he said.
"Myself and my teammates want this game to last – and being aware of safety is extremely important to keep the game going," he said.