Research with Crash-Test Dummies
Simulating player impacts with modified crash-test dummies—like those used in automotive testing—is helping some of the world's leading engineers, designers and material scientists understand how concussion-causing injuries happen on the football field.
Biomechanical experts are measuring impacts with special sensors implanted on the dummies and capturing images of the dummies' motions with high resolution motion cameras.
Dr. Jeff Crandall leads the effort to gather this data. He is Director of The Center for Applied Biomechanics at The University of Virginia and Chairman of the NFL Engineering Committee.
"We're going to use the data from these tests to design better laboratory experiments," he said. "We want to understand the motions, the forces and the accelerations that occur during a game so we can recreate them in the laboratory."
Video Review of Player Impacts
In 2017, these experts compiled data by analyzing video of all 459 reported concussions sustained in NFL games during the 2015 and 2016 seasons. The team reviewed concussion-causing impacts to examine various factors such as the angles at which collisions occur and how they vary by position.
Dr. Crandall's team shares the data with engineers, manufacturers and entrepreneurs working to refine and target helmet design.
"Given that players experience different types of impacts depending on their position, what we'd ultimately like to do is have helmets that are designed specifically for each position," Dr. Crandall said.
"A more advanced helmet would be more optimized for the types of impacts that a player would experience on the field and would reduce the severity of those impacts in a game," he said.
Crowdsourcing Expertise
Dr. Crandall's data-gathering efforts are a key component of the NFL's Engineering Roadmap—a commitment of $60 million over five years to better understand the causes of injuries on field and to spur innovation in the development of protective equipment, including helmets.
The Engineering Roadmap is spearheaded by Football Research Incorporated (FRI), a nonprofit corporation created and funded by the NFL. FRI is directed by leading engineers and other experts with the common goal to understand and advance player protection.
With every development, the NFL and FRI – in conjunction with the NFLPA – have made all the data and research publicly available.
"The goal of crowdsourcing the data is that we can get the leading academics, engineers, designers and material scientists to all tackle the problem from different perspectives," Dr. Crandall said.
Sharing Data to Drive Innovation
Developing FE models for football helmets is one of many ways data is stimulating innovation in protective equipment.
FE models are computational tools developed by breaking an object down into simpler parts (finite elements) and assembling them into a larger system of equations to model an entire structure—this facilitates the efficient analysis of design changes to that structure. FE models have been used to improve designs in many engineered products, including those in the aeronautics and automotive industries.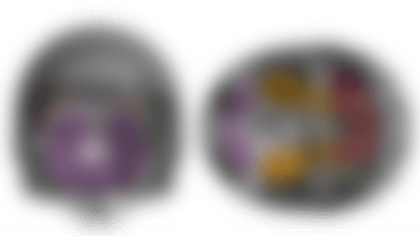 Under the Engineering Roadmap, Biocore and FRI—with funding support provided by the NFL— collaborated with partners at the University of Virginia, Wake Forest University School of Medicine, KTH Royal Institute of Technology, and the University of Waterloo to develop open-source finite element (FE) models of four modern football helmets.
The computational models are designed to help predict how a product will react to real-world forces such as a helmet-to-helmet impact, helmet-to-ground impact or helmet-to-shoulder impact.
The models are publicly available online to manufacturers, designers, innovators, entrepreneurs, universities, and others working to develop effective, novel helmet designs to enhance athlete health and safety.
HeadHealthTECH Challenges
The work to share data and improve protective equipment is closely associated with another component of the Engineering Roadmap: the HeadHealthTECH Challenges. Through the TECH Challenge series, FRI solicit proposals for improvements in protective equipment.
The NFL and FRI partnered with Duke University's Clinical and Translational Science Institute to create the TECH Challenges—which aim to deepen understanding of and advance solutions in the areas of head protection, materials science and kinematic measurement, among others.
In addition to potential access to funding, all applicants receive constructive feedback from Duke CTSI biomechanical experts to help refine innovations and increase chances for success on future submissions.
Thus far, the NFL and FRI have awarded grants totaling more than $1.6 million to 13 winners to support product development for innovative protective equipment concepts.
HeadHealthTECH Winners
Winners included VyaTek Sports for its highly efficient energy-absorbing Zorbz technology and Guardian Innovations for its Guardian Cap technology—a soft helmet cover designed to reduce the severity of impacts.
Winners included 2ND Skull, to research the effectiveness of its 2nd Skull® skull cap in reducing impact forces and developing a second-generation version; Baytech Products, for its prototype HitGard® multicomponent helmet system concept; and Windpact, for its Crash Cloud™, an impact liner system using restricted air flow and foam in helmets and protective gear.
Winners included Impressio, Inc. to support development and testing of its ultra-dissipative padding made from liquid-crystal elastomers; HRL Laboratories, LLC to support development and testing of its novel impact-attenuating pads for football helmets; and AES Research & Design for testing of its anti-rotational kinematic helmet prototype.
Winners included FieldTurf Inc. to develop technology for an all-new sports surface designed to reduce impact; Corsair Innovations, Inc. to continue to test its FEAM material, an impact attenuation system for helmets; and Yobel Technologies, LLC to support testing of its energy-absorbent prototyped faceguard.
Winner was Cardiff University to advance their padding material, designed using complex computer simulations to achieve optimal performance, and their 3D printing materials and technologies, to manufacture helmet liner pads intended to achieve more effective cushioning during collisions.
Winners included Windpact to tailor their Crash Cloud™ padding technology for use in Schutt's AirXP Pro Q10 helmet; and Auxadyne to advance its XPF material, the world's only commercially available auxetic foam.