Suzanne Mitchell passed away last month. If you don't know who she is, you most certainly know her work. She is responsible for building the Dallas Cowboys cheerleaders into the iconic global brand it has been for the last 40 years.
Her work with the cheerleaders typified the Cowboys then and now -- iconic, transforming, ahead of its time. A couple of weeks back I was reminded of this again. I received a call from team management, asking if I wanted to take a tour of The Star, the Cowboys' brand new training facility in Frisco, about 30 miles north of Dallas. I jumped at the chance, especially when it came with an offer to be picked up in Jerry Jones' new helicopter.
I hadn't been there since early June, when Stephen Jones gave me a tour of the facility, which at the time was in full construction mode. It was starting to come together but it was still difficult to envision the totality of the project just by looking at steel columns, building framework, massive amounts of concrete, and piles of dirt. Stephen kept pointing to things: "That's where the meeting rooms will be, and over there will be the cafeteria ..."
For some time, Jerry had been looking to leave the Cowboys' Valley Ranch headquarters, an outdated facility they've occupied since 1985, four years before I left. Moving to AT&T Stadium was under consideration, but Jerry didn't want to rush into anything; he was willing to wait for the right opportunity.
That opportunity presented itself when Nebraska Furniture Mart, a company owned by Warren Buffett, passed on building a new facility on a 91-acre lot in Frisco, one of the nation's fastest-growing cities, and instead opted for a site two miles north. When the land was back on the market, the first person Frisco officials called was Jerry.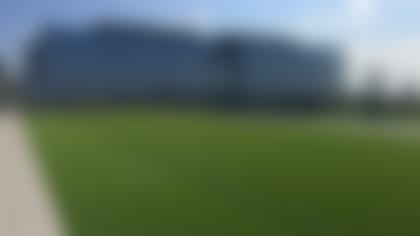 Like with every project he takes on, Jerry was thinking big with this one. He saw an opportunity to partner with the City of Frisco and build a multi-purpose facility that serves the Cowboys and the community high schools equally (the eight local schools, with more coming, will play games on the site in the Ford Center). Jerry's a huge proponent of high school football, and not just because his two grandsons play the sport. He sees it as a pipeline to the NFL; nurturing the sport at the prep level will grow it at the NFL level.
He also saw it as an opportunity to build the finest NFL practice facility money could buy (the entire 91-acre development project comes with a conservative $1.5 billion pricetag), one that would give him a clear advantage in free agency and attract the league's top players, much like Mavericks owner Mark Cuban has attempted to do in the same city, but with mixed results (remember the DeAndre Jordan fiasco?)
Consider that accomplished. I'm not sure any team will be able to match what the Cowboys have created, now or in the near future, with perhaps the exception of the Los Angeles Rams. We'll have to wait and see the details of what Stan Kroenke has planned for Inglewood.
The main building, which houses the team's headquarters, is six stories high. The Cowboys will use three floors; the other three will be office space for rent. I would imagine this will become a high-rent district and a huge revenue driver; who wouldn't want to have their business in the same building the Cowboys occupy?
The Jones family -- Jerry, Stephen, Jerry Jr. and Charlotte -- have offices on the second floor, all overlooking the practice field. There's no need to leave their work spaces to watch practice every day. And Jerry, a stickler for clean facilities, can see if any tape or other garbage has been left behind after practice.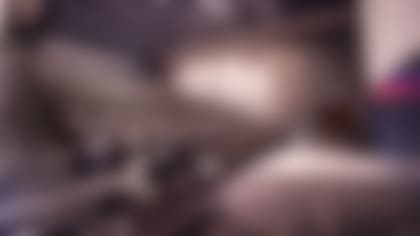 The building also houses spacious offices for the scouting department and other team personnel, and space for media. The scouting department has about four times the amount of space now than it did at Valley Ranch. Everything here is state of the art, futuristic really.
The Ford Center has a 12,000-seat indoor stadium for the high schools and includes two giant video boards, hospitality suites, concessions, and four 50-person locker rooms.
The Cowboys have their locker room adjacent to the stadium, along with the weight room, position meeting rooms, and coaches offices. The football-shaped locker room has a special health-conscious ventilation system for the room itself and for compartments in each of the 72 locker stalls that sucks moisture (i.e. sweat) out of shoulder pads and helmets.
The main team meeting room, with 165 leather chair-back seats and a video screen that covers the front of the room, resembles a movie theater. The individual position meeting rooms are very unique because they open to miniature outdoor fields, allowing coaches to walk players through new plays without having to take them all the way to the main practice field.
And players will never have an excuse for not knowing the times of meetings or practices; the daily schedule is posted on electronic message boards all around the building.
The draft "War Room" is high-tech and includes an interactive video wall with 15 55-inch LCD displays, two 98-inch touchscreen displays for player comparisons, and six secure phones for conversations with prospects and teams on draft day. The team added a very nice touch by putting old hand-written scouting reports of players like Drew Pearson, Troy Aikman and Emmitt Smith on display outside the war room.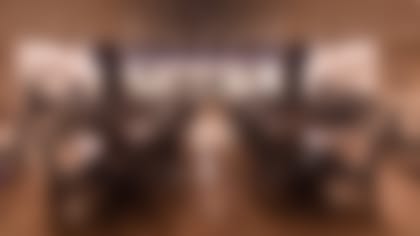 The cafeteria, named The Training Table, is accessible to players and all fulltime Cowboys employees, and seats nearly 300. It comes with a fulltime chef and nutritionist to plan player meals, a change from Valley Ranch where catering was ordered each day. It has a half-dozen stations for different types of foods. And when you're finished eating, don't bother with your plate; there's help for that, too.
Of the 91 acres, only half of it has been fully developed. On the current unused acreage, a luxury hotel is under construction and will open sometime in 2017. Homes, restaurants, offices, and shops will go in as well.
It's a perfect setting for fans, who will have plenty of year-round access to the grounds. The Cowboys will continue to hold training camp each year in Oxnard, Calif., but starting next year, a portion of the camp will be held at the facility in Frisco.
The Jones family along with other team executives, including Senior Director of College/Pro Personnel Will McClay and Senior VP of Public Relations Rich Dalrymple, thought of it all. The Star truly outshines any other NFL team facility out there, in any sport.