Thirteen seasons, 3,000-plus carries and 13,000-plus yards into his NFL career, what keeps Frank Gore grinding?
By Gregg Rosenthal | Nov. 28, 2017
"I wasn't supposed to be here, you feel me? I was never supposed to be here."
Here was the inside of the Indianapolis Colts' team facility, safe from a torrential summer downpour on the last day of Frank Gore's 13th training camp, one haunted by the absence of the franchise quarterback Gore bet his final seasons on. But really, here was Gore's unlikely standing as one of the most prolific rushers in NFL history.
And I did feel him. Gore maintained eye contact and spoke with a bracing intensity that was impossible to ignore. At a time on the NFL calendar that most veterans dread, the 34-year-old running back was locked in.
In trying to understand how Gore got here, it's helpful to go back to the word that teammates and coaches mentioned most when explaining Gore's longevity: joy.
"That's one of the reasons I'm still playing this game. How much I do love it," Gore said.
Love of vocation doesn't often inspire poetry or pop songs like romantic love, but it can be no less powerful. It carried Gore through a learning disorder and two devastating knee injuries; it launched him beyond players who entered the league years after him. This love can inspire lifelong loyalty, from Gore's weekly phone calls with the man who drafted him to a Colts organization where he plays under the same offensive coordinator he had as a freshman at the University of Miami in 2001.
This love has led Gore to sneak up on history like he sneaks up on the line of scrimmage, patiently looking for an opening. He hopped past names like Marshall Faulk and Jim Brown last season to become one of the top 10 rushers of all time. After slipping past Eric Dickerson earlier this year, Gore is only 49 yards from passing LaDainian Tomlinson and entering the top five. No one, especially Gore, can quite believe it's happening.
For those inside Gore's tight inner circle, this climb through the record books is a gift, a chance to extoll a player who has never properly received his due.
"I've been fortunate to be around a lot of great players. Hall of Fame guys. This guy's different," Colts coach Chuck Pagano said. "His passion and his love for the game is second to none."
Gore's national profile has never matched that passion, in part because he's played on too many teams far from contention, like the 2017 Colts. This is also because he's a grinder on and off the field, with his best season (2,180 yards from scrimmage in 2006) having occurred more than a decade ago. His defining runs are 6-yard gains that should have gone for 2, third-and-4 conversions that should have been stopped at the line of scrimmage. His climb up the yardage list is a celebration of how all those extra yards can add up.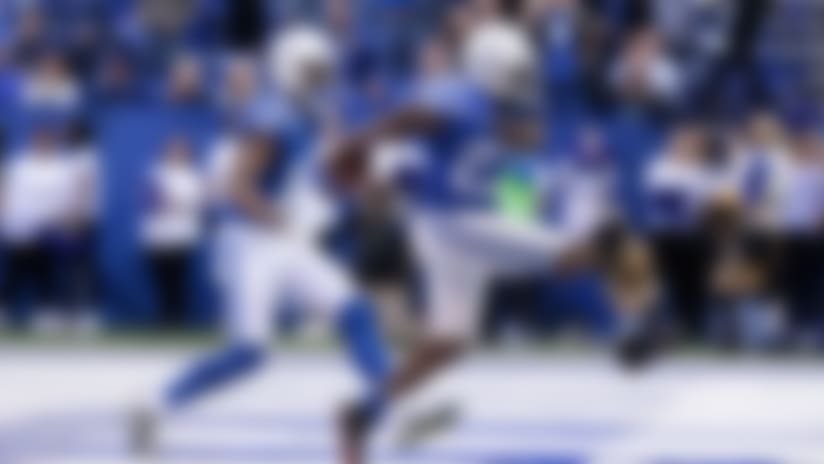 Even the man who drafted Gore in San Francisco, Scot McCloughan, admitted that Gore is not conventionally special in any one area of his game. Listed at 5-foot-9 with an underwhelming 40 time and having suffered two torn ACLs at Miami, Gore was still taken with the 65th overall pick in 2005 because he was a craftsman, even in college.
McCloughan noted how more athletic runners than Gore have long since fallen by the wayside because they lacked his complete skill set: intelligence, light feet, short-yardage ability, yards-after-contact generation, stout pass protection, great hands, crisp route-running and maniacal practice habits. Gore didn't agree with this assessment.
"People say, He doesn't do this special, he doesn't do that. One thing God blessed me with: heart and these," Gore said, pointing to his eyes. "That's why ... on film, it looks like I ain't doing nothing. Nothing special. But when they play me, it's a different thing."
In literature and comedy, there is the phenomenon of the "writer's writer" or the "comedian's comedian." Gore is the equivalent running back.
"It's going to sound cliché, but he's a football player. He's not a running back," Colts running back coach Jemal Singleton said. "He competes with a fire you don't normally see. You love to be around guys that just sense it. That understand it. Maybe we haven't coached something or installed a play a certain way, but he just senses the right thing to do."
Former 49ers coach Jim Harbaugh was especially attuned to this trait. He loved to call Gore a "mystical man."
"I think he sees things that we don't -- I don't -- we don't see," Harbaugh repeated in the buildup to the 49ers' last conference title game together.
Gore still isn't exactly sure what that means, although it's likely a reference to his uncanny ability to see a play develop before it happens. Colts offensive coordinator Rob Chudzinski called it "spatial awareness," but he admits to being confused at how Gore can choose a crack in the opposition's defensive line before it appears.
"It's almost like he has a forward vision," Singleton exclaimed, as if trying to solve a puzzle. "That his sight is half-a-second ahead of what the actual time is. Because he does see things. There are creases that he hits that, when you first look at, aren't there."
Gore is an inveterate football junkie, able to break down opposing defenses with a clarity that would serve him well if he ever went into coaching. (He's already offered his future services to McCloughan as a potential scout, to which McCloughan replied, "I'm not sending you on the road.")
Gore especially loves watching running backs and believes you can only judge a great back by how he operates in tight spaces. That's where Gore does his best work, getting skinny and finishing runs.
"I compare him to a modern-day Roger Craig," Tomlinson said, referring to the former 49ers back. "He was really good at lateral mobility. He'll come straight up to you and you think he's gonna run you over. And just a little sidestep will allow him to get through you and break the tackle."
While Gore's explosion has waned over the years, like it would for any back, his ability to see the field in portrait allows him to pick and choose his path like a gamer playing from above. Pagano calls Gore's ability to jump-cut "that little dipsy-do." Colts receiver T.Y. Hilton said he loves watching Gore's film because he'll hit one hole between his linemen ... then suddenly be in a different hole the next millisecond. McCloughan and Tomlinson both lauded Gore's intuitive ability to set up his second cutback before he makes the first defender miss.
I'VE BEEN FORTUNATE TO BE AROUND A LOT OF GREAT PLAYERS. HALL OF FAME GUYS. THIS GUY'S DIFFERENT. HIS PASSION AND LOVE FOR THE GAME IS SECOND TO NONE Chuck Pagano
Gore believes he shares some characteristics with Steelers running back Le'Veon Bell, who is Gore's favorite running back to watch these days. Both men have quick feet and a complete game -- although even in his prime, Gore lacked that undefinable extra sizzle that routinely lands Bell on "SportsCenter." While Gore has earned five Pro Bowl nods and was one of the five best running backs in football for most of his career, there were always more celebrated, flashier backs: Tomlinson and Adrian Peterson early in Gore's career, Chris Johnson, Marshawn Lynch and Jamaal Charles later.
Unlike the players listed above, Gore was never released or traded, perhaps the greatest testament to his dependability at the sport's most unforgiving position.
"Frank's longevity speaks to what he wanted out of his career, what's obtainable," Tomlinson said of the man that should pass him on the all-time list. "People talk about running backs, once they hit Year 10, they are done. Or when they hit 30 [years old]. But there are some guys like Frank that truly defy those odds, and when you look at his history, to be able to come back from when he tore his knees up and push the limits of what he can do ... it's been incredible to watch."
His climb up the yardage list is a triumph of steadfastness. He's started 103 straight games, third-most ever for a running back. (The next closest current streak is 27, shared by Isaiah Crowell and DeMarco Murray.) Last season, Gore became the oldest player since John Riggins in 1984 to run for 1,000 yards.
A player now defined by his constancy, Gore often marvels at the improbability of it all. More than a decade after he was taken off draft boards for medical reasons, he's the last running back standing.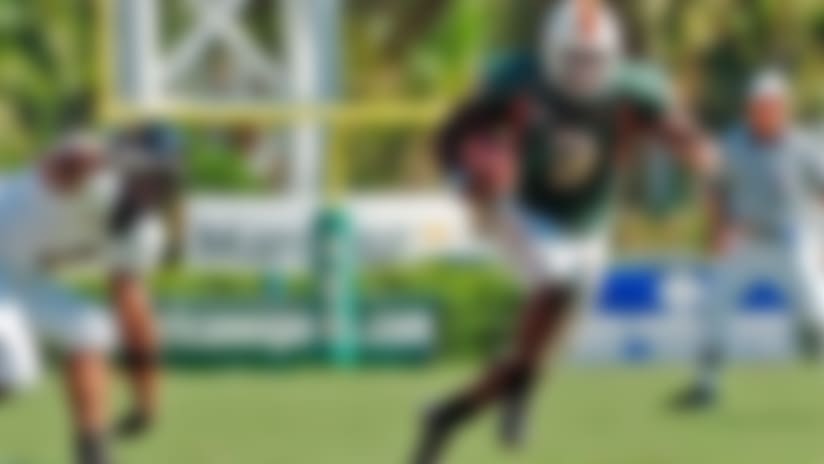 Even with his uncanny vision, Gore didn't see a career like this coming. He was one of the most highly recruited high school players in the country in 2001 after setting Dade County records at Coral Gables High School, choosing to attend his hometown University of Miami. Gore recounted that the decision surprised many around him because the Hurricanes had such a loaded running back room, with future pros Clinton Portis, Willis McGahee, Najeh Davenport and Jarrett Payton. Gore chose to embrace the challenge of competition and wanted to stay near his mother, Liz, with whom he was very close and who suffered from drug addiction. (
Liz passed away in 2007 after a battle with kidney disease.)
After earning playing time as Portis' backup as a true freshman, Gore tore his left ACL in spring practice. This came at a time when one torn ACL often irrevocably altered a running back's career, and Gore missed the entire 2002 season to rehabilitate. When he returned only to tear his right ACL in 2003, he openly wondered if football was for him.
" 'You must be f------ crazy. What do you mean?' " Gore remembered Miami running backs coach Don Soldinger telling him. "He said, 'You going to get yourself healthy.' And his goal was for me to reach my childhood dream, and that's get to the NFL -- and I got here."
Soldinger knew how far Gore traveled just to get to Miami: how he once had confronted his mother about her cocaine usage, how he overcame a severe form of dyslexia to qualify for college. His early struggles in the classroom stand in stark contrast to his reputation on the field. Gore is now universally regarded by his teammates and coaches as one of the smartest players they've ever known.
"Sit down and talk football with him, and he'll blow your mind," McCloughan said. He was right.
In conversation, Gore punctuated many of his sentences with a thanks to God and the phrase, "Do you know what I'm saying?" This felt less like a verbal tic and more like the result of a desire to be understood. He doesn't take a moment of this journey for granted and genuinely wants you to understand.
"When something you love gets taken away, it hurts you. That's why I say I thank God for what he put me through," Gore said about his college injuries and difficult upbringing.
"My mom, how she raised me, my brothers, my cousins, when I was a kid with one bedroom for 12 people ... You think about all that, and God blessed me to get somewhere and do something I love and do something I've done since I was a kid. And blessed me with the talent to do it. So I had my ups and downs. And the way I look at it, every time I'm out on the field, why not have fun?"
Gore's voice rose with emotion as he said this in our August conversation, blind to his surroundings, players in sweats walking by after getting treatment. It was overwhelming to witness, his passion so accessible, closer to the surface than most allow. When the 2005 NFL Draft was brought up, Gore interrupted before a question, still upset about the teams that lied about taking him earlier than his eventual third-round selection.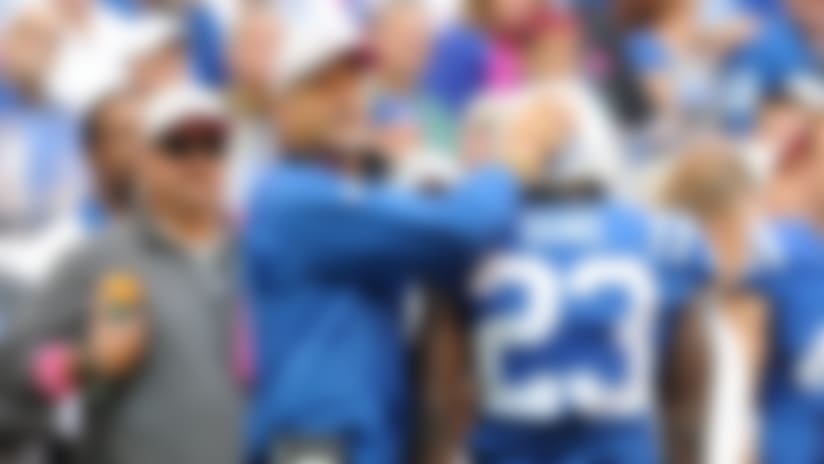 He rattled off the names and draft slots of the five running backs taken ahead of him like he was reciting a nightly prayer: Ronnie Brown, Cedric Benson, Cadillac Williams, J.J. Arrington and Eric Shelton. After the draft, Gore vowed not to allow any of those players to out-rush him, and it still sticks in his craw that Williams bettered him as a rookie. Gore notes that the rest of the group has been retired for years.
Most teams took Gore off their board because of his knees, with doctors warning that his career could be short. On the eve of the draft, McCloughan received a phone call from Gore while at dinner with then-head coach Mike Nolan. McCloughan remembered Gore speaking frantically and wanted to know where he stood with the 49ers. McCloughan said that he would take him atop the third round, but that medical issues prevented the team from taking him any earlier. Gore initially dismissed the promise, saying many teams told him they would take him higher.
Days later, Gore sought out McCloughan's office at the team facility and the men embraced, Gore crying.
"You were the only one that was honest with me. I'll do anything for you," Gore pledged to McCloughan, the former general manager laughing with appreciation 13 years later at the instant intimacy established between the two men.
That kind of loyalty led to a 10-year run with the 49ers in which Gore became the franchise's all-time leading rusher by a wide margin. He had more yards from scrimmage in 2006 than Jerry Rice or Roger Craig ever did in a season.
Gore's quick success came as a surprise to most, but not to Tomlinson. The Chargers and 49ers played every preseason, and Gore would use that time to pick the future Hall of Famer's brain, which was especially helpful because they often played in similar power running schemes. Tomlinson would watch Gore's pregame workouts and remembers thinking that Gore was "different" than the rest.
"There were guys that would contact me and talk, but not like Frank," Tomlinson said. "He actually took the things that we talked about [and] applied them to his craft. He really wanted to be great. You could see the progress each season. It was unique."
Gore's coaches uniformly mentioned how desperately Gore wants to be coached hard, looking for any knowledge that can help. That curiosity, that searching, is such a necessary ingredient to his love of vocation, a buoy to keep him afloat when facing choppy water. Gore needed to focus on his individual improvement during his early seasons because the teams around him were so often dreadful. He forged a bond with the 49ers' most loyal fans because he suffered alongside them, rewarded for surviving some of the lowest years in the organization's history before emerging out the other side.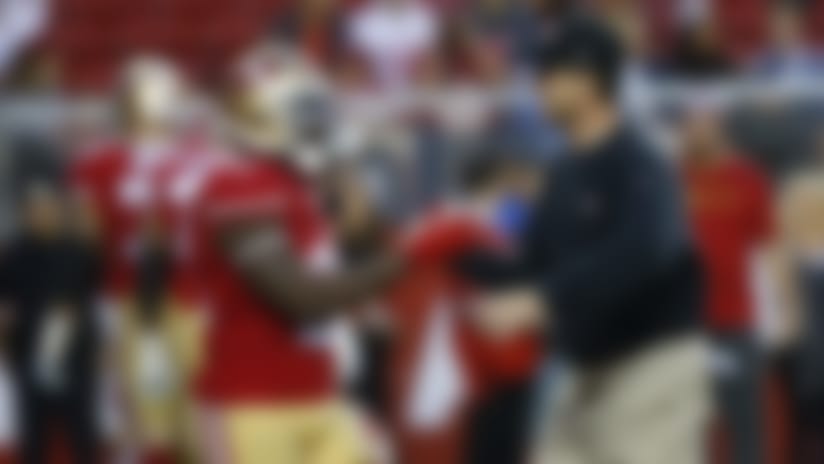 Gore spoke of his days under former 49ers coach Jim Harbaugh wistfully, and with good reason: He was the heartbeat of an offense that won five playoff games in a span of three seasons, averaging over 100 yards from scrimmage in eight postseason games, including 110 yards and a touchdown in Super Bowl XLVII. It was Gore who delivered the 49ers to the doorstep of a championship with a 33-yard run to set up first-and-goal with under three minutes left against the Ravens. He still doesn't like to talk about the loss, the game in which "28-6" would have become legend if Colin Kaepernick and Michael Crabtree had connected once in three tries, if that timeout from the sideline had never been called.
Those Harbaugh years have been chased ever since. The three winning seasons under Harbaugh (who also went 8-8 in 2014) were the only three winning seasons of Gore's 13-year career, the platonic ideal of "what football should look like." Those 49ers teams had a toughness to them, playing with an edge for an edgy coach. That edge is why Chudzinski calls Gore "the best" player to be around, because there's always a question about how to get better, a daily battle to prove oneself.
After his second season in San Francisco, in which he racked up 2,180 yards from scrimmage, Gore asked his coaches which area of his game needed to improve and was told his pass-protection technique could use work. He spent the summer rounding up friends from his neighborhood, so he could bring them to a nearby field and dare them to try to get past him. His offseason workouts remain legendary among his younger teammates to this day.
"A guy that's been in the game so long, just bringing it day after day after day -- that's something you normally just don't see," Hilton relayed.
"He's always going to go hard, so we better," rookie running back Marlon Mack said.
That habit of going hard manifested on an afternoon this past August, Gore dripping with sweat, when teammate John Simon blitzed Colts quarterback Scott Tolzien. Gore knocked Simon off his feet.
SIT DOWN AND TALK FOOTBALL WITH HIM AND HE'LL BLOW YOUR MIND Scot McCloughan
Hilton laughed and shook his head when he recalled all the previous times Gore had "stoned" linebackers in practice. Every Colts teammate I spoke with called Gore's practice habits inspiring.
That single-minded focus has worried some of those closest to him -- like McCloughan, who said Gore's whole life is football, for better or worse. That devotion could be why Gore has been a longtime favorite of the football-addled, from diehard fans to those inside the game. His game is appreciated better through coaches film than highlight reels.
"The thing about Frank is, he's not one bit different," Chudzinski said when asked to compare the seasoned NFL veteran to the 18-year-old kid he first met as Miami's offensive coordinator for three seasons. "He loves playing football. He had an unbelievable passion for the game then.
"When he's done playing, he won't be done playing, if that makes sense. He's gonna be a guy who plays forever."
That ability to keep playing has helped him pile up yards and boost a burgeoning Hall of Fame case, but not as much as a long, late-career playoff run would. That storybook ending is not going to be written in Indianapolis.
'I don't know how many years I have left, but today, I'm here.'
Gore hit the open market for the first time in his career in 2015 as he was about to turn 32 -- around the time when typical free-agent running backs quietly turn into retired running backs, due to a lack of interest. Gore had suitors. NFL Network 
reported at the time Gore was close to signing with Chip Kelly's Eagles, but Gore said he changed his mind largely because he believed Luck gave him the best chance at chasing a ring.
"Every year with Andrew Luck being the quarterback, they've taken a step in the playoffs," Gore said after signing. "So I feel like, before I leave this game, I want to win a championship, and I think this team is the best situation for me to get there."
It hasn't turned out that way. Gore has provided steady leadership, as planned, but he's the last free agent standing from a disastrous 2015 spending spree that helped cost former Colts general manager Ryan Grigson his job. The Colts haven't posted a winning record since Gore arrived, and Luck's shoulder kept him out for nine games in '15 and all of this season. Seven different quarterbacks have handed off to Gore, from Matt Hasselbeck to Ryan Lindley, from Josh Freeman to this year's promising starter, Jacoby Brissett.
A similar parade of backup running backs has rotated behind Gore, with none of them able to beat him out for playing time. That has allowed Gore to pile up records that will bolster his future Hall of Fame case. He's the first player in history to record 1,200 yards from scrimmage in 11 straight seasons. Only Walter Payton, Emmitt Smith, Curtis Martin and Barry Sanders have more 1,000-yard campaigns.
Gore lacks the peak powers of that legendary list and doesn't boast the first-team All-Pro nods that would allow for easy induction, which is why his climb up the yardage list could mean so much. The rest of the top 11 rushers of all time have earned gold jackets. Gore has reached this total in an era with inflated passing numbers, backfield committees and fewer workhorse backs. It may be a long time before anyone displaces him in the top five, and Gore won't lack for testimony from his teammates, coaches and colleagues.
"When you look at guys in the Hall of Fame, Frank symbolizes what that's all about. Without question, I think he'll be there," Tomlinson told me.
Gore doesn't want to hear about any of that yet. At once frustrated and hopeful, Gore repeated many times in our conversations that he's put up more yards than he ever needs and would happily trade some for more wins.
That's why it's been difficult -- if somehow fitting -- to watch Gore still running hard on such a mediocre Colts offense this season. Playing behind the 29th-best run-blocking offensive line, according to Pro Football Focus, Gore has been repeatedly hit in the backfield, averaging 3.86 yards per carry in his last six games. That's significantly more than Mack, who has not taken on the workload he was expected to because he's nowhere near Gore in pass protection. The eye in the sky shows Gore running better while his team has grown worse, more aware than ever he should suck the marrow out of every carry.
"I can't think about next year," Gore told me when I re-connected with him in November.
For a few days in October around the trading deadline, it looked like Gore could be headed elsewhere this year, his name reportedly involved in trade talks, with him heading to a possible contender. Gore insisted he wasn't disappointed to stay in Indianapolis because he likes being a Colt, holding out hope this team could still turn its season around. A deal to a team on a title march might have given this article a sunnier final act, but it would have been incongruous with so much of Gore's career. He loves the game for the sake of it and doesn't ask for anything in return.
"We gotta win. We have to win," Gore said about the possible day he cracks the top five. "If we have a win and I have a big game ... Oh, man -- that would be a blessing. That's the only way I'll be able to enjoy it."
Gore doesn't fixate on his numbers, but he has plenty of friends and ex-teammates who love to tell him about how many more yards he needs to reach the top five. There's no guarantee that's the end of his journey, anyhow.
Gore's fourth contract is up at the end of the year. Even amidst a frustrating Colts season, he said that he'd want to keep playing as long as he still loved the game, as long as a team still wanted him. Until then, Gore continues to hold out hope of turning this 3-8 Colts campaign around, the optimism of a true believer still winning out over logic.
On a November Wednesday like so many others in his 13 NFL seasons, Gore left the Colts practice field after going over a final teaching point with Mack about how to attack that week's opponent. Gore couldn't contain how eager he was to compete again that Sunday, to prove himself all over again, to honor his true love.
"You can't do it forever," Gore said. "Once it's gone, it's gone. I don't know how many years I have left, but today, I'm here. I'm going to enjoy it, you feel me?"
_____________________________________________________________________
Editors: Ali Bhanpuri, Tom Blair, Brooke Cersosimo, Gennaro Filice | Illustration: Albert Lee