By Michael Silver | Published Jan. 6, 2015
GREEN BAY, Wis. -- The counterintuitive cheer rang out like a crescendo, just after Detroit Lions defensive lineman Jason Jones charged through the line and came crashing down upon quarterback Matt Flynn, and five confused Green Bay Packers offensive linemen weren't sure what had hit them.
"We were like, 'What the hell is going on?' " said Packers guard Josh Sitton, recalling the third play from scrimmage of the second half of Green Bay's NFC North-deciding regular-season finale. "We had just given up a sack, and we're going, 'Are they sarcastically cheering?' It was about to be a new low.
"Then we got to the sideline and our offensive line coach said, 'Hey, 12's back out here. We'll see what happens.' "
As the Packers, 78,408 fervent fans at Lambeau Field and millions of TV viewers would soon be reminded, magic happens quite frequently when Aaron Rodgers emerges from the tunnel and steps onto a football field. For the second consecutive year, Rodgers' timely return from an injury in Week 17 would deliver a dramatic division title for the Pack. In this case, Green Bay secured a first-round bye with its 30-20 triumph over the Lions, setting up Sunday's divisional-round clash at home against the Dallas Cowboys.
It also, in all likelihood, clinched a second regular-season Most Valuable Player trophy for a quarterback whose growing standard of greatness mesmerizes fans, coaches, opponents and teammates alike.
This has been quite a journey for the quarterback who couldn't land a Division I scholarship out of high school, spent an obscenely awkward four-and-a-half hours in the green room during his nationally televised draft-day free fall, sat for three equally uncomfortable years behind a beloved Green Bay icon and began his stint as a starter by enduring the slings and arrows of a skeptical fan base, at one point being told "You suck" by a 6-year-old child.
And now, remarkably, Rodgers is every bit the Titletown treasure that predecessor Brett Favre was -- and, true to his unrelenting nature, he's far from satisfied. Though many highly astute football figures, including future Hall of Fame quarterback Tom Brady, have said that Rodgers is playing quarterback at the highest level the sport has seen, the 31-year-old superstar dismisses such proclamations as "idle talk."
As Rodgers said in a recent interview at Lambeau, "I still know I can play better, and I'm always looking for ways to get better. Whether it's a six-touchdown game, and I'm pissed about a check I didn't make in the second half that would have given me a chance to get seven ... it's that desire to be perfect. It's the greatest asset sometimes, and it can be the greatest curse, because it's hard to turn off."
In the process, he's turning out to be one of those players his teammates will tell their grandkids about, and whose heroic feats may only be slightly exaggerated long after his bust has settled into its permanent resting spot in Canton.
Consider the scene at Lambeau two Sundays ago. Nursing a painful left calf injury as he took the field against the Lions, Rodgers was slipping away from the pass rush late in the first half when he suddenly felt a shooting pain in the afflicted leg. That Rodgers managed to thread a 4-yard touchdown pass to receiver Randall Cobb before hitting the ground, giving the Packers a 14-0 lead, was of small consolation to the stunned masses. Rodgers would later concede that he initially thought he had torn his Achilles tendon.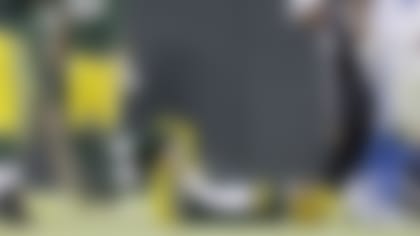 "When he went down, it looked like he got shot," said Packers linebacker A.J. Hawk, one of Rodgers' closest friends on the team. "I didn't think he was coming back. We figured, as a defense, 'Let's stand up -- we need to do this.' Then I heard the crowd."
Just after Flynn absorbed that drive-killing sack to start the second half, Rodgers emerged from the tunnel, blessedly still in uniform. Though the Lions would score a touchdown on the ensuing drive, tying the score at 14, the sight of Rodgers taking warmup tosses on the sideline infused the stadium with a surreal sense of serenity.
"It was like a cliché movie thing," Hawk said. "The crowd's cheering, but this isn't the right time. Then I saw that he had come back out -- and he wasn't in street clothes. I honestly wasn't sure if he would try to play ... or, if he did, if he was gonna last more than a few plays.
"And, of course, it was a magical second half. It was like Willis Reed, limping back out of the tunnel. Just one more story to add to his legend."
Certainly, Rodgers earned the comparison to Reed, who stunned a Madison Square Garden crowd by surfacing just before tipoff of Game 7 of the 1970 NBA Finals and, despite a torn thigh muscle, propelling the New York Knicks to a victory over the Los Angeles Lakers.
On a more contemporary -- and personal -- level, he channeled the unrivaled resilience of Favre, whose penchant for playing through pain was immortalized by his record streak of 297 regular-season starts.
Just as Packer backers once treated Favre with a reverence that bordered on the religious, Rodgers is now the man upon whom Green Bay fans want to lay their hands -- sometimes literally, as we shall soon document.
First, however, let's examine the source of this gridiron shaman's inner strength.