Abandoned as a baby on a Seoul street corner, Kim Pegula has become one of the most powerful women in sports -- and she's truly made Buffalo her own.
By Michael Silver | Published Nov. 22, 2016
BUFFALO, N.Y. -- "This is how we roll," Kim Pegula says, laughing loudly as she sashays her large, dark SUV through pregame traffic, a trail of flashing lights serving as her beacon. In three hours, the Buffalo Bills, the team Pegula and her husband, Terry, purchased a little more than two years ago, will host the rival New England Patriots at newly rechristened New Era Field, and the ebullient, engaged and utterly improbable co-owner is in the middle of a convoy bound for Orchard Park, the suburb where the team has played its home games since 1973. The franchise's heyday came in the early '90s, when the Bills captured four consecutive AFC championships, famously falling short in the Super Bowl on each occasion. It was toward the end of that run that Kim and Terry Pegula initially were afforded a first-hand view of fan-infested football Sundays in this Rust Belt community -- a memory that makes her smile broadly on this rainy late-October morning.
"We lived in Orchard Park from '93 to '98, and we actually didn't go to the games, because it was too crazy and the traffic was awful," says Pegula, dressed in an all-white ensemble that, as per custom, mirrors the Bills' attire for the game in question. "Sundays were just like a zoo around here, and believe me, we didn't have police escorts back then, as fans. So we just stayed home and watched it on TV, never realizing this was a path we'd be on. And sometimes I think back and wonder, How did I get here? Like, even I don't know how it happened."
Pegula's rise to prominence -- to the point where she is one of the most powerful women in American sports, and the de facto Queen of Buffalo -- is fantastically surreal, even by typical rags-to-riches standards. This is the American Dream on steroids, with an international hook: As a baby, Pegula was abandoned by her birth parents, left on a street corner outside a police station in Seoul, South Korea. At the age of 5, she was plucked out of an orphanage, flown to another hemisphere and delivered to Canadian-born parents -- "Before it was cool to adopt a child from another country," Kim says -- who had moved to Fairport, New York, about an hour east of Buffalo. Now she and Terry own the region's two major professional sports franchises, the Bills and the NHL's Buffalo Sabres, and have transformed a formerly moribund downtown district into a budding entertainment hotspot, a.k.a., Pegulaville.
"It's hard to articulate what they've meant to this community," says Bills president Russ Brandon, who has been with the organization since 1997 (and who, last year, became the Sabres' president, as well). "I look downtown, and you don't have to reach too far back to look at areas they've impacted that were barren, that you wouldn't even want to go near, and now are indelibly more desirable. And that anvil the people had all been wearing on their backs all those years about the long-term viability of the Bills in this area? Well, that fell in Lake Erie on Oct. 8, 2014, when they were voted in as co-owners."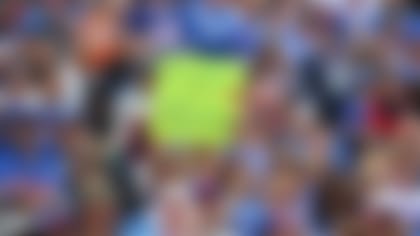 How Pegula got here -- from police station to police escort -- is an exceedingly cool story, replete with numerous twists of fate. Where she aims to go might be of even greater interest to football fans: ideally, to the upper echelon of what is mostly a billionaire boys' club. If Pegula has her way, she and Terry will follow in the path of the NFL's most involved, invested and highly successful owners of the modern era, men like Hall of Famer Eddie DeBartolo, Robert Kraft and Jerry Jones.
"I think they walked in the room as top-10 NFL owners, maybe top-five," says Jones, the Dallas Cowboys' owner since 1989 and a Pro Football Hall of Fame nominee for the Class of 2017. "You can just see how they're in step -- truly joined at the hip -- and to me, that's why they're going to continue to be great NFL owners for a long, long time. You've got that combination of entrepreneurship, passion and some serious imagination about what they want their product to be, and how it can benefit fans. And they're such a great team -- he has that pragmatic engineering background, and she has exceptional people skills, and they're both incredibly smart. They say Dak Prescott has It. Well, they've got It. And I'm just so happy, because I know they're going to make this league better than it ever could have been without them."
If the Pegulas can make Kim's frequent daydreams come to fruition, she'll soon be taking a slow ride in a victory parade the likes of which Buffalo has yet to experience.
"Championships -- that's why we're here," Pegula says. "At the end of the day, it's all about winning. I mean, I just know these fans here in Buffalo, they want a championship so bad. And I tell people, nobody wants it worse than Terry and I do. This isn't a hobby. We put a lot of time, effort and resources into this. It's our passion. I'm competitive. And winning is not easy. I wish it was. But figuring out how to do that, that's our sole focus."
---
---
When Marcell Dareus first noticed the Bills' new owners attending a practice in the fall of 2014, the massive defensive tackle harbored a healthy dose of skepticism. Sure, the Pegulas had saved the Bills for Buffalo, having won the right to purchase the team from the estate of late franchise founder Ralph Wilson for $1.4 billion -- beating out high-profile competitors like rocker Jon Bon Jovi and future President-elect Donald Trump in the process, and forestalling a potential move to Toronto or another solicitous locale. Watching Terry, a natural-gas and real-estate mogul, quietly chat up everyone from trainers to players to equipment managers did not seem unusual to Dareus. The sight of the far more outgoing Kim assertively inserting herself into the mix caused the big man to pause.
"My first impression was, 'What does she know about football?' " admits Dareus, who's been with the team since the Bills drafted him in the first round in 2011. "But that quickly went away. She talked to people, and she assessed them. She actually sees the athlete -- the person -- and it seems as if she invests in us through that, and wants the best for us. She gives us chances for us to better ourselves. It almost seems surreal."
To Pegula, however, it all seems somewhat simple: "We have five kids total (two from Terry's first marriage), and so then you get like a whole team full of 'kids,' and they're our biggest asset. They're people; that's what I think sometimes you forget when you watch them on TV, but at the end of the day, when they come here, they have families and parents, and they're just like your kids. A lot of times, the players, you know, they're tough guys, and they don't want to admit that there's something wrong. They say, 'I'm fine. I'm fine.' They never want to admit that they're struggling or that they could use some help. So sometimes you really have to talk to the trainers, talk to the coaches, talk to the parents and the wives and just make sure that you understand what's going on."
She also possesses the empathy that comes from parenting a professional athlete: Jessie Pegula, the eldest of the three kids Terry and Kim have together, is an accomplished tennis player who reached the second round of the U.S. Open in 2015.
"Because we had an athlete in the family, I was aware of some of the smaller things that you have to do -- you know, all the sports science, and the training -- so I started talking to the doctors and trainers first, and I think people were a little bit surprised. I'm a big texter, so I'm like texting them all the time, and they were probably like, 'Oh my God -- she's texting me again!' "
To Dareus and other Bills, including guard Richie Incognito, texts from Pegula are highly motivational. "A couple of months after I got here, I got a random text message from Kim, asking how I was settling in and if I needed anything," says Incognito, who signed with the Bills in February 2015. "I thought that was the coolest thing ever."
Incognito, who'd been out of football since a 2013 workplace-harassment scandal while he was with the Miami Dolphins appeared to sink his career, was a controversial signing, one the Pegulas didn't authorize until he spent two hours with Kim and Terry at their home in Boca Raton, Florida. It could have been awkward -- "I read the whole Wells Report, including the parts about women and Asians," Pegula says, laughing -- but by meeting's end, the exiled lineman had been offered a job.
"Kim wanted to know about my family and my upbringing; she wanted to get to know me as a person," Incognito recalls. "I was really shocked by how normal and nice and genuine they are. You want to go out and commit to people like that."
It's never easy letting somebody go -- these are people with families. But, you know, that's ownership. Kim Pegula
He has been, by all accounts, a positive presence in the Bills' locker room and made the Pro Bowl following the 2015 season. Says Pegula: "I wish all people who you give second chances turned out that well."
Dareus, who signed a six-year, $96.5 million contract extension in September 2015 that included $60 million in guaranteed money, was suspended for the first four games of this season after violating the NFL's policy on substances of abuse. When he returned in October, he told me he'd felt especially supported by the Pegulas during his absence, saying, "I really had no idea how much they cared, and how much they'd support me. ... They're not like regular owners; they really do care."
Soon thereafter, Dareus boarded the team plane for a flight to Los Angeles and had a short but poignant interaction with Kim Pegula: "As I was walking on, she was in the first seat to the left, and I told her I was sorry for everything, and that 'I'm gonna do my best to earn your trust back.' She said, 'Marcell, if I didn't believe in you, I wouldn't even talk to you. I already know you love this sport and love this organization. We just want you to be the person you know you can be.' I was speechless; I just never thought that was gonna come out of her mouth. It just really meant the world to me, and it hit me emotionally. I thought about it the whole flight."
---
---
On a bustling Saturday morning in downtown Buffalo, Pegula is working the room like someone born for the role.
We're at (716) Food and Sport, the chic, two-level sports bar that's part of the Pegulas' $230 million HarborCenter project in the once-dilapidated area across from the KeyBank Center, where our walking tour will conclude with the Sabres' afternoon game against the Florida Panthers. Kim, who was instrumental in conceiving the establishment's layout, design, menu and, yes, selection of libations, is showing me (and the producer and camera crew working on an upcoming "GameDay Morning" feature) around while pausing to pose for selfies with adoring patrons.
"I've gotta get you a beer!" Pegula says, halfway between a hug (for a middle-aged woman) and a high-five (for a 20-something man). "We have a partnership with a local beer distributor, Southern Tier, and they really love the One Buffalo concept, so they wanted to do a beer by that name. I want to make sure that I get you one."
She means it literally: After unsuccessfully attempting to flag down a bartender, Pegula ducks under the bar stand, grabs a pint glass and begins to pour. The term One Buffalo, she explains, was coined as a conceptual linking of the Sabres (purchased by the Pegulas in 2011) and the Bills, along with the Pegula-owned Buffalo Bandits of the National Lacrosse League; it soon expanded to what Kim calls a "community initiative ... and people really embraced this."
The HarborCenter project grew out of Terry's desire to install a pair of spillover ice rinks near the arena, for the Sabres to use when the facility was otherwise occupied and for other events, including junior tournaments. (Erie County has since added an outdoor rink for the community at large.) At Kim's urging, they began to think bigger, eventually developing an area that previously consisted of a nondescript outdoor parking lot, and augmenting the rinks with a deluxe Marriott hotel, a Tim Horton's fast-food restaurant, a multi-level parking lot, a hockey academy, a row of shops and the bar in which we're now standing.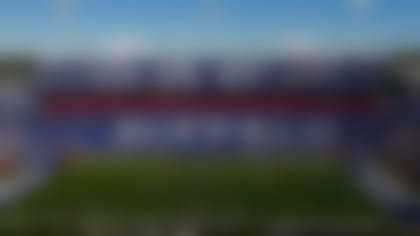 "I went around to a lot of bars, all over the country, to see what things I liked and didn't like," says Pegula, a light drinker who typically has no more than a single glass of wine at any sitting. "I'm definitely big on research. You'll notice a lot of TVs here; that's definitely the best thing about our bar. We were in a design phase, and at one point they had 42 TVs, and I'm like, 'Forty-two TVs? I have that in my house, you know?' So we kept adding more and more, and now, including the ones in the bathroom, we're over 90."
Says Dareus: "You can tell, when you walk into that place, there's a lot of attention to detail. She designed (716) herself, and there are a lot of touches -- like the VIP area -- which clearly had the players in mind ... not just the football players, but the hockey players, too. And really, they changed the whole downtown. It's like Pegulaland."
Earlier, we'd paid a visit to the newest HarborCenter tenant: The Healthy Scratch, where the quick-service restaurant's proprietors, Kim and Terry's daughters Jessie and Kelly, hooked us up with smoothies, cold-brew coffee and avocado toast. As we went outside and walked around the block, Kim pointed to a patch of grass outside the arena and said, "I tell people all the time that I know it was a big, big thing we did, building that complex. But even before we built it, Terry looked out the window, and at that time, it was like dirt and gravel, and he said, 'Hey, let's just put in some grass at least.' And so we worked with the city, and Terry said, 'I'll pay for the grass.' And once we put that grass in, it changed the mindset of that community, and you started seeing people come down there. And from that point on, it was a snowball effect. We have concerts down there now. And it has really been a great catalyst to say, 'It's OK to invest in Buffalo.' "
The previous night, the Pegulas had held a joint press conference with USA Hockey to announce that Buffalo, which last June hosted the NHL draft, will be the site of the 2018 World Junior Ice Hockey Championships. Perhaps that announcement has given fans at (716) and throughout the city another reason to utter the two words Kim hears most often: Thank you.
"She's a very popular person here in Buffalo," Incognito says. "They really did a solid for the community. They're like the king and queen around here."
And with all due respect to the king, who has an acerbic wit and a keen sense of vision, it's the queen who comfortably and happily mingles with the masses. As we arrive at the side-by-side suites at the KeyBank Center where Kim spends her time schmoozing with sponsors, employees and family members (and eating Swedish Fish like they're facing an impending recall), Terry stops by for a pregame hello -- then retreats to the mini-suite near the press box where he views the action, a custom he similarly observes for Bills games.
"It only fits like four people," Kim says, "and he watches with our president and our GM and maybe one of the scouts. So you can't hear them yelling and screaming from up here -- that's one of the good things."
Someone like Kim, who has that combination of intelligence and people skills, will help make our league a lot more transparent. Jerry Jones
The atmosphere in the larger suites is far more festive. Kim's parents, Ralph and Marilyn Kerr, are there, along with Jessie, Kelly and their younger brother, Matthew. During the second period of what will be a resounding Sabres victory, Kim recounts her improbable story: She was taken from a South Korean orphanage and flown to New York City at age 5 to meet her adoptive parents and their two biological sons on New Year's Eve, just before 1974 turned to '75.
"They've obviously been the biggest influences in my life," Kim says of her parents. "Think of the fate in life ... that it got to be me who lived this dream. I really don't remember much before I came [to America]. I got to JFK [International Airport] that night, and Terry swears that he and I 'met' at JFK, 'cause it was New Year's Eve and he was at the same airport, same day. I'm like, 'Well, I'm sure when I walked by you, you were saying, I'm gonna marry that girl someday; you know, when I was 5 years old with that bowl haircut."
For what it's worth, the story of their actual first acquaintance did require some particles to align: In the early '90s, Kim, who'd recently graduated from Houghton College (a small liberal arts school in southwestern New York), was planning to pursue a career as a broadcast journalist after heading to Alaska, where she and a friend hoped to work at a fishing camp. To raise cash for the impending journey, Kim briefly tried selling vacuum cleaners before looking for a waitressing job at a restaurant near her parents' lake cabin about 75 miles south of Buffalo. While filling out an application, she struck up a conversation with a diner: Terry, a divorced father of two who was 18 years her senior. A self-made businessman whose small natural-gas and oil-drilling company would, two decades later, sell for $4.7 billion, Terry gave Kim his business card. "The rest," she says, "is history."
As it turns out, however, Kim recently had to confront some revisionist history that caught her off guard.
"So, I've got some news for you," she says, eyes widening. "For years, my girls have said to me, 'Mom, don't you want to know where you came from?' And I'm like, 'Why -- I've got it pretty good, you know?' But, you know, they come from a different informational society, and Kelly went to 23andMe and did [ancestry DNA] testing. So the other day, she calls me up and says, 'I have something to tell you.' I'm thinking of all these things that could go wrong when your 20-year-old daughter says those words. And she says, 'I just got the genetic testing back.' So, Terry's got Russian and English and other Western and European ancestry, and that all came back. But then she tells me, 'I'm like 24 percent Korean and 21 percent Japanese!' I mean, I never would have thought that. But apparently one of my [biological] parents was pretty much Japanese. Who knew?"
---
---
And if you don't know, now ya know. Those Notorious B.I.G. lyrics could easily be uttered to a whole lot of people who, at first blush, marginalized Kim's ownership role, only to become educated in a hurry. Just as Dareus once wondered whether her presence on the practice field was legitimate, Terry remembers seeing some dismissive expressions at NFL owners meetings shortly after the Pegulas purchased the team. "You know how it is," Terry says. "A lot of people probably thought, 'She's a woman. She's here to support her husband, but she's not really involved.' But I don't think it took them long to get the message that we really are a team."
Says Brandon: "Those first few meetings, when other owners saw the level of engagement and the great questions Kim had, they could see she wasn't just the wife of an owner. She had both feet in, and she's a very quick study."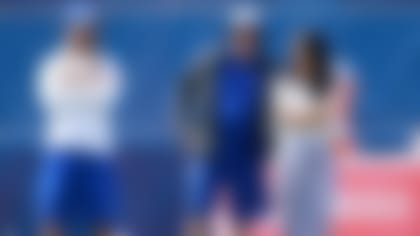 This is not to say that Kim wasn't a tad intimidated at those meetings, especially when Terry left early during one of the first ones they attended and she was the Bills' sole representative in an "owners only" session in which the impending Los Angeles relocation scenarios, involving competing plans by the Rams, Chargers and Raiders, were addressed.
"They asked all the owners, one by one, to talk about where they were in their thought process," Kim recalls. "And I'm like, 'I have to get up and speak in front of Jerry Jones and Robert Kraft and all these people?' And all I thought was, 'Thank goodness I'm not first.' "
What Pegula ended up saying to her fellow owners was this: In the past, the league has done great things because you all came together to protect the interests of all 32 teams, regardless of market size or winning percentage. So regardless of what each of us feels would be personally beneficial or disadvantageous when assessing the various scenarios, it's important to consider what was best for the group as a whole.
Not surprisingly, her words were well received.
"She's so attentive and engaged, and she really soaks things up," Jones says. "When she has a thought or an idea, she has my full attention. One of the things (Commissioner) Roger (Goodell) has been all about is, 'I want to improve transparency.' Someone like Kim, who has that combination of intelligence and people skills, will help make our league a lot more transparent."
Pegula has joined the NFL Foundation board and the Super Bowl And Special Events Committee and plans to get further involved on the league level. As part of the latter committee, she played a prominent role in crafting the changes to the Pro Bowl announced last June, including the game's move from Honolulu to Orlando.
"I see her having a significant voice, not only in our league but internationally," Brandon says. "And when all is said and done, I believe she'll go down as someone who diligently and influentially makes a true impact on the game."
Pegula's most important initiative, however, concerns building the Bills -- who are in the midst of the NFL's longest playoff drought, dating back to the Music City Miracle in January of 2000 -- into a consistent winner. After Doug Marrone opted out of his contract as the Bills' coach following the 2014 season, the Pegulas, only three months into their tenure, joined Brandon and general manager Doug Whaley in conducting an aggressive coaching search.
"I think we did 12 interviews, and we went back and forth across the country together," she recalls. "It was just a great opportunity, not only to learn about the league and the coaches, but also to bond with our general manager and team president. We spent two weeks together -- on planes, in hotel rooms, in meetings -- and we talked a lot."
Midway through the search, Rex Ryan, who'd recently been fired after six years as the New York Jets' head coach, flew to Boca Raton for an interview. During that meeting, he learned emphatically that Kim was far from a figurehead.
"I asked him, 'How are you gonna beat the Patriots?' " Kim recalls, laughing. "I said, 'That's the only question I have, because they're in our division and you've gotta get through them.' And I think he was a little bit surprised, that I would just come out and ask that question. He said, 'Well, I've done it before, and if there's anyone out there that has experience playing them, that would be me.' "
In the end, Whaley, Brandon and the Pegulas decided that Ryan was the right man for the job, picking him over Bengals offensive coordinator Hue Jackson, who finished a close second (and went on to become the Browns' head coach this year). Says Kim: "We felt we were right there, on the verge [of playoff contention], and we thought that maybe a veteran coach would be better for us. Doug Marrone had been new coming into the head-coaching position before, so it was like, 'Let's go with a veteran.' And it was someone who had experience in the division, and we needed someone who knew the teams that we had to play against. And then Rex is just very personable, and he came across as a guy that was open to our ideas and accepting of a new ownership. You've got to like the people you work with, you know? That's how you create some longevity, something constant."
That's the idea, certainly, but don't get the mistaken impression that she and Terry are exceedingly patient. After the Bills lost their first two games in 2016, including a dispiriting Thursday night home defeat to the Jets, they conferred with Whaley and Ryan about making changes that could potentially spark a turnaround. The next day, offensive coordinator Greg Roman was fired. Says Kim: "You know, we meet every week before the game -- all the coordinators, as well as Rex and Doug Whaley. So we have had discussions. A 0-2, it was not a reactionary move, and it wasn't a panic move. It was developed through many, many conversations, over the course of the last year. And Terry and I, we like to be involved at all levels. So of course Rex is our head coach, and we're allowing him to coach. We certainly don't get involved in the coaching. But that doesn't mean that you don't talk to players, you don't talk to staff, you don't talk to other coaches, you don't talk within the organization. You have to understand and know everything that's going on, so you can make the right decisions. It's never easy letting somebody go -- these are people with families. But, you know, that's ownership."
The Bills went on a four-game winning streak in the wake of Roman's dismissal, including a 16-0 road victory over the Patriots, whose star quarterback, Tom Brady, was serving the final game of a suspension for his role in the deflated-ball scandal from the 2014 postseason. The night before the Oct. 30 rematch, as she dined at a quaint downtown Buffalo restaurant, Pegula jokingly referred to herself as "The Black Widow," a nickname she said she picked up after pink-slipping various Sabres and Bills employees shortly after taking over those franchises. "It's part of running a business," she said, raising both palms for emphasis. It was hard to tell whether the nickname bothered her or not; the smart money was on the latter.
---
---
"Wait, mom's driving?" Jessie Pegula asks, giving that look that even grown children give when they perceive that a parent is about to do something they find annoying. The tennis pro, tired from a night on the town, is trying to eat her avocado toast in the back of the SUV on the drive to the Bills game, and Kim's efforts at multi-tasking -- keeping up with the police escort on the freeway while conducting an on-camera interview -- aren't meeting her eldest daughter's approval. "Why you gotta pick on the half-Japanese, half-Korean driver?" another passenger jokes, and everyone cracks up, especially Kim.
"Hey," she protests, "who has the least amount of speeding tickets in the family? I think Terry's hit like 25 deer in his lifetime. But somehow I'm the worst driver in the family? Yeah, OK."
The convoy nears the stadium, passing the sports bar bearing the "Welcome to Pegulaville" sign, and once Kim rolls into the loading dock behind the south end zone and kills the engine, it's time to go to work. Golf carts arrive to take her to a nearby parking lot, where she disembarks and begins cavorting among the tailgaters. A man in his mid-20s wearing a retro Jim Kelly jersey hands her an oversized sausage, protruding out of its bun. Pegula thanks him and, without breaking stride, stuffs a large bite into her mouth and continues our conversation. She's stopped by another group of revelers who want her to play in their cornhole game. Handing me the sausage, she grabs a beanbag and jumps into the fray. A few shots later, she reclaims the sausage and takes another bite.
Eventually, we are back on the golf cart. "Mrs. Pegula!" a middle-aged man yells. "You want some lobster?"
"Hold on," he says. Seconds later, he hands her an actual lobster. Surprised but unfazed, Pegula puts the crustacean in her lap as we drive back toward the end zone tunnel.
It starts to rain as she takes the field. Pegula is offered an umbrella, but she declines; she has no hat or hood, either. After narrowly avoiding a potentially jarring collision with the opposing quarterback, she gets a warm greeting from Kraft, the four-time-Super-Bowl-winning owner of the Patriots. They talk for a few minutes, and then it's time to work the sideline, where she chats up VIPs and sponsors and employees -- one of whom, Jack Eichel, happens to be one of the Sabres' young stars. On the way to the game, Pegula had been informed that the 20-year-old Eichel, a Massachusetts native, wanted desperately to meet Brady, one of his idols. Asked if she had a similar desire to be introduced to the future Hall of Fame quarterback, Pegula had answered honestly: "No, not really. Especially on game day. I just wouldn't even want the whole vibe of even having to deal with him and talk to him. I don't want to pretend to be nice."
Up in her luxury suite, Pegula spends the early part of the game pacing around, watching most of the action on a television set close to the entryway, rather than sitting in the rows of stools that peer down onto the playing field. She sips a sugar-free Red Bull, but make no mistake: There are tons of sweets in the suite, and at any given time, Pegula, as part of a habit that belies her slender frame, is likely to be indulging in one of them.
"My parents will tell you that, after I came to America, I used to hide food in my closet," Pegula says. "They would find food in my shoes; like, I would take food from dinner and hide it, and there'd be candy in the closets and under the bed. And to this day, if you go in my offices, I have candy and snacks in my drawers, and in my car ... I mean, I'll have it everywhere. Terry's like, 'You can't get past that.' And given where I'm from, I guess that's natural."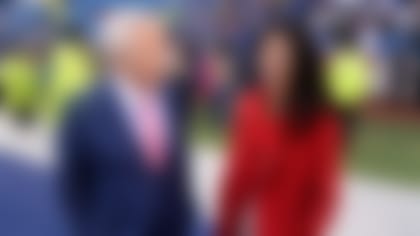 The orphanage has stayed with Pegula in other ways, too. Most notably, she has a zest and appreciation for life befitting that of a billionaire who knows her odds of becoming one were well over one-in-a-million. And that healthy perspective sometimes inspires her to pay it forward. For example, when the Bills went to London for a 2015 game against the Jaguars, Pegula made a point of taking every employee in the organization on the trip, "because, we thought, this is probably a once-in-a-lifetime chance for a lot of them."
As Pegula is the first to concede, her employees might not be the most objective sources when it comes to assessing her as a boss. "Remember," she warns, "I pay their salaries." That said, it's not hard to find people in the Bills organization who'll enthusiastically extol her virtues.
"She's always looking at the positives," Brandon says. "Her energy and her spirit, they're infectious. You can't be in a bad mood around her. She's great with all the employees, not just the executives, and she's engaged across all levels of all our properties -- and believe me, everyone can feel that."
In Dareus' eyes, that feeling permeates throughout the locker room. "You can just tell she has the heart for it," he says. "She doesn't want to leave any stone unturned. To turn the team around, you've got to turn the organization around. I think pretty much everyone can tell how deeply she cares."
Says Incognito: "When you have owners that are so invested, it really helps everyone get on the same page. That's what's special about Buffalo -- it really has that college feel, where everybody's pulling the same way. There's no doubt that we want to win for them, because they treat us so well. It really is inspirational."
Pegula insists she wants to win as badly as her players do. "It'll catch me at some weird moment, if I'm waiting for a plane or just sitting around, and I'll just daydream," she says. "I get this overwhelming feeling, like, 'Oh my gosh, this place is gonna be nuts when we win the Super Bowl.' And it just gives you goosebumps, just thinking about it, and it'll just hit me at random times. This city, this area ... it will be a celebration like no one's seen before, I'm telling you that. And I will be right in the middle of it."
---
---
On that Thursday night in September, after the Bills fell to 0-2 against the Jets, Kim and Terry were forced to confront a disaster -- and we're not talking about the figurative one that occurred on the football field. "I haven't gotten many 911 texts in my time here," Brandon says, "but the one I got at halftime that night was a doozy."
This was the situation: During the game, Sydney, the Pegulas' eight-year-old Australian Shepherd, had been sequestered in Terry's office across the New Era Field parking lot, at the team's training facility. The dog has a history of reacting poorly to pregame fireworks or other loud noises -- at the 2014 game at which the Pegulas were introduced as the team's owners, Terry's first words to the assembled masses over the microphone were, "Has anyone seen my dog?" -- and had been relegated to the office bathroom for the night. A maintenance worker who was passing by noticed water streaming out from underneath the office door; it turned out Sydney had bitten through a pipe and caused a mini-flood.
"You've kinda got to hand it to the dog," Kim says. "I mean, that's pretty smart. He probably figured that if he did that, it would eventually mean that someone would have to let him out."
Terry rolls his eyes as she recounts the story, taking solace in the fact that Brandon waited until after the game to inform him of the incident. "That next morning was a fun one," he says, his voice dripping with sarcasm. "I come in, and they've got a crew in pulling out the carpet and working on my office, and we've got an 0-2 football team on our hands."
Championships -- that's why we're here. At the end of the day, it's all about winning. Kim Pegula
He's driving on the Buffalo Skyway, headed toward the sports bar with 90-plus television sets that sits in the heart of Pegulaville, when a faint grin surfaces. Sydney may have made a mess out of his office that night -- may, in fact, require a bit too much attention for his tastes, on a recurring basis -- but the dog is part of the family, and you can tell the patriarch has a soft spot for his near-constant canine companion.
Kim, sitting in the passenger seat of an even larger, darker SUV than the one she drives, offers a different type of dog-related observation.
"We're underdogs," she says, unconsciously picking a square of chocolate out of her purse and beginning to unwrap it. "It's obviously crazy that I'm even here, and Terry has an underdog story, as well -- you know, he came from a tiny coal town, and was the first one to go to college in his family. So he very much has the same mentality, and I think that's why we relate so well to this area.
"There are a lot of times Terry and I will be together in the car and we reflect, like, 'Oh my gosh. What happened? Like, how did we get here?' And you have to appreciate that this doesn't happen all the time, appreciate that the opportunities you're afforded aren't there for everybody. And I just tell people all the time: When you adopt, you get children. And we chose Buffalo -- we adopted it -- that's how we like to think our ownership here is. We chose this city and these people."
And now, against all odds, she and Terry and all of these people are in it together, sharing sausages and indulging in parallel daydreams, everyone pulling the same way.
For the smiling, chocolate-eating woman in the passenger seat, that's one morsel of sweetness she doesn't have to hide.
Follow Michael Silver on Twitter @MikeSilver.