Martellus Bennett wouldn't seem to fit "the Patriot way." But as we've come to learn of the tight end himself, conventional thinking need not apply.
By Judy Battista | Published Feb. 2, 2017
Illustration by Dennis Padua
HOUSTON -- For the most succinct primer on Martellus Bennett, it is probably best to consult Vimeo. Search forMartellus Bennett Black Unicorn.
Bennett first gave himself that moniker during a training camp conversation in his lone season with the New York Giants, when he explained to reporters how someone who is 6-6 and 275 pounds could run so well. But Superman had Lois Lane, and Black Unicorn needed a defining moment. In one minute, 45 seconds of voiced-over animation, Bennett recounts the day he saved a fan who was falling out of the MetLife Stadium stands -- "My superhero instinct came on ... I stuck my arms up like Atlas" -- and in the process, encapsulates the player who might be the least likely perfect-fit cog ever to play in the New England Patriots' offensive machine.
"People need me, I'm there for the people," Bennett concludes in the video. "Whether someone takes your purse, you feel like you're about to fall off a bridge, a cat stuck in a tree, you can call Black Unicorn, I'll be there for you."
Or fill in for the best tight end in football, as the case may be. When the Patriots acquired Bennett from the Chicago Bears last March without giving up anything besides Day 3 draft positioning, the team received -- in addition to a player who was supposed to form a tandem with the suddenly staid-sounding Rob Gronkowski -- an animation-loving, book-immersed Renaissance man who has his own children's book-producing company called The Imagination Agency. Within the space of a few hours earlier this week, Bennett tweeted about President Trump's travel ban ("America was built on inclusiveness, not exclusiveness") and helpfully informed reporters of the release date of a forthcoming children's movie, by way of explaining what he had missed out on when Gronkowski was lost to injured reserve in early December.
"It's like when Batman got his own solo movie and Robin wasn't in it," Bennett said. "I always like the movies with Batman and Robin in it, like the new Lego movie is going to have Batman and Robin in it. Comes out Feb. 10. It's in my calendar."
Also in Bennett's computer is film of many other NFL receivers, going back six or seven years. He studies them, trying to glean ways to hone his own game. Statistically, Bennett's best season was 2014, when he had 90 catches for 916 yards and six touchdowns. But he has never been more important than he is now, with Gronkowski out and the Patriots using a series of players to fill his role. Bennett had 55 receptions for 701 yards and a career-high seven touchdowns this season. His gleeful dance with Patriots cheerleaders after the AFC Championship Game and his playing in the postgame confetti with his daughter, Jett, only underscore what has been a different kind of breakout season in his ninth year in the league, one in which Bennett might have earned a fuller appreciation for his playing abilities and his capacity for fitting into any environment.
---
---
New York Jets receiver Brandon Marshall first met Bennett when the tight end was a rookie, the Cowboys' second-round pick in the 2008 NFL Draft. Bennett's time in Dallas was famously fraught with tension with Jason Witten -- Bennett chafed at not being a starter and at trying to conform to a personality expectation that was not his. In what might be his most diplomatic comments about Witten and Dallas since he left, Bennett said he learned how to block while playing in Dallas, because it was the only way he could get on the field, conceding that he was a "flash" player who made mistakes because he tried to do too much on the rare occasions when he got the ball. He said he felt like he was running on life's treadmill, putting in a lot of work but making no progress and seeing no light at the end of the tunnel. But Bennett still studies tape of Witten, marveling at how he continues to get open. Among the other players Bennett watched was Marshall, with whom he shared an agent. Marshall began getting phone calls at 12:30 a.m.
"And it's Marty saying, 'Bro, back in 2007, you ran some amazing snag route. How did you do that? What were you thinking? I'm trying to add that to my game.' " Marshall said. "That's when I really started respecting Marty a lot. It wasn't until he got to Chicago that I realized he has a really, really unique personality, and it took some adjusting to it."
Sometimes it frustrates me, because when you have a chance to change the world, you change the world. It's not like, 'Here's my chance to change the world -- I'm going to pass that up. Martellus Bennett
Marshall said that with a laugh, which is how many of Bennett's proclamations are greeted, though there is an undeniable truth to what Marshall said. That Bennett has slipped so effortlessly into the Patriots' all-business environment is one of the unexpected developments of this season. Bennett said coach Bill Belichick never addressed his outsize personality and Bennett has not tamped it down. So Bennett became the locker room DJ and jokester. That freedom, Bennett believes, has allowed him to flourish.
"One of the reasons I had success was they let me be me," he said. "I can't disguise myself every single day, because that wears on you. Early in my career, I felt a lot of people were trying to make me be something I wasn't, and that's why I struggled not only on the field, but a little off the field."
Said David Carr, the Giants' former backup quarterback who remains close to Bennett: "The best way to explain it is, he doesn't have a filter. Most people will think, Is this the right time to say that? (Then-Giants) coach (Tom) Coughlin, the night before the game meeting, would be describing the refs, the weather. I remember Martellus made one comment about one of the referees -- he had a certain feeling toward this guy. And it's like, 'Marty, you can't say that. Let Tom do his thing.' He would love trying to see coaches on film doing things athletically they shouldn't be doing -- he would just call them out."
"I think the reason he's been on so many different teams is his personality doesn't mesh with a lot of guys. You can tell if a guy is 100 percent football. Sean Lee is 100 percent football all the time. You do not get that vibe from Marty. He'll block his tail off and run routes all day, but I don't think long-term that's his mindset."
Carr is paying Bennett a compliment, although there are plenty in the blinders-on NFL community who would not view it that way. Bennett would, though. He credits his year with the Giants for broadening his horizons -- he spent off days at museums, among other things, and said while in Dallas he could be a horse, New York allowed him to be a unicorn -- and for allowing him to grow confident in himself after his early years in Dallas. His still-weekly phone calls with Marshall often feature Bennett challenging Marshall to explore unfamiliar authors. In the offseason, Bennett spends time shadowing executives of animation studios and walking the halls of Nickelodeon. He wore a hat from his beloved NASA to his first press conference at the Super Bowl. He wrote a heartfelt letter to his daughter in the wake of the presidential election that said, in part, "Together we can be the change we wish to see in the universe."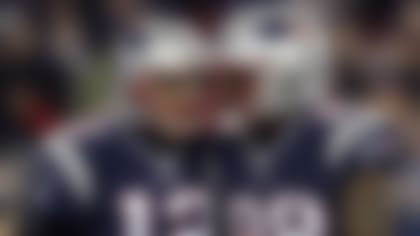 Bennett, in fact, openly rejects attempts to pigeonhole athletes -- either by those on the outside or by the players themselves. Bennett grew up in Houston -- his brother Michael, who won a Super Bowl with Seattle two years ago, called Martellus to marvel that he could win one in their hometown -- and said he wants to be an example for children, so that they know they can not only aspire to be the next Michael Jordan or Michael Irvin but the next Barack Obama or Tim Burton or Walt Disney.
"Other players are worried about their personal brands," Bennett said. "So many people are looking to them for encouragement, to promote change. For a lot of guys, it comes down to the dollar. How am I going to look if I speak out? Sometimes, a lot of guys aren't educated enough to do it. I think the biggest thing is stepping out on that plank, because they feel they will get crucified if they do speak out on different matters.
"Sometimes it frustrates me, because when you have a chance to change the world, you change the world. It's not like, 'Here's my chance to change the world -- I'm going to pass that up.' If I have a chance to change the world, I'm going to do everything I can. Everybody's got a different contribution. For me, I feel like it's laughter, so I try to tell as many jokes as possible, make as many people laugh as possible.
"I'm OK with who I am as a person. A lot of guys don't know who they are. It's unfortunate because their identities become sports. From a young age, everyone treats you like you're the No. 1 player in the world. If you start believing that's who you are, you never go on that personal journey of figuring out what you represent. Then you will always care what everyone else says. If you don't know your worth, someone else will put you on the clearance rack."
Michael Irvin, in fact, was one of the people who tried to warn Bennett that his off-field interests might not be well-received in the NFL.
"I told him his rookie year, 'Nobody wants to hear from Marty B TV until you get some Marty B TDs," Irvin said.
It wasn't until he got to Chicago that I realized he has a really, really unique personality, and it took some adjusting to it. Brandon Marshall
Those came in abundance this season, and the timing is good -- Bennett is about to become a free agent. According to NFL Network Insider Ian Rapoport, Bennett has played much of the season with a cracked bone and bone chips in an ankle, which likely will require surgery after the Super Bowl. His toughness has earned the Patriots' respect, and they are expected to try to re-sign him. In conversations with Marshall, Bennett has told him how much he loves the Patriots because everybody is focused on winning and he has never been on a better-prepared team. He has told Marshall he hopes it works out for Bennett to remain there.
"I said, 'You dummy -- it better work out, you better make it work,' " Marshall said.
That would be a change of course for Bennett, only the latest of his career. Bennett admits he might have handled things differently in Dallas and Chicago, in a way that could have led to better endings to his tenures with those teams, but he clearly has no regrets about indicating to the Bears that he would accept a trade to the Patriots. When he was still a young player with the Cowboys, Tony Romo used to give him advice. "Be urgent, but don't rush," Romo would tell him, imploring Bennett to not be so desperate to make plays that he made mistakes because his mind was sprinting ahead.
"I had no idea what the hell that meant, because to me, rush and urgent are the same thing," Bennett said. "As I got older, two years ago, I told a rookie, 'Be urgent, but don't rush.' I said, 'Oh s---, I get it! I finally get what he said.' I've been fortunate to play with a lot of quarterbacks, so I'm able to speak a lot of quarterback languages."
The Black Unicorn's mind is still racing with ideas and interests, but football has finally slowed down for Bennett in New England.
Follow Judy Battista on Twitter @judybattista.