Follow along with an intimate look at how a beleaguered franchise's latest hope attempts to overhaul a losing culture -- from his initial hesitance about the job to one of the most amazing moments of his life.
By Michael Silver | August 31, 2016
Illustration by Albert Lee
CLEVELAND -- As Hue Jackson made the short flight across Ohio in Jimmy Haslam's private jet on Jan. 13, he felt excited, exhausted, conflicted -- and very, very far from grounded. Only a couple of hours earlier, Jackson had agreed to become the head coach of the Cleveland Browns, marking the culmination of a four-day whirlwind and a four-year push for redemption. After a wrenching playoff defeat, a pair of NFL head-coaching interviews (with the impending promise of a third) and a last-ditch push by his close friend and boss, Bengals coach Marvin Lewis, to keep him in Cincinnati as his heir apparent, Jackson had accepted Haslam's offer to defect to an AFC North rival. Sleep-deprived and emotionally vulnerable, the new face of a floundering franchise zipped across the cloudy horizon and headed into the unknown.
When Jackson arrived at the Browns' training facility in Berea, Ohio, on that Wednesday afternoon, he knew he was about to embark upon the greatest challenge of his career. It soon would become clear that he was not alone. Upon approaching the main entrance, Jackson, to his surprise, was greeted with a hug from Dee Haslam, Jimmy's wife and co-owner of the team. As he walked past her and into the lobby, scores of Browns employees stood and applauded, creating a first impression that would propel him enthusiastically into the next chapter of his professional life.
As Jackson would recall five months later while sitting in the kitchen of a Haslam-owned condominium adjacent to the Browns' outdoor practice fields that is still serving as his temporary residence, "I knew right then that I was in the right place. It was amazing -- I mean, everybody in the organization had made their way downstairs. You talk about a class act? I can remember walking up to the door, looking at the building, and saying to myself, Wow, Hue, you're the head coach now of the Cleveland Browns. The Browns! Jim Brown played here ... some tremendous players ... And then I see Dee, and Dee kinda walks me in, and everybody starts clapping. It was unbelievable. For an organization to welcome me and make me feel like, You're one of our leaders now, and you're here to help us get over the wall ... I felt a sense of excitement, and pressure, as well. Because I could tell from their eyes that they were starving."
Flattered and a bit flabbergasted by the gesture, Jackson gave an impromptu speech, telling the assembled Browns employees, "What an exciting time. ... And we've got a lot of work to do. I think we all understand that. But we're gonna chase greatness here, that's for sure."
In the ensuing eight months, Jackson has worked tirelessly toward that lofty goal, openly espousing a culture change that, he hopes, will transcend the typically trite invocation of that term. And though the 50-year-old offensive guru concedes that an abrupt, instantaneous turnaround is unlikely to happen, there have been some encouraging signs that these are not the same old, dysfunctional Browns. In the locker room, potentially jaded veterans like perennial All-Pro left tackle Joe Thomas and two-time Pro Bowl cornerback Joe Haden have embraced the new regime with gusto. And in Cleveland, a city still basking in the afterglow of the Cavaliers' curse-breaking NBA title, there's an undercurrent of hope that Jackson's forceful personality, unrelenting drive and strategic acumen can spark a long-awaited gridiron renaissance.
We're not here to appease the media and appease everybody. Everybody's not gonna like what we're doing. Hue Jackson
"This is finally the first time we've had a coach that everybody else wanted," says Haden, who, after being selected by the Browns in the first round of the 2010 NFL Draft, played for head coaches Eric Mangini, Pat Shurmur, Rob Chudzinski and Mike Pettine over the next six seasons. "Everybody was like, 'Yo, he could have went a lot of different places,' but he ended up coming here to us, and that just made us feel special, that we got a coach that other people wanted. And from the first day he came in here, we could see why -- just the way he's able to communicate, the way he's able to get involved with the players and the way he's able to make you want to do whatever he wants you to do, basically."
What Jackson wants most of all from his players -- and, really, from everyone in the organization -- is that they join him in breaking a cycle of futility and negativity that has taken down so many of their predecessors. Since the franchise's reincarnation in 1999, four years after the original Browns moved to Baltimore and became the Ravens, Cleveland has experienced just two winning seasons (most recently in 2007), one postseason appearance (marred by a colossal collapse against an archrival) and zero playoff victories.
It won't be easy. Virtually everyone in the building -- from Jackson's bosses to his handpicked quarterback, Robert Griffin III, to the coach himself -- has reason to feel stigmatized and slighted, and there's a healthy community of cynics within NFL circles convinced that failure is imminent. All of which attaches an even greater sense of urgency to his presence in pro football's most beaten-down city.
---
---
On a muggy Thursday night in mid-June, Jackson sits at an upstairs table in a bustling downtown Cleveland steakhouse, diving into a succulent cut of sea bass. He and his wife, Michelle, are preparing to join Jimmy and Dee Haslam for Game 6 of the NBA Finals at Quicken Loans Arena, and it's abundantly clear that Tyronn Lue's NFL counterpart is All In.
"How you feeling, Mike? A little nervous?" Jackson says, mindful that he's addressing a lifelong Golden State Warriors fan who grew up with their current coach and, as a result, had gleefully attended the team's victory party in another downtown Cleveland steakhouse exactly one year earlier. "You'd better be, because you're about to see The King do his thing ... and see a city come alive."
If a LeBron James-like swagger is a fundamental part of the Jackson package, Jimmy Haslam must have been a bit perplexed when, after calling to offer the job on that midweek morning in mid-January, his top choice grew quiet and tentative on the other end of the conversation. Jackson recovered by call's end, telling Haslam he wanted to confer with his agent, John Thornton, but that he was excited about becoming the Browns' next coach. Yet, in retrospect, it made sense that he was overwhelmed by the situation.
On that Wednesday morning, Jackson, then Cincinnati's offensive coordinator, had arrived at his office at Paul Brown Stadium believing he'd likely remain with the Bengals -- a move that would have surprised fans and fellow coaches alike, given that four years after his dismissal following a single season as the Oakland Raiders' head coach, he had re-emerged as one of the league's hottest candidates. In the immediate aftermath of the 2015 regular season, Jackson had been enticed by interest from the San Francisco 49ers, who spent five hours interviewing him the morning after the Bengals' stunning, 18-16 first-round playoff defeat to the Pittsburgh Steelers. However, Niners owner Jed York and general manager Trent Baalke had since slowed the pace of their search and were not prepared to make an offer. The Miami Dolphins had cancelled an interview with Jackson after locking down Adam Gase as their next head coach the previous Saturday. Meanwhile, the New York Giants, who had not expressed initial interest in Jackson, wanted to fly him out Wednesday afternoon for an interview the following day, though there was no guarantee he'd emerge as the top candidate.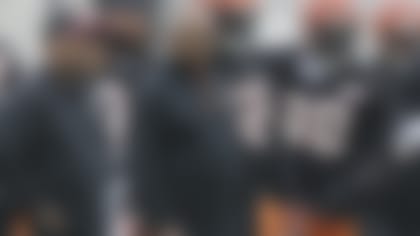 Then there were the Browns, who'd interviewed Jackson twice and were closing in on a decision. Jackson had been told by Thornton to expect a call from Haslam early Wednesday; however, after arriving at work that morning, Jackson was informed that the Cleveland owner wouldn't be contacting him for several more hours. This added to Jackson's anxiety about the Browns, an organization that had cycled through numerous regime changes in recent years and that now had an untested executive whose experience was primarily on the business side, Sashi Brown, in charge of its football operations. Jackson felt a strong degree of loyalty to the Bengals, who'd taken Jackson in after his unceremonious firing following an 8-8 season as the Raiders' coach in 2011, and was hesitant about taking the helm for another team in the division. In addition to his friendship with Lewis, Jackson felt indebted to Baltimore Ravens coach John Harbaugh, for whom he'd worked as quarterbacks coach during the 2008 and '09 seasons.
"I feel comfortable in Cincinnati," he'd told me during a middle-of-the-night phone call about nine hours before being offered the Browns' job. "They know me there. I love working with Marvin and Andy [Dalton, the Bengals' high-rated quarterback]. Staying makes a lot of sense."
A few hours later, when he and Lewis met with Bengals owner Mike Brown to lay out their successor-in-waiting scenario (which, per Lewis' suggestion, would have had Jackson replacing him following the 2017 season), Jackson was fed up with the drama, eager to extricate himself from the emotional roller coaster and extremely open to remaining in Cincinnati. However, after talking it out with Brown and Lewis and shedding an ample amount of tears, Jackson became less excited about that scenario, partly because it began to sink in how much awkwardness could accompany such an arrangement. He returned to his office and, less than an hour later, received the fateful call from Haslam, eventually assuring the owner he was on board. Then, after a phone call to his wife and a frantic trip home to change into a suit and grab a cellphone charger, Jackson was literally on board Haslam's plane, his body and mind moving hundreds of miles per hour.
What that initial ovation at Browns headquarters told Jackson, on a symbolic level, was something he'd already concluded on a rational one: Unlike in his prior head-coaching stint, he would not feel isolated and besieged. After a highly successful season as the Raiders' offensive coordinator in 2010, Jackson was tabbed by owner Al Davis to replace the fired Tom Cable as head coach. However, Jackson was not allowed to hire any of the team's defensive coaches, and when Davis died in October of 2011, Jackson and then-chief executive Amy Trask struggled to cope with the sudden power vacuum. After the Raiders, largely due to defensive collapses, lost four of their final five games to finish 8-8 and narrowly miss out on an AFC West title, Davis' son and successor, Mark, announced Jackson's firing on the same day he introduced Reggie McKenzie as general manager.
In hindsight, Jackson has come to appreciate the stress of that situation, which included injuries to his starting quarterback and star running back and a blockbuster trade for then-retired Bengals QB Carson Palmer.
"A lot of people think they're prepared for these things when you get the opportunities," he says. "Then all of a sudden you look up, and you really, truly understand, it does take a village to do this job. Outside of Amy Trask, who was my right hand ... it felt like we were [on our own]. When Al died, that was hard. No instructions, no manual, no 'If this happens, do this ...' I think I grew a lot; now I know for a fact that I don't have all the answers."
That newfound open-mindedness was a key component of Jackson's decision to accept Haslam's offer. On Jan. 3, a few hours after the Browns' regular-season finale, Haslam had promoted Sashi Brown, a Harvard-educated lawyer, from general counsel to executive vice president of football operations. Two days later, Haslam made a move that was even more stunning to the NFL community: He hired New York Mets analytics guru Paul DePodesta as chief strategy officer. DePodesta, the inspiration for the Peter Brand character (played by Jonah Hill) in the film "Moneyball," had spent two decades as a baseball executive; his only prior football experience had come as a Harvard wide receiver. (Two weeks later, with Jackson's input, the Browns would hire a third Harvard grad, 28-year-old Indianapolis Colts pro scouting coordinator Andrew Berry, as vice president of player personnel.)
I'm not about giving anyone anything, because nobody gave me anything. Hue Jackson
To some football traditionalists, the promotion of Brown and the hiring of DePodesta signified a full-scale Nerd Alert that compromised the very essence of the sport. Jackson, however, was intrigued about the potential for such an arrangement, partly because he enjoyed interacting with his brainy counterparts, and partly because he knew they would strongly value his input on all football-related decisions.
"I didn't go to Harvard or Princeton; I went to the University of Pacific," Jackson says. "But Paul and Sashi are very down to earth; they are no egos, and they're not interested in credit or any of that, just in being the best they can be. And so it felt very genuine. Everybody talks about analytics; I just see it as another tool that's in our chest."
Sashi Brown certainly isn't hesitant to use humor as a tool. When asked in August about the possibility of Jonah Hill showing up to shadow DePodesta for a hypothetical "Moneyball" sequel, Brown laughed and said, "Then I'm in trouble, 'cause that means I'm probably [played by the actor who played] Steve Urkel."
Yet, a couple of months into Brown's new job, there wasn't a whole lot of laughter reverberating through the team's training facility. As the start of the league year was approaching in early March, Jackson became ill and ultimately went to the hospital. "Next thing you know, I'm being told I have Influenza A, which is a pretty serious virus," Jackson recalls. "I've been told that kids and people over 60 can die from it. Here I am in this new job, wanting to get up and go to work, and I just can't. For three weeks, it was rough. You have a fever, and it just wears you down. I spent two, almost three days in the hospital, and then they sent me home and ordered me to rest in bed. There's still a thing [mounted in my condominium] for the IVs. It was scary."
While Jackson drifted in and out of delirium, with Browns director of football operations Simon Gelan taking care of his basic needs (John Topits, a close friend from Cincinnati, also flew in to provide his assistance), Brown, DePodesta and Berry employed a cautious approach to free agency. To outsiders -- and many rival coaches and executives -- they appeared to be somewhat caught off guard. The Browns stayed passive as four starters signed free-agent deals with other teams: Pro Bowl center Alex Mack (Falcons), tackle Mitchell Schwartz (Chiefs), wide receiver Travis Benjamin (Chargers) and safety Tashaun Gipson (Jaguars). Given that Brown, with free agency approaching, had told reporters, "It is important for us to keep our own," the mass exodus seemed perplexing.
The Browns' passivity also cost them a realistic shot at free agent wide receiver Marvin Jones, a Jackson favorite during their time together in Cincinnati. With no viable offer from the Browns, Jones chose a five-year, $40 million deal from the Lions over competing offers from the Bengals and Patriots.
It was a rough start for a regime that already generated a hearty share of cynicism from inside the NFL community.
"We were aware of just how difficult it would be and what the perception might be," DePodesta concedes. "I remember, as we were sitting around, we were telling some of the others on the staff, 'These might be some of our hardest days ... hopefully forever.' "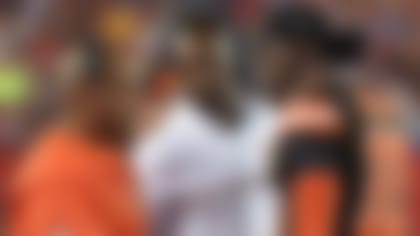 The criticism persisted in the weeks ahead, but Jackson, once he regained his health, insisted that the organization had a sound plan. And the renowned quarterback guru, who had helped take Dalton's play to another level in 2015, knew finding the right man to run his offense was a linchpin of that strategy. Even before he was hired, Jackson had rejected the idea of extending another chance to Johnny Manziel, a first-round draft pick in 2014 whose well-documented off-the-field struggles had embarrassed the franchise. At the NFL Scouting Combine in late February, Jackson declared to reporters, "Our organization is going to take a stand," presaging the former Heisman Trophy winner's eventual release on March 11.
From the start of the scouting process, Jackson was locked in on Cal quarterback Jared Goff, whose quick release, exceptional decision making, accuracy and arm had the coach envisioning him as a franchise quarterback for years to come. While some other NFL coaches and executives felt North Dakota State's Carson Wentz was as good a prospect as Goff (or better), Jackson, whose team had the second overall pick in the upcoming draft, believed it was Goff or bust.
Yet, Jackson also was open to acquiring an experienced starter, one who could theoretically ease Goff's transition by running the Browns' offense in 2016. Initially, the Browns had interest in former 49ers starter Colin Kaepernick, whose agent had requested a trade during the combine in February. The Browns, however, balked at the Niners' desire for a third-round draft pick and also failed to persuade Kaepernick to reduce his $12 million guaranteed salary for 2016 (as would the Denver Broncos, the other team interested in acquiring the quarterback).
On March 17, the night before Goff's pro day in Berkeley, Jackson went to dinner with the quarterback and his parents, Jerry and Nancy. "Don't worry," Jackson had assured the Goffs. "I won't put your son on the field until I know I have an offensive line that can protect him." The next day, Jackson was highly impressed by Goff's workout, which ended with Pep Hamilton -- the embattled ex-Colts offensive coordinator Jackson had tabbed for the same role in Cleveland -- squirting footballs with water for Goff to throw, a response to the quarterback's struggles in wet conditions during a road game at Oregon in his freshman season.
There was one more plot twist to come: As the Browns' pursuit of Kaepernick stalled, Jackson had begun to consider former Washington Redskins star Robert Griffin III, who had flamed out in D.C. after an epic rookie season. On the day after Goff's well-attended pro-day performance, Jackson put Griffin through a private workout in the Browns' indoor fieldhouse and could scarcely believe what he was seeing. "Other than Carson Palmer coming out of SC, this might have been the best quarterback workout I've ever seen," he gushed later that afternoon. "I mean, it was phenomenal."
Convinced that Griffin had not surrendered any athleticism or accuracy in the aftermath of the serious knee injury he sustained in a 2012 playoff defeat to the Seattle Seahawks, Jackson began doing due diligence on the quarterback's leadership style and perceived personality issues that coincided with RGIII's demise in Washington. Once Jackson became satisfied that Griffin would be a good fit, Brown got a two-year, $15 million deal done with the quarterback -- and the dynamics of Cleveland's draft strategy changed dramatically.
Though Jackson was still enamored with Goff, who came to Cleveland for a private workout at the end of March, the coach's excitement about Griffin served as a hedge against losing out on the ex-Cal passer. Rather than exploring a trade with the Tennessee Titans, who held the No. 1 overall pick and were not in the market for a quarterback, as a means of ensuring that Goff would be there for the taking, the Browns decided to lay low and see what unfolded.
And while Jackson was hardly thrilled when, on the morning of April 14, he learned that the Los Angeles Rams had executed a bold trade with Tennessee to move up from 15th to first -- and correctly surmised that they'd done so with Goff as their target -- he and Brown quickly rebooted and changed course. The Browns were now open for business with the second overall pick, and on April 20, they swung a deal with the Philadelphia Eagles (who targeted Wentz) that netted a bounty of draft picks, including a first-round selection in 2017 and a second-rounder the following year.
Armed with extra picks in 2016, the Browns resumed wheeling and dealing once the draft began, moving down from eighth to 15th overall and still plucking the first receiver (Baylor's Corey Coleman) off the board, then making three additional trades. They ended up picking 14 players -- tying the record for most selections in a single draft since the seven-round format was adopted in 1994 -- including ex-USC quarterback Cody Kessler in the third round.
Suddenly, the national narrative about Brown, DePodesta and the Browns' new leadership team began to change. If nothing else, the Harvard Guys had crafted a plan and boldly and adeptly executed it.
"We were able to do something a lot of people didn't think would happen on draft day," Jackson says. "We want to be a sustainable, winning football team for years to come. So you have to build it the right way. And I think we came up with a great plan, and we're working it. And I know a lot of people at first couldn't see it, understand it, and deservedly so ... but we're not here to appease the media and appease everybody. Everybody's not gonna like what we're doing. But I think football people will look back and say, 'These guys are smart, and they're trying to do it the right way.' "
The beauty, in Jackson's eyes, lay in the preparation: Brown, DePodesta, Berry and some of the organization's other top front-office executives (director of football administration Chris Cooper, player personnel VP Ken Kovash, director of research and strategy Kevin Meers) had gone over so many scenarios in the weeks leading up to the draft that nothing caught them off guard when on the clock.
"We like being prepared," Brown says. "Our goal is this: When we get on the clock, we don't want to see something we haven't prepared for. Frankly, we have the time to [prepare], so it's a little silly not to. We do push the envelope quite a bit in terms of the different things we might see. We spend a lot of time gathering information and then testing ourselves and our resolve in terms of, If this scenario comes up when we have this opportunity, but this player's available, how do we feel? And then I look really deeply into Hue's eyes and Jimmy's eyes to see, like, Is your soul really in this or not?"
While not everything played out exactly as the Browns had hoped -- for example, they might well have stayed put and taken former Oregon defensive lineman DeForest Buckner with the eighth overall selection, had the Niners not grabbed him one pick earlier -- they were pretty pleased with the course of events.
"You know what's amazing?" Jackson asks. "We, like most organizations, have what's called a mock draft -- you know, when you work through all the different scenarios that can happen in a draft room. We'd been through it all. We weren't surprised by anything that happened. I'm not gonna tell you that everything went perfectly. But gosh, if I could go back and redo the mock draft the way we did, and all the different scenarios, and then play it forward and look at how things went, I would tell you we did pretty good, based on our preparation. If you're prepared to do things, then things work out. If you're not, then you're kind of hemming and hawing and things can go in a different direction."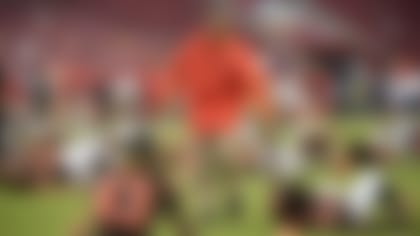 The draft wasn't the only thing the Browns would rehearse during the spring. In advance of the start of the team's offseason program on April 4, Jackson felt compelled to create a well-orchestrated, eye-opening experience for his players as they reported for strength and conditioning sessions.
"I wanted there to be a different feel to the building than what they'd ever had before," Jackson says. "So I thought it was very important for our strength staff, headed up by [director of high performance] Adam Beard, to be ready -- because [since coaches] couldn't meet with them [by rule], they were gonna touch our players first. Our building was going through some renovations, so we wanted our building to be the best it could be -- our parking structure and meals and workout.
"So, you're gonna laugh, we rehearsed that as well -- all of it. Because I thought it was important. You only get first impressions one time. We just crossed the Ts and dotted the Is enough times to know that when they walked into the building, this is how this was gonna go."
The message wasn't subtle -- and it was received, loud and clear.
"We got into the fieldhouse, and they had a circuit out there -- a crazy circuit," second-year defensive tackle Danny Shelton recalls. "It looked like CrossFit out there. We've got a rugby weight-training coach, and each position has its own weight-lifting coach ... they had boxes and sleds all lined up, and we were like, 'Whoa.' Everybody was going from one station to the next. [Jackson] was out there watching ... Right when you see it, your gut just drops. You know you're about to get killed. Everybody knew this [expletive] was serious. A couple of offensive guys threw up."
Later, Jackson's first address to the players would reinforce this pedal-to-the-metal approach.
"I wanted them to know what the expectation of being a Cleveland Brown was," he says. "Our work ethic. Our accountability. That it was gonna be a grind. And how hard it is to be a winning team in the National Football League -- that you don't just roll the ball out and have things just happen. It's not just gonna happen because Hue Jackson's in this building. It's gonna happen because we have a plan, we have a purpose and we understand every day we're gonna have to be at our best."
Coaches have given stirring speeches before, and given that Jackson's Browns have yet to experience a single game day that counts, the culture change remains a work in progress. That said, there seems to be a collective buy-in that has the building abuzz.
"I think, from the first time that Hue Jackson stood in front of them and addressed the team and gave us his vision, it was really clear to everybody that this guy meant business," says Thomas, a 10th-year pro and future Hall of Famer. "He knew what he was talking about, he'd had experience as a head coach, and he was ready to demand excellence out of everybody. And [he made it clear] that losing was not acceptable anymore. It was just the presence that he has in front of the team. There were no prepared remarks. He was not reading off of a PowerPoint. Everything was coming from the heart. And you could see how important this game is to that man, and I think that was a moment when everyone said, 'I think this is a guy you can fight for.' "
Says guard Joel Bitonio: "I love the [expression] 'culture change,' because -- of course -- when you get a new coach, everybody says that. But there really is a difference. Guys are buying in. We are moving in the right direction."
Haden, who struggled through an injury-plagued season in 2015, views Jackson and his staff (including defensive coordinator Ray Horton, who also worked for the Browns in that capacity in 2013) as godsends.
"They came in strong from the very beginning," Haden says, "and when Coach Hue talks to you, he's so personable, so you believe and you buy in -- you're all in. Whatever he says to do, that's what you want to do. So when he has that vibe and that feeling, that passion, then if you've got [expletive] blood flowing, you're like, 'OK, I understand that this is what it's about.' And then we have a team full of those dudes.
"We'd have older guys in the past regimes that were kinda just, 'Alright, yeah, yeah, yeah ... we're still gonna do it our way.' Or they'd be a little bought-in and then [complain about] practice. I feel like with this team, there's no negative energy about going out. This is our job. This is what we do. It's time for us to start winning. I feel like there's so much more of that, and if you're not bought-in, then you stick out ... and you're not gonna be here. Instead of it being more 50-50, we've got a complete, bought-in team."
In this regime, part of buying in means accepting the possibility that you'll be called out -- for messing up in practice, breaking a rule or otherwise failing to honor Jackson's catch-all motto, Play Like A Pro.
"Oh, he'll call anyone out," Haden says. "That's the reason why we love Coach Hue. He'll love you up, too, and he'll be able at times to still give you constructive criticism. But if you're messing up, he's gonna call you on it. There's no gray area. You're doing good or you're doing badly; Coach Hue's gonna tell you, either way."
---
---
Early in training camp, Jackson got an unlikely chance to underscore Haden's point after a disruption occurred during a speech to the team by NFL security officials. We'll let the offending party explain:
"For those of you that have iPhones, apparently you can have everything turned off, but if you press the home button and hold it down, there's like this voice control feature that comes up. It's like a Siri-type thing, but I have Siri turned off, just in case Siri comes up. But voice control on an iPhone apparently supersedes anything, and like is the god of your iPhone, and when it comes up, it asks you what you wanna do. And when you're sitting there in a meeting, and it's in your pocket, and you're leaning against that button, and the voice control comes on, it'll just pick up anything. Well, the phone thought I said to FaceTime somebody in my address book, so it started FaceTiming somebody in my address book that I haven't talked to in maybe nine years. But once it starts FaceTiming, it's like impossible to silence. You actually have to like pull your phone out -- I've got an extra battery pack, so I have to take the battery apart and swipe to be able to turn it off. And obviously that doesn't happen very quickly, especially when it's going off in the middle of an important meeting."
It was an awkward situation that would soon become even more so -- after Jackson asked the offender to identify himself and Thomas, the team's longest-tenured and most-respected player, sheepishly raised his hand. At first, Jackson refused to believe it.
This is finally the first time we've had a coach that everybody else wanted. Joe Haden
"He said, 'I appreciate you taking the fall for somebody else, 'cause I know it's not your phone,' " Thomas recalls. "And I'm just like dying there. I mean, I get so pissed off at guys when things like that happen. It was the most embarrassing moment of my career. But Hue holds everybody to a really high standard, and he never lets any detail slip, and I think that's what makes him an awesome head coach."
So Thomas got fined, and Jackson moved on to the next challenge, be it teaching Griffin his offense, attempting to resurrect the career of ultra-talented wideout Josh Gordon (who returned to the team in late July after having been away for more than a year, and who will be eligible to commence his latest comeback from a drug-related suspension in Week 5) or identifying which holdovers are expendable (as was the case with pass rusher Barkevious Mingo, the sixth overall pick of the 2013 NFL Draft, who, on Aug. 25, was shipped to the Patriots for a fifth-round pick in 2017).
There have been less daunting challenges faced by second-time head coaches, but Jackson is not complaining. While it remains semi-fashionable for outsiders -- and plenty of people in his profession -- to marginalize the Browns' latest leadership team as a bunch of naïve numbers geeks with Harvard diplomas and heads in the clouds, Jackson has been invigorated by the people who surround him, beginning with the man and woman at the top of the organizational flow chart.
"The Haslams are great owners," Jackson says. "There is not anything that Jimmy and Dee would not do for me or for this organization if we thought we needed it. Matter of fact, I've told them they do too much. I'm being very honest when I say that: We're over the top -- and I hate to say it that way -- when it comes to doing everything for our players. And I've made that statement [to the Haslams]: 'I think we do too much.'
"I'm not gonna say they're pampered. I just think ... there's a word that normally gets used in the National Football League, and it's not a good one: entitlement. I don't want our players to feel like they're entitled to anything other than what you earn. I'm not about giving anybody anything, because nobody gave me anything. I feel like I had to claw, fight and scratch to get to where I am. And I think the great players, and great teams, that's what they do. They're not caught up in, 'Well it's supposed to be this way. You owe me this.' No, nobody owes you anything. What we owe you is an opportunity."
Since embracing the opportunity to coach the Browns on that emotional Wednesday last January, Jackson has been energized by the endeavor. Changing a culture can be tiring, but when it feels as though everyone is pulling together, the climb toward respectability and relevance doesn't seem so steep. And if Jackson ever needs a motivational kick-start, he thinks back to that moment in mid-February when his phone rang and a woman's voice on the other line informed him that Hall of Fame running back Jim Brown -- a Browns special advisor -- wished to speak to him.
"I'll never forget when that phone call came; it was one of the most amazing things that happened in my life," Jackson says, his voice choking up. "I said, 'Jim Brown?' I said it about three times, 'cause it didn't seem real. Jim Brown, calling me? The Jim Brown! I mean, I'm almost shaking. You're talking about Jim Brown, the greatest player to ever lace up cleats in the National Football League, and he's wanting to talk to me? A guy who's been around the Crips and Bloods and in the prison system, who took young men and showed them how to do things better and be better people, and he wants to talk to Hue Jackson, a guy from South Central? And Jim Brown talked to me and was excited, and said he wanted me to be successful and that he would do anything that I needed to assist me in helping the organization be what he saw it could be. And trust me, I've used him every way I know how."
At the same time, Jackson is using the sometimes out-of-the-box thinking provided by Sashi Brown and DePodesta as a resource, even as some football traditionalists bristle at the analytics label.
"The core of what we're doing is just football," Sashi Brown insists. "We're not asking Hue to come out here with a calculator to figure out what play we're gonna run on third down. We're not selecting players based on some algorithm. We are watching tape, practicing, hitting the bag. We're a football organization first.
"My job is to try to make decisions, so whether it's football or anything else, I always want the best information. People call it analytics; we call it our research department. That's really what it is. I think anybody who's in any company understands there's a research and development department that tries to push them ahead and challenge, 'OK, you've done it the same way for a period of time; is there a way to do it differently, better? What can we learn from our failures and mistakes and missteps?'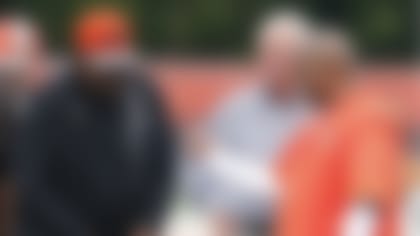 "It's funny, [the other day] I was driving home listening to "Innovation Hub" on NPR, and a guy has written a book about the black box and how the airline industry has really systematically figured out how to learn from their mistakes, and talking about how organizations that fail don't, and great organizations indoctrinate that as part of who they are. That's really more what we're doing. We're just trying to pull on every single lever."
In this case, a disproportionate share of people doing the pulling are doing so while trying to shed stigmas, acquired fairly or otherwise, that have served as gravitational restraints. Jackson not only understands this, but he also embraces it. His hiring of Hamilton, for example, was at least partially motivated by the prospect of trying to help a young, African-American offensive strategist -- of which there is an alarming shortage in NFL circles -- rebound from a rough experience in Indy that ended with him getting fired midway through last season.
"I did think that through, and he was the ideal guy for me," Jackson says of Hamilton. "He was in the AFC Championship Game (two seasons ago), running one of the most prolific offenses in pro football, and boom, he's out of a job, just like that, during the season. I know what that depression is. It's hard, because we're all prideful men. I knew he needed to be picked back up, regardless of whether he admits that or not, the way Marvin Lewis did that for me."
As hard as it was for him to leave Lewis -- and take over a division rival that will face the Bengals twice a season -- Jackson decided a second shot at being an NFL head coach was too great an opportunity to pass up. And from the moment he stepped onto Haslam's plane last Jan. 13 and entered a lobby full of hope and support, picking up the NFL's most downtrodden franchise and its tattered fan base became his initiative and his obsession.
"I go 100 miles an hour and full speed ahead, and it's the only way I know how to win in life," Jackson says, his voice rising. "It's what's gotten me back to where I am. You know my story -- a lot of people helped me crawl my way back, and the fire didn't dim ... it's gotten even stronger. Because I want to prove to all of you who believed in me that I can make this happen.
"And I want to do it here, because our whole organization has something to prove. We all have a chip on our shoulder, you know. We've been the brunt of jokes over several years, and deservedly so, [because] we haven't played very good football. So, I get it and I understand it, and I'm a part of it now. And at the end of the day ... I don't like being a part of jokes. So, we're gonna do everything we can here to win, and that's the message that I give to our football team and our organization every single day."
If this goes the way Jackson envisions, he'll have many more standing ovations in his future. But however things play out, he'll never forget the one he got on his first day on the job.