Colin Kaepernick's anthem protest and his decision to speak up for the African-American community came at the exact right time -- and in the exact right place
By Jeffri Chadiha | Published Feb. 27, 2017
Illustration by Albert Lee
It's been roughly six months since San Francisco 49ers quarterback Colin Kaepernick's national anthem protest went public, and things haven't been the same since. More NFL players decided to follow his lead in bringing attention to the issue of unarmed African-Americans dying at the hands of police. Athletes in other sports also joined in, while police officers, military veterans and ordinary citizens talked about the problem from their own perspectives. There was plenty of dialogue and debate, fury and frustration. But what became clear in all this is something even Kaepernick couldn't have known: The world of sports was the perfect place to ignite a new conversation about race in our society.
We live in a country that's become so divided for so many reasons that athletics is the only thing that still brings us all together. It doesn't matter what we believe, who we voted for or how we view the future of our land. It only matters that the people sitting next to us are rooting just as hard for our favorite teams as we are. By sitting during the anthem, Kaepernick reeled us all into a critical, wide-ranging social discussion -- one that will be chronicled in the NFL Network documentary, "The Conversation" -- because our collective guard, unbeknownst to us, was already way down.
The critics who pushed the notion that Kaepernick should be happy to make his millions didn't get it. The same holds true for those who thought his role simply was to entertain or provide a much-needed distraction from their hectic lives. Kaepernick and the players who followed him with their own protests wanted to provoke the people who watched them into hearing their pain. What they discovered over time was that there was no better place for them to do that than inside an NFL stadium.
"Sports is a lot like religion," said Dr. Harry Edwards, who is a professor emeritus of sociology at Cal-Berkeley, a consultant for the 49ers and one of the most respected civil activists of his generation. "It's a secular religion. You'll find more people tuned into the NFL on a Sunday than you'll find going to church. It's not that sports heal the differences. But what sports do is bring us out of our silos. So if that guy is wearing a San Francisco 49ers sweatshirt, that makes him one of us. ... There's a commonality that we can begin to build. It doesn't heal the gaps, but it gives us an opportunity to open the conversation we otherwise wouldn't have."
That was the essential dynamic that gave this movement a heartbeat and allowed so many people to feel comfortable raising their own voices. The players -- a group that included Broncos inside linebacker Brandon Marshall and Eagles safety Malcolm Jenkins -- had their say every week, as did the people who didn't agree with their desire to protest during the national anthem or the raising of our country's flag. The offended talked about how sacred those symbols are to our country. The protesters talked about how those symbols inevitably brought more attention to their collective stances.
It was awkward, ugly and uncomfortable to watch at times. It was difficult to listen to some of the rhetoric, the predictable generalizations and the disparaging remarks and threats that appeared as the months passed by. The important thing to remember here is this is exactly how change happens. It's never going to be a pretty process, nor is it ever going to happen as quickly as we all would like.
When Kaepernick first sat for the anthem, it was fascinating to imagine what he would do next. The reality was that, as the season went on, the conversation became less about him than we ever imagined. He was merely the person who lit the fuse, who had the nerve to be the first to say what a lot of other people already were thinking. He also was willing to do something even more courageous, which was to take on this pursuit, initially, all by himself.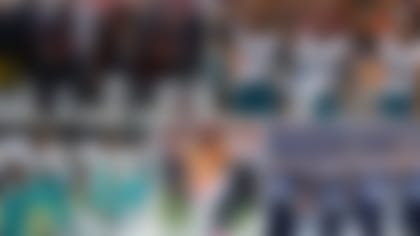 That victim, Corey Jones, was slain after his SUV broke down on the side of the road. That officer, Nouman Raja, eventually hit Jones with three shots and wound up being charged with manslaughter by culpable negligence and attempted first-degree murder with a firearm.
"These issues are very important," said Boldin, whose meeting with politicians also included Jenkins, Lions safety Glover Quin, Browns wide receiver Andrew Hawkins and Browns quarterback Josh McCown. "They're very relevant. Just because we're in the NFL, that doesn't mean we're excluded from what goes on in everyday life. We still have family members and we still live in this world, so we're affected by those things that go on."
Boldin was quick to point out something just as vital in regards to this discussion: He has plenty of respect for police officers. If he faced a situation where he was dealing with somebody who was breaking the law, the first thing he would do is call 911. For him, this was never about demonizing the police. It was about trying to find a way to help others avoid the type of pain that plagues his own family after their tragic loss.
Edwards implored people to have a similar mindset. He said there's no value in looking at police as the enemy, just as there is no value in hating those who don't adhere to your same political philosophies. The true battle to be waged is not with one another. It's in finding a way to create unity in a world when it's far too easy to create divisions.
---
---
We are entering an era when that ideal has never been more crucial and so applicable in so many arenas. We all know NFL players aren't the only people who have a reason to protest these days. What is admirable is that a select few have been willing to take a stance, to speak their minds, to sacrifice for something bigger than themselves. That's what gets lost in all this: It's not easy to do what some of these men have done over the last few months.
It is, however, proving to be far more necessary than we ever realized.
"There's absolutely no question that we are moving into an era where there will be tremendous pressure on athletes to take a stand around issues of social and political relevance," Edwards said. "It will be phenomenal. ... You can't just stand silent as these circumstances are evolving and developing. You have to use that tremendous megaphone you have to enunciate the issues, to stand up for what is right."
Edwards chuckled when recalling some of the conversations he had after Kaepernick began to gain more attention for his protests. Edwards talked with 49ers owner Jed York multiple times. He spoke with NFL Commissioner Roger Goodell, as well. He told everybody the same thing when they wondered how best to manage a situation that had the potential to spin way out of control before the regular season was even one month old: We will all come out of this better.
It was likely easier for Edwards to have that confidence because he'd been down this road a long time ago. He'd been the architect of the Olympic Project for Human Rights in the 1960s, an organization that pushed for the boycott of the 1968 Olympic games, which are now best known for U.S. sprinters Tommie Smith and John Carlos raising black-gloved fists on the medal stand in Mexico City. He knew first-hand about the death threats Muhammad Ali faced -- decades before Ali was buried as a saint -- and all the efforts of athletes who fought for civil rights in the 1960s. It's worth noting that Carlos and Smith are hailed as heroes today, with statues at San Jose State University, after being publicly excoriated for their actions nearly 50 years ago.
What they understood then is the same thing Kaepernick and his fellow players are realizing today: It's important to be on the right side of history. We actually might look back decades from now and laud them for having the courage to help us improve our country even more. If that happens, we won't just remember the words they spoke or their actions during the anthem. We'll also realize they couldn't have picked a better arena in which to ultimately make their case.