By Michael Silver | Published Nov. 19, 2014
Illustration by Issiah Davis
TEMPE, Ariz. -- The story of Bruce Arians' unlikely ascent to the high-profile perch that should have been his destiny -- coaching an NFL team into a position of Super Bowl-contention and ignoring every one of his profession's most bloated constraints and clichés along the way -- is a titillating tale that stretches from Tuscaloosa, Alabama, to the Valley of the Sun.
Before we take that journey, let's begin with an Arians story that captures the essence of an acerbic and authentic coach who has mastered the art of motivating highly compensated young men.
In the summer of 2012, a few weeks before Arians would fill in for leukemia-stricken Indianapolis Colts coach Chuck Pagano, the then-59-year-old offensive coordinator showed up late in the week dressed like he was fronting a Johnny Cash tribute band: black bucket hat, black long-sleeved shirt, black shoes and, best of all, black knee-high socks. As he traversed the practice field, some players noticed the goth-like getup and wondered What the dealio? Eventually, as Arians sidled up to the team's defensive backs, who were in the midst of drills against the Colts' receivers, one of them asked, "What's up with the black socks?"
"I'm in mourning," Arians replied solemnly. "I have to go to a funeral later."
"Who died?" the player asked.
"You [expletives] did!" Arians shot back. "Cause I killt you [expletives] all week."
The raucous laughter that followed said so much about the counterintuitive charm of Arians, a blunt, cocksure and demanding leader who inspires devotion and intensity from people he grinds like The Great Santini.
"He's gonna love you when you need some loving, but he's gonna jump on you when you're not doing right," says Peyton Manning, who, during his first three NFL seasons in Indy, grew into stardom with Arians as his quarterbacks coach. "I mean, he's intense, he's very competitive, but players want to play well for him -- which I think is ultimately a head coach's job."
In the words of Arizona Cardinals general manager Steve Keim, the man who gave Arians his first NFL head-coaching shot in January of 2013, "He has such a unique gift of MF-ing them during the week and getting them to play hard for him on Sunday. He works them and works them and breaks them down, and yet the players genuinely love him. It's an art form. I've never seen anything like it."
Arians' artistic genius is as good an explanation as any for the illogical ascent of the Cardinals to the top of the NFL. Despite having sustained a slew of significant season-ending losses, the Cards will carry a league-best 9-1 record into Sunday's road showdown with the defending champion Seattle Seahawks, a team that trails Arizona by three games in the NFC West standings.
Beginning with a stretch that included last December's stunning upset of the Seahawks in Seattle, Arians -- who won 2012 NFL Coach of the Year honors as Pagano's fill-in -- has coached the Cardinals to 16 victories in their last 19 games. At this point, the man commands more attention than Adderall.
"It's not that tough to buy in when you're winning," says Larry Fitzgerald, the Cardinals' longtime star receiver, who has remained upbeat despite a reduced role in the team's offense. "It's follow the leader. If he told us it's snowing outside in Arizona, we would put on a jacket and snow shoes."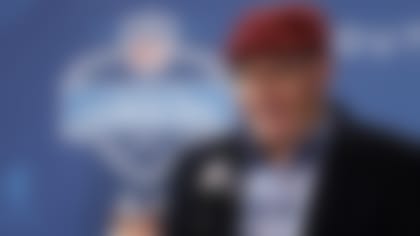 Right now, Arians is telling anyone who asks that the Cardinals have a real shot at becoming the first team to play a Super Bowl in its home stadium this coming February, even in the wake of quarterback Carson Palmer's season-ending knee injury. Whereas most coaches recoil at the prospect of enunciating such bold proclamations, Arians, a 62-year-old who rocks Kangol caps, sips Crown Royal and gets more aggressive in tense game situations, gives zero damns about the potential ramifications.
A man dripping with what Palmer astutely describes as "Tony Soprano swag," Arians understands why many of his peers shy away from making any comment that most of us might find interesting or forthcoming.
"A lot of 'em can't," he says. "That's just the way they're brought up. That's the way everyone's brought up in this business -- to be guarded, especially if it's not your last job. I don't have to (be guarded) anymore."
The question is, how could someone as talented as Arians have been overlooked for so long that he would come to view his first NFL head-coaching job as his last?
Though his stints as an NFL assistant included successful hookups with two of the league's most accomplished quarterbacks -- Manning during his first tour in Indy and Ben Roethlisberger in Pittsburgh -- Arians inevitably generated almost zero buzz during the annual hiring cycle, causing him to question an industry that sometimes seemed to value political connections and hype over aptitude.
He's gonna love you when you need some loving, but he's gonna jump on you when you're not doing right.
Even if no NFL franchise felt Arians would make a good head coach, he begged to differ.
"Yeah, obviously I did and wondered why," Arians says. "You'd sit back in the offseason and look at who became a head coach that year and go, 'Wow. Really? And you couldn't even get a phone call?' So you can think crazy things. But ... just go back to work and keep doing your job."
Following the 2011 season, however, Arians couldn't even do that. After five years as the Steelers' offensive coordinator, a stretch that included two Super Bowl trips and one championship, Arians was told his contract would not be renewed. Roethlisberger was particularly peeved by the news, and Arians felt stung and stunned.
"I know what went down, and let's just say it didn't have to happen," says Cardinals special teams coordinator Amos Jones, who was a Steelers special teams assistant at the time, and who has known Arians since their days as assistants on Bear Bryant's Alabama staff in the early '80s. "We were coming off a 12-4 season."
The official line was that Arians had "retired," which was his way of disgustedly saying, "Peace out."
"Well, at that point in time, they weren't gonna renew the contract, and in my mind, that got me pretty sour on the sport -- if that wasn't good enough, oh well," Arians recalls. "So I announced I was retiring and it made it easier on them. Yeah, I was upset about it."
Arians and his wife, Chris, headed down to their lake house in Georgia -- a.k.a. "The Forever Home" -- and prepared for life after coaching. He took a side job with agent Todd France preparing players for the NFL Scouting Combine. "I had actually just flown down to Oklahoma State to work with Justin Blackmon," Arians says. "We went about three hours. I said, 'Look -- your best professor didn't stick with you for three hours.' I thought it might be kinda fun."
Alas, Arians' retirement was short-lived: While driving from Georgia to Pittsburgh, where he and Chris planned "to get the rest of the furniture out of our little apartment," Arians' cellphone rang. It was Pagano, who had just taken the Colts job and was looking for an offensive coordinator. "My wife just looked at the phone and shook her head," Arians says. "She said, 'Oh s---, you're gonna take that job, aren't you?' "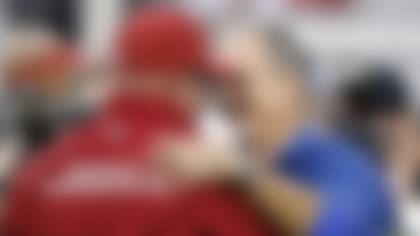 He did -- setting up one of the more remarkable coaching performances in NFL history. The Colts, coming off a 2-14 season, seemed to be in a clear rebuilding mode in the wake of Manning's release and the drafting of No. 1 overall pick Andrew Luck. On Sept. 30, with the 1-2 Colts finishing their bye week, Arians got a call during a quick getaway to The Forever Home and felt his stomach drop: It was Pagano, delivering the news that he'd been diagnosed with leukemia.
Arians, appointed as interim coach, did more than just keep the seat warm for Pagano -- he proved to be en fuego. By the time Pagano returned, the Colts were 10-5 and had shocked the league by clinching a playoff berth.
"The whole season was about passing the torch to Chuck," Colts general manager Ryan Grigson says. "It was a tricky situation, but 'BA' pulled it off. He never deviated from that message. He would talk to Chuck every day; he'd go see him at the hospital all the time. He made sure Chuck was a part of it. It was human beings at their finest. That's why the football gods bestowed that job on him at the end of the year."