How a franchise-altering decision by a rookie GM can be traced back to a chance meeting in a college classroom.
By Jeffri Chadiha | Published Oct. 3, 2017
Illustration by Albert Lee
SANTA CLARA, Calif. -- Solomon Thomas had no idea how much his life was going to change when he walked into that crowded classroom in the summer of 2014. He was there to take a popular course called "Introduction to Decision Making," and Thomas instantly noticed a collective buzz among the students as he searched for a seat. A number of kids kept whispering and pointing toward a burly, square-jawed older gentleman sitting in the front row. Thomas sensed there was something familiar about the guy, right before a friend nudged him and said, "That's John Lynch over there."
For a four-star recruit embarking on his freshman year, Thomas already had plenty to be excited about at that point. Seeing a man who spent 15 years in the NFL as a hard-hitting safety, made nine Pro Bowls and won a Super Bowl with the 2002 Tampa Bay Buccaneers made Thomas feel even giddier about his choice to attend Stanford.
"I'm like, 'Oh shoot,' " Thomas recalled. "We're trying to pay attention, [but] we're all seeing John Lynch for the first time. It was a pretty cool class."
It was more than just a "pretty cool" moment for Thomas. It was a bit of serendipity that would eventually foreshadow one of the most critical moves related to the current San Francisco 49ers.
Three years have passed since that day, and now both Thomas and Lynch are key components of whatever that franchise hopes to become after a recent wave of misery. Thomas, a dominant defensive end, was the third overall pick in this year's draft, while Lynch, who was trying to complete his bachelor's degree back then, is now the first-year general manager who brought Thomas to the 49ers.
Both men appreciate the irony of their current situation. Three years ago, they met in a class designed to help people make great decisions, and today, they're hoping that their biggest decisions pay huge dividends.
"We both know we're here to win championships," Lynch said. "I didn't leave a broadcasting career for anything other than that. We understand we've got some work to do, but if we keep making good decisions like drafting [Thomas], we feel like that's where we're going to get to. How long that's going to take, we don't know. But we're in this thing to win championships."
When Lynch and Thomas recently sat down for an interview to discuss their relationship and the class that first brought them together, the bond they already shared was impossible to miss. As expected from a man who spent the past nine years as a color commentator, Lynch has that infectious personality that quickly draws people in, an easy-going, aw-shucks style that made him a natural in broadcasting. He's more like a fun-loving uncle than a demanding boss to Thomas, who's more reserved and introspective in nature. They work well together because Lynch knows how to work a crowd while Thomas instinctively plays off him until finding his own comfort zone.
What is harder to see is where they're similar. They're both fierce competitors with strong work ethics and an unquenchable desire for greatness. They understand the challenge that exists in San Francisco -- this is a franchise that hasn't finished north of .500 since 2013 -- and they also appreciate the history that Stanford has created within the 49ers. When this franchise taps into that school's resources, good things tend to happen.
The 49ers were fresh off a 2-14 season when owner Eddie DeBartolo hired Stanford head coach Bill Walsh to run his team in 1979. San Francisco won the Super Bowl in the 1981 campaign and added three more titles during the 1980s. The 49ers had gone eight straight seasons without a playoff appearance when DeBartolo's nephew, current team CEO Jed York, hired another Cardinal head coach, Jim Harbaugh, in 2011. San Francisco promptly went 13-3 in Harbaugh's first year and reached the Super Bowl in his second.
Lynch had no fantasies about an instant turnaround when he and head coach Kyle Shanahan took control of the team this past winter. The 21-year-old Thomas, however, is off to a terrific start. At 6-foot-3 and 273 pounds, he brings all the characteristics that portend greatness at his position: strength, quickness, agility, intelligence and an undeniable tenacity that erupts in competitive situations.
"Solomon is the nicest guy you'll ever meet," said Stanford tight end Dalton Schultz, who also took that course with Lynch and Thomas. "But on the field, it's a complete switch in personality. Dude is a beast, and he trains like that, too. When he trains, he's like forcing [his will] upon everyone around him to try to be great."
It wasn't difficult to see where Lynch wanted to start when it came to rebuilding the 49ers. The selection of Thomas gave them a versatile defender who should thrive in the team's new 4-3 scheme. San Francisco used first-round picks on defensive linemen in both of the previous two drafts -- DeForest Buckner in 2016 and Arik Armstead in '15 -- so there are high hopes for what that group can accomplish in the coming years. Lynch also remained focused on defense early in the 2017 draft, as he selected Alabama linebacker Reuben Foster with the 31st overall pick and Colorado cornerback Ahkello Witherspoon in the third round.
The 49ers obviously realize they will have to be patient. However, their current 0-4 start has revealed some positive signs, including a 12-9 loss at Seattle in Week 2 that wasn't decided until the fourth quarter. Thomas played a significant role on a defense that continually harassed Seahawks quarterback Russell Wilson and limited Seattle to 3.5 yards per rush. Thomas finished with four tackles, including two for a loss, and one quarterback hit. Two weeks later at Arizona, the rookie notched his first career sack and totaled four QB hits in an 18-15 overtime loss to the Cardinals. As Lynch said, "Already in Year 1, we feel like this is a guy you better account for, or he's going to make your game plan miserable."
"I want to be the best player I can for this organization," Thomas said. "My goal is to be the best player I can and to always do that. And I want to make sure that I make him look like the best general manager ever."
That combination of desire and character is what makes Lynch so excited about Thomas. In other words, that class was just the beginning of a rewarding relationship.
"Making someone your top pick, especially a pick that high, it's a financial obligation," said current Cardinal head coach David Shaw, who played with Lynch at Stanford. "This is a guy that is going to be linked with you for a long time. So it can't ever just be about football. It has to be someone you trust, someone of character. In that [classroom] setting, John could see that Solomon is a good person [and] a hard worker who takes things very seriously and will do what he's supposed to do. A lot of those off-the-field questions probably did get answered in that class."
The fact that Lynch and Thomas actually wound up at Stanford, in the same class at the same time, was something that nobody could've foreseen. Thomas was there because he was a marquee recruit, a gifted talent who spent part of his childhood in Australia (his father, Chris, moved the family there because he was an international sales manager for Proctor & Gamble) before becoming a high school standout in Coppell, Texas. Since "Introduction to Decision Making" is a popular class for student-athletes at Stanford, Thomas took it. He was already on campus early to pick up some credits during the summer, so it seemed like a natural fit.
Lynch, on the other hand, was making up for lost time. He left Stanford in 1993 as a third-round pick of the Tampa Bay Buccaneers, but he didn't have his degree at the time. Lynch had been a good enough pitching prospect that he spent two summers playing minor league ball in the farm system of the Florida Marlins (who selected Lynch in the second round of the 1992 Major League Baseball draft). That experience, along with a 15-year NFL career and family responsibilities, meant he never had time to complete his studies.
Lynch didn't think much about that college experience until he was lecturing his son, Jake, three years ago about the importance of accomplishing goals.
"I said, 'We're Lynches, we finish,' " Lynch said of the conversation with his son, who was 14 at the time. "And he said, 'Why? You don't.' So I said, 'What are you talking about?' And he said, 'You never finished your degree.' I looked at my wife and said, 'Linda, we have a problem.' "
Once Lynch decided to enroll in summer school, he asked Shaw for advice on which classes might be worth trying. Shaw said the players really liked a class taught by a professor named Burke Robinson, and that Lynch had better sign up fast. Shaw was a bit surprised to learn Lynch was back in school -- "My first thought was, 'He didn't graduate?' " Shaw said -- but he also knew Lynch would attack his return with the same spirit he brought to the field.
That isn't to say Lynch didn't face some predictable challenges. When Robinson told the class that they would break into teams to work on group projects, Thomas quickly connected with some fellow students. Lynch found it harder to find teammates.
"Nobody wanted to partner with the 40-year-old," Schultz said. "So there's me and [Stanford quarterback] Keller [Chryst] sitting there, and we're like, 'We'll take him!' "
We both know we're here to win championships. I didn't leave a broadcasting career for anything other than that. John Lynch, 49ers GM
Lynch held up his end with his group project, which was focused on deciding whether the Washington Redskins needed to change their name. He even went so far as to call Redskins president Bruce Allen for some input.
"We had a little 'wow' factor in our class," Lynch said proudly.
Lynch also made sure to take time to get to know the football players in his class.
"John had the contacts with some of the owners and managers at the Redskins," Burke Robinson said. "The [other students] deferred to him with the contacts, but John was hoping that they could help out with the details and analysis, which, for him, were more difficult to do. So the team actually divided up the work based on what they were capable of doing."
Thomas and Lynch did talk whenever they had a chance, often times chatting about Lynch's NFL experiences. They also learned about each other's work habits, with Thomas paying special attention to how diligently Lynch took notes and stayed on top of his assignments.
"We weren't in the exact same project group, but our groups worked together a little bit," Thomas said. "We were learning from each other and how to get through certain hard problems. And it was a challenging course, so we had to kind of collaborate and use each other's brains. But his group was really lucky. He had all the connections."
Those friendly conversations eventually would pay off down the road. Lynch already was becoming more familiar with scouting because Denver Broncos general manager (and fellow Stanford product) John Elway -- Lynch finished his career with the Broncos -- was continually asking Lynch to help with player evaluations. Thomas also was learning quickly on the football field. He earned honorable mention All-Pac-12 honors as a redshirt freshman in 2015 and became a third-team All-American as a sophomore last year (when he had 62 tackles, including 15 tackles for loss, and eight sacks).
By the time Stanford began preparing for North Carolina in the Sun Bowl, Thomas thought it was time to reconnect with Lynch to discuss early entry into the NFL draft.
"He played 15 years, so there's just so much knowledge there," Thomas said. "I just wanted to try to see what he had to say. I tried to take different advice from a bunch of different people, and Mr. Lynch's advice was very good."
"I ended up calling three general managers," Lynch said. "I asked them, 'If he went, where is he looking at?' And I think that gave him a range, because all those guys said, 'Here's where he's at.' And it was pretty high, and rising. They also said, 'We'll see how he plays in this game.' So, my only advice to him was, 'You got this game, and the last impression is a powerful one. So go play the greatest game you've ever played.' And he took it to heart. He dominated that game, and then the next thing you know, I take this job."
Lynch might have seemed like a surprise choice to become the 49ers' next general manager, but he did have obvious positives. He had a good relationship with Shanahan, that scouting experience with Elway and all the information he learned during pregame broadcast meetings while at Fox. Lynch also had the benefit of knowing a few things about a certain kid in Palo Alto who could help the 49ers immediately. He actually felt so comfortable about Thomas that he didn't even attend Stanford's pro day.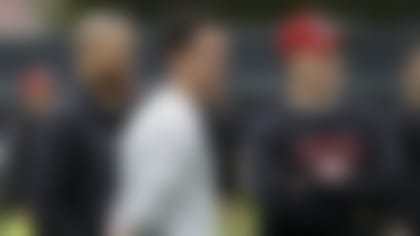 The most important input Lynch received actually came from Shaw, who said Thomas "is everything you want."
Said Lynch: "When you're drafting a guy that high, you're looking for it all. If you're a top-five player, that needs to be a game-changing player. Not only the organization, but for the community, for the culture that we're trying to instill, I knew what kind of player he was ... But what I could speak to, with a lot more comfort with Solomon, was that I knew what type of kid he was."
It wasn't enough for Lynch to simply draft Thomas. He somehow managed to work a trade with the Bears that allowed the 49ers to move down from the second spot to the third selection and also claim three more picks from Chicago (a third- and fourth-rounder in that draft and a third-round choice in 2018). Lynch didn't let the first significant decision of the newest 49ers era pass without appreciating the moment. When he called Thomas to inform him of the selection, Lynch greeted his first pick by calling him "classmate."
"It was all pretty crazy," Thomas said. "From the class to getting advice from him and then getting the call from him on draft day. It was all just a whirlwind of just craziness. So I was happy. Coming from Stanford and just going up the street, it was a dream come true."
The 49ers also see Thomas as a dream talent in this rebuilding process. For that plan to evolve, Lynch and Shanahan have to continue adding the essential components to build a legitimate contender. Lynch hopes to achieve that by remembering some critical lessons he learned in that classroom three years ago. He even decided to create a vision statement based on Robinson's teaching when he joined the franchise.
That statement was posted in the team's war room and said: "Our nucleus of dedicated players will reestablish The 49er Way and lead our organization back to the top of the NFL. These players will represent our core values and beliefs in both their talent and spirt." Thomas was the first rookie Lynch chose to help make that vision a reality. That decision might have happened without their shared experience, but that time together definitely didn't hurt.
"The tools in that class, they just helped me as to how to really make a decision and break it down," Lynch said. "I don't think I needed that class for [Thomas]. I think had I never taken that class, it was pretty clear this guy was a special player. But, you know, it sure helped, and we're fortunate to have him."
Follow Jeffri Chadiha on Twitter @jeffrichadiha.