The Seahawks have reached great heights with their dynamic quarterback. Now they're asking him to do more than he's ever done before.
By Jeffri Chadiha | Published Jan. 6, 2017
RENTON, Wash. -- For everything Seattle Seahawks quarterback Russell Wilson has done in his career, this is the postseason when we're going to learn something even more essential about him. He's leading a team stripped of critical playmakers, one playing without a consistent running game or a dominant defense. That doesn't mean the expectations are any lower around this franchise. It's just that now, Seattle has to ask more of its leader than it has ever demanded in the past.
This isn't the first time Wilson has been asked to carry this team. He did it for most of the second half of last year, when he threw 24 touchdown passes and one interception in his final seven regular-season games. However, we've never seen Wilson enter the playoffs with so little help around him. He's usually had the "Legion of Boom" fully intact, the power running of the now-retired Marshawn Lynch and the assurance that all the essential elements were available for the Seahawks to push deep into the postseason.
Quite simply, this has been the most challenging year of Wilson's career, both because of the pain he's had to endure and the people he's lost over the last few weeks.
"We had to battle through some things," Wilson said. "But we had a lot of guys who had to battle through some things. Every year is a new test. Every year is a new challenge. There's nothing that, for me, that can get me down."
What Wilson is about to go through this postseason is something plenty of elite quarterbacks can understand. Aaron Rodgers hoisted the Green Bay Packers on his shoulders six weeks ago, when he declared they would make the playoffs despite being 4-6 at the time. New England's Tom Brady has had seasons when his supporting cast was less than stellar, and this year, he's pushing on without star tight end Rob Gronkowski, who is stuck on injured reserve. Let's not even get into what Andrew Luck accomplished in Indianapolis in his first three seasons, when he carried a limited Colts team to three consecutive playoff appearances.
The reality is that every star quarterback usually has a moment when he's got to prove what he can do in a really crappy situation. Put another way, some players either make those around them better, or they look better because of the people around them. Wilson already has shown that he's in the former category. The question now is, how far can he take Seattle when it's apparent his performance will decide this team's postseason fate?
---
---
The Seahawks already are playing without two key stars who've been lost to broken legs. Wide receiver Tyler Lockett, who broke his leg on Dec. 24, is the team's best big-play threat, a gifted talent who can devastate opponents in the passing game, with returns or even with an occasional reverse. The absence of free safety Earl Thomas is an even bigger blow. He's the man who serves as the foundation of that renowned secondary, and Seattle routinely has been torched by opposing passers since his injury in a 40-7 win over Carolina on Dec. 4.
Throw in the fact that, without Lynch, the Seahawks uncharacteristically ranked 25th in the NFL in rushing with an average of 99.4 yards per game, and you can see the dilemma. This team has to do more on offense than it's ever done under Wilson just to have a shot at a deep run.
"We always want to be explosive," said Wilson, who set career highs in passing attempts (546) and yards (4,219) this season. "We want to be explosive. We want to be great on third down. We want to be great in the red zone [and] we want to be able to capitalize on big situations. I call them GAP plays: game-altering plays. And that's my mentality. There's nothing that we can't do."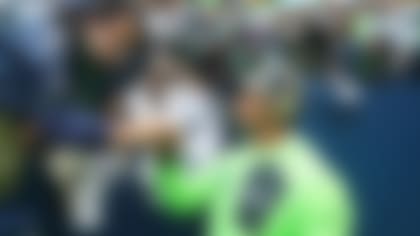 The good news for Wilson is that he still has some talented weapons in the passing game. Wide receiver Doug Baldwin (94 receptions, 1,128 yards) has quietly had another standout season, while tight end Jimmy Graham (65 receptions, 923 yards) has become the dangerous weapon the Seahawks coveted when they traded for him in 2015. Seattle is at its best when those two players are in rhythm with Wilson. In fact, this offense had its most impressive efforts midway through the year, when it enjoyed a three-game winning streak that included a 31-24 win at New England on Nov. 13.
Wilson riddled the Patriots for 348 yards and three touchdowns on that night. It seemed like an indication of how far the Seahawks could go with a more wide-open approach, as their offense had become more explosive. Now, it feels more like an example of what Wilson has to do to keep this team's championship hopes alive. It was the first time his body had felt right in weeks -- he's battled through a high ankle sprain, a pectoral injury and a sprained MCL -- and the difference in his playmaking was immeasurable. Consider that the usually mobile Wilson, who averaged 103 carries and 608 rushing yards per season heading into 2016, set career lows in rushing attempts (72) and yards (259).
Wilson even admitted that this season has been the most challenging for him physically, as he spent most of the first half of this year going through non-stop treatments just to be ready to play each week. There are also more things to think about in his new life, including the impending birth of his first child with his wife, Ciara (who also has a son that Wilson now helps raise). No longer is Wilson solely the fresh-faced underdog who is proving his doubters wrong at every turn. He's grown into a wealthy, fifth-year veteran, a family man who's experiencing all the challenges that come with being a franchise quarterback.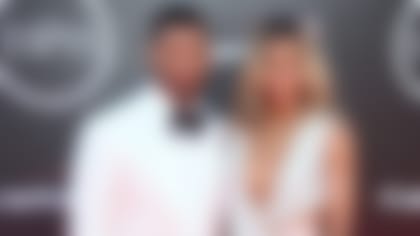 What hasn't changed is Wilson's trademark determination. When asked about the pressures that have come in a season when the Seahawks won the NFC West but went 3-3 in their last six games, he said, "We've been able to go through every situation you could imagine, and we look forward to the challenge. Because at the end of the challenge, there are a lot of great things, and everything's worth it. We've got a few more weeks left, and we want to put everything we can into it -- one week at a time, one moment at a time -- and we'll see where it takes us."
These comments surely sound quite familiar. They are the types of things Wilson would say back when the Seahawks quickly matured into a Super Bowl champion and came within one play of claiming a second consecutive Lombardi Trophy. Back in those days, they were arguably the baddest team on the block, a squad that would beat you up and tell you about it. Well, they can still talk a good game in Seattle, but with one pronounced difference: This year, their quarterback is the one who will ultimately back it all up.