Five NFL players and one lifelong coach traversed Europe as part of the USO's efforts to show America's service members how much they are appreciated
By Marc Sessler | Published May 25, 2018
They could go anywhere. Amsterdam. Ibiza. South Beach. Cancun. Any white-hot vacation spot would do.
Instead, they've come here, halfway across the world to a hushed, tucked-away airstrip in the northeastern wing of Italy.
Five NFL players -- Latavius Murray, Mark Ingram, Carlos Dunlap, Ben Garland and Mario Addison -- and one lifelong coach in Rex Ryan. Using their fleeting offseason downtime to voyage here, in April, to Aviano Air Base. A sprawling tangle of runways and tan buildings topped with clay-colored, terracotta-style roofing.
Idling on a tour bus, we wait for military security to scan our passports and clear us for entrance onto the base. Everyone quiet, staring out at the nest of barbed-wire fencing on either side of us.
And then it happens. We're approved for action. The bus doors kick open. Out come Rex and the players, guided by airmen past a sea of hedges flush with red photinias and deeper into the Aviano complex. Entering a courtyard, our group is greeted by a waiting collection of U.S. service members four rows deep, many of whom break state upon seeing the players filter in.
After all, this is no military drill. Ingram, the Saints running back, makes that clear right away, diving in to shake hands, click selfies and clown around with the masses.
Ryan, the former head coach of the Bills and Jets, is soon surrounded and happily in his element, holding court with the crowd. Same goes for Murray, Garland, Dunlap and Addison, flanked by members of the 31st Fighter Wing delighted to be talking with the players they watch on Sundays in the fall.
A NATO base owned by the Italian Air Force, Aviano sits at the foot of the Italian Alps, distant brown and green foothills that vanish below a smeared cluster of pasty clouds.
While Aviano is widely regarded as a favored assignment, it's fair to wonder if these soldiers, cast away from home for months and years on end, ponder the larger picture: Does anyone know we're here? That this base even exists? Are we forgotten?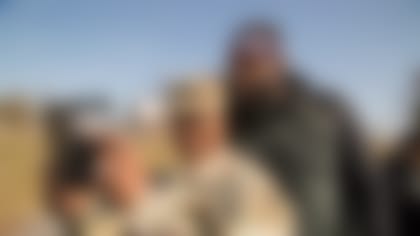 The mission of the United Service Organizations is to ensure no soldier need ask those questions. Birthed in the days prior to World War II, the USO has partnered with the NFL for 50-plus years.
"From the beginning of our league, we've had so many connections to the military," said Melissa Schiller, the NFL's Director of Community Relations, who spearheaded our trip. "As a country, we sometimes silo the military out as a cause or a community of their own, but we're responsible for thanking them for what they're doing every day. That's a responsibility that we take on as the league."
Melissa was joined by veteran USO tour director Betty Naylor, who quickly earned the respect of Rex and the players. With 21 years of experience inside the USO, Betty -- known within our group as "Ms. Betty" -- ran the show with a brass-tacks, business-first approach centered around serving the soldiers.
"I want everyone on my tours to be comfortable, be safe, have fun, but remember that you are here for the servicemen and women and their families, first and foremost," Naylor said. "There's your focus. Let's not lose sight of that, ever lose sight of that focus. And these guys took it right away. They listened. They took it. They were there for the right reasons."
Our traveling party did not lack for personality.
We arrived in Italy the day before our visit to Aviano, landing at Venice's Marco Polo Airport. None of these players had known each other previously. None of them knew Rex. Instead of fumbling around awkwardly, though -- like new friends sometimes do -- the group cohered immediately.
With a free day to roam before launching the tour, we opted to stow our bags at the airport and hail a fleet of cabs to Venice. The side trip served as a harbinger of the week to come: Right away, the players bounded off together through the city as brothers.
In Venice, it was Garland, the versatile Falcons O-lineman and Air Force graduate, who burned ahead of the group, determined to visit every castle, cross every bridge and barnstorm every antediluvian dungeon within sight. Squelching every stereotype painting 300-pound blockers as raging meatheads, it was Garland who lured us away from the beer stands and cafes dotting the famed Piazza San Marco to climb Saint Mark's Basilica, the ancient tower dating back to the 9th century.
Down below in the streets, it was Rex who brought the group together, buying a round of beers and slices of authentic Italian pizza for all. During the meal, Rex unfurled a string of gripping, hilarious anecdotes about his time with the Jets. Anyone could see right away: He is a lifer. The son of a coach, the brother of a coach and the father of a coach. Someone who cannot be separated from the game.
On the field, Ingram's job is to run away from Addison, the Carolina defensive end, but in the streets of Venice, they waltzed together through Piazza San Marco, inviting interaction. Addison played the role of merry prankster, roaming the streets with a lifelike toy cockroach hidden away in his clenched fist. Walking up to tourist families, lone stragglers, old men and groups of children, Addison would pull people in, slowly opening his fingers to reveal the bug. Squeals and screams. Men hopping back. Women and children dashing in every direction.
Trailing Ingram and Addison around Venice's age-old maze of canals, I was repeatedly tapped on the shoulder by pedestrians, asking: Who are those guys?
"Essscuse me," one old man inquired, pointing to our gaggle of massive-bodied men. "They play sport?"
"Yeah, they're from the NFL," I answered. "American football."
WE ALL KNEW WHY WE WERE THERE, AND I THINK IT WASN'T ABOUT THE EXPERIENCE WE WERE GOING TO HAVE, BUT THE TIME WE WERE GOING TO SPEND WITH OUR TROOPSAND WITH THE MEN AND WOMEN OVER THERE. Rex Ryan
At dinner, when our waiter asked what Ingram did for a living, Addison cut in to tell the man that Ingram was a renowned saxophone player scheduled to perform up the street later that night.
The dinner itself was the first look into how these guys eat to maintain their playing weight. While I chipped away at the best plate of pasta of all time, I watched in awe as the players capably put away mounds of food. Double entrees. Meats on the side. At one stage, a collection of enormous fish arrived on plates, ready to be scaled and devoured.
With night falling and our luggage still housed at baggage, we hired a water taxi to whisk us back to the shores of Marco Polo Airport. Instead of having the driver steer us, though, Garland and Dunlap, the underrated Bengals pass rusher, took turns at the wheel, navigating the city's canals and ultimately taking us across the choppy Venetian Lagoon to the airport.
And back to the real reason we'd come here.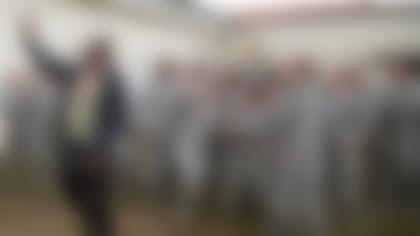 The following day, our stop at Aviano Air Base afforded us a king's tour of this large-scale operation, complete with F-16-littered runways and hulking air hangars.
The USO worked with Aviano to create a daylong visit that allowed players to embed with the service members. Much more than just signing autographs and shaking hands.
"It's pretty cool to actually get one-on-one time with them. Just talking about random stuff and seeing that they're actual people, too," said Kyle, an airman at Aviano and Vikings fan who logged some serious facetime with Murray, the Minnesota running back.
"I think it's fantastic," said Chief Master Sergeant Lawrence Kirkley of the Air Force. "You know, they call baseball America's pastime, but I'll tell you what ... the NFL is where it's at. So, to get a piece of home over here in Italy when these guys are gone for two years, three years, sometimes four years. To see some of these studs that are putting it out on the field every single week come here and show their appreciation for the Air Force ... it means a tremendous amount to us."
If pro football is a study in daily regimentation and repetition, a noticeable parallel shone through as legions of Air Force personnel handled their tasks with purpose.
"It was awesome to see," said Garland, who was commissioned as a second lieutenant after graduation from the Air Force Academy and attained the rank of captain.
Garland operated all week as a glue between the players and the service members, saying: "I could kind of see it from both perspectives. Both seeing it from the NFL perspective and just seeing the NFL players' eyes light up because they saw a K-9 dog handle Mark (Ingram -- more on that in a second) or just to see what the [service members] go through. You see the genuine appreciation the guys had for what the soldiers do. They were impressed."
About that tussle with a K-9? Few moments at Aviano generated a louder roar than Ingram's showdown with an all-business, take-no-prisoners security work dog:
"Listen, man, the dog video. There's a lot that goes into it. It was a crazy situation. Everybody ... I was peer-pressured. I haven't fell into peer pressure my whole life, and they peer-pressured me to go out here and get attacked by this dog," Ingram joked. "... Everyone was like, 'Juke him, juke him,' and the dog looked excited, so I'm not going to juke him. So I started running. Then I saw him behind me, so I said, Let me spin out of it. Then I spun, and he got my arm and he slung me, he horse-collared me.
"But I got up like a champ, because I'm a beast! I can't let him hold me down. I'm a bad mother. But the dog was a beast, I'll tell you that."
As Dunlap and Murray took turns trying to fit into the cockpit of an F-16 fighter jet, a group of airmen pointed out the positives of life at Aviano. For service members with children, the base offers a top-shelf school system running from preschool through the 12th grade. On days off, you can cross the border into a rash of surrounding countries, tour ancient castles or explore Prosecco Road, a celebrated 20-mile stretch of winery-infused thruway.
The perks are overt, but they also mask the day-to-day reality that any airman at Aviano could be deployed into danger in a flash.
"A lot of people, when they picture those bases in Europe -- and especially if you're not in the military -- you just picture this postcard of Italy," said Air Force Captain Tom Barger. "And, yeah, it can be like that sometimes, but really, it's this: It's the daily grind, and it's not always eight-hour shifts. ... You can see that we're constantly training and practicing and being ready at a moment's notice, and so we get to show that off. And show these players just how hard they're working, just how dedicated they are to their mission here, to the Air Force and to their country."
---
---
Aviano's vast layout stands in contrast to our next stop at Ghedi Air Base, a spartan Italian-owned air base hosting U.S. Air Force units in the Lombardy Region of northwest Italy.
On the bus ride there, Rex takes on a Sudoku puzzle. Garland recovers from a pre-dawn workout by massaging his legs with a TheraGun, which checks in as slightly less clamorous than a jackhammer. Out the window, on the highway below, we witness insane action: cars of all sizes -- some built like golf carts -- whipping by and attempting to get the best of our Italian bus driver, Mauro. No dice. Mauro is a full-fledged, unhinged wonder, talking nonstop from the front seat, shouting at traffic and opposing vehicles and -- when we park at a rest stop -- excitedly wandering to the back of the bus to marvel at Rex's Super Bowl ring.
"And you are the trainer?" Mauro asks Rex, gripping the hardware Ryan earned with the 2000 Ravens.
"No, not a trainer. A coach."
"Ah," Mauro exclaims. "A coach!"
"Or something like that," says Rex.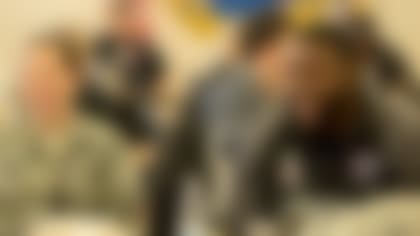 The U.S. contingent at Ghedi -- roughly 150 strong -- is far flung from the busier areas of Italy, with one airman, Brian, telling me: "They haven't seen anything like this come through Ghedi, so they were super excited."
One encounter that stood out: Dunlap spending long minutes with an airman who lived and died with the Bengals. Dunlap's family has long been tied to the military, making him a natural fit for this trip. It was Dunlap who turned heads as much as any player overseas. In the plazas of Italy and gardens of Germany, the sight of this 6-foot-6, 280-pound human strolling across the horizon caused a commotion. Yet, his interactions with soldiers were imbued with a quiet calm and kindness.
"[The Bengals are] considered one of the smaller-market teams, but there ended up being a few Cincinnati fans over there," Dunlap said. "One of the guys was telling me how he had to stay up or get up at 4 a.m. to see our games. He remembered some of the plays I made on the field, so that put into perspective how you have real fans all over the world."
At Ghedi, Dunlap was asked to film a brief spot for the USO. With the group situated inside the on-base gymnasium, the Bengals defender picked up a pair of weights, ripped off a few curls, and told the camera: "My name is Carlos Dunlap, and I'm the force behind the forces."
Dunlap dropped the weights and waltzed away, proudly pronouncing: "One-take 'Los!"
Not according to Murray, who jumped in to halt the production. "I don't like it! I don't like it! I don't like it! I need more PASSION, more SERIOUS," Murray announced, sending the room into fits of laughter.
Dunlap was forced to do the take again for our resident Terrence Malick, and his second attempt, thankfully, pleased the director. This was Murray all week. Unfurling perfectly timed quips and hilarious complaints, but giving his every second to the Vikings fans and soldiers we encountered along the way.
"I have a fiancée who's in the Navy and who spent time in Japan, then California, and now Miami," Murray said. "I take away that [one of these soldiers] could have been her. Or, for instance, if I wasn't doing what I was doing, that could be me."
At Marco Polo Airport, on our way out of Italy, Ingram was the first to be noticed, as a military family with Alabama roots stopped the former Crimson Tide star and Heisman winner for group photos and selfies.
This was customary. Day after day, heads turned wherever we went, but nobody generated more attention than Rex. We witnessed a repeating phenomenon, as passersby would visually place Ryan but couldn't logically understand why he'd be standing at the foot of Saint Mark's Basilica in the middle of Venice on a Tuesday in April. Countless humans wandered up to Rex, asking sheepishly: "Are you that coach?"
Ryan was patient to a fault, and happy to congregate -- a quality extending to the entire group. The players gave their attention and care to the service members, but the outreach didn't stop there.
FROM THE VANTAGE POINT OF SOMEBODY WHO LOVES FOOTBALL WHO'S ALL-AMERICAN, WINGS AND BEER ON SUNDAYS, WATCHING THE SUPER BOWL, THINGS LIKE THAT IT WAS KIND OF LIKE A LITTLE PIECE OF HOME. Army NCO Mary-June Arcand
The day before, we took an evening side trip to Scaliger Castle along the shores of Italy's Lake Garda. After wandering the keep -- a 13th century fairytale-like structure literally rising out of the choppy waters -- Addison and Garland were stopped by a family of Americans. The father informed the players that his son, a red-haired young boy, was a Make-A-Wish candidate. Right away, Addison and Garland pulled the young guy into their orbit, lifting him high onto their shoulders in the middle of a bustling street. The interaction took all of three minutes, but it remains one of the trip's more unplanned moments of power.
"The fact that I can talk to anybody and impact them and have fun with them all in the same time? Why not do it?" Addison said. "Especially that kid we saw. I'm really big on that. Some of those kids, who we're making a wish for, man, they're in bad shape. Sometimes, they don't have long to live. And to do that, it's great to see a smile on their face."
"I think that's maybe what life's about," Garland said. "Building those relationships and those bonds and genuinely taking an interest in people. That's what makes the biggest difference. And that's what these guys on this trip understood. You take that 15, 30 seconds, maybe an hour out of your day, and you genuinely put that into somebody, you can literally change their lives."
It was fair to wonder if the city-to-city, country-to-country hopscotching would take its toll on the crew. After landing at the Frankfurt Airport, we hopped right onto another bus -- a hulking double-decker fit for a mid-tier rock outfit -- and made the 90-minute haul to Sembach Kaserne for a brief meet-and-greet with service members.
The bus came equipped with a fleet of bunk beds, and most of the crew conked out. But the minute we hit Sembach, the players and Rex exited the caravan and turned it on like a switch, happily talking with the crowd. You never heard a complaint, with Murray saying: "This trip wasn't about us. I think everybody knew that."
"When you think of the troops, you might think of the battles and the frontline guys, but there's so much more to it," Ingram said. "Such a sense of team effort ... to make the whole operation go. Being able to go visit the bases and see how they're away from their families or have their families out of the country -- it was great to be able to see them and put smiles on their faces."
Ryan agreed, saying: "We all knew why we were there, and I think it wasn't about the experience we were going to have, but the time we were going to spend with our troops and with the men and women over there. Everybody got off [that bus] and was enthusiastic about it. There's no question."
At our next stop, Landstuhl Regional Medical Center, the crew met one-on-one with wounded U.S. troops before dining on a German-style barbecue put on by the staff of the USO Warrior Center.
The hangout occurred in a comfortable rec room, where Garland was surprised with a cake for his 30th birthday and where Ingram and Dunlap played "Madden" against a flock of soldiers. Dunlap was a heady presence, turning Andy Dalton into Joe Montana circa 1989 and wreaking ultra-havoc with the on-screen "Madden" version of Carlos Dunlap.
"You could see when they were talking to these soldiers, you really saw that deep conversation," said the NFL's Melissa Schiller. "I think they were interested in learning, as well as really understanding who these people were and really thanking them from the bottom of their hearts."
The following morning -- our final day of the trip -- brought hordes of action. A sunny afternoon barbecue at the USO center in Germany gave way to a firsthand tour of a Black Hawk helicopter at nearby U.S. Army Garrison Wiesbaden. In between came one of the trip's high points, as Rex and the gang sat down for conversation and one-on-one coaching sessions with football players from local Wiesbaden High School, operated by the Department of Defense.
"From the vantage point of somebody who loves football, who's all-American, wings and beer on Sundays, watching the Super Bowl, things like that, it was kind of like a little piece of home," said Army NCO Mary-June Arcand, a Panthers fan who got to talk with Addison in Wiesbaden. "... How often do you get to meet a player from your favorite football team?"
Said the USO's Betty Naylor: "These guys were fun. They were easy. There was no ego. The main thing was, they all made it fun, because I felt they were all there for the right reasons. They wanted to talk, they wanted the experience of listening to what these servicemen and women had to say."
Covering the NFL, it becomes easy -- maybe too easy -- to see the football player and forget the person.
That was impossible on this trip, traveling with a crew who playfully jabbed at each other all week, formed lasting friendships and gave of themselves to everyone they encountered along the way. No pettiness, zero diva moves, not a single bicker.
Half the group hailed from bitterly opposing teams in the NFC South. And while Addison and Ingram pecked at each other all week about the Saints and Panthers, Mario acknowledged he'll never see Mark the same way again.
"Yes, man. I hate that it did that, but it do. Every chance I got [against Ingram], I'd try to take his head off, because that's my job. But now, I might take it easy on him," Addison quipped. "I'm still gonna hit him hard, but he's more of a friend now. And I respect him. I respected his game, but now I respect him as a person. 'Cause I really know him now."
"I know that's my brother now. That's a good friend of mine. A friendship that will last a lifetime," said Ingram, who will face Addison and the Panthers in Weeks 15 and 17 after serving a four-game ban to open the campaign for violating the league's PED policy. "A year ago, he was just a guy, a guy I didn't care for, but a guy I respected. He was an opponent. ... I'm not going to take it easy on him by any means, but ... now, it's like, that's a brother."
Rex was one of those brothers, too, showing right away why he's known for showering his players with intense loyalty and love -- a gift that extended to the service members he encountered.
"Most times, you really can't hang with the coaches the way you want," Addison said. "That experience with Rex, the fact that he came out with us to have fun the way he did, it speaks volumes of his character. His character, man. The man is outstanding."
Ryan gave off the vibe of someone far from done with coaching. His passion for football bled through daily and sprung to life as he hung out with the five players on this trip. Who knows what the future holds, but if Rex returns, it's fair to wonder if a handful of these USO attendees might follow. It was that kind of week.
"I thought all of them were just special guys," Rex said. "And, hell yeah, I'd bring 'em with me. That's kind of how I look at these five: They're my guys. It doesn't matter whether I coach them or anything -- that I think we have a bond with each other over that little week that we had, I think we did establish that bond."
A bond, in the end, not only with each other, but with hundreds of soldiers housed in distant bases far away from American soil. Men and women who would toil for our country whether or not these six NFL luminaries made the trip -- but who today can be sure:
Yes, we know you're there.
Yes, we are with you still.
_____________________________________________________________________
Editors: Ali Bhanpuri, Tom Blair, Brooke Cersosimo, Gennaro Filice | Illustration: Issiah Davis