By Jeffri Chadiha | Published Feb. 24, 2016
SELMA, Ala. -- Michael Johnson sensed the weight of the moment building, as if a shot clock was ticking deep inside his mind. The crowd around him was swelling -- tens of thousands of people were in Selma, Alabama, on March 7, 2015 -- and they all wanted the same opportunity he was receiving: a chance to shake the hand of President Barack Obama. Johnson knew how blessed he was to be part of the VIP entourage that would accompany Obama as his hometown celebrated the 50th anniversary of the historic "Bloody Sunday" march from Selma. Johnson also had about 30 seconds to educate the president on the current state of this city.
Johnson was a strong student of Selma's history, largely because his mother, Thomasene, had been a part of the march that eventually made it to Montgomery. So Michael knew all about the atrocities, the road blocks, the battles that had to be fought for his hometown to become ground zero in the journey to the Voting Rights Act passed in 1965. Now Johnson was eager to inform Obama of a different type of fight in Selma. It was the kind of struggle playing out in too many depressed towns across the entire country.
Johnson's nerves eased when Obama greeted him as "Big Mike" -- a reference to the 6-foot-7, 280-pound frame that allows Johnson to excel as a defensive end for the Cincinnati Bengals -- and from there, Johnson started improvising.
"I said, 'We need help," Johnson recalled during an interview in October. "We need more job training, more job opportunities.' One of the big things I hear is that we don't have any jobs down here, there's nothing to do. Well, we gotta make sure that we're doing our part."
It was over before Johnson even knew what happened. He had asked about some federal programs, and Obama had given him the name of an aide to talk to following the event. After that, Johnson hugged Michelle Obama and strolled off to join the rest of the VIPs. He also thought about the magnitude of that brief exchange.
On March 21, 1965, Thomasene had crossed Selma's Edmund Pettus Bridge with nearly 25,000 other people on a trek that would lead to equal voting rights. Fifty years later, Michael was pushing the country's first black president to help with more change.
"When I walked, I knew it was significant, but at the same time, it was different," Thomasene said. "I was a kid. I was like 16 years old, and I didn't really understand what it meant or what it would mean down the road. But here, I could reflect back and say, 'Hey, that's my son. And he's with the first black president.' "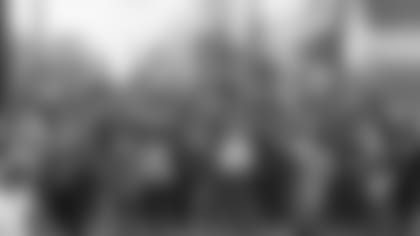 Like many places where profound historical moments occurred, the Edmund Pettus Bridge is much smaller than one would expect. When Michael Johnson recently stood in the center of the structure, it seemed like the length of a couple of football fields, even though it measures 1,248 total feet. That might be because the supersized Johnson tends to dwarf most everything around him. It also has something to do with how our greatest accomplishments can become larger than life the longer time passes.
Every time Johnson comes to that bridge, he's reminded of everything that has helped shape his heart and his soul.
All I knew was I'm American. Yeah, I was young and black. But I knew I was equal. I never thought I had to worry about anybody disliking me or segregating against me because of the color of my skin. And as a child, that's how you are -- you're innocent. You don't understand it. Michael Johnson
"My mom, she was one of those people that was protesting in high school," Johnson said. "Just listening to her talk about it, they didn't even know what they were doing. They were just having fun with their friends ... [but] their sacrifices [got] that publicity out around the country to shine the light on the fact that things need to change. So I'm a part of that. I just feel like it's my duty to go out and take advantage of the opportunities that they marched for me to have."
The people who follow Johnson's football career know he's pretty much capitalized on nearly every opportunity that has come his way on the field. He's logged seven years in the NFL since being a third-round pick in the 2009 NFL Draft. He's amassed 35.5 sacks during that time while earning a reputation as a stout run defender. When a move to Tampa Bay didn't work out -- the Buccaneers released Johnson one season after signing him to a five-year, $43.75 million contract in 2014 -- Cincinnati quickly re-signed him to help the defensive front of the eventual AFC North champs.
The people who know the 29-year-old Johnson down in Selma see a different young man, one who hardly can be defined by his athletic exploits. As Johnson strolled over the Edmund Pettus Bridge last October, he talked about all the dreams he still has for his hometown. Among his many charitable contributions, he's already written checks to cover resources for the town's fire department, a computer lab at his former middle school and a football and cheerleading camp he runs every summer. Johnson openly admits that some locals have encouraged him to think about running for mayor when his playing days end. At times, it feels like Johnson is on a one-man crusade to keep Selma moving forward.
"We honor [the marchers] with our actions," Johnson said. "And I've tried to do that. I believe when Dr. [Martin Luther] King [Jr.] said he had a dream, that meant black, white, yellow, whatever ... being able to go out and be productive, and not being held back because of the color of your skin. That's why I'm so passionate about working with the youth."
"We need to understand where we were, but also where we are going," said Johnson's former middle school football coach and teacher Gaylen Denson. "So I think the kids studying the history of [Selma] and then seeing so many successful people like Michael going beyond [is big]. He didn't say, 'Hey, I'm leaving Selma and I'm never coming back again.' He comes back. This is home."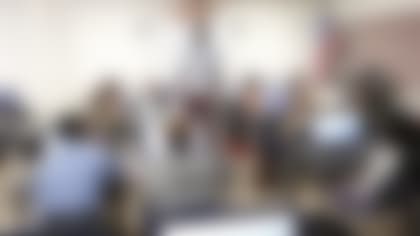 Johnson actually stopped by Denson's classroom at Martin Middle School on a recent visit to Selma. He spent part of his time reconnecting with old teachers and administrators, but he also made a point of speaking to students in the computer lab he donated to the Dallas County School District. The kids listened intently as Johnson talked about some of the history of Selma and why it still matters today. The fight for civil rights is no longer the story in those parts, but equality is something that is still very much on the forefront of Johnson's mind.
As Denson noted, "Michael is saying, 'I made it and now it's time for me to make others understand that you don't have to make excuses. You can make it. You can do it.' "
Added Johnson: "I tell them all the time, 'You don't get to pick your situation that you were born into, your environment, none of that. But what you do get to pick is the effort that you put into each and every day. And you never know who may come along that can help you.' I had so many people that came before me to help pave the way, and now it's up to me to make that path even wider."