As the first coach in franchise history, Tom Coughlin swiftly made Jacksonville a contender. Two decades later, the 70-year-old has returned to the downtrodden Jaguars with a different job title, but the same grizzled mindset.
By Judy Battista | Published August 15, 2017
JACKSONVILLE, Fla. -- On the wall of Tom Coughlin's office -- exactly the same one he occupied two decades ago -- is a black-and-white photo of iconic hockey coach Punch Imlach. His tie is loosened, his feet are on the desk, a glass of champagne is in his hand, his eyes are fixed on the Stanley Cup that dominates the sparsely decorated room. And on the blackboard over Imlach's shoulder in that quiet moment of revelry are words Coughlin can appreciate: "No Practice Tomorrow."
"Isn't that great?" Coughlin said.
For Coughlin -- who delights in the relentlessness of preparation so much that, before the final sip of champagne had been swallowed hours after he won a Super Bowl with the New York Giants, he began musing aloud about the start of the next offseason program -- there are, once again, more practices to evaluate, more games to prepare for, his once and future team to mold.
Back before anyone made the stinging suggestion he might be too old for the NFL, and certainly before he and the Giants were the only team with the physical and mental fortitude to topple Bill Belichick's Patriots -- twice -- in the Super Bowl, Coughlin toiled here, as the coach and top personnel executive, to build the Jaguars from scratch as an expansion team in the mid-1990s. He remembers the day he signed the first 10 players in team history off the street around Christmas in 1994, and it made the front page of the paper. When he came south again in January, 22 years later, it led the news again, the prodigal coach returning.
Except, well, not exactly. Coughlin's presence, even behind the scenes, has certainly re-energized and given hope to a fan base that last enjoyed a playoff appearance and winning record in 2007 and still reveres Coughlin for building the franchise from the ground up. There is comfort taken here that so much about Coughlin has remained almost exactly the same as it was when, as a Bill Parcells disciple arriving by way of Boston College, he first came to Jacksonville in 1994 and had to hire everybody in the building connected to football.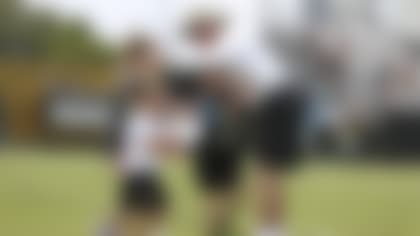 Only a handful of those employees remain today, but Coughlin's influence looms over everything here, including head coach Doug Marrone, who, in turn, calls Coughlin "Coach." The emphasis on culture and mindset and physical and mental toughness is intact. Yes, the clocks in the building are set five minutes fast. No, you may not have a pingpong table in the locker room that is so plush, Coughlin shakes his head over it. As the rare executive vice president who watches warmups and position drills (even special teams), Coughlin marches the sideline in his wide-brimmed safari hat with a perpetual frown on his face, noticing everything. With Coughlin soon to be 71 and besotted with grandchildren who frequently visit his practices, his football persona has mellowed only in the most imperceptible ways. After a recent joint practice with the Patriots, Coughlin responded to a question about what he thought by starting to riff on how good it is for a young team to practice with a champion before abruptly dispensing with his up-with-people remarks to return to reality.
"I'm anxious. I've got to work on it," he began, before grabbing both of the reporter's arms and opening his eyes wide in dismay over one particularly mistake-prone, goal-line sequence. "I said to the offensive line, 'You've got to be f------ kidding me. The ball's on the 1-yard line!' "
This frustration with the lack of push from the line sounds like something Marrone -- coincidentally, a former offensive line coach -- might say. That gets to the heart of the intrigue about this iteration of Coughlin. He did not slip seamlessly back into his life in Jacksonville -- where he kept a home and much of his charitable work for the Jay Fund all along -- as a coach. He is there as the executive vice president of football operations, the top football decision maker. When former Jaguars owner Wayne Weaver interviewed Coughlin to be the Jaguars' first head coach, he off-handedly said during the interview, "You do want personnel, don't you?"
"Yeah, sure," Coughlin replied.
Weaver later admitted it was a mistake to fire Coughlin after the 2002 season. This time, when current Jaguars owner Shad Khan -- desperate to turn around a franchise that is 17-63 and has the NFL's worst winning percentage over the last five seasons -- met Coughlin in Miami, the conversation went differently. He wanted Coughlin as his pigskin overlord, but not as the coach. That gig would go to Marrone.
I have a vested interest in the historical preservation and success of this team because, obviously, it's MY BABY. Tom Coughlin, Jaguars Executive Vice President
So, that's it for Coughlin and coaching?
Last season, after stepping down as Giants head coach following three straight losing campaigns, Coughlin worked in the league office and -- not surprisingly -- his favorite part of that job was being in the officiating control center on Sundays, because the sense of anticipation of games reminded him of being with a team. At the same time, he was quietly assessing potential future situations, looking at teams most often, he said, not as a potential coach but as an executive, eyeing things like salary-cap space. But if Coughlin liked being in a league office, where he went out and did surveys of coaches about issues on their minds, why not just stay there rather than descending into the daily grind of running a team?
He looks at the questioner incredulously. "Why not stay there? Because of the competitive aspect of what I've done my whole life."
There is something romantic, even to Coughlin, about the idea of coming full circle, to spend the twilight of his career -- a description he would probably reject -- finishing the job in Jacksonville, where he took that expansion team to two AFC Championship Games but no further. He said he hadn't followed this franchise any more closely than any other because, bluntly, there wasn't much to follow in the intervening years.
"I have a vested interest in the historical preservation and success of this team because, obviously, it's MY BABY," Coughlin said. "So, I was interested at this time in my career -- this is what I told the owner. I said, 'I can help you. I can help anybody -- the coach, everybody -- because of the experience I've had, what I've done, how I came to even be in this league.' That's really what I was thinking about doing.
"I was fine with the way it came down. It wasn't, 'No, I have to be the head coach.' I don't know. I'm interested in making this job work, this franchise win. That's what I want. I want this franchise to win.
"And I want to see how I am in this capacity. Because I'm not on the sideline, I'm not the guy making the decisions on, go for it on fourth down, field goal or no field goal. It's an interesting concept for me, which, quite frankly, is very interesting to me at this point in my career."
This personal test for Coughlin is interesting to a lot of other people, too, because despite repeated questions, he still has not slammed the door on coaching again. Before taking the job in Jacksonville, Coughlin did not seek advice from Parcells, a Hall of Fame coach who was notably less successful in executive-only roles with the Jets and Dolphins, and the adjustments are ongoing. Recently, Coughlin was taken on a tour of EverBank Field so he could see the selection of suites from which he could choose to watch the game. This is foreign to Coughlin -- before last year, he'd been on a sideline as a coach for a team nearly every year since 1969 -- and it's going to take some getting used to. When he asked where he would watch the game when the Jaguars are on the road, he was told that many stadiums have suites for visiting teams' officials to use. But in some others, visiting executives sit in the press box among the assembled media, a revelation that surprised the veteran of many news conferences.
Coughlin admits he is not sure how he'll manage being off the field for games.
"And I see something I don't like? That's going to be a good one," he said. "I'll keep track of it, and that will be part of our meeting. A big part of it. I'd much rather be on the field in all aspects of that, even in the job I am in. But it's not right to be down there. It's not smart to be there."
That is Coughlin's way of acknowledging that he knows he cannot veer into Marrone's lane, and that he is well aware everybody is watching for it. Can a famous control freak -- who, before a season with the Giants, had every day of his assistants' year mapped out for them -- give up control of the thing he is most freakish about? Perhaps. Coughlin said he hasn't had to bite his tongue yet.
But it was lost on no one that Coughlin dominated their shared introductory press conference in January, when he interrupted as Marrone was about to answer a question about the importance of winning.
"What the hell else would you be doing this for?" Coughlin said. "We're trying to win today. Who's going to get the better lunch?"
Once the season begins, Coughlin said he will probably stay late one night a week -- likely Tuesday -- as the game plan is being built and preparations for the next opponent begin. But he will not sit in on meetings, and he intends to leave the travel involved in scouting to general manager Dave Caldwell.
Unspoken is a reality: The football life helps keep Coughlin so fit and energetic that someone much younger struggles to keep up as he walks down the hall. Coughlin's wife, Judy, has already noted that he is keeping a head coach's hours again, getting to the office by 5 a.m. to get in a workout, sometimes not leaving until very late at night.
"I tell her there's only one way to do this," Coughlin said. "And now they report to me."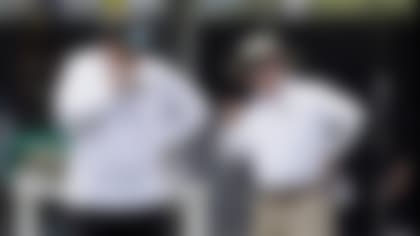 Coughlin and Marrone have a long, sometimes sitcom-worthy relationship. Marrone, a Syracuse alum like Coughlin, was desperate to get a shot at a graduate assistant job when Coughlin was the Boston College coach. He figured out that if he called from the house phone of the hotel the team was staying at for a bowl game, the operator would put him through directly to Coughlin's room. One night, Coughlin answered, Marrone gave him his rap, and Coughlin told him to send his resume and hung up. Marrone did not get the job. Later, when Marrone was the Jets' offensive line coach and getting teased by head coach Herm Edwards about his adoration of Coughlin, he introduced himself to Coughlin, then with the Giants, at the NFL Scouting Combine. Coughlin shook his hand quickly and turned back to the conversation he was having. Finally, when Marrone became the Orange's head coach, former Syracuse great and Coughlin teammate Floyd Little brokered the introduction.
"As a coach from afar, I always felt I had a connection with him because of our school," Marrone said. "But I don't know if he ever felt that way. I was like, 'I can't get to this guy. I can't connect with him. You can't make this up.' "
Once they were introduced, Marrone would visit with Coughlin in New York to pick his brain. But Marrone did not know that Coughlin would become his boss until right before he was offered the head-coaching job in Jacksonville, where Marrone went 1-1 as the interim following Gus Bradley's firing last season. He jokes that he now walks into Coughlin's office without even knocking, and that he has no concern about whether there could come a time when Coughlin tries to usurp his authority.
"For me, personally, this has been unbelievable," Marrone said. "I can tell him anything -- he's been through so much. I want to grab every bit of information, every bit of experience he's gotten, I just want to suck this dry. It's such a relief. Being a head coach is very difficult. To have someone like Coach who has been successful ... There's a lot of personalities, there's a lot of egos. All Coach cares about is one thing: winning.
"He has great respect for the position of the head coach. I'm closer to him than I am to anyone else, outside of my wife and family. The character of the person is so high. I know this is going to come out and I'm going to sound like the biggest wuss about Coach: Oh my God, they hired THIS guy to be the head coach?"
So far, they have been in lockstep, sharing notes and impressions of everything from personnel to scheduling to the décor that got a sprucing up after they arrived. Ask each of them separately their thoughts on quarterback Blake Bortles and their responses match nearly verbatim: He has to cut down on turnovers. How they want to play? With strong lines and a ball-control offense centered around rookie Leonard Fournette.
I'm closer to him than I am to anyone else, outside of my wife and family. ... I know this is going to come out and I'm going to sound like the biggest wuss about Coach: Oh my God, they hired THIS guy to be the head coach? Doug Marrone, Jaguars Head Coach
The Jaguars' roster is widely regarded as being loaded with young talent -- the result of so many high draft picks in recent years -- but lacking in attention to detail and discipline. Marrone has run a series of long, padded practices with an emphasis on players showing consistency from the first play to the last. The coach has worked at building relationships in Jacksonville, something he admits he learned to do from his time in Buffalo. But he also believes the greatest growth comes from uncomfortable situations.
When Calais Campbell, the veteran defensive lineman the Jags brought in this offseason to provide leadership, arrived, he heard quickly about how strict the new regime was and how many more meetings were held. And yes, how you had better be early for Coughlin.
"For the state of where the team is right now, he's perfect for us," said tight end Marcedes Lewis, the only player remaining on the roster from when the Jaguars last went to the playoffs. "It's a lot of young players, learning how to play at a high level, being tough, smart, physical -- he embodies that mindset. It's your aura. Say what you mean, mean what you say. He's not out there in our faces, because he's not one of the coaches. The little he does, you know that he means business."
Offensive lineman Branden Albert got a taste of that. Traded to Jacksonville from Miami in February, he informed the team he was going to retire, then decided he wanted to play. The Jaguars put him on the reserve/retired list, and Coughlin's tone told you everything you needed to know about his opinion of Albert.
"Reserve/retired. That's all I have to say about it," Coughlin said. Albert was later released.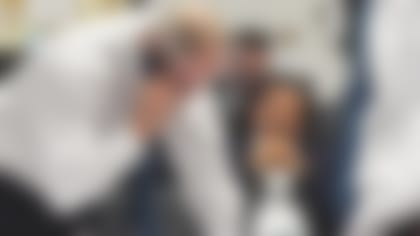 Coughlin doesn't plan to say much more to the team, either, leaving that job to Marrone. Coughlin said he would talk to the players at some point about how great it can be to win in Jacksonville. When Coughlin was the coach here, and the Jaguars were on their way to the AFC Championship Game at the end of the 1996 season -- just their second in existence -- the team flew back from Denver in the middle of the night. The pilot flew over the stadium, and 35,000 fans were there to greet the team.
But Coughlin cannot imagine being out front for the Jaguars. He will not meet with the media after games, saying derisively of executives that do it routinely, "If you want to coach the team, coach the team." Marrone said whenever something goes wrong during a game, he's probably going to get a picture in his mind of how Coughlin is reacting, but Coughlin certainly doesn't plan to reveal that publicly, either. Coughlin has seen the coach-front office dynamic done the right way from the coach's perspective, and he is not about to step all over that protocol now that he is on the other side. After the first practice of training camp -- "Eh, they did alright. Nothing great." -- Coughlin retreated to his office to watch tape, running off the field in a downpour beside Caldwell, leaving Marrone to talk to reporters about what he saw.
"I've made this clear with Doug and Dave: The head coach is the head coach," Coughlin said. "I told Dave, we're not talking about injuries. That's the head coach's deal. He is the face of the franchise."
Really? It seems you're the face of the franchise, Coughlin was told.
"Yeah, I think you're right."