In a career filled with ups and downs, Tony Romo has been many things to many people. NFL Media takes a comprehensive look at five distinct sides of the polarizing Cowboys quarterback.
By Judy Battista | Published Dec. 3, 2014
Early on Thanksgiving evening, after the Dallas Cowboys had been dominated on their own field by the Philadelphia Eagles, Jerry Jones huddled with Tony Romo by a golf cart.
They had plenty to talk about. The Cowboys' hold on the NFC East had slipped away, their defense had been exposed, their offensive line overwhelmed, Romo manhandled and mistake-prone. This was a turn-back-the-clocks performance, putting on full display all the weaknesses that the Cowboys thought had become strengths. It was a game that seemed to have been taken from an earlier season and dropped wholesale into this one, like a rotted limb falling from a dead tree and denting the shiny new car parked in the driveway.
Jones and Romo have surely experienced glum post-mortems before. But what makes that scene and that game so noteworthy is how much of an outlier it was. This has been the Cowboys' season of reckoning and renaissance following three straight 8-8 campaigns that were the very definition of mediocre. And Romo has been at the center of it, flourishing within a more balanced offense, reining in the impetuousness that used to get him into jams, and managing his injured back. He's emerged as a more settled, reliable quarterback who has put together, Jones said, some of the best games of his career at the age of 34.
The numbers certainly reflect that. Romo's completion percentage this year (68.2) easily trumps his mark in any other season besides 2010, when he played just six games. Even factoring in the zero-touchdown, two-interception game against the Eagles, Romo has thrown TD passes on 6.8 percent of attempts, just a tenth of a point lower than his personal best, set in 2007. And he's been picked off on just 2.5 percent of his throws, the fourth-lowest mark of his career.
Whether or not playing two games in five days impinged his back's recovery -- and led him to throw inaccurately and occasionally go down quickly as Eagles defenders approached -- Romo has been better this season than ever before, positioning Dallas to have a shot at avoiding what Jones said would be the biggest negative of his Cowboys ownership: never winning a Super Bowl with Romo's talent.
"You work your whole life on your technique and your craft, eventually you get to a point where it becomes so second nature, you can rely on it in very critical situations," Romo said in an interview a few weeks ago. "It allows you to trust your fundamentals, regardless of the circumstance, whether it's cold or windy, you're throwing the ball to the left or the right.
"To perfect a craft, it takes 10,000 hours. That takes time. I had a late start. I had to perfect the art. You start to slowly become that guy if you work at it. It allows you to play a lot more efficient and calmer. You don't miss throws young guys miss. You just start to calm your mind, and you understand you can play this game at a very high level."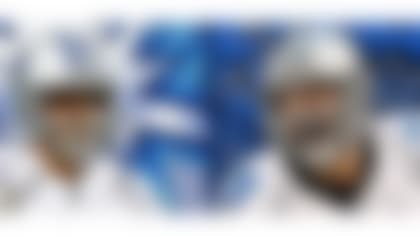 There is little doubt Romo and the Cowboys have benefitted from a vastly improved roster. The offensive line is rich with former first-round draft picks and was the star of the Cowboys' comeback victory over the Giants in Week 12, giving Romo plenty of time and breathing room to find his receivers. DeMarco Murray has galloped through the holes the line has created to become the league's top rusher, providing a level of offensive ballast for Romo that had long been absent.
This season, the offense has been split almost exactly in half between the pass (364 throws) and the run (365 carries). Last season? 586 pass attempts to 336 runs. In 2012: 658 to 355.
"Tony's going to be as good as their running game," said one coach from a team that has faced the Cowboys this season. "If they're not 30 and 30, he will have a tough time. When they run, they are winning games."
The increased reliance on the ground has done more than enable the Cowboys to put together clock-chewing drives that help the defense by keeping it off the field; it has also relieved some of the burden that has long rested, sometimes unfairly, on Romo, whose early-career gunslinging made him a lightning rod for fans of thrill rides and spawned detractors among those who focused only on the foibles and not on the facts.
The offensive line, meanwhile, has given Romo more time to allow plays to develop. Consider the final drive against the Giants, when Romo had as many as seven interminable seconds to complete a game-winning touchdown pass.
Another coach from a team that opposed the Cowboys this year said Romo's decision-making process has clearly gotten quicker.
"Before we started, we thought we wanted to blitz him," the coach said. "But the ball is coming out so fast. He's doing a nice job pre-snap of knowing what coverages he's getting and getting the ball to the right spot.
"It's amazing how it has sped up. We played him a few years ago and he looked a little slower in his progressions. We felt we could confuse him with the back end. He doesn't get confused much anymore. It is dramatically faster."
Romo said there is not one specific thing that has changed to allow his breakthrough. As he has gotten older, he has learned to manage situations and understand what kinds of chances to take and avoid. He has focused on the fundamentals of his throwing motion and his footwork, so that he is able to put the football exactly where he wants it to be. In a 20-minute conversation, he repeatedly used the word "calm." He wants to throw calmly -- and that connects to his mental state.
"The ability to physically do it allows you to play with the right mindset," Romo said. "You don't have to be as random when your fundamentals are where they need to be. You can play this position very tightly and just fall back on your fundamentals and doing what each specific play is designed to do."
But Jones points to an outside shift that has made a difference. This season, assistant Scott Linehan began calling the offensive plays instead of head coach Jason Garrett or offensive coordinator Bill Callahan. He and Romo have formed a partnership that earlier this year prompted the quarterback to say Linehan is as good as anyone he's ever seen at making in-game adjustments.
"Tony is a nice guy," Jones said. "He doesn't like to step on anybody's toes or undermine anybody -- most of all his coaches, but also his teammates. He's a team player. Romo has (the) skills of an offensive coordinator. He has ideas that should be and are implemented. Linehan fits like a glove with him. A lot of times, Tony has an idea, and Linehan has already had it -- they work together real well."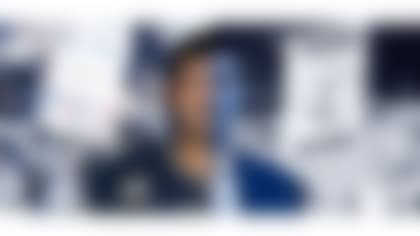 When things go wrong -- as they did against the Eagles and against the 49ers in the season opener -- the criticism often reverts to No. 9. Romo has never been one to cast blame elsewhere, but as he has grown older, he also has come to terms with the extraordinary position he is in, where every pass, every off-week trip to Mexico, every bobbled snap and every touchdown is given an outsize importance in the history of one of the NFL's most storied franchises.
A 51-48 loss last season to the Broncos, in which Romo threw for more yards and more touchdowns than Peyton Manning, seemed a microcosm of Romo's career and the story arc that has trailed him: He played extremely well but took the blame for a gut-wrenching defeat.
Romo threw an interception with two minutes remaining that allowed Denver to eventually kick the game-winning field goal. The yoke of failure settled on Romo's shoulders again, rather than on a defense that gave up 517 yards and twice lost fourth-quarter leads, or on a nearly non-existent running game that couldn't help keep Manning off the field, garnering just 52 yards on 14 carries.
"As far as feeling less on your plate, we ran the ball in my career decent at times, sometimes we were not able to stick with the running game," Romo said. "I think we're a better football team now. You don't have to go into it thinking you have to play perfect. I don't care if you play great for four quarters but you lost -- you didn't do enough. The reason you try to perfect your craft is to have the ability to overcome deficiencies that every team is going to have. Once your football team gets a little better, you're going to have a great opportunity for the success you want to have.
"When you lose games like that, that's the criticism that will come up. One day, when you win a championship, that's what's going to be your story."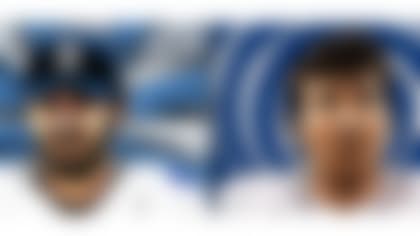 At the beginning of Romo's story is Bill Parcells, who unearthed him in 2003 when he was coaching the Cowboys and landed Romo as an undrafted free agent for a $10,000 signing bonus. Parcells brought Romo along slowly, giving him playing time in preseason games. By 2006, Romo was ready to start.
The two have remained in touch since Parcells' retirement, and the Hall of Fame coach has followed Romo's evolution from the young player Parcells said was "athletic and instinctive, a little compulsive and indiscriminate, a confident player that took some chances that he probably shouldn't have taken" to one who is "a lot more judicious lately."
Parcells also sees someone who is benefiting from a better supporting cast and a markedly improved running game -- something that, Parcells is quick to note, would boost any quarterback. And he sees a signal-caller who has learned "just by osmosis," because of his longevity. Parcells never thought Romo was immature or irresponsible; he calls him a good kid for whom winning means something. But he notices a more settled man, one with a family who has gained intelligence simply by being around so long -- and who knows he might not be around much longer.
"I get a sense of urgency on his part," Parcells said. "I'm not saying time is running out. But you know he's gotten nicked up here and there, and that can play on your mind about what the future holds."
But time is slowly running out for Romo, on his career eventually, but certainly on the season. The Thanksgiving loss imperiled a campaign that less than a week earlier had Jones comparing this team to the 2007 Cowboys in terms of having the talent and character to make a Super Bowl run. On Thanksgiving night, Romo vowed that he would be better.
He has been better -- much better -- this season than ever before. But even as he has become calmer as a quarterback, the fleeting nature of his job has not escaped him, just as Parcells detected.
"He's right," Romo said. "I understand how fast your career goes. When you have opportunities, it's time to push it. We haven't accomplished anything. It's time to put our heads down. When you're young, you feel like you have time. We had some success, but we ultimately didn't move on. You think you'll have multiple opportunities. But injuries happen. Players go to other teams. That sense of urgency has always been there.
"But as you get older, you just recognize when your team has some ability compared to other years, you just can't squander it. You've got to do everything you can to have a chance to get deep in the playoffs."