How a childhood experience in a homeless shelter led Calais Campbell to Jacksonville and fueled his desire to bring a championship to his newest NFL home
By Judy Battista | Published Sept.13, 2018
JACKSONVILLE, Fla. -- They slept in metal bunkbeds jammed into one room, and from the red-brick building to school, the six brothers took three buses in different directions. Calais Campbell was just a gangly pre-teen then, still a year or two removed from when he started growing so rapidly that an older brother said it felt like Calais would wake up each morning an inch taller.
His junior high school was in his hometown of Aurora, Colo., on the far eastern edge of Denver, and the homeless shelter where the six boys and their parents lived was all the way on the other side of the state's capital city. Calais was on those buses, sometimes alone and feeling humiliated, making the daily round trip that depending on traffic could take a few hours. He told no one for years. One time, a friend of one of Calais' two older sisters (who were already living on their own) dropped some boys off at the shelter. When the friend asked the Campbell brothers what they were doing there, they replied they were just there to help with homeless kids -- not that they were the homeless kids, too.
Throughout high school and college, as he was growing -- a lot -- into one of the top defensive linemen in football, Campbell kept the secret of the six months of homelessness, when his parents lost their jobs at the same time, sending their living arrangements into such flux that the family shelter was a better option than all eight of them squeezing into the tiny living room of a sister's small apartment. But then last April, a goofy picture of four of the brothers was posted on Campbell's Instagram and Twitter accounts to celebrate National Siblings Day, with a caption that off-handedly mentioned the family shelter and the bunks jammed into the one bedroom.
The Campbells were unusual by the standards of a shelter. The parents were together and the family was intact, with a father who was so involved that, nearly 15 years after his death, his children still take care to point out that he worked hard and taught them important lessons, making sure they all stayed active, lest anyone think the Campbells fell into the stereotype of an absentee father. Still, for adolescents trying to fit in, it was an especially fraught time. Now here was Campbell, announcing his family history to his social media following, inviting conversation about a part of his life he had discussed just a few times in recent years.
"I'm trying to think of all the things in my life that have led up to this point and created who I am today and drive me to wanting to do better," Campbell said during an interview at training camp. "Yeah, I was embarrassed, it was difficult. It was definitely hard to deal with at the time, but it built character. At the time, I didn't realize how much character it was building. I was just a kid going through it. I saw the frustration on my parents' faces, but I also saw perseverance. I saw dedication and hard work to get back on our feet.
"I think most importantly, it let me know I could handle anything. I could handle any circumstance, as long as I keep my core values, like we did when we were a family in a homeless shelter, we continued to just be who we are."
Campbell is a remarkable outgrowth -- literally and figuratively -- from that earlier time. At 32, he is 6-foot-8 and 300 pounds and coming off the first All-Pro season of his career. Last year, he had 14.5 sacks and his presence transformed the Jacksonville Jaguars, who went from a perennial league disappointment to a team minutes from a Super Bowl berth. This past Sunday, he picked up right where he left off in Jacksonville's 20-15 road victory over the Giants, sacking Eli Manning and recording two more tackles for loss before the end of the first half.In free agency of 2017, after nine seasons in Arizona, Campbell chose the Jaguars -- and their $60 million contract offer -- over the Denver Broncos, where he would have played one mile from the shelter. It was a decision made, in large part, because he thought the Jacksonville roster was stocked with young talent and that a veteran like him could add more value to a team like that than the Broncos, who were perceived as being much closer to winning a title.
That, of course, is part of the reason the Jaguars wanted Campbell, too. When Campbell arrived, defensive tackle Malik Jackson -- a veteran himself who had signed with Jacksonville a year earlier with a Super Bowl ring from his time with the Broncos -- immediately stepped aside as the leader in the defensive line meetings and let Campbell take his rightful spot. Campbell became the middleman between coaches and players. One of his tasks, in an example offered by Jackson, was explaining to irate players exactly why coach Doug Marrone was adding extra periods at the end of practice.
"He doesn't get all riled up like us young guys do," Jackson said. "We're like, 'What the ----?' And Calais will be like, 'Coach wants to see a few more looks.' You put it that way, it's, 'Oh, that benefits us.' "
Said Marrone: "What's amazing is if you play a certain amount of years, you have to have unbelievable discipline from the standpoint of nutrition, working out. He came out here in OTAs, I told him, 'Shoot you look younger now than you did last year. We're excited about that.' "
A significant barometer for how this season might go will come Sunday, when the Jaguars host the New England Patriots in a rematch of the AFC Championship Game the Jaguars led with less than four minutes remaining before losing. The expectations and confidence have rarely been higher in Jacksonville, though, particularly after a preseason in which the defense was dominant, a four-game stretch that carried into Week 1. In the offseason, Jackson and Campbell partnered in a "Duval Boyz" video for a production company owned by Campbell and his brother Jared, a standup comedian who also played football for the University of Miami and the Arizona Cardinals. The video spoofs old WWF interviews with Jackson and Campbell bellowing about devouring running backs before announcing, "We're coming for the Lombardi Trophy! That's what we want, baby! WOO!"The video is especially amusing because it runs counter to Campbell's soft-spoken nature. After a recent training camp practice, he contemplated his trajectory. His parents had never let their children think that their homelessness was anything more than a temporary situation, and that way of looking at things, Campbell believes, saved them all from greater despair. They were never told that their family's finances were a limitation that would follow them. They, like their parents, would persevere.
When they left the shelter after six months, the entire family moved into a house that Campbell admits now was probably the nicest one they had when he was growing up. It allowed his sister, Keyonne, to leave some of her things at home when she went away to college, instead of taking everything with her to the dorm because she had no place to return to. Still, there was financial anxiety that the children might not have recognized until there was no money left for things like back-to-school supplies. As the big sister, Keyonne would always look for ways to help, including bringing an extra plate of food home from a barbecue.
"I have great memories from being there, even though it was frustrating," Calais said. "A lot of smiles, I remember laughing and joking with my brothers … It goes to show you don't really need material things to be happy. We didn't have anything, but we had each other and that was the ultimate happiness. Still to this day, now that I have material things, my happiness is not related to that, my happiness is in my relationships with my family, my friends. That's the lesson I really take from that -- no matter how much money you have in the world, how much you're blessed with, it comes down to who you are and who you've got in your circle."
Campbell's older brother, Raj, who is now in real estate development in Arizona, has harsher memories of the shelter -- how cold it was when they left for the bus in the morning, sometimes without the proper clothes; how they missed breakfast most days during their long commute and then tried to scrounge together enough money to buy lunch at school; the sketchy neighborhood and the frightening people who would sometimes show up at the shelter. Their mother, Nateal, still cringes when her children talk about that time in public.
Raj also remembers that Calais was skinny, but even in a family of standout athletes, he was clearly the best one. Their father, Charles, who had a series of businesses, played high school football and five of his six sons played the sport in college. But by the time Calais was 14 or 15, Keyonne remembers, their father admitted that Calais was already a much better athlete than he ever was. Their family's finances had stabilized by then. Campbell went to South High School in Denver and was a freshman starter on Colorado's top-ranked team. He became the best pass rusher in the state's prep history, with 57 sacks.
By the time some of the top college football programs were pursuing Calais, Charles' liver was failing, although he rarely missed one of Calais' games. In November 2003 -- around Thanksgiving of Calais' senior year, not long after the state playoffs had begun -- Charles died. Before he passed away, however, he saw Calais pick Miami. It was a school choice made in part because Calais wanted to make sure he received both a good education and a chance to play football. When it was time to move to Coral Gables, Raj was among the siblings to drive down with him.
"It was a culture shock -- all these rich kids running around," Raj said. "Every week, he was gaining two pounds. For the first time in his life, he was eating. My dad used to have a turkey and that turkey lasted a whole month. Turkey sandwiches, turkey for dinner. My dad cooked every piece of that turkey."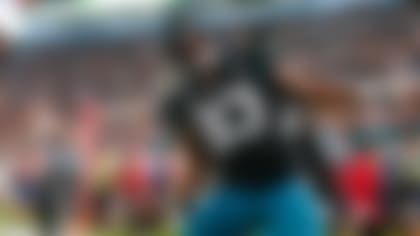 Campbell talks about those experiences when he meets families in similar circumstances. He wants to give people, especially kids, both hope that things will get better and the awareness that they don't have to be embarrassed about their circumstances. He talks to kids about education and fitness. His foundation (CRC Foundation, named after his father) runs a book challenge to encourage literacy. He has endowed a football scholarship at Miami with a donation of $1.6 million. And he muses about what more he wants to do, particularly on issues surrounding poverty. He struggles with determining where his time and resources will be best spent, although he said he has a special concern for families at risk of homelessness because of a job loss."He was this kid that was like anybody else," said Keyonne, who runs her brother's foundation. "He was the kid in high-water pants, because we just didn't have much. He's able to relate. People look at a person who plays professional sports, you look at it as unattainable. How could he have been in a shelter? How did they eat? I don't think anybody talks about it enough. You can't always put a face with it. Calais is saying, 'I'll be the face. It was embarrassing, but you know what, I made a lot of strides and maybe this moment is part of what made me better.' "
In the meantime, Campbell deflects credit for the turnaround in Jacksonville he helped engineer. He claims he has merely tried to pass on the knowledge he has accumulated over the years to players he considers natural leaders, like fifth-year linebacker Telvin Smith, who Campbell said needed just a little push to be more vocal. When Campbell arrived in Jacksonville, he thought the only thing holding the talented roster back was a lack of confidence that it could be great.
Raj had implored his younger brother not to go to Jacksonville, telling him the team was terrible. Raj thought Calais should go back home to Denver. It was not the first time Campbell bucked expectations.
"Calais must be smarter than all of us," Raj said. "He said, 'I have to be very smart with my decisions. Jacksonville is going to keep me on the team.' I think he just took a leap of faith and it paid off big. What he brought most was what he got from the homeless shelter -- we can do this, we've got to stay together, we've got to fight for every little inch."
_____________________________________________________________________
Editors: Andy Fenelon, Ali Bhanpuri, Brooke Cersosimo, Dan Parr | Illustration: Albert Lee