Brock Osweiler was seeking the right opportunity. The Texans were seeking a savior. So quarterback and team took a Lone Star State-sized leap of faith. Now, both face high stakes, huge expectations and more than a little heat.
By Jeffri Chadiha | Published August 23, 2016
Illustration by Albert Lee
HOUSTON -- Brock Osweiler heard the gruff, gravelly voice in the background, then whirled to see the steely eyes of Houston Texans head coach Bill O'Brien barking orders. The more Osweiler watched the scene unfold, the more he was drawn to O'Brien's command of his team, the way the coach inspired the men hanging on his every word. There were countless other things Osweiler could've been doing on that day in early March as he contemplated whether he really was going to leave the Super Bowl champion Denver Broncos as an unrestricted free agent. Instead, he reached for his remote control, turned up the volume on his television and focused on an unexpected rerun of the Texans' 2015 appearance on the HBO series "Hard Knocks."
Osweiler already had a good feeling about the Texans. However, he also understood that, because of timing, he'd never have a chance to meet with any of the team's decision makers before potentially signing a deal. So he grinned as O'Brien pushed his team in the midst of grueling practices. He nodded in approval when the coach emphasized his lofty expectations. This was critical research for a player who already had quizzed former Texans and diligently studied the Houston offense because, as Osweiler recently said, "There was definitely a lot of faith involved in this."
Faith truly is the operative word when assessing Osweiler's presence in Houston. The Texans are betting a player who started all of seven games in four NFL seasons can be the answer to the endless quarterback problems that have plagued them for years. Osweiler is gambling that his career is better off with a franchise that has never moved beyond the Divisional Round of the playoffs than it would have been with the reigning Super Bowl champions, a Broncos organization that gave him the chance to learn behind future Hall of Fame quarterback Peyton Manning. It's the kind of move that could propel the Texans toward a Super Bowl ... or leave them wondering if they just landed their next Matt Schaub, a talented quarterback who made a couple Pro Bowls before his career eventually imploded.
Even now -- as Houston prepares for its third preseason game, a home matchup with Arizona that will offer the most telling evidence of what Osweiler can offer this franchise -- all the Texans are praying that the intangibles they've seen in their new quarterback thus far are early predictors of his on-field success. 
"I believe he's a winner," O'Brien said. "I believe he's going to prepare every week. And he's going to do whatever it takes from his position to help us win games. Whether that means managing the clock at the end of games, being able to run no-huddle, two-minute, red-zone execution. The guy has a lot of talent."
"What I'm trying to do is maximize every day," Osweiler said. "That's something I learned from Peyton. It didn't matter if it was April 1, the first phase of OTAs, August 22 or the first game of the regular season. He was going to make the most of that day, and that's what I do. If you stay present and don't look too far ahead -- or in the rearview mirror -- everything will work out."
Osweiler clearly has plenty of skills that teams value in a quarterback, which explains the Texans' decision to sign him to a deal for four years and $72 million ($37 million of which is guaranteed). At 6-foot-8 and 240 pounds, he possesses surprising mobility, impressive smarts and an arm that is capable of making all the requisite throws. Those qualities generated ample excitement among a fan base that watched the Texans go 9-7 and win the AFC South last year despite starting four different quarterbacks. If that's not enough, Osweiler also understands how a quarterback is supposed to lead, both on and off the field.
Texans wide receiver Cecil Shorts III knew the Texans made the right move when he found a text message from Osweiler on his cellphone just a few days after the quarterback's introductory press conference with the team. Osweiler already had arranged specific days for his receivers to work out with him at his alma mater, Arizona State, and he was hoping they all could attend. Shorts was even more blown away when he arrived and learned Osweiler had paid for all their rooms at the W Hotel in Scottsdale. The quarterback was just as eager to cover all the meals when his teammates went out for dinner every night during the four days they spent together.
My personal opinion, even though Brock has never said this to me, is that he wanted to go someplace where he could be the guy. Dennis Erickson
Osweiler extended that same generosity to the rest of his teammates when Houston's NRG Stadium hosted the Copa America Centenario match between Colombia and Costa Rica on June 11. They spent that Saturday munching on gourmet food and bonding over soccer inside two luxury suites rented by Osweiler (he bought 60 tickets for the players and their significant others). But as much as Osweiler embraces the importance of projecting the right image -- such as when he donned a cowboy hat while making an offseason appearance at a Houston Astros baseball game -- he also is all about the work. Texans wide receiver DeAndre Hopkins discovered that much when he was dressing for his first training session in Arizona and received a wake-up message from his new quarterback.
"I had always heard about how much fun it is in Arizona, but [that trip] was all business," Hopkins said. "He would text us in the mornings to make sure guys were on time. We'd get a text 30 minutes beforehand asking if we were up and ready to go. He brought us out there to work. We were going to go out to dinner, but we were going to get up in the mornings and work."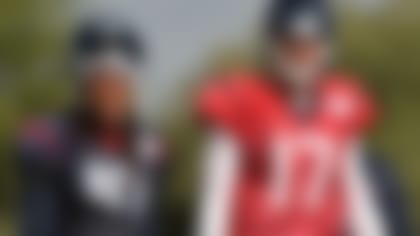 DeAndre Hopkins -- shown here at Texans camp -- learned firsthand about Brock Osweiler's professional approach when he worked out with his new quarterback in Arizona. (Eric Christian Smith/Associated Press)
"He's been everything we thought he would be," Texans general manager Rick Smith said. "I'm talking as far as being in the building, the leadership, the work ethic. All those measures you look for that give you a chance to succeed, they are there. Of course, it is early, and he still has to go out and play [in the regular season]. But the indicators are good."
The more you talk to people in Houston about Osweiler, the more you hear about his focus, which shouldn't be surprising. This is a 25-year-old who has gained significant attention over the past year -- both for his contributions to Denver's Super Bowl run and his decision to leave the Broncos -- but Osweiler also has been waiting for his chance to show the world what he can do. He knew his time would come far down the road when the Broncos selected him in the second round of the 2012 NFL Draft, a month after signing Manning. In fact, his college coach at Arizona State, Dennis Erickson, gave him some sage advice when Osweiler turned pro after his junior season and landed a job behind Manning: Sit down, shut up and learn.
Osweiler understood the value of patience long before setting foot in the NFL. He had hoped to become the starting quarterback at Arizona State during his sophomore season, in 2010, when Erickson decided to start a transfer named Steven Threet instead. The lesson Osweiler took away from that experience is that "everything happens for a reason. I had to wait my turn. I had to learn that even when you're sitting behind somebody, you still have a chance to learn something every single day."
![Brock](http://static.nfl.com/static/content/public/static/html/labs/rr/osweiler/desktop/static/img/Hero-A-5.jpg)
In his first three years in Denver, Osweiler didn't have many opportunities to showcase his skills -- he attempted all of 30 passes during that time -- but the Texans were paying attention. They became even more intrigued while holding joint training camp practices with the Broncos in 2014.
"We definitely watched him," O'Brien said. "That's part of the reason for joint practices. You're working, but there also are evaluations going on. We noticed him, especially how well he knew their offense and played in their system."
The Texans became even more enamored after seeing Osweiler play last season. His first action came in a 29-13 loss to Kansas City on Nov. 15, when Manning was benched after throwing four interceptions and completing five of 20 passes. Media reports later revealed that Manning had been hampered by injuries to his ribs and right foot (a torn plantar fascia), which opened the door for Osweiler's real opportunity. With all eyes on Osweiler, he stepped into the starting job and helped the Broncos win five of their final seven regular-season games.
Osweiler completed 61.8 percent of his attempts while throwing 10 touchdowns and six interceptions during that eight-game stint. His biggest highlight came in a 30-24 overtime win vs. New England, when he helped the Broncos overcome a 14-point fourth-quarter deficit. Osweiler was at his best in the Broncos' final drive of regulation, when he fired a 39-yard pass to a streaking Emmanuel Sanders and later hit Andre Caldwell for a 4-yard touchdown pass to put Denver up 24-21.
"One thing I do remember about him is that he was composed," said Arizona Cardinals outside linebacker Chandler Jones, who played for New England last season and picked off an Osweiler pass that was batted at the line in that game. "I didn't see a panic in him. He didn't have a ton of experience, but he ran the offense well."
He brought us out there to work. We were going to go out to dinner, but were going to get up in the mornings and work. DeAndre Hopkins
"There's nothing that can replace learning on the field," Osweiler said. "I'm talking about game management, how what you do on second or third down early in a game can affect your team later, and knowing if this is the day that is going to be a shootout. Those games helped me get a better grasp of the big picture."
The Broncos ultimately returned Manning to the lineup in the third quarter of a win over San Diego in the regular-season finale. Denver's offense had been sputtering in the final two games, and the sense was that Manning deserved his job back. That also became a key tipping point in Osweiler's career with the Broncos. Though he denies there was any lingering resentment from his benching -- he refers to his playing time in Denver as "a blessing" and "a dream come true" -- Broncos general manager John Elway recently told the Denver Post that Osweiler "seemed to be a little bent out of shape about that."
The Broncos still were willing to offer Osweiler a reported four-year deal worth $64 million. The Texans, on the other hand, thought even more highly of him. When Smith and O'Brien met in the offseason, they decided their No. 1 goal was to create a more dynamic offense for a team that tied for 21st in the NFL in scoring (21.2 points per game) in 2015. That meant finding a quarterback they could trust, primarily because Osweiler's immediate predecessor in Houston, Brian Hoyer, threw four interceptions in a 30-0 home loss to Kansas City on Wild Card Weekend.
Watching Osweiler in joint practices helped the Texans get a feel for his potential, but they also liked that he'd been coached by two men in Denver they knew well: head coach Gary Kubiak (who spent eight seasons in that position in Houston) and quarterbacks coach Greg Knapp (who served in that capacity for two seasons with the Texans). Both coaches have a strong history of developing quarterbacks, and Smith spoke highly of Knapp's ability to teach proper fundamentals.
"We looked at everybody who was available," O'Brien said. "And we felt like this guy had a lot of the things we were looking for. He threw the ball accurately. He played in big games. Even though there isn't a ton of game experience relative to other guys, he played well in big games. He had a lot to do with Denver's success down the stretch."
Added Smith: "We didn't have the opportunity to visit with him, but we felt very comfortable with all the information we had, as far as the kind of guy we were getting. That's what it comes down to when you sit down with somebody. You want to look him in the face and see if he really is who you think he is. We felt comfortable with who he is."
Osweiler has reached the point where he doesn't want to talk much about why he left Denver -- "If you don't live my life, you don't know what went into my decision," he said -- but plenty of theories have developed throughout the offseason. There is the suspicion that he was bitter about being benched, as Elway hinted in his comments to the Post. There's the fact that the Broncos wouldn't overpay for his services. (Elway acknowledged, through the Broncos' website, that the team "had to remain disciplined while continuing to assemble a roster that can compete for championships.") Another popular notion is that Osweiler simply didn't want to follow in Manning's footsteps.
It's a possibility that Osweiler publicly has denied, but which has been posited by both Texans owner Bob McNair and Erickson.
"My personal opinion, even though Brock has never said this to me, is that he wanted to go someplace where he could be the guy," said Erickson, who now works as the assistant head coach at Utah. "He didn't want to worry about living under anybody else's shadow."
---
---
Regardless of how Osweiler wound up in Houston, there's no denying he intends to make the most of every day there. He has a new set of questions every time he meets with offensive coordinator George Godsey, who likes Osweiler's decisiveness and, as Godsey said, "when Brock makes a mistake, he gives you a reason." The Texans' offense also gives the quarterback more control at the line of scrimmage than Osweiler found in Denver. As Godsey said, "When you get back there with the football, you have to choose between a lot of options -- taking a shot, checking it down, throwing it away. We want to play at different [tempos], and he'll start to get a feel for how we do that."
"This offense is very similar to what we ran in Denver from 2012 to '14," said Osweiler, referring to the years when he played under current Chicago Bears head coach John Fox, who was hired by the Broncos in 2011. "I have tremendous respect for Gary Kubiak and his system, but the quarterback is more of a coach on the field in this offense. It's like being a point guard in basketball. You have a lot of things on your plate, but you can be really successful once you get it down."
The Texans also ensured that Osweiler didn't feel the need to be their savior on offense. They signed free-agent running back Lamar Miller to bolster a mediocre running attack. They spent high draft picks on two speedy receivers -- Will Fuller (No. 21 overall) and Braxton Miller (No. 85) -- to alleviate some pressure on Hopkins, who amassed 111 receptions in 2015 on 192 targets, nearly 100 more than the team's next most-targeted receiver (Nate Washington had 94). They also still have an elite defense, even though All-Pro defensive end J.J. Watt could miss some games as he recovers from surgery to repair a herniated disc. In other words, Osweiler will have many of the same advantages he found in Denver last season.
Just as importantly, Osweiler has gained ample respect for how he's handled himself. Shorts said the quarterback "already owns this offense," while Watt added that Osweiler "understands his role very well. That's what people like about him. He's not trying to do too much out of the gate. He's accepting of what he's doing. He works every day. And he works with what he's got. He's doing a good job so far."
Even people outside the Texans can see how prepared Osweiler is for this new challenge. Erickson watched his former quarterback work out this summer at a local high school in Coeur d'Alene, Idaho, where he, Osweiler and Elway all own offseason homes. Standing on the sideline, Erickson noticed the subtleties that can make the difference between a successful NFL quarterback and one who will never be reliable: the disciplined footwork Osweiler displayed when dropping back, the tight release as he whipped passes across the field, the anticipation that allowed him to feel exactly when a receiver was breaking open. These were all areas that Osweiler had to improve on when he entered the league, according to Erickson. Now he was showing his former coach just how far he had come while serving that apprenticeship in Denver.
"Peyton was the ultimate pro because of how he carried himself and worked," Osweiler said. "He literally was the same guy every day, and that had a lot to do with his success. For me to see how he went about his business was huge. I'm obviously going to be me, but I want to use what I learned from him, as well."
Osweiler hasn't hidden the fact that he's fully committed to leading the Texans today. He didn't join the Broncos when they visited the White House as champions, and he didn't return to Denver to receive his Super Bowl ring at a lavish team ceremony. Osweiler seems totally fine with the possibility of people seeing that as lingering resentment. What those people don't know is that he's more concerned with making good on the trust that the Texans have placed in him.
This is his team. This is his time.
"It really was a whirlwind -- from making that decision to coming here -- and I don't think it really stopped until [the end of the offseason]," Osweiler said. "I was moving to Houston, getting my home set up, meeting with coaches, learning the system. Everything was so new. But now, that part is over. Now, I can say this really does feel like home."
Follow Jeffri Chadiha on Twitter @jeffrichadiha.