Exploring the father-son relationship that has helped Bengals linebacker Vontaze Burfict mature and grow under head coach Marvin Lewis
By Jeffri Chadiha | Published Oct. 6, 2016
CINCINNATI -- Vontaze Burfict stretched his legs across the sofa in his basement while scanning the channels on his flat-screen television. His eyelids still drooped a bit -- the result of just waking from an afternoon nap -- and he could still feel the tenderness in his left knee after undergoing microfracture surgery a few months earlier. The Cincinnati Bengals Pro Bowl-caliber outside linebacker knew he probably shouldn't have skipped that morning rehabilitation session, but the monotony of the process had worn on his nerves. He didn't think one missed day was that big a deal, until he peered out his window and saw Bengals head coach Marvin Lewis strolling up his driveway.
As Burfict squirmed to sit upright, he heard the doorbell ring and then Lewis talking to Burfict's wife, Brandie. Once Burfict walked into his living room, he saw that familiar look on Lewis' face: a mix of frustration, anger and disappointment. The two men didn't have to talk much; the tense lecture Lewis delivered at Burfict's dining-room table lasted maybe 15 minutes. The coach's message also reverberated long after he drove away, as Burfict turned to Brandie and said, "I can't believe he really came to my house."
It's been 18 months since Lewis made that surprise visit -- it happened back in April 2015 -- and Burfict still smiles while recalling the moment. It's telling evidence of how committed the coach is to a game-changing talent, how far he'll go to maximize the potential of both the player and person. Burfict might be the most controversial figure in today's NFL, a player who just finished serving a three-game suspension that was levied after a vicious hit on Pittsburgh Steelers wide receiver Antonio Brown in last season's playoffs. However, Lewis sees a young man who has far more depth to him than anybody knows and only needs a reliable helping hand to guide him.
That combination of Lewis' devotion and Burfict's stubbornness has spawned a complex relationship that has been essential to the Bengals' fate. Of all the stars in Cincinnati, no player sets the aggressive tone on that squad like Burfict. But that edge also has come at a ridiculously high cost. Burfict already has amassed $204,329 in fines by the league for excessively violent play, and his current suspension will subtract $502,941 from his base salary this season. Those numbers are starting to define him more than tackles, sacks or forced fumbles.
SOMETIMES OFFENSIVE PLAYERS WILL DO THINGS THE REFS DON'T SEE AND I HAVE TO RETALIATE. I HAVE TO DEFEND MYSELF AS A MAN. Vontaze Burfict
Those issues also have raised legitimate questions about how much maturing Burfict still has to do and what role Lewis is playing in that process.
"Our relationship is like father and son," said Burfict, who recently turned 26. "He's always on my tail. He tells me what I need to hear. Sometimes you don't want to hear it, but he tells me how to fix things. He helps me get through things. Just like with the suspension. He told me to stay healthy and take care of myself so I can come back ready to go."
"People know I don't enable him, because I'm harder on him than anybody else on this team," Lewis said. "But there's also a fine line there. You want him to be respectful, but you also don't want to stop him from being who he is."
---
---
Burfict is the kind of dominant defender Lewis has loved finding throughout his career. The 6-foot-1, 250-pound Burfict has toughness, instincts and a mind for the game that makes Lewis think coaching could be in his future. Bengals defensive end Michael Johnson said Burfict "has the ability to see plays before they happen," while cornerback Dre Kirkpatrick added: "If you look at any defense, it's the linebackers who set the tone. I feel like he's just a little nastier than any linebacker in the NFL."
"He's a player that, when you compete against him, you might not care for his style of play," an AFC personnel director said. "But if he is on your team, you have an appreciation for his physical play. I think he is a smart player, and I think he is tough. He brings nasty to the table, he can be a vicious hitter and he makes other players around him better and more physical. He is dirty by most NFL standards, but I think that's a persona he enjoys."
The two words you won't hear anybody in the Bengals' locker room use to describe Burfict are "bad guy." This is a huge reason behind Lewis' approach to handling his star linebacker. Many outsiders see a dirty player who will do just about anything -- even hurt others -- to win. Lewis sees a football savant, a player with an invaluable rage that needs to be harnessed instead of stifled.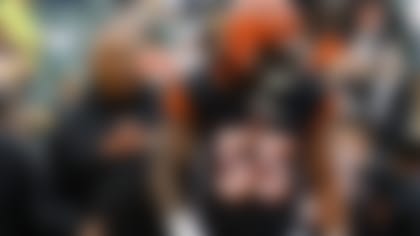 The key to doing that, in Lewis' eyes, is staying on Burfict as much as possible. When Burfict was practicing during an OTA session this spring, he became frustrated during a blitz drill because an offensive lineman held him on two consecutive plays. That frustration quickly led to Burfict shoving his teammate, with an ominous stare-down ensuing between the two. Within seconds, Burfict heard Lewis screaming his name from across the field and telling him to back off.
"I'm thinking to myself, Why are you yelling at me? I didn't even do anything," Burfict said. "But [Lewis] said, 'I had to come get you.' When I asked why he didn't say anything to the other guy, he said, 'I know how you are.' It's probably better for me, to be honest. He knows I'm the fire of the defense, and he knows people are going to get after me on Sundays. When we're out there [in games], he can't be with me, so I have to prepare. And I'm all with it."
This, by the way, is a sign of progress. Burfict certainly doesn't like the fact that Lewis has only given him one game ball during his first four years in Cincinnati. He also had his issues in the past when it came to both hearing Lewis' advice and applying it. But there's no denying the bond that has formed between these two and the trust Burfict places in his boss.
Lewis and Burfict have become known for how much they bicker during practices. Burfict likes to go all out, while Lewis prefers moderation at certain times. When they don't see eye to eye, the squabbling can heat up quickly.
"There are things Vontaze can say to Marvin that nobody else would say," Bengals middle linebacker Rey Maualuga said. "You think to yourself, If I had said that to Marvin, would I have gotten cut or yelled at? They obviously have a special connection."
Burfict even has been trying harder to adhere to the message Lewis has been preaching about growing up. As Lewis said, "Vontaze knows he has to change his image," and there's already visual evidence of a new look. Burfict traded in his dreadlocks and beard for a close-cropped cut and clean-shaven face this season. He didn't do it for any special reason, but the difference in him is notable. He looks like somebody who's trying to be a new man.
"I call Vontaze 'Shortcut' because he's always on to the next thing after he does something," Lewis said. "He feels like he's got things figured out when he doesn't sometimes. That's why I keep telling him that being a leader is a 24-7 deal. It's not just about doing it when you feel like it."
---
---
Lewis and Burfict have a unique bond because it was formed through unique circumstances. When the 2012 NFL Draft was approaching, Lewis made a trip to Arizona State to watch the Sun Devils' pro day. Burfict was one of the most prominent prospects, and he already had quite the rep for somebody forgoing his senior season. Along with his overall play slipping in his junior year (after being an All-American tackling machine as a sophomore), he also had been dirty (drawing 22 personal fouls in 37 career games), slow (he ran a 5.09-second 40-yard dash at the NFL Scouting Combine) and difficult for his coaches to handle (former ASU head coach Dennis Erickson said, "Vontaze was never in any trouble off the field, but he would lose it a bit when he played").
The player Lewis found that day lived up to the advanced billing. Burfict went through plenty of drills, but he refused to run the 40-yard dash again, even after his lousy time at the combine in Indianapolis. He already was 10 pounds heavier than his college weight, and his chances of disappointing again were high.
"I tried to convince him to [run], and he wasn't going for it," Lewis said. "There were other guys there who tried to do the same -- like [current Houston Texans quarterback and fellow Arizona State product] Brock Osweiler and [former NFL players] Levi Jones and Adam Archuleta -- and he wouldn't listen. He was just so stubborn. But even though he wouldn't do that, I did notice that he was very supportive of the other guys when they were working out. That caught my eye."
Lewis was even more impressed when Burfict wrote him a letter after the pro day.
"I told him I can do better and I wasn't 100 percent," Burfict said.
YOU WANT HIM TO BE RESPECTFUL, BUT YOU ALSO DON'T WANT TO STOP HIM FROM BEING WHO HE IS. Marvin Lewis
That left Lewis thinking maybe there was some hope for this kid after all. So Lewis made a mental note to keep Burfict in mind if an opportunity arose to snatch him. That chance came when nobody selected Burfict; along with his disappointing junior season and poor testing numbers, he also reportedly failed a drug test at the combine. Once the draft concluded, Burfict -- who had been a five-star recruit entering college -- sat silently in his bedroom for several hours, wondering how things could go so poorly so quickly.
Lewis eventually was the first person to offer him a contract, and the coach decided to take things a step further after Burfict signed. Since his daughter, Whitney, was planning a wedding in Phoenix -- just 10 miles away from ASU -- Lewis wanted to grab lunch with Burfict at a local P.F. Chang's.
"I was nervous," Burfict said. "I told [Brandie] that I didn't know if I wanted to go. She said it would be OK, but I didn't even know what to wear. She wound up picking out some slacks and a shirt, and Marvin was there with his wife [Peggy]. I think it was good for them to see what I was like off the football field."
There were plenty of reasons for Lewis to keep probing back then. Burfict's background was complicated: His father and mother both had been gang members in South Central Los Angeles -- and Burfict's father, Vontaze DeLeon Burfict, currently is serving a 25-year prison sentence for drug-related offenses. Burfict has no relationship with his dad. He was harassed constantly by Latino kids after his mother, Lisa, moved him and his half-brother, DaShan Miller, to Corona, California, in hopes of finding a better environment. And he lost a close friend, Dominic Redd, as a freshman at Centennial High when members of a Latino gang stabbed the boy 13 times.
Those issues likely had plenty to do with how often Burfict lashed out at opponents during college games. But Lewis didn't see a monster at lunch. He saw a good-hearted young man with an easy smile and a warm personality. The coach talked about the playbook and the expectations -- he wanted Burfict to drop 15 pounds -- and they instantly clicked.
"What makes him so special, and what I saw that day, is that he can be so engaging," Lewis said.
That excitement about Burfict's potential only increased after his first practice with the Bengals. Suddenly, 40-yard dash times and a shaky college reputation didn't matter so much. Burfict displayed so many skills in that one session -- the urgency, the ability to not waste a step, his feel for tracking the ball in the air and his burst when pursuing runners -- that Lewis was nearly flabbergasted. He even walked off the field with Bengals owner Mike Brown and proudly told his boss, "This guy is going to be something."