By Judy Battista | June 13, 2016
Photo Illustration by Albert Lee
BALTIMORE -- Four days before his life's plan crumbled to the ground and had to be helped away, Steve Smith Sr. was explaining why he was going to retire.
There were those around Smith -- his own family, members of the Baltimore Ravens -- who thought Smith might waver then, who hoped Smith would waver, because his production and his personality were still contributing to a team with a relatively young locker room. The formidable chip -- it was big, even as he is diminutive -- that had been lodged on his shoulder since at least college was still firmly in place, having famously spurred him to fights and poetic put-downs, to say nothing of two first-team All-Pro nods and five Pro Bowls. It was hard to imagine how that rage might be channeled when Smith was talking about the placid pursuits he was anticipating, the books he planned to read, the charity work he looked forward to continuing, the exotic trips he longed to take with his family.
But on that rainy morning late last October at the Ravens' posh training facility in the Baltimore suburbs, Smith was adamant that he had thought it through carefully, had reflected, in particular, on what he felt watching the New England Patriots win Super Bowl XLIX, and was certain that the impending retirement he had announced before the 2015 season was the correct decision.
"At some point, it's going to be taken away," he said. "I don't want to -- and I can't -- play to the point where you see people saying, 'He needs to. It's about that time.' Last year was the first year watching the Super Bowl that I was just kind of watching it, not like, Oh man, that should be me, or, That should be our team. Especially with us playing New England [in the Divisional Round that year] and how close it was. I wasn't like, That was our game to lose. I watched it as a fan. It was over, I turned it off, texted [Patriots receiver and former Panthers teammate] Brandon LaFell congratulations and went to sleep like everyone else.
"It has nothing to do with being engaged, but being able to enjoy the game without feeling like I'll miss it. If this was five years ago, I would feel like, Oh man, this is something that is going to be really hard. I don't think it's going to be as hard because of the way it's going."
The Sunday immediately following that conversation, it went a very different way.
In the third quarter of the Ravens' eighth game last season, on the 961st regular-season reception of his career, Smith caught a pass in traffic from Joe Flacco, darted left, kept going upfield for a first down and more and was tackled by his right ankle. He instinctively tapped the back of his foot and raised his right hand to alert the sideline that something was wrong. Then he rolled over, his facemask pressed into the edge of the Ravens' logo near midfield, and began smacking the turf with the palms of his hands. His Achilles tendon was shredded -- "exploded" was the word doctors used when they told Smith that his was a particularly severe injury, because the tendon tore in two spots, off the bone and in the middle of the tendon. His season -- and presumably, because of his plans, his career -- was over.
No less a sports psychologist than Bill Parcells believed that once a player thought about retiring, he already was. But Smith had been defying expectations and using slights as fuel since he was an undersized receiver and returner from the lightly regarded University of Utah. So from the moment he was helped from the field that Sunday, his head wrapped in a towel to conceal his agony, his plan to retire seemed to everyone else even more unfathomable -- even more wrong -- than it had before.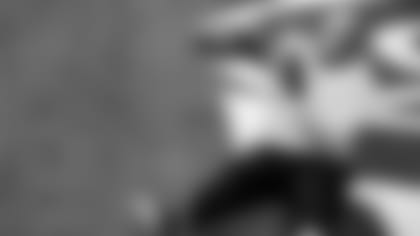 When Smith was at the Pro Bowl after his rookie year, he had dinner with his agent and told him he would be lucky if he played eight years. He knew players of his stature -- 5-foot-9 and "170 after Thanksgiving" -- wore down, particularly ones like him, who fought for every yard and didn't go down quickly after a catch.
Smith lettered in football and track at his Los Angeles high school, working all the while at a nearby Taco Bell, but he was not highly recruited because of his size and perceived anger issues. So he began his college career at tiny Santa Monica College, where his teammate was Chad Johnson. After two years at the community college, he went to Utah. He was wrapping up a record-breaking first season there -- he set school marks in punt return yards (495) and punt return touchdowns (three) in a single season -- when he suffered a broken vertebra on a punt return. He finished the game before the injury was discovered and was given just a 50-50 chance of playing football again, according to an article on the Ravens' website. He returned the very next season and led the Utes in receiving yards, receiving touchdowns and total return yards.
When I got hurt, I questioned, was it because I said I wasn't going to play? Is this God trying to tell me, 'You said you want to stop, I'm giving you a chance.' Steve Smith Sr.
The broken neck, the lack of height, the fact that scouts said he wasn't a polished route runner -- Smith remembers all of that as a smear campaign. When he was drafted by the Carolina Panthers in the third round, he was supposed to be just a returner. He spent 13 seasons there before being released, a fact that still clearly rankles him; he's happy to talk about his close relationship with owner Jerry Richardson, whom he called to tell of his retirement plan before he announced it, but little else about the Panthers. When the Ravens signed him, the question was how much the 30-something receiver had left, which Smith remembers with a sneer becoming a smile.
It turns out he had plenty left -- he had more than 1,000 receiving yards in his first season with the Ravens. By the time he was hurt last year, Smith was in his 15th season (one of them, in 2004, lasted just one game before he suffered a season-ending broken leg). An undrafted rookie had approached him last summer and asked Smith to tell him how he had lasted so long in the league. He had been lucky, Smith told the rookie. He didn't have the workload at 22 that he had at 36. He hated being thrown to just five times in some games when he was young despite running an abundance of routes in practice -- he once read a study that said receivers run 1,000 routes in practice each year. He argued with coaches about it. Now, Smith realized it was a blessing, because it had extended his career. Last season, before he was hurt, Smith was being targeted an average of 10 times per game.
Ravens running back Justin Forsett was trying to convince Smith not to retire even before the injury happened. He is close with Smith -- yes, Smith and the 5-8 Forsett have bonded over their height -- and saw how Smith worked to maintain his body. He put ice on at night before he went to sleep, he woke and took antioxidants. Bobby Engram, the Ravens' wide receivers coach, said Smith would show up at meetings attached to his own electrical stimulation unit. Smith's wife, Angie, is deeply interested in nutrition and whipped up fortifying shakes for her husband. Still, neither Forsett nor Engram thought Smith would really change his mind about retiring. He had too many other interests, Engram reasoned. He wouldn't go back on his word to his family, Forsett thought. Coach John Harbaugh knew how much thought Smith had put into his decision, and he figured that Smith was so strong-willed, he would not change his mind.