How much of a difference can a center really make? Meet Alex Mack -- the question-spouting, erudite rock of the Falcons' Super Bowl offense.
By Michael Silver | Published Feb. 1, 2017
HOUSTON -- The rookie center showed up for his first training camp, and his new Cleveland Browns teammates were naturally curious about the jewel of their 2009 draft class.
Would Alex Mack really make an impact commensurate with his status as the 21st overall pick? Inquiring minds wanted to know.
The inquisition was on -- but not in the way Mack's teammates anticipated.
"When he was a rookie, it was unbelievable -- I mean, truly unfathomable -- how many questions the guy could ask in a day," recalls Joe Thomas, the Browns' perennial Pro Bowl left tackle. "He was driving everybody crazy. Our strength coach at the time, Tom Myslinski, got so fed up that he finally put in an Alex Mack Rule: You were only allowed to ask one question a day, so you'd better make it a good one."
Nearly eight years later, Mack is still tormenting his coaches and co-workers with rapid-fire queries -- this time, as the Atlanta Falcons' prized free-agent signee who is immersed in preparation for Sunday's Super Bowl LI showdown with the New England Patriots. And while Mack, who might be the NFL's biggest worrier, may never take the field fully satisfied that he has all the answers, he unquestionably has played a massive role in the Falcons' second Super Bowl appearance and first in 18 years.
I call him 'The Golden Retriever,' because if you watch the way he runs, he's like a retriever chasing a Frisbee. Kyle Shanahan
"He asks a lot of questions," All-Pro quarterback Matt Ryan said last week while seated next to Mack on a bench at the Falcons' training facility during an interview that will air on NFL Network's "GameDay Morning" on Super Sunday. "One of the coolest things about Alex, I think, is during the week he's asking questions, he's inquisitive, he's figuring things out, he's getting things sorted for himself. He's got this personality that's go, go, go, go, go. But then when he gets to the game, he's very, very relaxed and can kind of cut it loose and play. And he's as calm [on game day] as anybody I've ever been around."
Mack's unflappable demeanor helped the Falcons become the NFL's top scoring offense and earned him a fourth career Pro Bowl selection. The storm before the calm, however, remained as relentless as it was during his rookie season in Cleveland.
"I'm detail-oriented, and I try to always come up with the trick question," Mack said. "Well, what if they do this on this play? What are we gonna do then? It's like chasing ghosts, and it's like my favorite thing to do in meetings. Like, What if they have everybody up and on this side of the field, and they blitz from there? [The answer is] well, they're not gonna do that ...
"You try to come up with whatever play it is, whatever scenario you're in, and ask, Well, what if they do this? What happens here? And then I just like bugging quarterbacks, since what else do they have to worry about? So I'll ask, What's this play? Why are we doing that?"
Meanwhile, the Falcons are asking themselves, How stoked are we that we signed this guy?
---
---
Atlanta landed Mack in March with a five-year, $45 million deal that included a reported $28.5 million in guarantees. A week earlier, he had opted out of his contract with the Browns -- a clause he'd actually negotiated with the Jacksonville Jaguars two years earlier during his stint as a restricted free agent. (Cleveland, which had applied the transition tag, elected to match the deal, which gave Mack the option to become an unrestricted free agent in 2016.)
In retrospect, there was no more significant move in free agency: The Falcons inserted Mack into an offensive line that returned its other four starters, and the unit's collective performance improved appreciably.
"His impact is hard to undersell," said Kansas City Chiefs right tackle Mitchell Schwartz, who also departed the Browns via free agency in 2016 and, like Mack, earned second-team All-Pro honors. "He had an amazing year. The other guys on the line are good players, too, but I think adding Alex has made the impact people say it is. It seems ridiculous for a center to be able to do that, but he really is able to have that effect, physically and mentally."
One reason is that Mack's skill set is perfectly suited for offensive coordinator Kyle Shanahan's scheme, something that became apparent in 2014, when Shanahan held a similar position for the Browns.
"When people say 'centers aren't that important,' they're generally right -- at least in most schemes," Thomas explained. "I hate to demean what they do, but 50 percent of the time in the passing game they don't block anybody, and then the other 50 percent of the time they're doubling someone. And in the running game, when you're running inside-zone stuff, the job is very simple: either an easy inside back-block, or an inside-zone double-team, and anybody can do it.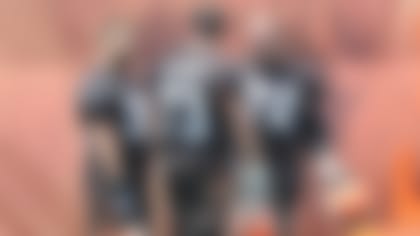 "But in the scheme Kyle runs, with outside zones, they're basically trying to get as many single blocks on defenders as they can, so uncovered guys can get to the linebackers quickly. So sometimes Alex is blocking the nose guard one-on-one, including when he has to wheel back and not allow penetration, which is a very difficult block to make. Alex is quick enough to make that block, and he's also able to blast out and get to the linebacker when the scheme calls for that."
And make no mistake: When Mack extends to make a block downfield, he has no intention of holding back. A former high school wrestler who was infamous for lunging to the ground while finishing blocks during a standout career at Cal, Mack now strives to keep his legs pumping at all cost.
Partly because of that, the 6-4, 311-pounder responsible for one of the more entertaining moments in Pro Bowl history, a 40-yard touchdown run off a lateral in the 2011 game, has earned a classic nickname from Shanahan, who is set to take over as the San Francisco 49ers' head coach following the Super Bowl.
"I call him 'The Golden Retriever,' " Shanahan said. "Because if you watch the way he runs, he's like a retriever chasing a Frisbee."
Said Thomas: "I heard Kyle gave him the nickname 'The Golden Retriever.' That's perfect. He goes above and beyond to please his coaches, and he just has so much joy out there as he's finishing blocks and doing his job."
To Mack, it's merely a matter of effort. "I've got a unique running style," he said. "I try to run full tilt. I want to be near the ball, so I'm chasing after the ball the whole play and running down the field. You don't even see me running down the field; I'm at the edge of the clip because everyone else is just way faster. So, however deep the throw is, wherever the ball is, it's gonna take me a little time to catch up."
mental preparation, of course, Mack is perpetually one step ahead. It's hardly surprising that a player who was honored as college football's top scholar-athlete (winning the Draddy Trophy as a senior) while attending the nation's No. 1 public university (according to U.S. News & World Report) would excel at the cerebral side of the game.
"He takes so much off my plate," Ryan said. "In our run game, he handles the run calls. And he's all over the pass protection, which takes things off of my plate where I can kind of focus on diagnosing coverage, trying to diagnose matchups on our side and figure out if I see something. I can help him out, but very rarely do I have to help him out, because he's so on top of it."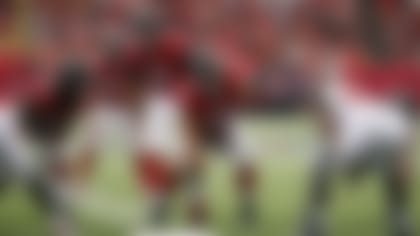 That creates a comfort zone for Mack that permeates throughout the Falcons' offensive huddle.
"He's really calm," Ryan said. "As calm as anybody I've been around. He crosses every 't,' dots every 'i' during the week and makes sure that he knows exactly what he's getting himself into -- and then to me, it looks like he can just go play. And his effort, in games, is something that is as good as anybody I've ever played with."
When Mack's not watching film, he's often got his head in a book -- something that serves to quell his nerves before games. Thomas described his friend as "a huge nerd. When he first showed up in Cleveland, we were sitting in the cold tub after practice, and he had this book he was reading. I saw a page with a giant map on both sides -- I thought maybe he's reading a travel book or something cool. So I asked him about it, and he showed it to me all excitedly, and it was a fake map of the fake places where the fake wizards lived in the fantasy book he was reading. And I was like, 'Oh my God, we cannot be friends.' "
Yet it didn't take long before Thomas began looking forward to Mack's idiosyncratic approach to honing his craft.
"Some of my favorite moments were in the locker room, during that quick piss-break after pregame warmups, when we'd be sitting there about 15 minutes before the game," Thomas said. "It was always 20 Questions, rapid-fire -- Alex sitting there going over his notes one last time and yelling out, 'What do we do on this play? ... How do we block this? ...' and everyone yelling out answers.
"It's part of what makes him a great player. And make no mistake: He makes everyone around him better, and he makes everyone's job easier."
Thomas will get no argument from Schwartz, who was a Browns teammate of Mack's for four seasons.
He's got this personality that's go, go, go, go, go. But then when he gets to the game, he's very, very relaxed and can kind of cut it loose and play Matt Ryan
"That's honestly the best part of playing with him -- he's always in charge," Schwartz said. "He's very forceful, and everything he does has a purpose. He makes it very clear: 'This is the Mike [linebacker], and we're going here.' And everyone listens."
During the week, of course, Mack's constant search for clarity is perpetually unrequited.
"He's a guy that wants the answer to every possibility that could happen," Schwartz said. "He'll ask ridiculous questions: 'What if they do this?' And someone will say, 'Alex, that's not the way football works.' But no matter how preposterous it may be, he wants the answer written down so he can go over it during the week. And I've gotta say: Pretty much every week he'll come up with one specific thing that only he would think about, because it affects him, and then it'll happen in that specific game, and he and his teammates will be ready."
Mack, who suffered a sprained ankle in the Falcons' NFC Championship Game victory over the Green Bay Packers (he missed only a single play before returning) and was in a boot early last week, is now locked in preparation for the biggest game of his career -- against a team coach by Bill Belichick, one of the shrewdest defensive strategists the sport has known.
Does this mean Mack has been even more inquisitive than usual?
"We are treating it like every other game," Mack said. "Big stage, obviously, but I ask the same amount of questions."
Sitting to Mack's left, Ryan began to laugh.
"You can't [possibly] ask any more questions," the quarterback said.
Follow Michael Silver on Twitter @MikeSilver.