By Judy Battista | Published August 13, 2014
Matt Flynn can't quite articulate what's different about his mindset during this training camp compared to the previous two, but as surely as Flynn's location has changed -- geographically and on the depth chart -- so, too, has there been a subtle shift in his competitive core. And Flynn is too candid to deny it
"Obviously it was really exciting for me the last two years to have a chance to fight for a starting job," Flynn said, after a recent practice in Green Bay. "It's a different mentality going into training camp then. I would never say ... this year, it's still exciting.
"Mentally, inside, when I was competing for a starting job, there's only 32 jobs of those open in the NFL, and it's hard to get an opportunity to do it. It's a different feeling inside. There's no different approach to my game. I'm still in competition this year to be the backup. I've got to go play just like I would be competing to start."
As the once-and-future backup to Aaron Rodgers, Flynn is continuing a career arc that, in six seasons, has encapsulated the hopes of players, the fears of teams and the fraught dynamics, crushing disappointments, misguided evaluations and overblown expectations surrounding what former Washington Redskins coach Joe Gibbs used to tell colleagues was the second most important position on a team.
For as much responsibility as backup quarterbacks often shoulder -- in many cases, their job demands they be able to, with little notice, drop their clipboard and hoist the weight of a season on the brink of disaster -- their position might also be the one that teams fumble more than any other. This reality confounds those decision-makers who strive to give their squad its best chance to win with the starter while simultaneously providing adequate insurance and managing the delicate chemistry that must be maintained among the players at the game's most closely scrutinized position.
When Peyton Manning was lost for the entire 2011 season with neck issues, the Indianapolis Colts -- who had never needed to pay much attention to (or spend much money on) a backup behind the previously indestructible Manning -- imploded. The collapse cost executives and coaches their jobs and created a cautionary tale for those who work in a league that is ever more reliant on the quarterback -- and ever more at a loss when it comes to managing without one.
If you don't have a backup quarterback that can do it, you basically just gave up your season. Ryan Grigson
Cincinnati Bengals coach Marvin Lewis said teams think back to that situation all the time. Former Colts president Bill Polian, currently serving as an analyst on ESPN despite being widely regarded as one of the best team-builders in the game, ruefully told Lewis that he wouldn't be working in television now if he had only drafted Andy Dalton in the spring of 2011 to be Manning's backup.
Of course, the process of finding and grooming a good backup is complicated by many factors, including a salary cap that often restricts a team's ability to sign an experienced (and thus higher-priced) veteran, an unwillingness on the part of some veterans to cede their hopes of starting again, and -- in every case -- the limitations of a tight practice schedule that allows backups to log, at most, just a handful of snaps with the first-team offense. But there's also something much more rudimentary.
"Let's start with there's not enough good quarterbacks to begin with," said Pittsburgh Steelers offensive coordinator Todd Haley, who suffered through what he called "the worst-case scenario" as the Kansas City Chiefs head coach in 2011, as the team wound up using three different starting quarterbacks that season.
It all conspires to create a head-spinning turnstile under center. According to NFL Media research, 51 starting quarterbacks were used by the league's 32 teams last season, including 19 who were not the Week 1 starter. That was well behind the catastrophic 2007 season, when 64 starters were used -- the most in any season other than 1987, when replacement players were used.
And teams have been going to the backup earlier and earlier. Last year, nine teams (Buffalo, Cleveland, Houston, Jacksonville, Minnesota, Oakland, Philadelphia, Tampa Bay and Tennessee) used at least two starters in the first seven weeks of the season. Only one of those teams (Philadelphia) made the playoffs. Not coincidentally, five of those teams have new head coaches this season.
Even more desperate are those teams that use three or more starters in a season, a category that included five squads (Green Bay, Cleveland, Buffalo, Minnesota and Oakland) in 2013. Over the past five years, 29 different teams have used at least three starters in a season, and just three finished with winning records: the 2013 Packers (8-7-1), the 2011 Texans (10-6) and the 2010 Steelers, who went 12-4 and made it to the Super Bowl.
It's a long way from Tom Brady, an unheralded sixth-round draft pick who famously won his first Super Bowl in 2001 after replacing an injured Drew Bledsoe in Week 2 -- and never ceded the job again. And then there's the 1972 Miami Dolphins, who might have provided the high point in the history of starters and backups coexisting. Top man Bob Griese was injured early in the regular season, and Earl Morrall was talented enough -- and apparently ego-free enough, too -- to guide the Dolphins toward perfection before handing the ball back to Griese for the Super Bowl.
That is the sort of lightning-in-a-bottle success that every team, and every backup, hopes to find. The stories of the people charged with making it work provide a window into the complexities of a job few want -- and even fewer want to deploy.
When Ryan Grigson was working his way up through the scouting ranks in St. Louis and Philadelphia, his teams were always fortunate to have quality backups like Marc Bulger and Jeff Garcia. So he needed no reminder of the position's importance when he became general manager of the Indianapolis Colts after the 2011 season –- especially given the circumstances that led him there in the first place.
Losing Manning to his neck issue and subsequent surgeries that year sent the Colts into a tailspin. They quickly brought in Kerry Collins during the preseason, but not surprisingly, with so little time to prepare, he struggled. Then he got hurt, and the Colts turned to Curtis Painter, whom they'd drafted in 2009 to groom as Manning's backup.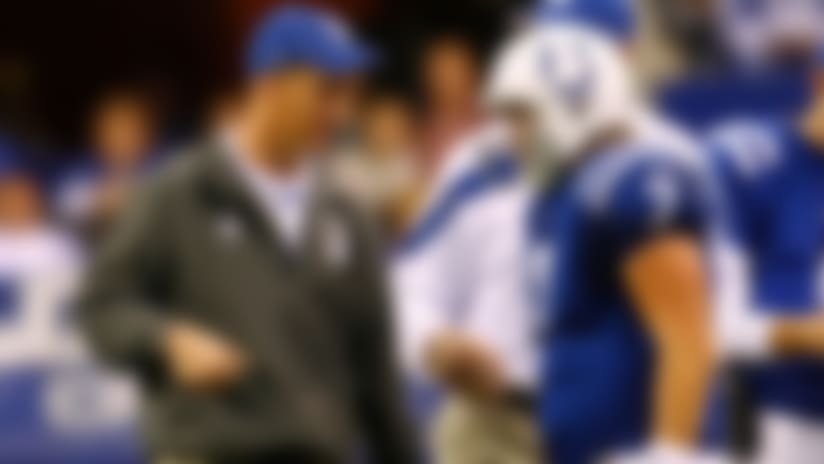 Painter -- who is now competing to be Eli Manning's backup with the New York Giants -- ascribes some of his difficulties to the lack of practice repetitions he'd received with the starters, because Peyton used to take them all. And because Peyton never missed game snaps except in garbage time, the Colts had little indication that Painter might not have been up to the task until it was too late. Painter made nine appearances and eight starts in 2011, posting an 0-8 record and a 6:9 touchdown-to-interception ratio, and the Colts finished 2-14.
That record did give the team the No. 1 overall pick in the 2012 NFL Draft, which they'd eventually use to select Andrew Luck. And from the moment Grigson got the job in Indy, he was determined to find a veteran quarterback who not only could be Luck's "corner man," but who could also win games if Luck ever went down, someone with significant experience on his résumé.
"If you don't have a backup quarterback that can do it, you basically just gave up your season," Grigson said.
After making do with a combination of Drew Stanton and Chandler Harnish in 2012, Grigson zeroed in on Matt Hasselbeck, who had played in a Super Bowl for Seattle, backed up Brett Favre in Green Bay and received glowing reviews from coaches about his willingness to mentor others. Grigson, of course, also had the luxury of not having to manage even the appearance of a quarterback competition. Hasselbeck came aboard knowing full well that Luck would be the starter as long as he was upright. The plan has worked seamlessly so far, as the Colts not only have one of the league's best quarterbacks, but one of its best backups.
Lewis says he hasn't ever had to manage a quarterback controversy with the Bengals, either, as he's gone from Jon Kitna to Carson Palmer to Andy Dalton as the unquestioned starter. But he admits that when Palmer was injured early in the 2008 season, he did not do a good job getting the Bengals to adjust to life with Ryan Fitzpatrick, who was the backup at the time.
"I never got the football team to realize Carson was not coming back and Ryan was going to be our quarterback and we need to coach to Ryan's strengths," Lewis said. "We didn't do him justice."
There is a drawback to having entrenched starters: It makes it more difficult to attract quality backups who are willing to sign for more than one year. Players' reluctance to forego other opportunities to start is understandable. So this year, after also signing Jason Campbell to provide a veteran presence, the Bengals drafted AJ McCarron.
"Hopefully, we can grow a starting quarterback from the ground up, one who is a capable backup, but yet a guy who has the opportunity to start," Lewis said. "Frankly, you don't want a guy in here that doesn't want to start at quarterback. There's a tension but also a graduation that can occur. It's happened throughout the league. Guys graduate and they move on."
Ultimately, McCarron, who has been dealing with tightness in his throwing shoulder, might start the season on the non-football injury list or physically unable to perform list. But at one point this offseason, the Bengals had considered keeping three quarterbacks on the 53-man roster, a practice that is increasingly falling out of favor, as the NFL now mandates that on game day, just 46 players can be active -- with no allowance for an emergency quarterback. Last year, Lewis said, 20 teams kept just two quarterbacks, because they did not want to be short at another position. Of course, keeping three quarterbacks is one way to offset the biggest concern among coaches and personnel executives about backup quarterbacks: There is little opportunity and no outlet for them to be groomed.
If Haley had his wish, NFL Europe would be resurrected, because its demise, Haley believes, has hurt the quarterback position more than any other.
"That was a great practice ground for quarterbacks and guys who aren't able to get enough reps to develop," Haley said. "You can only do so much throwing into buckets and throwing routes on air. You need live game situations, where the play clock is running. That's how you develop, and if you don't have that, it's going to be a struggle. It's not like you have six preseason games."
Last season in Philadelphia, Michael Vick provided a portrait of the starter-backup dynamic that might have come from a coach's fever dream. In mid-October, with Vick hurt and Nick Foles beginning to seize the Eagles' starting job in his stead, the two appeared together -- arm in arm, at one point -- at a news conference and discussed their relationship. It was an extraordinary moment of sportsmanship and one that stamped Vick as being such a good teammate that even though there is little doubt he still has enough skill to start, a team could feel safe bringing him in as a backup.
"I just wanted Nick to feel comfortable," Vick explained this summer. "The media was starting to make Nick feel uncomfortable, like he didn't belong in that position. I wanted to make the statement that we're in this together; just because you're in a competition, it doesn't mean you've got to dislike the guy next to you. I love Nick with all my heart. I wanted to let everybody know I had his back."
That is certainly not always the case. Brett Favre and Aaron Rodgers had a famously frosty relationship when they shared a Green Bay locker room. Matt Hasselbeck said that he will hear stories during the offseason about other quarterbacks who "kind of hate each other." And quarterback Brady Quinn, who recently joined the Miami Dolphins, said that while he has mostly had great relationships with his quarterback teammates -- he said he grew close to Derek Anderson when they were competing in Cleveland because they were in such similar situations -- he concedes he has also been in uncomfortable situations, with starter and backup having such different goals that they had little to talk about besides football.
Foles wound up leading the Eagles to the playoffs and ultimately displaced Vick, who became a free agent. And just one year after mangling the competition between Geno Smith and Mark Sanchez, the New York Jets invited the possibility of a full-blown quarterback controversy by bringing in Vick to help push Smith.
While acknowledging that Geno Smith is the Jets' starter, Vick has made little secret of his desire to start again -- or of his belief that he is capable of it. In theory, that could be problematic. But Vick maintains that the media often imagines the strain of a competition to be greater than it is. He and Foles never talked about their roles in Philadelphia, beyond both of them complaining about the number of reps they got in practice. For a player as talented as Vick still is, that requires a private reckoning with one's own ambition.
"You have to internalize it and deal with it within yourself," Vick said. "There is nothing to talk about with the opposition. You're still brothers at the end of the day. Even when I was in a competition with Nick, or anybody, if I see them make a mistake, I'm still going to correct them because I still believe in my abilities."
Hasselbeck came to accept his role in a different way. After being surprised by the Seahawks' decision not to re-sign him in 2011, he went to Tennessee to start while rookie Jake Locker was groomed.
"Even then, it was kind of an admission (that) at some point, I'm going to get carted off the field, and you'll come in and I will be Don Majkowski and I'm never heard from again," Hasselbeck said, referring to the quarterback who preceded Favre in Green Bay.
Still, Hasselbeck was stung when, after playing what he felt was the best football of his life as Tennessee's starter in 2011, he was told the Titans would begin the 2012 campaign with Locker under center. After Hasselbeck was released following that season, his agent called to tell him Indianapolis was interested in him. His first reaction: " 'They have a really good quarterback; why would that make sense?' " Hasselbeck said.
His agent replied: "They have a good team."
Hasselbeck said that he had come to realize several things: "It's not as fun not playing and being irrelevant in February. I have no desire to be irrelevant in February at this point."
Then there was the advice that his brother Tim and Trent Dilfer had given him: "It's really hard to be somebody's backup, but it's a lot easier if you really like the person."
Hasselbeck remembered how helpful backups had been to him, and what he'd seen other backups do to help starters. He remembers Jeff George being supportive when he was getting booed and working with receivers to get them ready. He recalls hearing that Rich Gannon took weekly notes on the game plan to present to the starter on Saturday. Dilfer was the ambassador during the week, going to the head coach or the offensive line coach to explain what the quarterbacks were struggling with.
Grigson also made a strong sales pitch.
"He said, 'We hit the jackpot with this kid (Luck), and we are trying to invest in him in every way we can,' " Hasselbeck said. "What I heard was, 'When this guy is in his eighth, ninth, 10th season, he'll think, I remember when I played with this guy; this is how he took care of his arm.'
"I had a 'pay it forward' mindset. I'm not intentionally trying to mentor Andrew. I'm just trying to be ready with an answer when people ask questions. Without a doubt, my value to him last year was working with the young practice squad receivers."
Charlie Whitehurst received some advice during his rookie season with the San Diego Chargers from one of his coaches, Cam Cameron.
"Don't ever think of yourself as a backup quarterback," Whitehurst recalls being told. "No matter where you are. You have to view yourself as the starting quarterback all the time. You need to work like you're the starter."
But Whitehurst, who has started just four games in his eight seasons so far and is now in Tennessee as Locker's backup, has instead earned an arch nickname in homage to his flowing hair and his career-long status: Clipboard Jesus. Beside the hair, however, the 6-foot-5, 226-pounder has long looked the part of a starter, which is what the Seattle Seahawks hoped they were getting when they traded for him in 2010.
Whitehurst sputtered in Seattle, though, and he was unable to seize control of the job -- which is a circumstance he said he has not dwelled on much. Then he returned to again back up Philip Rivers in San Diego, where he, like Hasselbeck, found value in being part of a support group for the starter. Whitehurst voices no distress over his missed chance and little angst about whether another shot will come.
"When your career is over, there is time to reflect on how it all went," Whitehurst said. "Everybody wants to be a starter -- myself, I definitely feel that. When you have a taste of it, you start to think, I wish I had done this.
"You try to think like you're the starter all the time. That's how you deal with it. If you start worrying about, Where am I in my career? you can confuse the issue for yourself. The way I do it, the way I found does it best for me, it's one day at a time, get yourself as good as you can today and then focus on tomorrow. I always say in the locker room to myself, I'm playing the second snap of the game.
"It may not be the most rewarding thing, to be prepared, and then the starter goes in and wins, and it looks like all the work was in vain. It wasn't. You were ready to play. As you get older, you appreciate being prepared, even if it doesn't pay off that week."
It paid off for Matt Flynn, who might have set the standard for turning one night as a fill-in into a career. Flynn had been Rodgers' backup in Green Bay for almost three full seasons, having attempted just 46 passes and started no games in that span, when Rodgers suffered a concussion the week before a matchup with the New England Patriots in December 2010.
This was the sort of opportunity backups crave: a nationally televised game against a premier opponent with significant playoff implications. Flynn went toe to toe with Tom Brady, completing 24 of 37 passes for 251 yards, three touchdowns and one interception. The Packers wound up losing, 31-27, but Flynn burst onto the NFL personnel radar.
After another season with the Packers -- and one more start, in which he threw for 480 yards and six touchdowns while completing 70 percent of his passes -- Flynn became a commodity as hot as his hand had been. In 2012, he signed a three-year deal with Seattle that paid him $9 million guaranteed. He was the presumptive starter going into the 2012 training camp -- and then rookie Russell Wilson beat him out.
I haven't thought about coming to grips with, 'OK, I'm a career backup.' I don't think I'll ever look at it like that. Matt Flynn
Last year, Flynn slipped into a backup's quagmire, being traded to the Raiders only to lose the job to Terrelle Pryor. Flynn did make one start for Oakland, but eventually was released, whereupon he signed with Buffalo. But he was there merely as an emergency option, as injuries afflicted the quarterbacks in front of him.
Finally, Flynn returned to Green Bay, where, with Rodgers out with a broken collarbone, he reprised his role as backup who provides tantalizing moments of promise. In mid-December, almost exactly three years after his star turn against the Patriots, Flynn led the Packers back from a 26-3 halftime deficit against the Cowboys to a 37-36 victory, with five consecutive touchdown drives in the second half. All told, Flynn went 2-2 for the Packers last season, keeping them alive until Rodgers returned.
Because of the setting, the game against New England remains the one for which Flynn is most well-known. But it is the Cowboys contest that he views more favorably.
"I ended up playing well, which I think did a lot more, confidence-wise, for my teammates and coaches than it did for me," Flynn said, referring to the game against the Pats. "It was really good for me to know I could do this on a live stage, on a Sunday night, and confirm my beliefs, but they didn't really know. I look back at it and I smile, and then I get something in the back of my head that ticks me off, because we ended up losing the game. It's not the apex of my career now. The apex was this past year against Dallas. It was the accumulation of everything that had happened to me. The booing. All the stuff that went on throughout the year. It was good to go out there and get a big weight off my shoulders."
The mental burden of failing to land a starting job has not dimmed Flynn's confidence. He believes he can be a starter, but he knows that people around the league will probably have considerable doubt after his two consecutive opportunities did not pan out.
It's not as fun not playing and being irrelevant in February. I have no desire to be irrelevant in February at this point. Matt Hasselbeck
Flynn said he has no regrets about how he performed in Seattle -- he thought he was in control of the offense and recognizes that Wilson, a third-round draft pick, performed well when he was given the chance in competition. In Oakland, he said, things simply did not work out -- "We weren't right for each other," he said -- and then he feels he got caught in a numbers game in Buffalo, as the Bills tried to manage their injured quarterbacks.
Flynn said Green Bay feels comfortable to him. The coaching staff is mostly the same, as is the offense, and he has a good relationship with Rodgers -- even though his role is obviously a step back from the one he was vying for just a year ago.
"I try not to think about it, and I try to think about it as, You still have to do your job," Flynn said. "You never know what's going to be your life in the NFL. Look at Josh McCown this year. He's had a great career, and all of a sudden, he gets a great opportunity.
"I haven't thought about coming to grips with, 'OK, I'm a career backup.' I don't think I'll ever look at it like that."
When he was just barely clinging to the edge of the NFL radar a few years ago -- playing in the United Football League and coaching high school football -- Josh McCown was still the ideal backup. He wasn't merely biding his time as an assistant at a North Carolina high school while waiting for another NFL call. He was the scout team quarterback, too, taking the only practice reps he could grab while he advised the starter on what he saw.
McCown admits he was not always so diligent in his preparation earlier in his career. He fell into what he called the "grind" of going to work each day, knowing he almost certainly would not play. But in 2011, when his hiatus from the NFL ended with a job backing up Jay Cutler for the Chicago Bears, he took a different approach. Now, at age 35 and seven years after he last opened a season as a starter, McCown is the redemption story that other backups around the NFL -- including Flynn and Whitehurst -- look at with wonder and hope.
"Just stepping back and having gone through things I'd gone through, in and out of the league, to value every day, value every opportunity to come to work, to bring value to the team, no matter your circumstances," McCown said. "For me, it was realizing there is more self-fulfillment in that; I got more peace from doing that than to go to work every day thinking, 'I've got to do this, I've got to do this well, so I can become a starter.' The backup has to really embrace that."
How did McCown do that? In Chicago, Cutler got every practice repetition with the starting offense, but Cutler and McCown spent a lot of time together studying the game plan each week, a process that McCown said was invaluable for his preparation -- and one that was undoubtedly aided by the fact that they had become good friends.
I always say in the locker room to myself, I'm playing the second snap of the game. Charlie Whitehurst
After practice, McCown would stay to throw a few routes with some of the receivers. When Cutler took the snaps during the full-team work, McCown would stand directly behind the play and go through exactly the same action that Cutler was doing. He would go through the same reads, being careful not to let his mind drift, he said.
"There's a difference in, after the play, saying, I would have done that, too, and while the play is going on, saying, I'm going here with the ball. (In) one, you're actually playing the position and taking the rep in your mind. In the other, you're just watching."
McCown said he is most proud that last season -- with a new appreciation for his good fortune to be back in the NFL and with the maturity that comes late in a career -- he did the best job preparing that he'd ever done. Week in and week out, he said, he approached each day thinking of how he could help Cutler play better, something he admits he may have done for just 10 or 12 weeks of a 17-week season in the past.
The results were obvious. Cutler wound up missing time, and McCown played in eight games, starting five. He produced, incredibly, the best football of his career, completing 66.5 percent of his passes with 13 touchdowns and one interception. And most importantly, he kept the Bears in the playoff race until Cutler returned.
Lovie Smith noticed -- and not just McCown's results, but what led to them. He and Tampa Bay Buccaneers general manager Jason Licht wanted to sign a veteran quarterback to be their starter this season, one who would also be selfless enough to mentor young players, including the quarterback who might eventually take his job, Mike Glennon. So they turned to McCown, who will begin his 12th NFL season as the Buccaneers' No. 1 signal-caller.
Smith said that whenever McCown's done playing, the quarterback should become a full-time coach. During the spring, McCown was spending extra time with young receivers, teaching them the offense while mastering it himself.
"I embrace that part -- it's a way you can serve your team," McCown said. "It goes beyond football, trying to help that man make a roster, have an NFL career. For me, that transcends putting on a Bucs jersey."
But it was a moment with Licht that might have crystallized what made McCown so successful at the most important job in sports that nobody wants.
"On his second day, he was sitting in the coaches' lobby area, and I was walking around and looking for a player," Licht said. "He said, 'What's the matter?' and I said I was looking for a player. He said, 'Do you want me to go get him? Is everything OK?'