With an insane five-year run of first-round draft talent, Ohio State overtakes LSU, Florida for title of DBU
By Chase Goodbread | July 9, 2020
Where do NFL teams go to find the most pro-ready players? NFL.com's Pipelines to the Pros series explores which schools, at each of eight positions over the last 20 years, have been providing NFL clubs with not only the most draft choices but also the most impactful pro players early in their careers. And beyond that, an examination of why those schools are so successful and the factors that contribute to a college program's ability to maintain pipeline-like development at a particular spot on the field.
Today, in the final of eight installments, we examine the schools vying for the title of Defensive Back U.
OHIO STATE 625.0 (Nate Clements 53.0, Chris Gamble 52.0, Donte Whitner 50.0, Marshon Lattimore 48.0, Ahmed Plummer 47.5, Malcolm Jenkins 42.5, Eli Apple 39.5, Vonn Bell 33.5, Mike Doss 33.0, Denzel Ward 32.0, Malik Hooker 27.5, Bradley Roby 23.5, Gareon Conley 21.0, Kurt Coleman 19.0, Will Allen 14.0, Derek Ross 13.5, Kendall Sheffield 13.0, Jeff Okudah 10.0, Damon Arnette 8.0, Ashton Youboty 8.0, Donnie Nickey 5.0, Chimdi Chekwa 4.5, Donald Washington 4.5, Dustin Fox 4.0, Steve Bellisari 2.0, Gary Berry 2.0, Christian Bryant 2.0, Derek Combs 2.0, Nate Ebner 2.0, Jordan Fuller 2.0, Doran Grant 2.0, Jermale Hines 2.0, Nate Salley 2.0, Tyvis Powell 0.5)
LSU 619.5 (Patrick Peterson 74.0, Eric Reid 54.5, LaRon Landry 50.0, Jamal Adams 46.0, Tre'Davious White 42.5, Tyrann Mathieu 41.0, Morris Claiborne 39.0, Corey Webster 27.0, Mark Roman 26.0, Donte Jackson 25.0, Travis Daniels 23.0, Ryan Clark 20.0, Jalen Mills 20.0, Delvin Breaux 19.0, Randall Gay 18.0, Greedy Williams 16.0, Rashard Robinson 12.5, Jalen Collins 9.0, Ron Brooks 7.0, Raion Hill 6.5, Chevis Jackson 6.0, Craig Steltz 5.5, Danny McCray 5.0, Brandon Taylor 5.0, Tharold Simon 4.5, Grant Delpit 4.0, Kristian Fulton 4.0, Chad Jones 4.0, Norman LeJeune 2.0, Curtis Taylor 2.0, Kevin Toliver 1.5)
FLORIDA 506.5 (Joe Haden 49.0, Reggie Nelson 47.5, Lito Sheppard 36.5, Vernon Hargreaves III 34.0, Keanu Neal 34.0, Marcus Maye 31.0, Matt Elam 28.5, Major Wright 28.5, Josh Evans 26.0, Marquand Manuel 24.0, Reynaldo Hill 20.0, Brian Poole 20.0, Will Hill 16.0, Quinton Dunbar 13.5, Keiwan Ratliff 12.5, Todd Johnson 11.5, Quincy Wilson 11.5, C.J. Henderson 10.0, Chauncey Gardner-Johnson 9.0, Marcell Harris 9.0, Teez Tabor 7.0, Duke Dawson 5.5, Guss Scott 5.0, Jaylen Watkins 4.5, Marcus Roberson 4.0, Ahmad Black 3.5, Dee Webb 3.0, Ryan Smith 2.0)
TEXAS 472.5 (Earl Thomas 67.0, Michael Griffin 53.5, Michael Huff 51.0, Kenny Vaccaro 48.5, Quentin Jammer 46.0, Cedric Griffin 35.5, Aaron Ross 33.0, Aaron Williams 30.5, Nathan Vasher 29.5, Quandre Diggs 26.5, Tarell Brown 12.5, Adrian Phillips 12.5, Chykie Brown 5.0, Curtis Brown 4.0, Brandon Jones 4.0, Holton Hill 3.5, Rod Babers 2.0, Kris Boyd 2.0, Ahmad Brooks 2.0, DeShon Elliott 2.0, Mykkele Thompson 2.0)
ALABAMA 465.0 (Landon Collins 56.0, Ha Ha Clinton-Dix 52.0, Kareem Jackson 51.5, Roman Harper 44.0, Eddie Jackson 38.0, Minkah Fitzpatrick 30.0, Marlon Humphrey 27.5, Dre Kirkpatrick 25.0, Dee Milliner 23.0, Ronnie Harrison 19.0, Rashad Johnson 15.0, Levi Wallace 15.0, Tony Dixon 11.5, Javier Arenas 11.0, Charlie Peprah 8.0, Cyrus Jones 5.5, Trevon Diggs 4.0, Robert Lester 4.0, Xavier McKinney 4.0, Deionte Thompson 4.0, Anthony Averett 3.5, Tony Brown 3.0, Waine Bacon 2.0, Marquis Johnson 2.0, DeQuan Menzie 2.0, Ramzee Robinson 2.0, Vinnie Sunseri 2.0, Anthony Madison 0.5)
FLORIDA STATE 460.0 (Jalen Ramsey 54.5, Xavier Rhodes 50.0, Ronald Darby 39.5, Antonio Cromartie 38.0, Derwin James 32.5, Chris Hope 28.0, Mario Edwards 27.5, Patrick Robinson 26.5, Lamarcus Joyner 25.5, Derrick Gibson 23.5, Bryant McFadden 21.5, Michael Boulware 20.0, P.J. Williams 15.5, Tay Cody 15.0, Pat Watkins 11.5, Mike Harris 9.5, Javien Elliott 5.5, Terrence Brooks 4.5, Jerome Carter 4.5, Tony Carter 2.0, Myron Rolle 2.0, Marquez White 2.0, Trey Marshall 1.0)
MIAMI 432.5 (Ed Reed 61.5, Sean Taylor 47.0, Antrel Rolle 43.5, Brandon Meriweather 34.0, Kelly Jennings 31.0, Kenny Phillips 30.5, Sam Shields 29.5, Artie Burns 28.5, Phillip Buchanon 27.0, Mike Rumph 18.0, Adrian Colbert 13.5, Rayshawn Jenkins 10.5, Deon Bush 9.0, DeMarcus Van Dyke 8.0, LaDarius Gunter 7.5, Sheldrick Redwine 7.0, Bruce Johnson 5.0, Brandon Harris 4.0, Tracy Howard 3.0, Leonard Myers 2.5, Corn Elder 2.0, Mike Jackson 2.0, Jaquan Johnson 2.0, Alfonso Marshall 2.0, Marcus Maxey 2.0, Brandon McGee 2.0)
VIRGINIA TECH 393.0 (DeAngelo Hall 52.0, Kyle Fuller 49.0, Brandon Flowers 47.5, Kam Chancellor 38.5, Terrell Edmunds 31.0, Eric Green 23.0, Kendall Fuller 22.5, Jayron Hosley 14.5, Aaron Rouse 14.5, Cody Grimm 12.5, Macho Harris 10.5, Jimmy Williams 10.0, Chuck Clark 9.0, Cory Bird 8.0, Kyshoen Jarrett 8.0, Willie Pile 7.5, Antone Exum 7.0, Ike Charlton 5.5, Kevin McCadam 5.5, Greg Stroman 5.0, Roc Carmichael 3.0, Vincent Fuller 3.0, Brandon Facyson 2.0, Justin Hamilton 2.0, Ronyell Whitaker 2.0)
SOUTH CAROLINA 381.5 (Stephon Gilmore 53.0, Dunta Robinson 49.5, Johnathan Joseph 41.5, D.J. Swearinger 34.5, Sheldon Brown 29.5, Captain Munnerlyn 29.0, Ko Simpson 25.5, Andre' Goodman 24.5, Chris Culliver 17.0, Arturo Freeman 16.5, Darian Stewart 16.5, Fred Bennett 14.5, Antonio Allen 11.5, Willie Offord 10.5, Deandre' Eiland 2.0, Rashad Fenton 2.0, Isaiah Johnson 2.0, Stoney Woodson 2.0)
USC 292.5 (Troy Polamalu 45.0, T.J. McDonald 39.5, Adoree' Jackson 35.5, Ifeanyi Ohalete 25.0, Terrell Thomas 21.5, Shareece Wright 21.0, Chris Cash 16.5, Taylor Mays 12.0, Kevin Ellison 11.0, Nickell Robey-Coleman 10.5, Josh Shaw 9.5, Su'a Cravens 7.0, David Gibson 6.5, Kevin Thomas 6.5, Kevon Seymour 6.0, Kris Richard 4.5, Cary Harris 3.0, Leon McQuay III 3.0, Will Poole 3.0, Marvell Tell 3.0, Iman Marshall 2.0, Dion Bailey 1.0)
Defensive Back U overview
While it's predictable that the two schools who dub themselves DBU (LSU and Florida) rank high -- right behind Ohio State at Nos. 2 and 3 -- it's not exactly a three-school race. The Buckeyes nipped LSU by just 5.5 points, essentially a photo finish, while Florida ranked a much more distant third, more than 100 points behind both. Getting back in the hunt won't be easy for the Gators. Keanu Neal and Vernon Hargreaves each have a year left in the five-year NFL scoring window, but major injuries (Achilles tendon, ACL tear) have derailed Neal's career with the Falcons, while Hargreaves enters a one-year deal with Houston, which signed him in the middle of last season after he flared out in Tampa. Already with 10 points as the No. 9 overall pick of the 2020 draft is promising rookie C.J. Henderson, a former Gator selected by the Jaguars in April.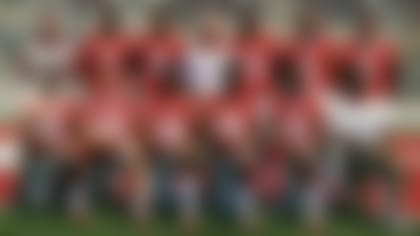 Recruiting, development primary reasons Buckeyes' secondary is first rate
As incessantly busy as college football coaches are, Kerry Coombs can't help but occasionally marvel at a photo displayed in his office in the Woody Hayes Athletic Center. The Ohio State defensive backs coach stands in the center of it, surrounded by more than $70 million in NFL rookie contract guarantees, assuming the Las Vegas Raiders sign their No. 19 overall pick in the 2020 NFL draft, Damon Arnette, to a contract in the ballpark with the previous year's No. 19 pick. Flanking Coombs in the picture are five first-round draft picks he coached on the 2015 Buckeyes team – Marshon Lattimore, Eli Apple, Gareon Conley, Denzel Ward and Arnette. And remarkably, it was a cornerbacks-only snapshot.
"Malik Hooker was across the hall in the safeties room," Coombs said of the Indianapolis Colts' pick at No. 15 overall in 2017.
The title of "DBU" has most frequently been associated with LSU, and for good reason – the Tigers' parade of NFL defensive backs is rife with both quality and quantity. But NFL.com's Pipeline to the Pros series, which ranks colleges based on immediate NFL-readiness at specific positions, gives the DBU title to the Buckeyes. The Big Ten powerhouse has developed NFL-suitable defensive backs in droves, particularly since the program's recruiting prowess reached a new level beginning with the tenure of former head coach Urban Meyer.
There are NFL-like measurables that go into the Buckeyes' evaluations of high school defensive backs – height, length and speed rule the recruiting board for cornerbacks, while safeties must show uncanny range in coverage. Yet another filter that separates the defensive backs Ohio State will pursue, Coombs said, is that they must also come from a winning high school program.
But more than recruiting goes into Ohio State's success at the position.
On the developmental side, Coombs maintains a highly unusual philosophy to rotate defensive backs throughout games. The positions major college programs rotate regularly are running backs, wide receivers and defensive linemen. Rotating defensive backs, by contrast, is nearly unheard of, in part because effective man-to-man coverage skills are hard enough to find in starters, much less reserves. Personnel groupings change, of course, with base, nickel and dime packages. But OSU rotates within those packages.
"One year I had Lattimore at a corner, the 11th pick in the draft, Conley at the other corner, and he was the 24th pick in a draft, and every series one of them would come out so Denzel Ward could go in," Coombs said. "(Head coach) Urban (Meyer) would say, 'How can you take those guys off the field?' And I said, 'Coach, the guy going in is just as capable.' I've always believed that fast, fresh corners are (important). They can get tired in a game and tired over the course of a season."
The result, Coombs said, is that a higher volume of OSU defensive backs develop at an earlier age. That, in turn, helps attract the top high school recruits because they know they won't have to sit for two or three years waiting to play, even if a first-round-caliber player is at the top of the depth chart. A prime example of the benefit in rotating corners came when Ward opted to skip the 2017 Cotton Bowl prior to entering the NFL draft, and was capably replaced by Jeff Okudah.
"Here's Jeff Okudah playing a major role in a major bowl against USC, competing against (QB) Sam Darnold, and he had a whale of a game," Coombs said. "But it wasn't the first time he'd walked on the field. He'd been doing it in smaller measure, but he'd been rotating in all year long so he had more confidence and he was ready when his number was called. There is no substitute for game experience."
Three years later, in April, Okudah was drafted No. 3 overall by the Detroit Lions. Up next in the Buckeyes' pipeline of top draft prospects at the position is Shaun Wade, who despite all the talent around him has played in 24 games in his first two years, notching four interceptions.
Coombs coached OSU's cornerbacks from 2012-2017 before coaching the Tennessee Titans secondary from 2018-2019. He returned to OSU this year as defensive coordinator and secondary coach, and believes his time with the Titans will only accentuate his ability to prepare Buckeyes defensive backs for the next level. Communication is one key difference Coombs learned while with the Titans; college players don't always ask why a drill or a technique is important, whereas pros press coaches much more on the whys.
"That gave me a much clearer picture of the things I thought I knew about preparing for the NFL. I now know exactly what they're walking into and how to prepare them frankly better than I did before," Coombs said. "Before it was theory, now it's testimony."
With 74 points, former LSU CB Patrick Peterson tied QB Cam Newton for the highest score of any player from a top 10 school. In the five-year scoring window, Peterson notched five Pro Bowls, three All-Pro selections and didn't miss a single regular-season start. …
South Carolina finished ninth in the rankings, but with the fewest number of defensive backs who scored among the top 10 schools (18), the Gamecocks average 21.2 points per player, second only to Texas (22.5). Leading the way: Stephon Gilmore (53 points) …
Of Miami's top 10 scorers, only one (Bears CB Artie Burns) is an active NFL player, and Burns has just a year left in our scoring system.