While his schemes changed over the years, Nick Saban remained committed to big, powerful backs, a reason why Alabama has retained the title of Running Back U.
By Chase Goodbread | June 30, 2020
Where do NFL teams go to find the most pro-ready players? NFL.com's Pipelines to the Pros series explores which schools, at each of eight positions over the last 20 years, have been providing NFL clubs with not only the most draft choices but also the most impactful pro players early in their careers. And beyond that, an examination of why those schools are so successful and the factors that contribute to a college program's ability to maintain pipeline-like development at a particular spot on the field.
Today, in the second of eight installments, we examine the schools vying for the title of Running Back U.
ALABAMA 309.0 (Eddie Lacy 47.0, Le'Ron McClain 44.5, Shaun Alexander 42.5, Trent Richardson 36.0, Mark Ingram 27.5, T.J. Yeldon 25.0, Derrick Henry 22.5, Josh Jacobs 21.0, Kenyan Drake 16.5, Glen Coffee 6.0, Jalston Fowler 5.5, Bo Scarbrough 4.5, Damien Harris 4.0, Kenneth Darby 2.5, Tim Castille 2.0, Ahmaad Galloway 2.0)
LSU 214.0 (Joseph Addai 34.5, Leonard Fournette 34.5, Jeremy Hill 29.5, Domanick Williams 25.0, Stevan Ridley 18.0, Jacob Hester 17.0, Alfred Blue 11.5, Spencer Ware 10.0, Quinn Johnson 8.5, Clyde Edwards-Helaire 8.0, Derrius Guice 4.5, LaBrandon Toefield 3.5, Keiland Williams 3.0, Rondell Mealey 2.5, Kenny Hilliard 2.0, Charles Scott 2.0)
MIAMI 212.5 (Clinton Portis 53.5, Frank Gore 38.5, Willis McGahee 37.5, Lamar Miller 33.5, James Jackson 17.0, Duke Johnson 13.5, Mike James 5.0, Mark Walton 4.0, Najeh Davenport 3.0, Travis Homer 3.0, DeeJay Dallas 2.0, Marquez Williams 2.0)
AUBURN 204.5 (Cadillac Williams 51.0, Ronnie Brown 46.5, Rudi Johnson 21.5, Peyton Barber 14.5, Kerryon Johnson 14.5, Tre Mason 14.5, Ben Tate 11.5, Jay Prosch 11.0, Heath Evans 6.0, Chandler Cox 5.0, Kenny Irons 4.0, Cameron Artis-Payne 3.5, Corey Grant 1.0)
TENNESSEE 178.0 (Jamal Lewis 48.5, Travis Henry 36.5, Arian Foster 33.0, Alvin Kamara 32.0, Montario Hardesty 6.5, Cedric Houston 6.5, Phillip Crosby 4.0, Troy Fleming 3.0, Jakob Johnson 3.0, John Kelly 2.0, Travis Stephens 2.0, Austin Johnson 1.0)
GEORGIA 174.0 (Todd Gurley 69.0, Knowshon Moreno 35.0, Nick Chubb 23.0, Sony Michel 23.0, Patrick Pass 6.5, Musa Smith 4.5, D'Andre Swift 4.0, Shaun Chapas 2.5, Thomas Brown (2.0), Verron Haynes 2.0, Keith Marshall 2.0, D.J. Ware 0.5)
OKLAHOMA 159.0 (Adrian Peterson 59.5, DeMarco Murray 41.0, Joe Mixon 25.0, Samaje Perine 10.0, Aaron Ripkowski 7.0, Quentin Griffin 5.0, Damien Williams 3.5, Rodney Anderson 2.0, Trey Millard 2.0, Allen Patrick 2.0, J.D. Runnels 2.0)
WISCONSIN 156.5 (Melvin Gordon 49.0, Michael Bennett 41.0, Ron Dayne 17.0, Chris Pressley 11.5, Derek Watt 9.5, James White 8.0, Montee Ball 5.5, Brian Calhoun 4.0, Alec Ingold 4.0, Jonathan Taylor 4.0, Bradie Ewing 3.0)
OHIO STATE 139.5 (Ezekiel Elliott 55.5, Carlos Hyde 25.5, Beanie Wells 19.5, Jonathan Wells 16.5, Antonio Pittman 4.5, J.K. Dobbins 4.0, Dan Herron 3.5, Jamar Martin 3.0, Michael Wiley 2.5, Kevin Houser 2.0, Mike Weber 2.0, Rod Smith 1.0)
PITTSBURGH 136.0 (LeSean McCoy 42.0, Kevan Barlow 19.0, James Conner 17.0, Kris Wilson 15.5, Henry Hynoski 12.5, LaRod Stephens-Howling 8.0, Nick Goings 7.5, Dion Lewis 5.0, Lousaka Polite 4.0, Brandon Miree 3.5, Qadree Ollison 2.0)
With a winning margin of 95 points (309-214) over No. 2-ranked LSU, Alabama ran away with the top spot in this ranking like no other position. In the 13 drafts since coach Nick Saban took over the program, UA has produced three first-round picks (Mark Ingram, Trent Richardson, Josh Jacobs), three second-rounders (T.J. Yeldon, Derrick Henry, Eddie Lacy) and three third-rounders (Damien Harris, Kenyan Drake, Glen Coffee). Six of those nine players are currently on NFL rosters. Last year's NFL rushing king, Henry, tallied just the seventh-highest point total for Alabama (22.5), in part because he started just four games over his first two years with the Titans while playing behind DeMarco Murray. Former Alabama star Shaun Alexander won the NFL MVP in his sixth season (2005), barely missing on a five-point bonus that would have put him atop Alabama's list.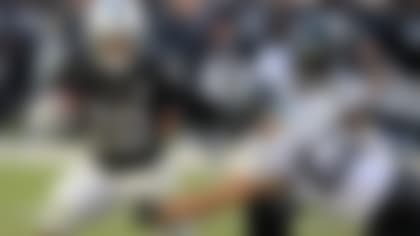 At Alabama, as one exits the running back pipeline, another enters
In Nick Saban's first Southeastern Conference title game at Alabama in 2008, his offense featured a pair of future NFL running backs (Glen Coffee and Mark Ingram), bruising defenses with a downhill style, and often a pair of tight ends adding to the push. By the time Saban reached the SEC title game a decade later in 2018, his modernized run-pass option offense resembled nothing like that; everything about the scheme had changed.
But not much changed at all for Burton Burns.
The former Alabama running backs coach, now in the same role with the New York Giants, was Saban's longest-tenured assistant coach at UA with 11 seasons from Saban's first (2007) through 2017. But as he witnessed Saban's decisive shift from an old-school attack to the RPO game, the two coaches never wavered on what kind of running backs they wanted.
And neither did the NFL success that awaited them.
"We sold (running back recruits) on a power style at first. Then it transcended to something a little more wide open. And as we went to other systems, we maintained that profile," said Burns in a recent phone interview. "Big backs. Physical backs who could run downhill. If we went to four receivers and one back, we still wanted that same type of back. … We started spreading people out more, but we were still running the same downhill plays with big backs."
With a parade of future pros over a 20-year period that stretches back to former NFL MVP Shaun Alexander, Alabama running backs rank at the top of NFL.com's Pipeline to the Pros series, which explores the colleges that deliver the most NFL-ready players at specific positions. Seven current NFL rushers played their college ball at Alabama, including the aforementioned reigning rushing champion, Henry, and Josh Jacobs, who finished as runner-up in the NFL Offensive Rookie of the Year voting.
Alabama's offensive philosophy began to turn after a 2013 season in which Auburn derailed a potential national championship for the Tide with the help of an RPO-driven offense that sparked a 34-28 Iron Bowl win. A year later, RPO concepts began trickling into UA's attack, and two years after that, when Jalen Hurts took over as a freshman quarterback, the change became wholesale.
"We sold (running back recruits) on a power style at first. Then it transcended to something a little more wide open. And as we went to other systems, we maintained that profile." Burton Burns
Nothing illustrates Alabama's pipeline of NFL running backs better than those on that 2013 roster, when the Crimson Tide backfield was logjammed with five future pros, two of whom have since been selected to Pro Bowls. T.J. Yeldon (Bills) led that group with 1,235 yards, and was backed up by a young Kenyan Drake (Cardinals) and a younger Derrick Henry (Titans). New Orleans Saints star Alvin Kamara redshirted on that Alabama team before transferring to Tennessee, and as if a backfield that talented needed any help, 250-pound fullback Jalston Fowler (a fourth-round pick of the Titans in 2015) was there to blast open bigger holes.
All the NFL backs Burns coached at UA heard the same mantra from him every day in practice, and it couldn't have been more NFL-like: "Make one cut, then get upfield," Burns said. "That's how physical backs play."
Concurrent to Saban's preference for bigger, more physical rushers is a philosophy that the punishment they absorb needs to be shared. The Tide rotates at least two backs on a regular basis, the lone exception being in 2015, when UA primarily rode Henry for 395 carries on the way to a national title. Two-back rotations not only keep rushers fresh within a game but from week to week as well. It also spurs quicker development and exposes more players to NFL scouts, something Burns said high school running back recruits have come to appreciate.
After all, Jacobs became the poster for patience at the position in 2018. In a rotation that included Damien Harris (Patriots) and a top prospect for 2021 in Najee Harris, Jacobs only needed 120 carries on the season to position himself as the NFL draft's top running back prospect. In the Crimson Tide's 15-game season that year, that translated to just eight carries a game for Jacobs, yet was good enough for him to be a first-round pick. Asked about the light load at the 2019 NFL Draft in Nashville, the day before the Raiders selected him at No. 24 overall, Jacobs said any role in an Alabama backfield, even a part-time one, will draw all the NFL attention needed.
One exits the pipeline, another enters.
"You get the first guy, and he influences the next guy, and it's like a domino effect," Burns said.
To put sheer volume in perspective, Alabama and LSU each had 16 running backs earn points in our scoring system, more than any other school. In fact, no other program had more than 12.
Surprisingly, Georgia and its sterling reputation for pro-ready rushers ranked just sixth, although there are still plenty of ex-Bulldogs actively toting the rock: Todd Gurley, Nick Chubb, and Sony Michel, plus rookie D'Andre Swift.
Ezekiel Elliott's 55 points were 30 more than the next-highest ranked former Buckeye, Carlos Hyde. A four-year veteran, Elliott has one more season to impact OSU's point total under our criteria for this exercise.
---
---
Coming Wednesday: Tight competition for Wide Receiver U