Built by a strong run of first-round draft talent in the early 2000s, Miami retains title as Tight End U.
By Chase Goodbread | July 6, 2020
Where do NFL teams go to find the most pro-ready players? NFL.com's Pipelines to the Pros series explores which schools, at each of eight positions over the last 20 years, have been providing NFL clubs with not only the most draft choices but also the most impactful pro players early in their careers. And beyond that, an examination of why those schools are so successful and the factors that contribute to a college program's ability to maintain pipeline-like development at a particular spot on the field.
Today, in the fifth of eight installments, we examine the schools vying for the title of Tight End U.
MIAMI 293.5 (Jeremy Shockey 61.0, Bubba Franks 56.0, Jimmy Graham 38.5, Greg Olsen 36.0, Kellen Winslow 33.0, David Njoku 20.5, Chris Herndon 14.0, Clive Walford 12.0, Kevin Everett 6.5, Richard Gordon 5.0, Erik Swoope 3.0, Chase Ford 2.5, Mondriel Fulcher 2.5, Dedrick Epps 2.0, Asante Cleveland 0.5, Buck Ortega 0.5)
STANFORD 231.0 (Coby Fleener 35.5, Alex Smith 33.0, Levine Toilolo 32.0, Zach Ertz 27.5, Ryan Hewitt 25.0, Austin Hooper 23.5, Jim Dray 16.5, Teyo Johnson 11.0, Dalton Schultz 9.0, Kaden Smith 8.0, Evan Moore 4.5, Colby Parkinson 2.0, Konrad Reuland 2.0, Brett Pierce 1.5)
IOWA 211.0 (Dallas Clark 45.0, C.J. Fiedorowicz 29.0, George Kittle 29.0, Tony Moeaki 27.0, Brandon Myers 24.0, Noah Fant 19.0, T.J. Hockenson 17.0, Zeron Flemister 8.5, Scott Chandler 7.0, Erik Jensen 2.0, Austin Wheatley 2.0, Allen Reisner 1.5)
NOTRE DAME 203. 0 (Kyle Rudolph 38.0, Anthony Fasano 34.5, Tyler Eifert 33.0, John Carlson 30.5, Troy Niklas 14.0, Ben Koyack 11.0, Durham Smythe 11.0, John Owens 10.5, Jabari Holloway 10.0, Cole Kmet 4.0, Dan O'Leary 2.5, Jerome Collins 2.0, Alize Mack 2.0)
GEORGIA 140.5 (Randy McMichael 50.0, Benjamin Watson 28.5, Leonard Pope 26.5, Jermaine Wiggins 17.5, Orson Charles 8.0, Martrez Milner 4.0, Arthur Lynch 2.0, Isaac Nauta 2.0, Charlie Woerner 2.0)
UCLA 122.5 (Marcedes Lewis 44.5, Logan Paulsen 21.0, Bryan Fletcher 17.0, Cory Harkey 14.0, Mike Seidman 14.0, Devin Asiasi 4.0, Thomas Duarte 2.0, Joseph Fauria 2.0, Jeff Grau 2.0, Caleb Wilson 2.0)
FLORIDA 121.5 (Erron Kinney 35.0, Ben Troupe 22.0, Jordan Reed 21.5, Aaron Hernandez 20.0, Trey Burton 10.5, Aaron Walker 10.5, Cornelius Ingram 2.0)
TENNESSEE 116.5 (Jason Witten 51.0, Luke Stocker 27.5, Brad Cottam 11.5, David Martin 11.0, Mychal Rivera 11.0, Alex Ellis 3.0, Jason Croom 1.5)
WISCONSIN 115.0 (Owen Daniels 41.0, Lance Kendricks 40.5, Garrett Graham 16.5, Travis Beckum 7.0, Troy Fumagalli 4.5, Mark Anelli 2.0, Jason Pociask 2.0, Austin Traylor 1.5)
OKLAHOMA 112.5 (Jermaine Gresham 50.5, James Hanna 17.5, Blake Bell 14.0, Brody Eldridge 14.0, Mark Andrews 11.0, Trent Smith 3.0, Josh Norman 1.5, Carson Meier 1.0)
Had Pipeline to the Pros been a 10-year analysis instead of 20, the Hurricanes likely wouldn't be near the top of this list. As it stands, UM reigns here on the strength of three retired pros (Jeremy Shockey, Bubba Franks, Kellen Winslow Jr.) and two more nearing the end of lengthy NFL careers (Jimmy Graham, Greg Olsen). Those five account for every Pro Bowl nod a former Miami tight end has earned in 20 years, and none have played a down for UM since 2009. More recently, 2019 was a tough season for others – a wrist injury derailed former first-round pick David Njoku's third year with the Browns. Jets TE Chris Herndon's season began on suspension and ended on injured reserve, while former third-rounder Clive Walford was cut by the Dolphins in the preseason, only to be re-signed midseason for limited duty.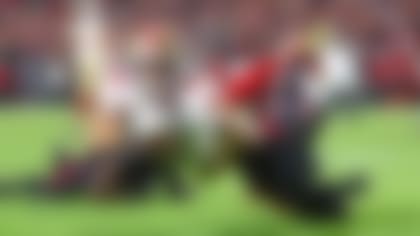 Careful not to knock Iowa tight ends ... you just might get blocked
Dallas Clark's football resume includes being a first-round draft selection, a Pro Bowl and All-Pro player, and Super Bowl champion, all of which was made possible largely because he was a dynamic receiving threat in eight of Peyton Manning's 13 seasons with the Indianapolis Colts. But coming from the University of Iowa, where tight ends block first and foremost, he always felt like he was more than just a pass catcher.
"When the Colts exploded and we all went our separate ways, and I went to Tampa, maybe I wasn't good enough anymore, but I was turned into a third-down tight end, and it just crushed me," Clark said. "Because I didn't feel like it was football. I wanted the coaches to feel good about running the football right behind me. It was a walk-on mentality from Iowa that I never let go of."
Eighteen years after Clark left Iowa for the NFL, Hawkeyes tight ends rank third in NFL.com's Pipeline to the Pros series, which identifies schools that develop the most NFL-ready players at specific positions. And the emphasis longtime coach Kirk Ferentz's staff places on blocking at the position remains a big reason for it.
Two years ago, for the first time in NFL draft history, two tight ends from the same school where selected in the first round in Iowa duo T.J. Hockenson and Noah Fant. A few months earlier, former Hawkeye George Kittle established himself as the NFL's best tight end with a record 1,377 receiving yards, although Kittle's blocking is, of course, stellar as well.
Credit the Hawkeyes' more traditional offensive style as at least one factor.
To help fuel a committed running attack, Iowa still requires a quality in-line "Y" blocker at tight end, something still in demand at the pro level. The way college football is trending, the Y might as well stand for "Y have one?"
Long gone are the days of college tight ends being blockers first; in the modern game, far more can stretch the field as a receiver than can drive a defensive end or linebacker off the line of scrimmage on a power run. The NFL, to be sure, has spread tight ends into the slot for years and made stars of athletic mismatches like Kansas City's Travis Kelce, Philadelphia's Zach Ertz, and many others. But at the pro level, there remains a baseline appreciation for in-line blocking at the position that college spread offenses don't as often call for.
Meanwhile at Iowa, Ferentz maintains the emphasis. Indeed, his tight ends coach, son Brian Ferentz, was an offensive lineman as a player and coached Iowa's offensive line before taking on his current role. He has Clark – who maintains a home in Livermore, Iowa – return to give a speech to the team in training camp on an annual basis.
"I think in general terms, it is (disappearing)," Ferentz said of the Y-position in college football. "A lot of people are now playing that guy off the ball. That's a more customary alignment. Several teams we play, their standard formation is three wides and a tight end who lines up off the ball so he can block back across the formation, release easier, all that. It gives you more flexibility. We would be near the top, in our conference and nationally, as for as using a guy up on the ball, on the line of scrimmage. It's part of our DNA."
That's not to say Iowa doesn't spread tight ends out at times; in two-tight end sets featuring both Hockenson and Fant, for instance, Fant would commonly split out as a receiver. But after Fant set Denver Broncos records for catches (40) and yardage (562) by a rookie tight end last year, new offensive coordinator Pat Shurmur described him as "frankly … pretty gritty" as a first-year blocker.
Kittle played a more traditional Y role at Iowa and, according to Ferentz, could have been more productive as a receiver had he not endured foot and ankle injuries.
Clark believes Ferentz's background in the NFL – he was an assistant coach with the Browns and Ravens for six years – is part of why he maintains a stronger belief in the importance of blocking at the position. The coach has found recruiting tight ends to be more of a projection than it once was, because high schools have gone the way of the spread offense as well. So Ferentz and his staff look for a certain body type – long and strong, but not necessarily big – and builds them into more traditional tight ends upon arrival.
"Hockenson didn't play in high school the way we would use a tight end. Same with (former Houston Texans TE) C.J. Fiedorowicz. He was a big guy in high school but was still flexed 7 yards from the tackle," Ferentz said. "But learning to block isn't the hardest thing in the world."
NFL coaching staffs are facing the very same projection, faced with evaluating college tight ends whose game tapes show plenty of speed and skill for route-running and pass catching, but not as much in the area of blocking, particularly on the line of scrimmage. When the modern rookie tight end arrives at training camp, pro coaches know more of what to expect from them as receivers, while blocking is more of an unknown.
"On Sundays, guys are still putting their hand on the ground and they still have to knock back the guy across from them. There is always going to be a need for that guy," Clark said. "If (an NFL team) needs a Y, where are they going to go to find a guy who already has the footwork and technique to block on the line of scrimmage? Not many places, but Iowa is one of them. At Iowa, the blocking drills for tight ends don't get cut down to five minutes so they can get more time for 7-on-7 or routes versus air. It's still at the core of the practice."
The University of Miami topped the tight end rankings in this series by a relatively wide margin, but did so based largely on a reputation buried in yesteryear. The Hurricanes' top-rated tight ends were Jeremy Shockey, Bubba Franks, Jimmy Graham, Greg Olsen and Kellen Winslow Jr., none of whom have played a down for UM in 10 years or more.
But 17 years after the Colts drafted Clark No. 24 overall, NFL general managers needing immediate returns from a young tight end are still finding them in Iowa City.
With a more run-based offense, it's little surprise that Stanford also has generated some of the NFL's top tight ends. The Cardinal ranks No. 2, with Zach Ertz – who enjoyed the second-most productive season of his pro career in 2019 – as Stanford's most successful current pro. Ertz was just one of six former Cardinal tight ends to score 20-plus points, joined by Coby Fleener, Alex Smith, Levine Toilolo, Ryan Hewitt and Austin Hooper. …
Georgia ranked a distant fifth, as its tradition of top tight ends has gotten long-of-tooth at the pro level. Consider: the Bulldogs gave the NFL Randy McMichael and Benjamin Watson over a three-year period (2002-2004), while today, Lions reserve Isaac Nauta is only one former Georgia tight end who enters 2020 with any NFL experience. Two incoming rookies – Charlie Woerner and Eli Wolf – were a sixth-round pick and an undrafted free agent, respectively. …
Florida ranked seventh with a point total that's dead on the vine – the only former UF tight end currently on an NFL roster is the Colts' Trey Burton, who can no longer earn Pipeline to the Pros points as a six-year veteran.
---
---
Coming Tuesday: Defensive Line U.