LSU is leading the Wide Receiver U title chase -- and thanks to Ed Orgeron's wide-open offense and top-level recruiting, the pipeline to the NFL appears endless.
By Chase Goodbread | July 1, 2020
Where do NFL teams go to find the most pro-ready players? NFL.com's Pipelines to the Pros series explores which schools, at each of eight positions over the last 20 years, have been providing NFL clubs with not only the most draft choices but also the most impactful pro players early in their careers. And beyond that, an examination of why those schools are so successful and the factors that contribute to a college program's ability to maintain pipeline-like development at a particular spot on the field.
Today, in the third of eight installments, we examine the schools vying for the title of Wide Receiver U.
LSU 352.5 (Odell Beckham 55.5, Jarvis Landry 53.0, Dwayne Bowe 52.5, Michael Clayton 37.0, Brandon LaFell 29.5, Rueben Randle 21.0, Devery Henderson 20.0, Josh Reed 18.0, D.J. Chark 13.0, Early Doucet 11.0, Craig Davis 9.5, Justin Jefferson 8.0, Russell Shepard 4.5, Russell Gage 4.0, Larry Foster 3.0, James Wright 3.0, Bennie Brazell 2.0, Demetrius Byrd 2.0, Malachi Dupre 2.0, Skyler Green 2.0, Trindon Holliday 2.0)
OHIO ST. 322.0 (Michael Thomas 47.5, Santonio Holmes 39.0, Ted Ginn 33.5, Michael Jenkins 31.0, Brian Hartline 29.5, Curtis Samuel 19.5, Anthony Gonzalez 18.5, Terry McLaurin 18.0, Corey Brown 12.5, Braxton Miller 11.5, Brian Robiskie 11.5, Devin Smith 8.0, Parris Campbell 7.0, Drew Carter 6.5, Terrelle Pryor 6.0, DeVier Posey 4.5, Noah Brown 4.0, Reggie Germany 3.0, Roy Hall 2.0, K.J. Hill 2.0, Ken-Yon Rambo 2.0, Dane Sanzenbacher 2.0, Evan Spencer 2.0, Jalin Marshall 1.0)
FLORIDA 318.0 (Travis Taylor 44.5, Percy Harvin 43.5, Darrell Jackson 43.5, Jabar Gaffney 39.0, Riley Cooper 23.5, Reche Caldwell 19.0, Louis Murphy 18.5, David Nelson 15.5, Antonio Callaway 14.0, Demarcus Robinson 13.5, Andre Caldwell 13.0, Taylor Jacobs 7.5, Chad Jackson 5.0, Van Jefferson 4.0, Deonte Thompson 3.0, Dallas Baker 2.0, Tyrie Cleveland 2.0, Andre Debose 2.0, Freddie Swain 2.0, Frankie Hammond 1.5, Brandon Powell 1.0, Kelvin Kight (0.5)
MIAMI 272.5 (Andre Johnson 57.0, Reggie Wayne 44.5, Devin Hester 32.5, Santana Moss 32.5, Allen Hurns 28.5, Travis Benjamin 18.0, Phillip Dorsett 15.5, Leonard Hankerson 12.0, Daryl Jones 8.0, Roscoe Parrish 7.5, Sinorice Moss 5.0, Andre King 3.5, Braxton Berrios 2.0, Stacy Coley 2.0, K.J. Osborn 2.0, Tommy Streeter 2.0)
FLORIDA ST. 266.5 (Anquan Boldin 57.0, Peter Warrick 45.5, Kelvin Benjamin 41.5, Laveranues Coles 41.0, Javon Walker 28.0, Snoop Minnis 15.0, Ron Dugans 13.0, Auden Tate 7.0, Willie Reid 4.0, Talman Gardner 3.5, Rashad Greene 2.5, Chris Davis 2.0, P.K. Sam 2.0, Craphonso Thorpe 2.0, Bobo Wilson 1.5, Travis Rudolph 1.0)
USC 260.0 (Nelson Agholor 45.0, Robert Woods 40.5, Keary Colbert 36.0, Mike Williams 27.0, JuJu Smith-Schuster 25.5, Marqise Lee 22.5, Steve Smith 19.5, Damian Williams 13.0, R.Jay Soward 10.0, Dwayne Jarrett 5.5, Patrick Turner 4.5, Michael Pittman 4.0, Windrell Hayes 3.0, Ronald Johnson 2.0, Deontay Burnett 1.5, Steven Mitchell (0.5)
CLEMSON 252.0 (DeAndre Hopkins 60.5, Sammy Watkins 48.0, Rod Gardner 47.0, Mike Williams 21.0, Jacoby Ford 13.0, Martavis Bryant 12.5, Adam Humphries 10.0, Chansi Stuckey 7.0, Jaron Brown 6.0, Hunter Renfrow 6.0, Deon Cain 5.0, Derrick Hamilton 4.0, Tee Higgins 4.0, Ray-Ray McCloud 3.0, Charone Peake 3.0, Airese Currie 2.0)
OKLAHOMA 242.0 (Mark Clayton 42.5, Sterling Shepard 38.0, Kenny Stills 35.5, Brandon Jones 21.5, Marquise Brown 19.0, Dede Westbrook 17.0, Mark Bradley 15.0, Dorial Green-Beckham 12.5, Malcolm Kelly 9.0, Ryan Broyles 8.5, CeeDee Lamb 8.0, Travis Wilson 5.0, Juaquin Iglesias 4.0, Justin Brown 2.5, Manuel Johnson 2.0, Jalen Saunders 2.0)
GEORGIA 226.5 (A.J. Green 67.5, Reggie Brown 32.0, Mohamed Massaquoi 31.0, Chris Conley 30.5, Marlon Brown 13.5, Mecole Hardman 13.0, Kris Durham 10.0, Malcolm Mitchell 8.0, Isaiah McKenzie 6.5, Javon Wims 5.0, Tavarres King 3.5, Fred Gibson 2.0, Terry Godwin 2.0, Riley Ridley 2.0)
NOTRE DAME 188.5 (Will Fuller 35.0, Michael Floyd 33.0, Golden Tate 30.5, Arnaz Battle 21.0, David Givens 18.0, Miles Boykin 15.0, Maurice Stovall 10.5, Equanimeous St. Brown 9.0, T.J. Jones 6.5, Javin Hunter 5.0, Chase Claypool 4.0, Carlyle Holiday 1.0)
At the outset of the 20-year period sampled by Pipeline to the Pros, the state of Florida's three major programs -- FSU, Miami and UF -- generated NFL wide receivers with conveyor-belt consistency. In the three drafts between 2001 and '03, the trio placed Reggie Wayne, Andre Johnson, Anquan Boldin and Jabar Gaffney in the NFL, among several others. What happened? With an always-fertile in-state recruiting ground still known for producing elite receivers, Florida, Miami and FSU ranked third, fourth and fifth, respectively, largely based on players from those early 2000s. Of late, it's been a different story. UM has placed just one receiver in the first round since Johnson (Phillip Dorsett, 2015). FSU's last first-rounder at the position was Kelvin Benjamin (2014), and for Florida, the wait has been even longer (Percy Harvin, 2009).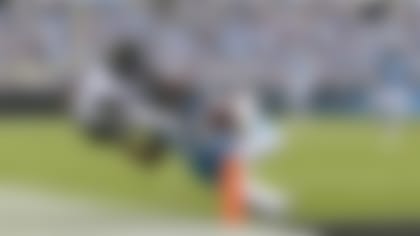 How did LSU edge out OSU and UF for WRU title? With a little bit of WRTS
Don't call it WRU. D.J. Chark wouldn't have it that way, and neither would Ja'Marr Chase, who is expected to be the next LSU wide receiver to hit the NFL draft jackpot. The preferred moniker is WRTS (Wide Receiver Type of S---), coined by former LSU and current Seattle Seahawks TE Stephen Sullivan, and its founders at one point wanted its meaning kept under wraps.
A bit fed up with all the notoriety that LSU's defensive backs deservedly drew with the nickname "DBU," the Tigers wide receivers decided in 2017 to forge an identity all their own. Perhaps this will help: LSU produces the most NFL-ready players not at defensive back, but rather at wide receiver, according to NFL.com's Pipeline to the Pros series. Using a formula that quantifies a player's success as a young pro, Pipeline to the Pros identifies the college programs that deliver the most instant NFL success, over a 20-year period, at each of eight positions. And at wide receiver, LSU edged out Ohio State.
"WRTS is kind of a motto now at LSU. We went by that because we wanted our own swag. We already had DBU," said Chark, whom the Jaguars drafted out of LSU in 2018. "We wanted our own thing, so it wasn't going to be wide receiver U, and it's still going strong."
Former LSU teammates Odell Beckham and Jarvis Landry, both drafted in 2014, have combined for eight Pro Bowls in their six years in the NFL.
Despite dismal quarterback play for most of the last 20 years, notwithstanding Joe Burrow's record-breaking 2019 season, the Tigers still have had 19 receivers drafted over that time.
After a stellar season in his second year as a pro, with 1,008 yards and eight touchdowns on 73 catches, Chark himself has the look of a future star in Jacksonville.
Chark notes a lull for drafted LSU receivers -- after Beckham and Landry, Chark was the next to be chosen within the first two rounds -- as motivation for wanting to build the WRTS identity. Since then, Justin Jefferson became a 2020 first-round pick and, with the help of a revamped RPO offense, there is no slowdown in sight.
"LSU still got receivers before, when I wasn't here, because the guys were from Louisiana. But now a bunch of them from all over the country want to come here because they know they're going to get the ball." Ed Orgeron
"Before, we only played with two receivers; now, we're playing with four or five. So now more guys can showcase their talents here," said LSU coach Ed Orgeron, who was hired in November 2016. "With us throwing the ball more now like we're doing, guys like Ja'Marr Chase and Justin Jefferson, they get the ball. LSU still got receivers before, when I wasn't here, because the guys were from Louisiana. But now a bunch of them from all over the country want to come here because they know they're going to get the ball."
Chase led the 130-school FBS in receiving yardage (1,780) and touchdowns (20) last year, all but uncoverable as the primary target for No. 1 overall draft pick Joe Burrow.
Thanks to elite-level competition in practice, of course, some credit for the Tigers' development at receiver goes to DBU.
"Iron sharpens iron," Orgeron said. "Every day on this practice field, Ja'Marr Chase is going against (2019 SEC Newcomer of the Year) Derek Stingley. It doesn't get any better than that."
Chark, too, marveled at the difficulty he encountered just to get open in practice when he was a freshman.
"From Day 1, I was going against Jalen Mills, Jalen Collins, Tre White, Jamal Adams," Chark said. "Two years later, you're practicing against Donte Jackson, Greedy Williams, Grant Delpit, Kris Fulton. It didn't matter where you were on the depth chart, because the fourth-string corner was still going to end up a first- or second-round draft pick."
Wearing the No. 7 jersey is an honor within the LSU program, one that signifies not only stellar play but leadership as well, and is awarded by the Tigers coaching staff only after thoughtful consideration. Fittingly, the tradition began with a DB, Tyrann Mathieu. Also fittingly, Chark was the first wide receiver since then to don LSU's No. 7, and this fall, it'll be worn by Chase.
"You feel everybody's eyes on you, so I had to get used to that pressure," Chark said. "But I'm glad I wore it well enough that they weren't afraid to give it to another receiver. And they definitely made the right choice for this year."
With our scoring system, Clemson ranks surprisingly low (No. 7) for a school that has a significant reputation for receiving talent. But give the Tigers time -- the Chargers' Mike Williams enjoyed a breakout season in his third year, and several youngsters are just getting started. …
Georgia's A.J. Green scored the highest of any receiver (67.5), commanding more than 25 percent of the Bulldogs' ninth-ranked 226.5. …
Ohio State had the highest number of receivers awarded points of any school (24). Not surprisingly, Michael Thomas led the Buckeyes with 47.5.
---
---
Coming Thursday: Home-grown size matters for Offensive Line U.