Big Ten dominates at top of Offensive Line U. standings as Wisconsin, Ohio State and Michigan lead the way
By Chase Goodbread | July 2, 2020
Where do NFL teams go to find the most pro-ready players? NFL.com's Pipelines to the Pros series explores which schools, at each of eight positions over the last 20 years, have been providing NFL clubs with not only the most draft choices but also the most impactful pro players early in their careers. And beyond that, an examination of why those schools are so successful and the factors that contribute to a college program's ability to maintain pipeline-like development at a particular spot on the field.
Today, in the fourth of eight installments, we examine the schools vying for the title of Offensive Line U.
WISCONSIN 582.0 (Joe Thomas 73.0, Travis Frederick 65.0, Kevin Zeitler 51.5, Rob Havenstein 44.5, Ryan Ramczyk 42.5, Mark Tauscher 41.0, Rick Wagner 33.0, Al Johnson 26.5, Kraig Urbik 26.0, Casey Rabach 23.5, Peter Konz 23.0, Gabe Carimi 22.0, Dan Buenning 21.5, Chris McIntosh 19.5, Michael Deiter 19.0, John Moffitt 16.0, David Edwards 12.0, Ryan Groy 10.0, Bill Nagy 6.0, Tyler Biadasz 2.0, Bill Ferrario 2.0, Ben Johnson 2.0, Tyler Marz 0.5)
OHIO ST. 514.0 (Nick Mangold 64.0, Corey Linsley 45.0, LeCharles Bentley 43.5, Taylor Decker 43.5, Andrew Norwell 40.0, Shane Olivea 38.5, Jack Mewhort 33.5, Pat Elflein 32.0, Rob Sims 28.5, Alex Stepanovich 27.0, Billy Price 22.0, Mike Adams 17.5, Alex Boone 16.0, Adrien Clarke 11.0, Mike Jordan 11.0, Tyson Walter 10.5, Michael Brewster 8.5, Jonah Jackson 4.0, Isaiah Prince 4.0, Jim Cordle 3.5, Jamarco Jones 3.5, Kirk Barton 2.0, Doug Datish 2.0, Reid Fragel 2.0, Tam Hopkins 1.0)
MICHIGAN 455.5 (Jake Long 66.0, Steve Hutchinson 58.0, Jeff Backus 56.0, Taylor Lewan 51.0, Maurice Williams 46.5, Graham Glasgow 38.5, Michael Schofield 29.0, David Baas 25.5, Patrick Omameh 22.5, Mason Cole 21.0, Jonathan Goodwin 8.5, Cesar Ruiz 8.0, Stephen Schilling 5.5, David Molk 4.0, Erik Magnuson 2.5, Ben Bredeson 2.0, William Campbell 2.0, Kyle Kalis 2.0, Mike Onwenu 2.0, Tony Pape 2.0, Jon Runyan 2.0, David Brandt 1.0)
NOTRE DAME 440.5 (Zack Martin 71.0, Ronnie Stanley 47.0, Jeff Faine 45.5, Quenton Nelson 43.0, John Sullivan 32.5, Mike McGlinchey 32.0, Sean Mahan 28.0, Mike Gandy 27.0, Nick Martin 27.0, Ryan Harris 21.0, Jordan Black 16.5, Trevor Robinson 14.0, Chris Watt 10.5, Sam Young 7.0, Kurt Vollers 5.5, Eric Olsen 4.0, Brennan Curtin 2.0, Jim Molinaro 2.0, Dan Santucci 2.0, Dan Stevenson 2.0, Mark LeVoir 1.0)
OKLAHOMA 440.0 (Trent Williams 57.5, Lane Johnson 53.5, Phil Loadholt 50.5, Davin Joseph 49.5, Jammal Brown 48.5, Stockar McDougle 39.0, Chris Chester 29.5, Orlando Brown 24.0, Donald Stephenson 24.0, Daryl Williams 23.5, Cody Ford 19.0, Bobby Evans 11.0, Ben Powers 2.0, Duke Robinson 2.0, Dru Samia 2.0, Wes Sims 2.0, Tyrus Thompson 2.0, Jon Cooper 0.5)
ALABAMA 434.5 (Chris Samuels 60.0, D.J. Fluker 48.0, Ryan Kelly 43.5, Chance Warmack 43.5, James Carpenter 40.0, Justin Smiley 39.0, Andre Smith 35.5, Cam Robinson 27.0, Antoine Caldwell 15.0, Evan Mathis 15.0, Bradley Bozeman 11.0, Jedrick Wills 10.0, Cyrus Kouandjio 8.0, Jonah Williams 8.0, Anthony Steen 6.5, Arie Kouandjio 6.0, Mike Johnson 4.5, Wesley Britt 3.5, Alonzo Ephraim 2.5, Shawn Draper 2.0, Barrett Jones 2.0, Ross Pierschbacher 2.0, Austin Shepherd 2.0)
FLORIDA 426.5 (Maurkice Pouncey 59.0, Mike Pouncey 58.0, Kenyatta Walker 51.0, Marcus Gilbert 41.5, Trent Brown 32.5, D.J. Humphries 29.5, Max Starks 26.5, Mike Pearson 26.0, Max Garcia 25.0, Jonotthan Harrison 21.0, Jawaan Taylor 20.0, Maurice Hurt 10.5, Chaz Green 7.5, Jon Halapio 6.0, Cooper Carlisle 5.0, David Sharpe 5.0, Xavier Nixon 1.5, Fred Johnson 1.0)
USC 425.5 (Tyron Smith 64.5, Matt Kalil 55.0, Deuce Lutui 44.5, Ryan Kalil 43.0, Sam Baker 39.0, Travis Claridge 36.5, Chilo Rachal 30.0, Marcus Martin 20.0, Winston Justice 19.0, Charles Brown 15.0, Chuma Edoga 12.0, Chad Wheeler 12.0, Austin Jackson 8.0, Khaled Holmes 6.5, Jacob Rogers 4.0, Max Tuerk 4.0, Jeff Byers 3.5, Zach Banner 2.5, Fred Matua 2.0, Jordan Simmons 1.5, Kyle Williams 1.5, Norm Katnik 1.0, Alex Parsons 0.5)
MIAMI 377.0 (Ereck Flowers 53.0, Bryant McKinnie 49.0, Orlando Franklin 48.5, Eric Winston 43.0, Vernon Carey 41.0, Brandon Linder 38.5, Chris Myers 26.0, Seantrel Henderson 24.0, Jon Feliciano 15.5, Joaquin Gonzalez 9.0, Rashad Butler 6.0, Brett Romberg 6.0, Danny Isidora 5.5, Jason Fox 4.5, Martin Bibla 3.0, Richard Mercier 2.0, Brandon Washington 2.0, Harland Gunn 0.5)
IOWA 376.0 (Brandon Scherff 56.5, Robert Gallery 54.0, Eric Steinbach 50.5, Riley Reiff 46.5, Marshal Yanda 41.0, Bryan Bulaga 38.0, James Daniels 22.0, Austin Blythe 19.0, Matt Tobin 10.5, Tristan Wirfs 8.0, Andrew Donnal 6.0, Bruce Nelson 5.0, Seth Olsen 4.5, Adam Gettis 2.5, Kyle Calloway 2.0, Mike Elgin 2.0, Bryan Mattison 2.0, Pete McMahon 2.0, Ben Sobieski 2.0, Julian Vandervelde 2.0)
Offensive Line U overview
At 68 points, the Badgers' winning margin over the next-best school for offensive linemen (Ohio State) was sizeable; the second-biggest winning margin among eight positions, behind Alabama's flex at running back. The recently retired Travis Frederick rang up nearly as many points (65) as Joe Thomas (73) as a first-round pick who made four Pro Bowls and was named an All-Pro within his first five NFL seasons. With Frederick's exit from the league, Wisconsin's active NFL standard bearer becomes former first-round pick Ryan Ramczyk, who just made an All-Pro team in his third season. Two other active Badgers who have logged more NFL starts than Ramczyk -- Kevin Zeitler and Rob Havenstein -- are beyond the five-year window for additional points.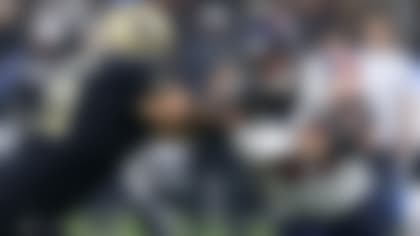 Wisconsin's in-state 'big human beings' give Badgers edge over other schools
The 2011 summer day when Russell Wilson visited Wisconsin as a possible transfer destination, UW coach Bret Bielema put his best 10 feet forward, so to speak. The Badgers' starting offensive line – including 6-foot-8, 345-pound Rob Havenstein -- was called out of a weightlifting session to meet the future NFL star in hopes that their sheer size would do something to sway him. All five eventually joined Wilson, the Seahawks' six-time Pro Bowl quarterback, in the NFL.
"If you're behind the center and you see the size of those guys, you're going to think you can do some big things," said Wisconsin athletic director and former UW coach Barry Alvarez during a recent phone interview. "I think it made a difference with him."
Wisconsin prepares offensive linemen for the NFL better than any program in the country, based on NFL.com's Pipeline to the Pros rankings that span a 20-year period at eight positions. And a close look at the program identity Alvarez established upon his arrival as coach in 1990 leaves little wonder as to why. He'd previously recruited in Wisconsin as an assistant coach at both Iowa and Notre Dame, and believed winning football at Wisconsin would have to begin up front, and with a power-running, smashmouth philosophy.
"I knew the type of athletes they had here, and one thing you could always get in Wisconsin was big, tough kids," Alvarez said. "We emphasized the style of football we'd have to play to be successful and it all started with our offensive line."
That's translated into a lengthy stretch of offensive linemen who not only reached the NFL, but were quick successes at the pro level. The standard-bearer is former 10-time Pro Bowler Joe Thomas, a Wisconsin native and now an analyst for NFL Network. Thomas believes the way of life in his home state has a role in why Alvarez found in-state recruiting to be most fertile for offensive linemen.
"There aren't a ton of great athletes (in Wisconsin), but what we have are big human beings that eat cheese, sausages, drink beer and produce (more) big human beings." Joe Thomas
"There aren't a ton of great athletes (in Wisconsin), but what we have are big human beings that eat cheese, sausages, drink beer and produce (more) big human beings," Thomas said. "Not to generalize too much but we're a farming- and manufacturing-based economy. People are used to getting dirty if needed in their jobs, work with their hands a lot and learn to be willing to work hard."
Thomas grew up in the Milwaukee suburb of Brookfield, and noted that another NFL star lineman on the other side of the ball, former Wisconsin star J.J. Watt, grew up just a few miles away in Waukesha. Other top Wisconsin offensive linemen from within state borders include retired Dallas Cowboys center Travis Frederick, a five-time Pro Bowler, eight-year NFL veteran Kevin Zeitler and Saints All-Pro Ryan Ramczyk.
Thomas acknowledged he didn't grow up saddled with farm chores, but has seen the way that lifestyle has benefited offensive linemen at UW.
"There are kids being recruiting by Wisconsin who, before school every morning, they milk cows or stack hay or do some other manual labor on the farm. When you do some of those repetitive tasks, over and over, you build a core strength and a grip strength that doesn't measure as much in a weight room but it shows up on the field," Thomas said. "You can have both kinds of strength, of course, but there were plenty of guys I played with who in the weight room they were weak, but on the field they played much stronger."
When Alvarez stepped down as Wisconsin's head coach after the 2005 season, the coaches who followed stuck with his offensive philosophy. UW has placed 23 offensive linemen in the NFL draft over the last 20 years, and even had the rare distinction of having a backup offensive lineman selected in the NFL draft when the Dallas Cowboys took Bill Nagy in the seventh round in 2011. Nagy made four starts at guard for the Cowboys that season.
Alvarez and Thomas both believe the Badgers' style of play, with an emphasis on downhill blocking in the run game, allows Wisconsin offensive linemen an easier transition into the NFL.
"We're going to have them more prepared (for the NFL) as a total offensive lineman. Not just someone who can just screen someone long enough for a quarterback to get off a quick throw," Alvarez said. "The systems now, all shotgun, the RPOs people are doing now, we have them much better prepared in the run game. And we're more than adequate in the passing game, because we're going to be dropback and play-action."
With back-to-back first-team All-Pro seasons to begin his career, Colts OG Quenton Nelson piled up a whopping 43 points in our scoring system, more than any second-year pro other than New York Giants RB Saquon Barkley. Nelson helped push Notre Dame into the top five in our rankings along with some other successful first-round picks, including Zack Martin and Ronnie Stanley. …
The Big Ten's reputation for talented big men is well-represented here, as three of the league's most successful programs -- Wisconsin, Ohio State and Michigan -- rank Nos. 1, 2 and 3. The Buckeyes led the way in total draft picks over 20 years with 25. …
Leave it to twins -- Maurkice and Mike Pouncey from the University of Florida -- to land within a point of one another (Maurkice 59, Mike 58). They led the Gators to a seventh-place ranking, barely edging out USC.
---
---
Coming Monday: Tight End U.