Quarterback Who? Well, the research says the throne still belongs to USC, but Lincoln Riley and his Oklahoma Sooners are making a charge for the title of QBU.
By Chase Goodbread | June 29, 2020
Where do NFL teams go to find the most pro-ready players? NFL.com's Pipelines to the Pros series explores which schools, at each of eight positions over the last 20 years, have been providing NFL clubs with not only the most draft choices but also the most impactful pro players early in their careers. And beyond that, an examination of why those schools are so successful and the factors that contribute to a college program's ability to maintain pipeline-like development at a particular spot on the field.
Below, in the first of eight installments, we examine the schools vying for the title of Quarterback U, including one that has made up a lot of ground over the last three years.
USC 184.5 (Mark Sanchez 48.5, Carson Palmer 44.5, Sam Darnold 29.5, Matt Leinart 24.0, Matt Cassel 17.0, Cody Kessler 14.0, Matt Barkley 5.0, John David Booty 2.0)
OKLAHOMA 130.0 (Sam Bradford 52.5, Kyler Murray 36.0, Baker Mayfield 31.0, Landry Jones 4.5, Jalen Hurts 4.0, Josh Heupel 2.0)
FLORIDA STATE 129.5 (Jameis Winston 57.0, Christian Ponder 31.0, EJ Manuel 22.0, Chris Weinke 17.5, Adrian McPherson 2.0)
OREGON 126.0 (Joey Harrington 49.0, Marcus Mariota 46.5, Justin Herbert 10.0, Kellen Clemens 8.5, A.J. Feeley 8.5, Dennis Dixon 3.5)
FRESNO STATE 119.0 (Derek Carr 57.0, David Carr 55.5, Billy Volek 4.5, Tom Brandstater 2.0)
AUBURN 110.0 (Cam Newton 74.0, Jason Campbell 34.0, Jarrett Stidham 2.0)
CAL 108.0 (Jared Goff 44.5, Kyle Boller 33.5, Aaron Rodgers 26.0, Davis Webb 4.0)
STANFORD 105.0 (Andrew Luck 61.0, Trent Edwards 25.0, Chad Hutchinson 11.5, Randy Fasani 3.0, Kevin Hogan 2.5, Todd Husak 2.0)
TEXAS 84.0 (Vince Young 52.0, Colt McCoy 20.5, Chris Simms 11.5)
N.C. STATE 83.5 (Philip Rivers 36.0, Mike Glennon 21.5, Jacoby Brissett 21.0, Ryan Finley 5.0)
It's on former New York Jets first-round pick Sam Darnold, until new blood arrives, to carry the mantle for No. 1-ranked Southern Cal. The only other former Trojans QB on an NFL roster is Buffalo Bills backup Matt Barkley, and absent a quantum leap in Darnold's performance, his point total won't grow much from here. While the Trojans still have a sizable lead, they have to be seeing the fast-charging Sooners in the rear-view mirror (see story below).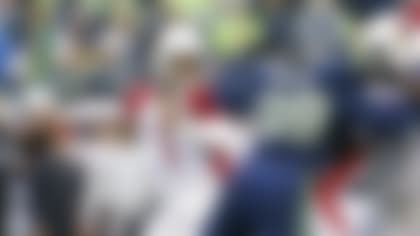 Can the Trojans be caught? Perhaps Sooner than you think
Lincoln Riley has stood on the sideline for his share of pinnacle moments as Oklahoma's coach -- winning three Big 12 championships in his first three years for instance -- but when the Sooners became the hottest school in the country for future NFL quarterbacks, he wasn't near one.
In 2018, he stood in Baker Mayfield's home at a draft party in Austin, Texas, as the Cleveland Browns made Riley's Heisman Trophy-winning quarterback the No. 1 overall pick. A year later, he was in the NFL draft's green room in Nashville, when the Arizona Cardinals did the same in selecting his newest Heisman winner, Kyler Murray.
Nobody dumped a bucket of Gatorade on Riley like they might have after a big team victory, but the history made in those two moments couldn't have been more significant for his program. It was not only the first time two quarterbacks had been taken No. 1 overall from the same school in back-to-back drafts, it was a first for two quarterbacks from the same school to be chosen in back-to-back first rounds at all.
"It was cool to experience that moment with those guys," Riley said. "I couldn't have been happier for them, or us as a team."
Oklahoma ranks second in NFL.com's Pipeline to the Pros series, behind USC. But while the Trojans have had just one QB (Sam Darnold) selected in the first or second round in the last decade, OU now has had three in a row -- Jalen Hurts followed Mayfield and Murray into the NFL as a second-round selection by the Philadelphia Eagles in April.
Riley believes all three could have succeeded operating any NFL offense in any era, but he acknowledges two factors that helped open the door for them to be drafted so high. One has been the slow but steady dissolvement of the notion that shorter quarterbacks are too risky; at their NFL combines, none of Riley's quarterbacks measured taller than 6-foot-1, with Murray getting the short end of the stick at 5-10 1/8. The other factor has been a diversification of offenses in the NFL, which has more fully embraced the spread and read-option concepts seen at the college level.
"I always thought (the change in the NFL) would happen at some point. To be honest, I didn't know that it would happen as fast as it has. It seems like once it got started, it really opened up." Lincoln Riley
"There's no question those two things together have made a difference. Them coming out at a time when the NFL began getting away from thinking quarterbacks have to be 6-4, or that an offense has to run a certain way, that's been great timing," Riley said. "I always thought (the change in the NFL) would happen at some point. To be honest, I didn't know that it would happen as fast as it has. It seems like once it got started, it really opened up."
That was never more evident than when the Arizona Cardinals hired coach Kliff Kingsbury and his college-style Air Raid offensive system, then drafted Murray No. 1 overall to run it. Riley operates an iteration of the Air Raid that is regularly subject to tweaks -- not always the same tempo, the same personnel groupings or even the same concepts.
And now, no longer the same stigma about whether its quarterbacks can deliver wins on Sundays. Murray was a big success as a rookie, starting all 16 games and accounting for 4,266 yards in total offense.
"I don't think (the NFL) is going to go back in the other direction," Riley said. "Kliff is a great example with the phenomenal job that he with Kyler and that group did. I think it's going to be pretty exciting to watch them in the coming years."
While Hurts wasn't drafted No. 1 overall like Mayfield and Murray, he might be the best example of the three as to what Riley's system can do for a quarterback's pro aspirations. Though highly successful at Alabama, he eventually lost a starting role to Tua Tagovailoa and was surrounded by whispers that he lacked a pro-caliber arm and might have to change positions to reach the NFL. But after transferring to OU for just one year -- Mayfield and Murray were on OU's campus for four and three years, respectively -- that perception was destroyed.
"We gave him an opportunity and we put some really good players around him, but more than anything we were able to show off his entire skill set. We were able to do a lot of different things with him. I think he'll grow a lot as a player," Riley said. "I think it impressed a lot of people that he could play like he did at a place like Alabama, and then come over and learn a new system and a new way of playing the position, and have immediate success at Oklahoma."
Florida State might be challenging USC for the title of Quarterback U if their three first-round picks had success early on in their careers. With Winston moving on from Tampa Bay this offseason, not one of them made it to a second contract with the team that drafted them.
With our system, two of the highest-scoring quarterbacks from a school ranked in the top 10 are brothers – Raiders QB Derek Carr (57 points) and former Texans No. 1 overall pick, David Carr (55). Nearly all by themselves, the Carr brothers drove Fresno State to a fifth-place finish.
Like USC, Stanford and Texas could use some new blood in the NFL; both cracked the top 10 without an active NFL passer.