Though nothing that happens in training camp counts in the standings, it is a very important phase of the NFL year. Rosters are shaped, schemes are implemented and careers are decided.
I saw this firsthand in my time working for the Dallas Cowboys. While training camps were different then -- players generally needed them to get back into shape after spending the offseason working regular day jobs -- much of the focus was, as it still is today, on winnowing down a collection of talent into the best team possible. Tom Landry and his staff would gather daily for personnel evaluation meetings in which they'd rank the players at each position with the goal of eventually figuring out who to cut or trade away and who to keep, considering many factors as they went.
Most of our players arrived at camp ready to go -- we would incentivize guys to live in the Dallas area year-round via bonuses, which made it much easier to monitor them and encourage them to take part in offseason workouts -- but some didn't. Most understood that they had a golden opportunity to make a living playing football and did everything they could to shine, but some failed to grasp this concept. Beyond that, it was necessary to differentiate guys based on talent and ability.
As training camps get underway around the NFL, I thought I'd run through some common red flags that would indicate a player was either not going to make the roster or have trouble contributing in the season.
1) Showing up out of shape
On the first day that players reported to camp, they had to run the Landry mile, meaning they'd have to run a mile around a track in football shoes and come in under a specified time for their position group. One of the first and most obvious red flags was if a guy had difficulty with this or other conditioning tests, or if he recorded significantly worse results than he had in previous years. For example, if he was slower in the 40-yard dash or wasn't as strong, that was a sign something was wrong -- these were usually guys who didn't participate in our offseason program.
You also worried about guys, especially those on the older side, who started to spend more time in the trainer's room than they had before -- previously healthy players who were suddenly beset by nagging injuries.
The guys who tended to come to camp overweight were the ones who lived out of town. Coy Bacon, who was signed out of the Continental Football League in 1967, spent that offseason living in Charleston, West Virginia, and I would fly over there to weigh him about once a month. When I'd land in Charleston -- which is like landing on top of a mountain -- Coy would be there, right at 9 a.m., smiling. I'd take him to get him weighed, and when he came in overweight -- say, 260 pounds, or 15 more than his target weight -- I'd say, "Coy, what am I going to tell Coach Landry?" And he'd say, "Just tell him I had a few beers last night" -- as if a few beers could account for 15 pounds.
I had a spiel I used to give guys about weight. I'd ask them if they were familiar with a form of horse racing known as allowance racing, in which horses are made to wear small weights of around five or 10 pounds. If five or 10 pounds could affect a 1,000-pound horse, I'd ask, what would the same amount of weight do to a 250-pound man?
Battista: Training camp headliners What is the most important position battle in camp? The most crucial player-coach bond? Judy Battista eyes major subplots. **READ**
Bacon was a good example of this principle in action. He had great potential, but his weight was a hindrance early in his career, keeping him from being as fast as he could have been. Bacon spent the '67 season on our taxi squad -- our equivalent of the practice squad back then -- and we ended up trading him to the Rams. He eventually rose to prominence as a defensive lineman over several seasons with the Rams, Chargers, Bengals and Redskins.
3) Being slow on the field
Camp was about more than just passing the conditioning tests; the ability to move well on the field in football situations was crucial. Did a guy have a hard time changing direction? Did he struggle to lift his legs? Could he handle all the running (the 40-yard gassers, covering kicks) in pads? Someone who's slow on the field can seriously impact the game plan -- a receiver who is a step behind, for example, can disrupt the timing of your passing attack -- and he's also more likely to get hurt.
It can become immediately apparent that someone has lost it, especially if he's getting beaten in the one-on-one drills: the pass-protection/pass-rush drills for the linemen, the pass-defense drills for the defensive backs, the blitz-pickup drills for running backs, the Oklahoma drill.
4) Making too many mistakes
Errors definitely factored into those aforementioned personnel meetings. If a guy wasn't picking up the offense or defense or if he was missing too many assignments -- like a linebacker, say, who consistently failed to cover the back coming out of the backfield -- he'd tend to slide to the bottom of the positional rankings. And it could be tough to move up as camp wore on and cut-downs came closer.
Scrimmaging with other teams, in particular, could really help illustrate where someone had to make adjustments, and if he couldn't grow or learn what he needed to in the relatively short time frame of camp, he was probably in trouble.
You don't want guys who are content to stand at the back of the line during drills; you want the guys who jump to the front. You don't want the running backs who take the ball 10 yards before trotting back and handing it off; you want the guy who sprints for 40 yards. You don't want the receiver who heads out of bounds after making the catch on the 10-yard out; you want the guy who heads upfield and runs all-out. And you definitely don't want the guy who makes a habit of taking his bathroom breaks during drills so that he misses three or four turns.
How much effort a player is willing to put in can definitely leave a lasting impression, even beyond camp. To this day, I remember the guys who were willing to go the extra mile and the ones who weren't. I think of Drew Pearson, who should be in the Hall of Fame; one of the reasons he made our team was because he never said "No" when Roger Staubach would ask him to throw outside of practice, whether it meant showing up at 6:30 in the morning or 7:30 at night.
You could tell which guys had put in the work and which guys hadn't. Most veterans knew that for every guy who makes it there are 100 who don't. The rookies and younger guys, however, didn't always realize this. I remember our first-round draft pick from 1972, Bill Thomas, whose idea of working out in the offseason was to play tennis three times a week. Few things are worse than seeing a high draft choice arrive horribly out of shape. Calvin Hill, on the other hand, knew only one thing when he arrived as a first-round pick in 1969: that he had to work hard. And he became Offensive Rookie of the Year, kicking off a 12-year career that included four Pro Bowl nods in six seasons with us.
Debate: Players to watch in camp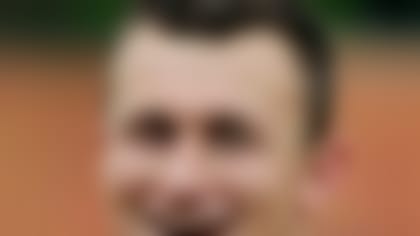 Johnny Manziel will provide plenty of intrigue at training camp, but who else demands your attention? Our analysts weigh in. **READ**
That said, one of the worst mistakes an established veteran could make was to rest on his laurels -- and that did happen. Bill Parcells told me he used to give his veteran players eight days in camp to get back into the swing of things, but not a day longer.
7) A lack of dependability
It wasn't unusual for players to be late to meetings occasionally -- guys worked hard in camp, and sometimes a player would lay down for a minute, only to sleep for a much longer period than he'd intended. If a guy's late one time, that's one thing. But if he's in training camp for three or four weeks and he's late four times, then you start to question his reliability.
Another warning sign is a lack of interest in the meetings themselves: a guy who isn't paying attention or taking enough notes. While it might be forgivable once or twice, you don't want to see it become a chronic problem.