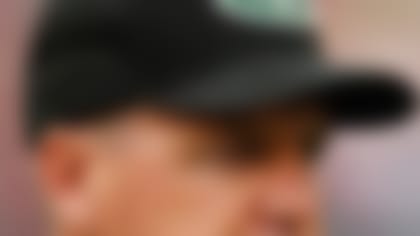 Rex Ryan and the Jets had high hopes for 2012. After a demoralizing loss to the 49ers on Sunday, is their season all but over?
Chad Johnson is not coming through that door. Neither is Terrell Owens. Plaxico Burress will be added only if Mike Tannenbaum wants to remove Mark Sanchez's last ounce of confidence.
The Jets are already touchy about their reputation as a circus act. Both owner Woody Johnson and Rex Ryan have publicly dismissed the notion that the big top is over Florham Park. Linebacker Bart Scott was upset enough to announce a "media mutiny" ... whatever that is. Shortly thereafter, he threatened a reporter in the locker room. Ah, I see.
So who should the Jets get? Don't expect a splashy trade, not with Darrelle Revis having already taken the Jets' Super Bowl hopes with him to the operating table.
Donte' Stallworth is another option. He's a man with his own sordid past, but at least he's a known entity. The Jets aren't going to replace Holmes, but the Jets need to fill the void the best they can.