In going from wannabe to Seahawks architect, John Schneider has learned to thrive in a job that requires obsessive legwork, aggressive dealmaking and impeccable people skills.
By Michael Silver | Published Dec. 13, 2016
Illustration by Mary Jane Kim
SEATTLE -- Nearly seven years ago, on a chilly Friday morning in early January, John Schneider was sitting in his office at Lambeau Field, marveling at the trajectory of his amazing NFL journey and pondering what adventures might lay ahead.
Schneider, who'd grown up a few miles away from the Green Bay Packers' iconic stadium, had parlayed an unlikely break during his college days -- when he transitioned from an undersized running back with unrealistic NFL dreams to a future Hall of Fame general manager's surprisingly successful "stalker" -- into a flourishing but low-profile front-office career. Then in his second year as the Packers' director of football operations, his life had come full circle, but he was on the verge of a potentially exciting detour.
The Seahawks were searching for a general manager to replace Tim Ruskell, who'd resigned during the season, and Schneider, who'd spent a season as Seattle's director of player personnel at the start of the decade, had been identified as one of the candidates. In preparation for his impending interview, scheduled to take place following the Packers' first-round playoff game at Arizona two days later, he'd put together a large binder outlining his managerial plans and philosophy, including a sizeable section detailing his list of preferred head-coaching candidates, should an opening arise.
Then the television screen in Schneider's office delivered some stunning news: The Seahawks had fired coach Jimmy Mora after a single 5-11 season -- and the franchise was on the verge of landing USC's Pete Carroll as his replacement. A lot of worlds were being rocked, including Schneider's: With a high-profile (and soon-to-be highly compensated) coach like Carroll in the mix, this GM job could be far less meaty, and Schneider wasn't sure he wanted to bite.
"I'd prepared my book -- I think I got it all done at the Kinko's at midnight the night before -- and I was getting ready to leave for the airport and fly to Arizona when all of a sudden across the ticker, 'Pete Carroll [new Seahawks] head coach,' " Schneider recalls. "So I had to rip out like 30 pages of head coaching notes, and I got on that plane not knowing what was gonna happen."
What happened over the next week-and-a-half might not have been by the book; in some ways, it was as unexpected, exhilarating and uncharted as the Packers' 51-45 overtime playoff defeat to the Cardinals. Yet, when Schneider was introduced as the Seahawks' general manager on Jan. 19, 2010, it unleashed a semi-random tandem that would produce one of the NFL's great success stories of the 21st century. Despite a Match.com-style introduction, this hyper-enthusiastic coach and spotlight-shunning talent evaluator would form a mutually satisfying shotgun partnership that is the envy of the football universe.
"John is very smart, he's a hard worker, he's intuitive and he has no fear -- you put all that together, and it's very, very impressive," says New York Jets general manager Mike Maccagnan, the 2015 NFL Executive of the Year. "But when you're on the road with him and he looks at players, it's not just the ability part; he's looking at the whole person. What they do in Seattle is they identify a lot of good players, but they get the right kind of personality types for their team. That's what sets them apart."
It's a vision that Carroll and Schneider conjured from the outset. Theirs is neither the classic football arrangement, with the GM retaining final say over football decisions and possessing the juice to hire and fire the coach, nor the Walsh/Belichickian model, in which the coach is the true powerbroker and the GM serves as a glorified personnel director. It's more of a new-age coupling between bold, adaptable and mutually supportive colleagues who each happen to be very, very good at their jobs. These were concepts broached during the interview process, as Schneider was trying to get a sense of how much authority he'd have over various realms were he to come to Seattle. "Let's just make this the best head coach/general manager marriage ever," Carroll suggested, and those words sound a lot less hokey today.
As the NFC West-leading Seahawks (8-4-1) close in on their sixth playoff appearance during the Carroll/Schneider era, their union can be declared a resounding success -- and no one is losing sleep about the possibility of a seven-year itch.
"From the first time we ever got together, we wanted to make a relationship that could famously hold up to all the scrutiny, because we were gonna trust each other and count on one another and work hard to understand what was important to each other -- and then we would figure things out," Carroll says. "So, that's exactly what we've done."
Long before that could happen, Schneider had to figure out how to break into an industry that's typically as closed off as the Seahawks' front seven on a pivotal third-and-short snap. And the genesis of that plan can be traced to the moment when the future GM conducted one of the most brutal talent evaluations of his young life.
---
---
Growing up in De Pere, Wisconsin, Schneider had his nerdy tendencies.
"I was always a kid that had the football cards and knew the stats," he recalls. "When I got in trouble -- which was fairly often -- my mom would take away the football cards, instead of the TV."
Schneider, despite his relatively diminutive stature, also managed to rack up big numbers as a high school running back, leading to delusions of grandeur. Recruited to play at the University of St. Thomas, a Division III Catholic school in St. Paul, Minnesota, Schneider -- who compared his running style to that of former Falcons and Steelers halfback Erric Pegram -- soon got a reality check.
"There was no internet," Schneider says, "and the coach was like, 'We love you' -- and I got there and looked at the depth chart, and I was like, 'Wait a second! You don't love me that much. You failed to tell me that the guy (Gary Trettel) that just broke [the NCAA single-season] all-purpose yardage record is first on the depth chart.' "
Sidelined by a shoulder injury during his freshman season, Schneider assessed the situation: "I missed significant time, and I was just stepping back and thinking, 'OK, that guy is stronger than I am. This guy's got quicker feet. That guy's faster ...' I was friends with guys who played different positions, and I think I just naturally started evaluating. And at that point, I realized that what my dad had been telling me was right: There's no way I was going to play in the National Football League."
Schneider quit the team and adopted a modified version of his original dream: He wanted to work for the Packers, in whatever capacity they'd hire him.
JOHN MAKES A DECISION, AND WHEN IT DOESN'T WORK OUT, IT DOESN'T MESS HIM UP. SOME [GMs] WILL GET BURNED BY A GUY AND THEN GET GUN-SHY, BUT NOT JOHN. Mike Maccagnan
During his junior year of college, Schneider read an extensive newspaper profile of Ron Wolf, who'd become the Packers' general manager in 1991.
"At that point, you didn't have sports management classes," Schneider says. "So I just wrote him a long note, told him that my folks were from Green Bay and that [I was hoping to get] the standard kind of internship ... 'Give me a shot.' "
After receiving a rejection letter, Schneider tried writing Wolf again. Following a second rejection letter, Schneider took a third swing ... and a fourth. The final rejection note he received from Wolf gave him a glimmer of optimism.
"The last one he sent, it was either he wants to make me feel good because he thinks I'm a stalker, or he's giving me some sort of hope," Schneider says. "And so, we were like analyzing these letters all the time, my buddies and I. My best friend and I were camping in Northern Minnesota on Memorial Day weekend, and it was pouring rain and nasty, so we just packed up and went to St. Paul. And my friend was like, 'Why don't you just call him already?' "
By that point, Schneider had read another newspaper profile of Wolf that suggested the GM directly answered calls forwarded to him from the Packers' main switchboard. So Schneider went to a pay phone and said, What the hell?
"I was going to leave him this message," Schneider recalls, "but he answered, and I was like, 'Hey, this is your stalker.' He was in his office watching film on a Sunday, and I was like, 'God, this guy is awesome ... he's a grinder ... he's in there.' The whole time I grew up as a Packers fan, I just wanted to know that there were people in there that would be kicking ass every day trying to make the team better, because they had never really won in my lifetime. I mean, when I was a kid, I would run out to the mailbox and open up the [Green Bay] Press Gazette and see what they were doing transaction-wise, and all that."
Then 20, Schneider made his pitch to the man whose Pro Football Hall of Fame induction he would personally attend more than two decades later.
"How soon could you get down here?" Wolf asked Schneider.
"Well," he replied, "it's a five-hour drive. I can be there in about three."
---
---
Schneider has been on the fast track ever since, and he's quick to acknowledge that good timing played a role in launching his career trajectory. A year after his internship, Schneider landed a full-time scouting gig with the Packers.
"It was the first year players could go straight to free agency, so everybody was adding more pro scouts," Schneider says. "So I was just really blessed at the time."
So, too, were the Packers.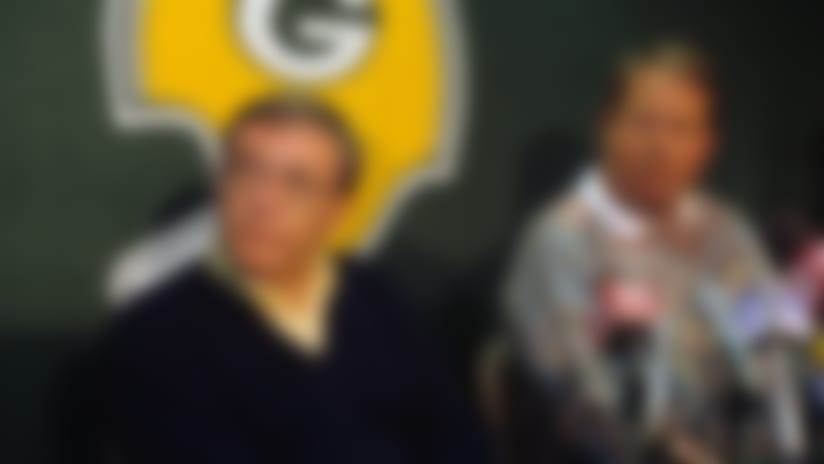 "We had ourselves quite a crew," says Washington general manager Scot McCloughan, who joined the Packers organization as a scout in 1994. "It's funny -- I probably get 50 résumés a week from guys who are just like John ... looking for a job, looking for a way in. But for some reason, he got his foot in the door, and he took advantage of it. We had a lot of fun together, I promise you that ... in the building and out of the building."
Says Schneider: "It was awesome. Having grown up as a Packers fan, just being in that building was a huge deal for me. But then I looked back on it later and that whole staff that was together there -- talk about getting your doctorate. It was Mike Holmgren and assistants like Andy Reid and Jon Gruden ... [Current Packers GM] Ted Thompson had been scouting for about four months and [current Chiefs GM] John Dorsey had been scouting for a year. Those two guys taught me how to write [scouting reports]."
A few years later, the Packers captured their first championship since the Lombardi era, defeating the New England Patriots in Super Bowl XXXI. Shortly thereafter, Schneider was grinding away at Lambeau one afternoon when Wolf took him for a ride that would expand his world.
"We'd just won the world championship, and I was 25, and Ron came and grabbed me and said, 'Hey, I'm going to pick up my glasses. You wanna come with me?' " Schneider recalls. "I was like, That's odd, but I jumped in the car with him and he said, 'Hey, Kansas City called. They want to speak with you. And I think it would be a great opportunity for you.' "
Soon thereafter, Schneider was sitting across from Chiefs coach Marty Schottenheimer being offered a job as the team's director of pro personnel, a completely surreal experience.
"I think I was playing with my Star Wars action figures when 'The Drive' happened," Schneider says, referring to the Denver Broncos' epic 1986 AFC Championship Game victory over the Schottenheimer-coached Cleveland Browns. "The first [NFL Scouting] Combine I went to with the Packers, one of my college buddies was a huge Browns fan, and I remember calling him that night and saying, 'Hey man -- I went to the bathroom next to Marty Schottenheimer!'
"So anyway, now I'm working for this guy, right? And he was awesome. He really challenged me. He said, 'I don't care how old you are. Let's roll.' "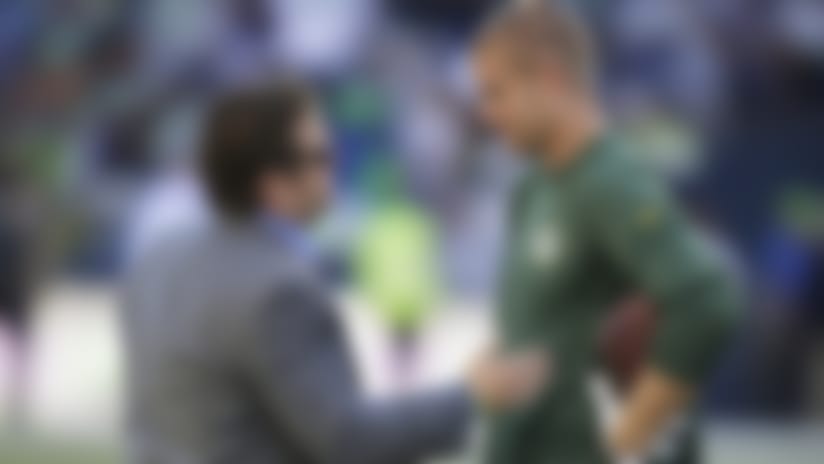 Schneider rocked it, spending three years with the Chiefs before being hired as the Seahawks' director of player personnel. He stayed one season in Seattle before rejoining Schottenheimer in Washington, where they lasted only eight months before owner Dan Snyder cleaned house. Schneider returned to Green Bay, where then-coach Mike Sherman had just taken over as GM following Wolf's retirement in the 2001 offseason, and stayed on after Thompson replaced Sherman in 2005.
Promoted to director of football operations in 2008, Schneider had no compulsion to leave Titletown. He and his wife, Traci, whom he'd met at St. Thomas, had two sons: Ben, born in 2002, and Jack, who arrived two years later. When Ben was 3, he was diagnosed with autism, and as the family adjusted to the challenges of the condition, John considered a career change that would afford him a more stable existence. Though he decided to stick with football, he and Traci had a comfort level in Wisconsin that they did not take lightly.
Then the Seahawks called.