Some players become superstars the moment they first set foot on an NFL field. Others need a bit more time.
I've put together a list of 10 candidates to have breakout seasons as second-year pros in 2014. Some of these players were backups in 2013; some were starters who still have the potential to make big strides; some barely played. All appear ready to emerge to some degree this season.
Note: For the sake of simplicity, this list is presented in alphabetical order. I've also provided statistical projections for everyone but Jonathan Cooper, as guard play isn't measured on the stat sheet.
Le'Veon Bell, RB, Pittsburgh Steelers
Here's a good sign: Bell followed up his only fumble of 2013 -- which came on a goal-line carry against the Green Bay Packers in Week 16 -- by rumbling 25 yards on his very next attempt. Thought to be a finesse back with good hands coming out of Michigan State, Bell showed himself to be a tough power runner capable of moving the chains. Though a foot injury delayed his NFL debut by three games, he made 13 starts, racking up 860 rushing yards and eight touchdowns. Bell also has the catching ability -- he snared 45 passes for 399 yards -- to be able to play on all downs. Yes, free-agent addition LeGarrette Blount will probably take away some carries and maybe a touchdown or two, but I still expect Bell to take a leap forward, especially behind an improved Steelers offensive line.
Projection for 2014: 1,200 rushing yards, nine touchdowns, 50 catches.
Jonathan Cooper, G, Arizona Cardinals
Three rookie guards -- Kyle Long (Bears), Chance Warmack (Titans) and Larry Warford (Lions) -- played every down for their teams last season, with Long going on to make the Pro Bowl. And I thought Cooper had a chance to be better than all three. Unfortunately for the Cardinals, a broken leg suffered in the preseason kept the seventh overall pick from seeing a single regular-season snap. Now, though, I'm told by Cards people that he's 100 percent and looks great. Cooper has great functional strength, having tossed up 35 bench reps at the NFL Scouting Combine, and fine character to match. I expect him to start and play at a high level for the next 10 years, becoming a familiar face at the Pro Bowl in the process.
Aaron Dobson, WR, New England Patriots
Jeremiah: Team-by-team draft needs
As we approach the draft, Daniel Jeremiah identifies each team's softest spots -- and the prospects who can fill them. **READ**
Dobson, who led a host of Patriots rookie receivers with 519 yards in 2013, improved greatly before a foot injury put a damper on the end of his season, ultimately leading to surgery in March. The former second-round pick has the quickness to beat press coverage and an ability to make some spectacular catches, despite having relatively small hands. He can make adjustments on the ball and is a good blocker for a receiver. He's got some special stuff about him.
Projection for 2014: 75 catches, 1,100 yards, seven touchdowns.
Datone Jones, DL, Green Bay Packers
Jones is a very athletic player with speed and quickness, but he needed to pick up his intensity as a rookie -- something he seemed to do late in the year. In the Packers' sub packages, Jones will move inside to rush from the tackle position. He's strong and plays with good leverage -- and, again, he's very athletic. Consider that he caught a touchdown pass during his time at UCLA. Jones is also good at knocking down passes. I think he'll be the person most responsible for improving Green Bay's defense in 2014.
Projection for 2014: 11 sacks.
Marcus Lattimore, RB, San Francisco 49ers
Lattimore missed the entire 2013 campaign while recovering from a serious knee injury that cut his final college season short -- something the Niners surely expected when they picked him in the fourth round last year. I think San Francisco is about to rewarded for its patience. Lattimore is a tough, one-cut runner with great instincts, exactly the type of power back the 49ers like to run with, in the mold of incumbent starter Frank Gore. I wouldn't be surprised to see Lattimore get some crunch-time carries this season and become the starter by 2015, when Gore is set to hit free agency. Lattimore -- who is a great person, by the way -- has plenty of promise; I think he's an even better running back than Eddie Lacy.
Projection for 2014: 650 rushing yards, six touchdowns.
Dee Milliner, CB, New York Jets
Milliner didn't initially live up to the hype that came with being the No. 9 overall pick in last year's draft -- missing a handful of games in the first half as he dealt with injury issues -- but he really showed something toward the end of the season, specifically in Weeks 16and 17. In those two games, Milliner broke up 10 passes -- that's practically unheard of, the equivalent of having four interceptions in one game -- and snagged three picks. Milliner has the size, speed and long arms needed for the position. He's also a very good tackler and blitzer. Being viewed by many as the replacement for Darrelle Revis didn't make Milliner's rookie year any easier. While I don't know if you can ever truly replace Revis, Milliner has turned it around, and I think he has a better-than-average chance of making the Pro Bowl within the next two years.
Projection for 2014: 25 pass breakups, five interceptions.
Jordan Reed, TE, Washington Redskins
Reed burst onto the scene relatively late in 2013, catching nine passes for 134 yards and a touchdown against the Bears in Week 7, and he started just four games before a concussion ended his debut season six games early. But in that brief window, he showed he could be a matchup nightmare for opposing defenses, what with his speed and hands. The former third-round pick looks like a receiver, someone who can catch balls and move the chains -- he reminds me of a young Antonio Gates, though not quite as big. The Florida product is pretty slick and has definite Pro Bowl potential. He had three plays of 20 yards or more, which is pretty good for a tight end, and just three drops in 59 targets.
Projection for 2014: 90 catches, 1,125 yards, eight touchdowns.
Kenny Stills, WR, New Orleans Saints
Stills' debut season was one of the biggest surprises for me in 2013. The fifth-round pick made a fine impression as a rookie, averaging 20 yards per catch and playing in all 16 games (making 10 starts). The former Oklahoma standout has great speed -- he really jumps off the line -- and is very smooth, with lots of upside. Stills also has an NFL pedigree, as his father, Ken, and uncle, Gary, both played in the league for five-plus years.
Projection for 2014: 70 catches, 1,050 yards, eight touchdowns.
Brandon Williams, DT, Baltimore Ravens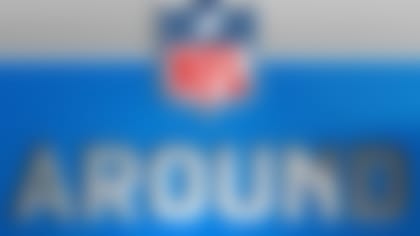 Williams might be a bit of a long shot on this list, but if he does well this fall, remember that we told you so in April. As the ostensible successor to Arthur Jones, who left for the Colts via free agency, Williams is in a good position. He entered the NFL as a small-college player (coming from Missouri Southern State) with tons of ability and 27 sacks to his name. He also posted 38 bench reps at the combine, tied for most in his position group. Williams played in just seven games last year, but he really improved over the course of the season. Though he's not the tallest guy (6-foot-1), he has the quickness and athletic ability to make up for it.
Projection for 2014: Five sacks.
Sylvester Williams, DT, Denver Broncos
Williams didn't have a ton of experience coming into the NFL, with just two years of major college football under his belt, and he didn't exactly sprint out of the gate last season. But he picked it up as things went along, starting the final seven games, including all three postseason contests. Williams was lights-out at times. He's very quick and disruptive, and he makes great use of his hands. The competitive defender never stops. I think he'll be a big factor for the Broncos' defense this fall, based on what I saw at the end of last season.
Projection for 2014: 3.5 sacks.