It was hard not to notice the contrasts. John Harbaugh arrived to the first Super Bowl press conference that involved two brothers in a sharp-looking suit. Jim Harbaugh arrived with a pullover, hat, and khakis that stopped five inches before his shoes.
Super Debate: Harbowl advantage?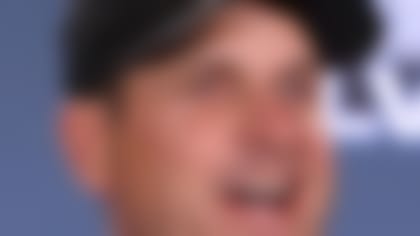 Which Harbaugh has the coaching edge in Super Bowl XLVII: Jim or John? Our analysts provide their thoughts. **More ...**
When the family took pictures after the press conference with both parents and their 97-year-old grandfather, Jim bolted off the stage once his responsibility was over. Jim Harbaugh made it all about the players. He wanted the game to start. It's almost surprising he agreed to the concept of the joint brother interview in the first place.
Here's what else we learned from the session:
Jim Harbaugh set the tone early, asked about a childhood memory where one of the brothers displayed gutsiness. His answer:
"My memories are of this season right now. ... The way our players have played, that's why our players are here. Not because of any coaching decisions or anything when we were kids."
There were plenty of compliments thrown around. John Harbaugh called Jim the best coach in the NFL. Jim responded that their father Jack was even better.
Jim Harbaugh said his mom "competed like a maniac." That's the first time I've heard a mom described that way. The biggest lesson Jim learned from her was that she believed in us.
"She made it clear we were to have each other's back, no matter what," John said.
Jim on New Orleans hospitality: "I like the way they talk."
Jim Harbaugh strained believability when he said "this week has not been any different" than a normal week.
This was an unprecedented, sometimes awkward press conference. It's the last time we'll hear from the coaches until Sunday night. For Jim Harbaugh, it seems like the game can't get here soon enough.