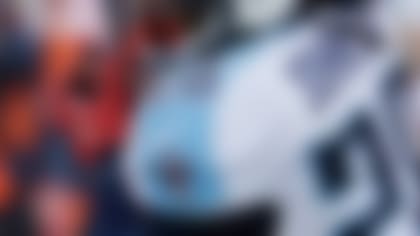 Chris Johnson is on the market, so keep an eye on all the latest news surrounding his next move with our CJ2K tracker. **More...**
He rushed for 2,000 yards in his second season, inspiring debates about who was better: Johnson or Adrian Peterson?
Those heady days feel like a long time ago.
Tennessee had hoped to get something in return in a trade for Johnson, but there wasn't enough interest. Johnson was set to make $8 million in 2014 under his old contract, and he might get roughly half that in free agency.
Johnson slipped to a career-low 3.9 rushing yards per carry in 2013, with 1,077 yards and six touchdowns. That doesn't mean he's without value. He's easily the most durable starter in the league, with the only missed game of his career coming in his rookie season.
It's hard to imagine another team giving Johnson such a big workload. He doesn't break tackles and increasingly struggles to make defenders miss in the open field. He can still run a straight line very fast, but there aren't many straight lines available in the NFL.
Johnson would fit best on a team that shares the workload. He could tag team with Chris Ivory in New York or DeMarco Murray in Dallas. Most of the true starting jobs are long gone. Johnson is joining a free-agent market in which most of the teams in need have already filled problem areas. Maurice Jones-Drew and LeGarrette Blount were the latest veterans to find homes this week.
The Titans will turn to Shonn Greene as their starter, but this move wasn't about the rest of the roster. It was about Johnson's contract. He was given $30 million guaranteed three seasons ago, and the Titans cut him as soon as that guaranteed money ran out.
Johnson was a serviceable starter over the last few campaign, but his style is too boom-or-bust. He doesn't get the kind of 5-yard runs that sustain offenses.
"I'd like to thank all of my teammates, the fans, the staff and the coaches who have supported me throughout my journey with the Titans," the running back said. "I have grown so much as an individual and as teammate over the past few years, and I am excited about the opportunity to bring my experience and talents to a new organization. I'm looking forward to the next chapter and can't wait to contribute to my new team."