By Albert Breer | Published April 20, 2016
COLUMBUS, OHIO -- At their pro day, Joey Bosa and Darron Lee struggled to explain how all this happened, and happened so quickly.
A month later, Urban Meyer did a better job of illustrating it than anyone else could, addressing the guys who will replace those two -- and all the others -- before the Buckeyes practiced on April 9.
"It's different today. It's different," Meyer said, voice rising. "It's a winner/loser day at Ohio State. This is job vs. no job. This is live. Let the dog eat."
The NFL is about to feast.
Next week, the Buckeyes will take a crack at breaking their own 12-year-old record for players selected from a single school in a single year (14) in a seven-round draft. They have an outside shot, too, at Miami's record for first-round picks in a single draft (six, also set in 2004). Among the group, there are fifth-year seniors, true seniors and redshirt juniors, guys who went through the more traditional college-to-the-pros process.
But the core of the Buckeyes' blue-chip haul lies in the 2013 recruiting class, of which Bosa and Lee are a part. And like Meyer did, those two eventually get to what's at the heart of what took them from Point A (high school recruit) to Point B (NFL prospect) so quickly.
"Winner/loser day!!!" Lee bellowed, imitating strength coach and Meyer confidant Mickey Marotti. "You gotta bring your 'A' game."
"You never wanna be on the losing side of things here," Bosa said.
Bosa, a defensive lineman, came to Ohio State as a coveted recruit, the one member of the 2013 cadre Meyer says he envisioned being a three-year kid from the start. Lee, an outside linebacker, arrived as, by his coaches' description, a "pencil-necked" high school quarterback with athletic ability but no college position.
Somehow, their results were largely the same.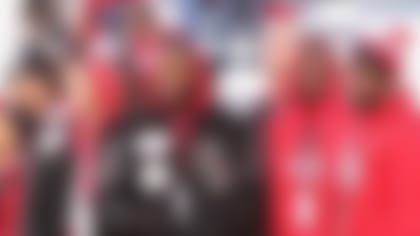 Twenty-five percent of the 2013 class' 24 players declared for this year's draft. Each is certain to be selected. Lee, Bosa and two others (running back Ezekiel Elliott and cornerback Eli Apple) are expected to be first-rounders, another (defensive back Vonn Bell) has a shot at joining them among the first 31 picks, and the sixth man (Jalin Marshall) is likely to go in the fourth or fifth round. If you ask those guys how it happens, you can start with the spring Saturdays they call "winner/loser day" around here.
The idea is plain and all-encompassing: Put a scoreboard on everything.
"There's no such thing as doing a drill here -- we keep score," Meyer said from his office. "Everything is competitive. That started for us at Bowling Green [where Meyer coached in 2001 and '02], took it to a new level at Utah [2003 and '04]. People come here and say, 'My god, you wake up and you're competing.' At the end of the day, every drill is graded -- stock-block drills, one-on-ones, circle drill, the scrimmage. And when it's over, someone gets Gatorade, and the other guy runs gassers and is drinking out of a hose."
Today's 18-year-old arrives on campus wanting to make it to the NFL as quickly as he can. Predictably, Ohio State turns that into a competition, too.
"We embrace it," Meyer said.
This isn't new for Meyer. He left Utah to coach at Florida 11 years ago, but two of his former Utes (Alex Smith, Eric Weddle) are still high-level NFL players, and seven of his ex-Gators have made Pro Bowls. His 2007 recruiting class in Gainesville featured five three-year players (Maurkice Pouncey, Aaron Hernandez, Major Wright, Carlos Dunlap, Joe Haden), as well as Cam Newton, who ultimately transferred and eventually rose to prominence in his single season at Auburn.
"We're not ashamed of it," Meyer said. "When I got into coaching, I heard people in recruiting and other areas say to kids, 'Don't worry about the NFL.' We don't do that. We want our guys to want it. It's a great way to earn a living. In my mind, there are very few jobs that pay you that kind of money to do something that you love. So long as it's not in the way of the team concept, we're gonna help them get there."
Some guys are destined for the NFL the minute they arrive on campus. Bosa was one. Receiver Percy Harvin, who played at Florida from 2006 to '08 before being selected in the first round of the 2009 NFL Draft, was another who was open about having a three-year plan, which prompted the Gator staff to try to put him in position to graduate earlier.
But for far more players, hedging bets is important.
When you're used to competing at a high level every week, you don't have a choice but to grow up fast. I mean, you grow up fast or you're left behind. Ezekiel Elliott
So Meyer has set up part of the program to educate players on managing their money, preparing to interview for jobs and getting internships, while also inviting speakers like NFL Commissioner Roger Goodell and former NFL Players Association president Trace Armstrong to talk to the team. The hope is that the social, fiscal and interpersonal skills acquired there will be useful to Meyer's charges, whether they play pro football or not.
The other side is the physical. That starts, as Meyer explained it, "the minute they step foot on campus." Every player has combine testing every spring. Schematically, Meyer continued, "People think that we're this spread team, but we have the same run plays, the same pass pro as they run in the league; we have a West Coast passing game and a pro-style defense."
And while the Ohio State recruiting class of 2013 is a bit of an outlier, the Buckeyes aren't alone.
LSU lost five three-year guys in both 2013 and '14, a 10-player group that included Odell Beckham Jr., Jarvis Landry, Eric Reid and Tyrann Mathieu (though Mathieu's case was atypical, as he was dismissed from LSU's program before his junior season). Last year, Florida State had five three-year players declare, a group that, like the Ohio State crew, won a national title in its second year on campus.
Asked how many of his players have a vision of going three-and-out, Seminoles coach Jimbo Fisher said, "I've never asked them that part of it, but I'll say 30 to 40 percent." And Fisher conceded that's been a game changer.
"There's no doubt there's a bigger emphasis from kids when they commit -- 'I wanna be a three-and-done,' " Fisher said, smiling. "I remember this Keith Jackson quote: 'For every sophomore you start, you're gonna lose a game.' Think about that. We'd be 0-12! By the time a guy understands how to be a consistent player, that third year, they're leaving, and you gotta start over. That's what makes it difficult."
Similar to Ohio State, Florida State has invested in trying to develop its players to be able to handle the NFL. Being pro-style on both sides of the ball helps with the on-field piece. Fisher knows when he sends them off, they're going to an unforgiving place.
"Understand, you're 20, and you're going into a man's world, you make a mistake up there and you're gonna be looking up your earhole," Fisher continued. "And money only magnifies problems, it doesn't solve problems."
Football powerhouses like Florida State, Ohio State, LSU and Alabama aren't dealing exactly with what NCAA basketball coach John Calipari does at Kentucky. But these super classes certainly make it feel like the gap is closing. And the players know it.
Asked if there are parallels between his group and the Wildcat one-and-dones, Elliott didn't hesitate.
So there are few guys outside football who can lend more perspective to what's happening inside the sport than Calipari himself.
"I've heard people say, 'Well, your teams are more worried about the NBA than national titles,' " Calipari said. "That's the most ridiculous statement I've ever heard. We were the national champions, we've been to how many Final Fours? They can be about the team and yet chase their personal dreams. Absolutely, you can do both. If they know the staff is about them, then they'll be about the team. If they're not sure, they'll worry about themselves."
Jordan Spieth left after one year at Texas. No one says, 'Shit, did he ruin college golf? Did he ruin Texas' program?' So what's wrong when a football or basketball player does that? John Calipari
His rising blood pressure apparent through the cellular connection, Calipari then drove the point home: "We win a national title, we're all gonna benefit. The year we won the national title [in 2012], we had guys go 1-2 in the draft [Anthony Davis and Michael Kidd-Gilchrist]. How often does that happen? We do that, the NBA looks at them as winners."
In his six seasons in Lexington before the most recently completed one, Calipari piled up a jaw-dropping 19 first-round picks and another six second-rounders. Three of them (John Wall, DeMarcus Cousins and Davis) have become NBA All-Stars -- each having only spent a single year in college.
That's in contrast to Calipari's eight years at UMass, where he went to a Final Four but only had one player (Marcus Camby) leave early. It's also pretty different than his nine-year run at Memphis, where he developed five first-round picks, one of whom (Rodney Carney) was a senior. As Calipari sees it, this has all been a matter of forecasting, then capitalizing.
"I love it when people say this was luck. Fate is being in the right place, then taking advantage. Some were late to catch on, and have started now. We were not late."
But the dynamic his program faces is not without its challenges.
To surmount them, Calipari brings in folks to conduct rigorous media training and provide comprehensive financial advice, while leaning plenty on sports psychologists. In a way, many Kentucky players come in with a plan to cram for the biggest test of their life. As the coach sees it, it's the program's job to organize that effort for them.
It's why guys keep going there even though they may play a fraction of the minutes they would elsewhere. It's how he keeps their eyes on the team's focus with such lucrative personal goals up ahead.
"You teach them what a servant leader is, what a true teammate is. Devin Booker didn't even start for my team, Karl Towns scored 11 points a game here and we had kids come back to play in a 10-man rotation," Calipari said. "The platoon wasn't a problem, either. If you can play and you belong in that league, they don't miss you. Either you're good enough or you're not."
In Calipari's eyes, he's simply adapting to the times: "Jordan Spieth left after one year at Texas. No one says, 'S---, did he ruin college golf? Did he ruin Texas' program?' So what's wrong when a football or basketball player does that? I don't get it."
Likewise, guys like Meyer and Fisher are adapting to the change, rather than trying to slow the trend.
Like Calipari, Meyer has results to lean on now. So the program, to some degree, polices itself.
"You're gonna compete for national championships every year. It shapes you as a player, it gives you that confidence," Elliott said. "When you're used to competing at a high level every week, you don't have a choice but to grow up fast. I mean, you grow up fast or you're left behind. There's guys behind you scratching at your heels for your spot. You don't even have a choice at a place like this. Personal goals go out the window. Personal goals don't even matter."
There's a trick to it, too: convincing high-level athletes with aspirations of competing well beyond their college years to sell out for the team they're actually on.
Around here, they call it "de-recruiting". Players are built up by college coaches when they're high school players. When they arrive in Columbus, the idea is to then break them down -- de-recruit them -- and then build them back up again. And the players do it because the coaches have laid out to them what NFL coaches are looking for, past just physical ability.
It's similar in Tallahassee, where the vision Fisher sets for his players frames draft day as more of a checkpoint than a destination.
At the end of the day, every drill is graded -- stock-block drills, one-on-one drills, circle drill, the scrimmage. And when it's over, someone gets a Gatorade, and the other guy runs gassers and is drinking out of a hose.
"I tell them, 'You watch the good organizations in pro football, the ones that are consistently up there, that are in the playoffs every year, and when guys start to act up, act the wrong way, they don't put up with it,' " he explained. "Your object is not to get to the NFL. It's to stay in the NFL. Your values, you have to be a great individual for your team to win. Bridging that is critical, it's critical to staying in the league a long time.
"You come up and you're only about you, you're not gonna get in great organizations, or they're not gonna keep you. The Belichicks of the world aren't gonna tolerate those kinds of things."
Meyer calls his version of that the Power of the Unit, phraseology borrowed from the military.
He breaks the team into nine units based on position groups, is responsible for making sure those units pull together and asks that the players within each unit are accountable to one another. Succeeding there, as he sees it, will lead to two things. One, a lot of wins. And two, a player who is ready to answer all the questions the NFL will have about his ability to fit into the framework of an organization.
"Nothing gets in the way of the unit," he said. "In 2014, we had zero conversation about winning a national title. That was a unique year. Braxton [Miller] goes down, we lose a game, you might worry they're gonna shut it down. But they're such close friends, and they'll be that way for the rest of their lives, they were close with their coaches -- I mean really close -- and they wouldn't let that happen. I wish I could bottle that."
Safe to say, NFL teams would buy it from him.
Quarterback guru George Whitfield, at Ohio State to conduct Cardale Jones' pro-day workout, leaned over to Marotti at the end of the morning and simply said, "You were right about this pro day." Marotti nodded back and said, "Told you."
The strength coach had a pretty good idea things would go well. Because if there was one thing that was obvious to him, it was that creating the kind of tense and competitive environment an event like this does would bring out the best in his guys.
"I mean, we don't only train them and coach them for third-down-and-6," Marotti said. "We coach them for conflict. We coach them for chaos. We coach them for confrontation. We coach mental toughness for when things are really hard. To do that when you're an 18-year-old freshman, you're used to it. The quicker they open their hearts and minds to accept that way of training and that way of coaching, that's how they get here. They're trained for days like this because they're perpetually trained."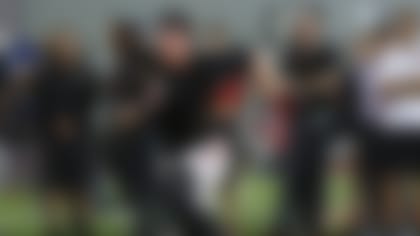 In a way, for the six juniors, this is just another version of winner/loser day, which, after you talk to enough people, seems like it's pretty much every day around here.
This just happens to be the next one.
Standing next to Lee and on the doorstep of the NFL, Bosa explained, "That wasn't really my goal. My goal was to come in and try to have an impact on the team. I really was just happy getting to that point at that time. [Lee] didn't even play linebacker. We had no idea. We couldn't have guessed this would happen."
Lee smiled and recalled being redshirted as a freshman while his roommates, Bosa and Elliott, played.
"They looked at me and said, 'What position are you gonna play?' " Lee recalled. "And you see them get playing time and the next thing you know, they become starters. So I'm like, 'Well, I gotta make my way.' And I'm happy I did."
The benefits are broad and mutual.
The player hits his potential. The coaches feed off their success to keep recruiting those kinds of athletes. The trophy case stays full.
As you'd expect, on that pro day, the fieldhouse was full of new freshmen like Bosa's younger brother, Nick, and the event was made very apparent to those considering joining them in the coming years. It's obvious what's been developed here, which is a bright illustration of how players now filter through the college football system.
"I think it's great," Meyer said. "You get too many guys going, and that means you're back recruiting your tail off, and, yes, it's hard. But what's harder is to win when you're recruiting people who don't go to the NFL."
And so the next competition here is underway: To be the first one of this bumper crop to have his tag pulled in Chicago. Then, it's carrying that on to the pros.
And you know they'll be keeping score.