Chuba Hubbard heads a strong 2021 NFL Draft class of Canadian hopefuls, as the country's presence in American football continues to slowly grow. But it wasn't an easy road for the Oklahoma State running back, who took a path less traveled to the U.S.
By Chase Goodbread | March 31, 2021
When Shomari Williams looks back on his own undertaking, he can't believe how far the proliferation of Canadians in college football -- and in turn, the NFL -- has come. And yet, when he discusses Chuba Hubbard's path -- from Canada to major college football, and now, to the 2021 NFL Draft -- he can't believe how far it still has left to go.
Now the recruiting coordinator at the University of British Columbia, one of 27 Canadian universities that compete at the country's highest level of amateur football, Williams has become an advocate and resource for many Canadian players with dreams of playing big-time American football. Few know more than Williams how Canadian players get their shot in the states, or have as much perspective on why some don't.
As a high school player in Brampton, Ontario, near Toronto, he used to set an alarm clock to wake him up every three hours all night long. He'd lumber out of bed; pull a CD out of his computer hard drive, on which he'd just burned a 60-minute highlight video; pop in a blank one to make another; then sleep three more hours and repeat. This was in 2005, and three hours was as fast as his computer would execute the burn, so he could only make about three CDs a night, which he would then deposit in the morning mail, each addressed to an NCAA Division I football coach. He did this every night until he had a CD to send to every D-I coach in America -- all 119 of them.
Hubbard didn't have to plead like Williams -- he garnered nearly 30 scholarship offers as a recruit, from a slew of top college programs, before settling on Oklahoma State. But the means by which those offers came about -- word of mouth -- was an even more antiquated method than burning highlight CDs three hours at a time. The right person, at the right time, told the right coach to find out who Chuba Hubbard was. Absent that recommendation, Hubbard can't really say for sure where he'd be right now, what he'd be doing, or whether he'd be considered one of the most promising running back prospects available in the 2021 NFL draft.
That shouldn't be the case for a running back whose speed had been proven world class, and who was known and feared at high schools across the vast Alberta province, with its population north of 4.3 million and square mileage roughly the size of Texas. He was once the world's fourth-fastest 100-meter sprinter in his age group, and one of Canada's biggest high school football stars, yet still needed backchannel vouching to spark recruiting attention in America.
"I was fortunate enough to have someone pass my name on and help me get an opportunity," Hubbard said. "So now I want to pass a favor like that along, times a thousand."
The influx of Canadian athletes in American football has come a long way since Nick Saban once trudged there as an assistant coach at Michigan State to recruit Tony Mandarich, only to miss the 1985 Christmas holiday with his family when heavy snowfall canceled his flight home. The number of Canadian-born players to appear in an NFL game has slowly but steadily climbed over a 10-year period from nine in 2011 to 14 in 2020. Two players who spent their formative years in Canada were top-100 draft picks last year: Steelers wide receiver Chase Claypool and Cowboys defensive end Neville Gallimore.
Hubbard is joined in his draft class by several other Canadians, including Iowa OT Alaric Jackson, Oregon S Jevon Holland, Tennessee WR Josh Palmer, Minnesota CB Benjamin St-Juste, and, fittingly, the very player -- teammate Amen Ogbongbemiga -- who first dropped Hubbard 's name to the Oklahoma State coaching staff.
Yet while the Canadian presence in American football continues to strengthen, many of Canada's top high school players still must rely on the whisper method, as Hubbard did, to fulfill their hopes of playing American football.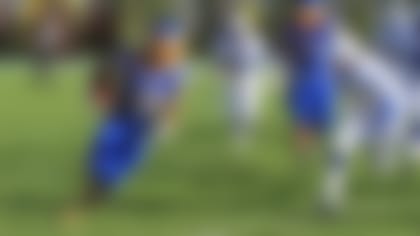 The reality for Canadian football players is this: There is far more interest on their part for playing American football than what is reciprocated by college coaches in the United States. Those talented enough to make the jump face all sorts of adjustments: different rules and field dimensions, a quantum leap in competition, and football fundamentals they might lack in a country where, according to Williams, coaches are typically volunteers and short on training or experience.
Those factors are among the reasons why college coaches don't recruit in Canada, but perhaps the biggest is that there isn't a traditional hotbed for talent in the country where they could travel annually, build permanent relationships with Canadian coaches and consistently reap quality players. As such, when a Canadian high school player does draw interest, it's a one-off courtship that comes about exactly the way Hubbard's interest did: through a single, trusted, personal recommendation.
Since recruiters from American schools don't go to Canada, the players come to them.
Multiple Canadian college coaches interviewed for this story estimated that roughly 80 percent of U.S. college players from Canada facilitate the move by finishing their high school careers -- usually the final two of their three prep years -- in the states. It's a bold decision, but it circumvents the competitive disadvantages and lack of exposure in the motherland.
"I was definitely looking for an (American high school) where I could get exposure. We looked at places across the country," said Josh Palmer, the Tennessee receiver and 2021 draft prospect who moved from Ontario to play for Florida powerhouse St. Thomas Aquinas High School in Fort Lauderdale. "I knew leaving Canada was the smart thing to do. At that point in time, it was too hard to get noticed. It was definitely different competition-wise. I'm not saying there aren't guys who can play in Canada, but guys down there play with a different type of purpose, and iron sharpens iron."
Table inside Article

| NOTABLE CANADIANS DRAFTED | YEAR | NFL SEASONS |
| --- | --- | --- |
| PK Eddie Murray | 1980, Round 7, Lions | 19 |
| RB Rueben Mayes | 1986, Round 3, Saints | 6 |
| OT Tony Mandarich | 1989, Round 1, Packers | 7 |
| OG Ian Beckles | 1990, Round 5, Buccaneers | 9 |
| P Mitch Berger | 1994, Round 6, Eagles | 16 |
| RB Tim Biakabutuka | 1996, Round 1, Panthers | 6 |
| TE O.J. Santiago | 1997, Round 3, Falcons | 7 |
| WR Jerome Pathon | 1998, Round 2, Colts | 8 |
| DT Rob Meier | 2000, Round 7, Jaguars | 10 |
| QB Jesse Palmer | 2001, Round 4, Giants | 5 |
| OG Danny Watkins | 2011, Round 1, Eagles | 3 |
| DE Tyrone Crawford | 2012, Round 3, Cowboys | 9 |
| TE Luke Willson | 2013, Round 5, Seahawks | 8* |
| OG Laurent Duvernay-Tardif | 2014, Round 6, Chiefs | 6* |
| DT Christian Covington | 2015, Round 6, Texans | 6* |
| DT Nathan Shepherd | 2018, Round 3, Jets | 3* |
| WR Chase Claypool | 2020, Round 2, Steelers | 1* |
| DT Neville Gallimore | 2020, Round 3, Cowboys | 1* |
| | | *Active |
Clearwater (Fla.) Academy International, a prep school with a heavy presence of football talent from outside the United States, is one of the prime destinations. The school had three Canadians sign with Power Five programs in the 2020 class.
Hubbard took the more difficult path, that of the 20 percent who finish high school in Canada.
He waited and hoped for the right whisper.
"I had all these prep schools hitting me up, saying, 'Come on down, we'll get you right, we'll teach you American football,' " Hubbard said. "But I knew it would probably cost a lot of money, so I cut it out of mind and just decided, 'If I'm good enough, they'll find me. Hopefully.' "
Hubbard attended Bev Facey High School in Sherwood Park, a small community of about 75,000 just east of Edmonton, for all three years -- in Canada, high school begins in 10th grade -- and gave little thought to leaving home to finish high school in the U.S.
For years, Hubbard believed his path to playing college football would require him to accept a track scholarship at a U.S. college, then join the football team as a walk-on. A track scholarship was the easy part; he was a phenom in that sport by any measure. In July 2015, he traveled to Cali, Colombia, for the IAAF World Youth Championships and ran 100-meter dashes of 10.55 in the semifinals and 10.60 in the finals, which placed him tied for fourth in the world.
Hubbard readily acknowledges that his track times are a big reason his recruitment eventually exploded with offers from top programs. But track wasn't the spark needed to get it all started. Indeed, seven months after he'd paired his impressive high school football tape with his verified clocking of world-class speed in Colombia, he'd still not gotten so much as a call or a letter from an NCAA football coach.
Amen Ogbongbemiga did what a world-class 100-meter clocking couldn't.