Trevor Lawrence chose No. 16 at Clemson because of aspirations to become the next Peyton Manning, but scouts agree that Andrew Luck -- the last generational QB to enter the draft -- is a more accurate comparison
By Chase Goodbread | April 13, 2021
CLEMSON, S.C. -- It's not in the dictionary, yet in football circles, it needs no explanation:
It was the buzzword around Clemson's spring practice in 2018, when quarterback prodigy Trevor Lawrence showed up with the rock-star hype of a five-star recruit. To Lawrence, there couldn't have been a higher compliment than to be likened to Peyton Manning, the quarterback he grew up admiring most. Of course, phrases like Manningesque won't get thrown around when Lawrence embarks upon his first NFL training camp this summer, because five MVPs and two Super Bowl rings have rightfully bought Manning's name more reverence than that.
Leading up to the 2021 NFL Draft, those lauding Lawrence have instead focused on another name, one spoken with a reverence all its own in scouting circles: Andrew Luck. Manning, in many ways, was the quarterback Lawrence aspires to be. But it's Luck whom NFL scouts can't stop including in discussions of the former Clemson star's potential.
Draft grades on Luck were close enough to perfection that he's considered a modern pre-draft gold standard for the position. Among scouts who have been in the business long enough to have evaluated Luck leading up to the 2012 NFL Draft, several acknowledge a consensus that Lawrence is the best quarterback prospect since the Indianapolis Colts' former No. 1 pick. For them, Lawrence doesn't quite measure up, either. But their draft grades on Lawrence are, at least, closer to Luck's neighborhood than any quarterback drafted since.
"There's definitely some agreement that he's on Luck's level," said an area scout for an AFC team whose region includes Clemson. "Luck wasn't as successful in college as this guy, but their skills are very comparable."
Luck was an impressive but injury-plagued successor to Manning in Indianapolis. Successor, that is, if you toss out the Colts' brutal 2-14 season in 2011 that separated Manning's departure from Luck's arrival, a jarring reminder to the team's fan base that the effects of poor quarterbacking on the win-loss column are unsustainable. The Jacksonville Jaguars have learned that hard truth like few other NFL franchises, and as the club prepares to marry its future to Lawrence as the top overall selection in the 2021 NFL Draft, it's clear that new Jaguars coach Urban Meyer will be getting an exceptionally rare talent -- rare, even, for a No. 1 pick.
If Lawrence were to struggle as an NFL rookie, it would be the first time in his life that leveling up in football didn't come easily to him. He's performed above his competition at every stage, and championships follow him. Beginning with his first QB role at age 7 in Cartersville, Georgia, Lawrence has quarterbacked 13 teams -- five in youth ball, one in junior high, four in high school, three at Clemson -- and nine of the 13 finished the season hoisting the biggest trophy attainable. Across both his high school and college careers, his record as a starter is 86-4, without a single regular-season loss.
Along the way, tales of Lawrence's advanced-for-age exploits pour out like Superman sightings:
That he could command a spread offense by age 7.
That he was looking off safeties by age 9.
That he once won a junior high championship with 330 passing yards in a game timed with just eight-minute quarters.
Private quarterback coach Ron Veal began working with Lawrence at age 12. By that point, the quarterback was already 6-foot-1 and could sling a mean spiral.
"I don't take credit for any of his natural ability," Veal said. "When I got him, the ball was coming off his hand really nice but without much help from his lower half. That's one big thing we focused on, generating more power from his legs."
The two worked on concepts and routes that were specific to the offense Lawrence was operating at the time, so that all his extra work would translate to Cartersville High. If CHS installed something new, Veal and Lawrence were honing it on their own the very next week.
"I had never coached a spread offense before I got him," said Lawrence's junior high coach, Robert Allen. "But that's because I'd never had a quarterback like him."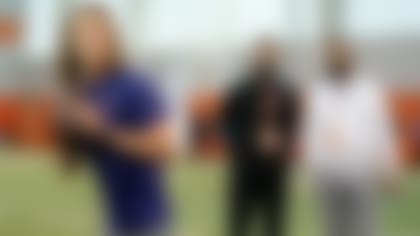 It's two hours before Lawrence's final home game at Clemson when a father and son, both adorned in Lawrence's No. 16 jersey, approach Howard's Rock outside Clemson's Memorial Stadium. Kingston Cox, 9, peers through an iron gate where the program's star quarterback will soon touch the rock for the last time; Tigers players traditionally rub the monument before running down a hill to the East end zone prior to kickoff.
Three years ago, when Lawrence torched Alabama's defense to win a national championship as a freshman, becoming the face of college football, Kingston grew out his hair to match Lawrence's lengthy locks.
"I had to cut it," he said. "Grandpa said he'd had enough of it."
At the fan level, Lawrence's popularity knows no bounds.
At the business level, it's pushed new norms, as well. The No. 16 jerseys that Kingston and his father, Chad, wore to the game were everywhere. The football program's revenues peaked at a record $63 million for the 2018-19 year, a 17 percent jump from Lawrence's freshman year.
Kingston Cox and his dad witnessed the final episode of The Lawrence Show in Clemson, a 52-17 trouncing of Pitt, and Lawrence flashed every throw in the book -- the deep ball, the back-shoulder fade, the post. He froze safeties with pump fakes and scampered away from pass rushers, throwing as accurately on the run as from the pocket. Only once did he throw into double coverage, but because Pitt was offsides, it wasn't ill-advised -- Lawrence instinctively threw to his deepest route on a free play, coverage notwithstanding, hoping for the best while knowing the worst would be accepting a 5-yard penalty.
It's not just the arm; it's the polish.
With the game in hand, he watched the entire fourth quarter from the sideline, needing only the first three to throw for 403 yards. In the aftermath of the rout, even with the program's sixth straight bid to the College Football Playoff within clear reach, something of a pall was cast over this town of 17,000 as the fan base came to grips with Lawrence's easy decision to skip his senior year for the NFL draft.
"I don't think we'll see anything quite like him again," said Kingston's father, Chad.
Not until fall Sundays, anyway.
The presumption that the Jaguars will select Lawrence No. 1 overall in two weeks, pairing him with the RPO-based offense that Urban Meyer excelled with at the college level, could not be more prevalent. As the Jaguars careened toward the NFL's worst record to claim the top selection, Jacksonville linebacker Myles Jack said as much near the end of last season, noting he could hardly fill his car with gas without hearing about Lawrence from fans.
Who can blame them? The club hasn't had anything resembling consistent quarterback play since Mark Brunell's career peaked some two decades ago. Lawrence, with plenty of experience running an RPO offense at Clemson, could be an ideal fit in a Meyer offense.
"He's a souped-up Alex Smith," NFL Network draft analyst Daniel Jeremiah said of the most successful NFL quarterback Meyer has coached. "Bigger, stronger, faster."
For all the crazy-good throws in Lawrence's three years at Clemson, many of which won high-stakes games, one of the very best came before he'd even made a career start. Early in his freshman year, before he'd taken over for Kelly Bryant, Lawrence unleashed a TD pass against Georgia Tech during which he rolled to his left -- the more difficult roll for a right-hander -- and fired a dart between two defenders for the score.
An NFL throw by any standard. Luck-level.
The AFC scout, asked to watch the throw, left no doubt.
"(Lawrence) generated power, velocity and accuracy from an off-platform position, (and the) ball placement was elite," he said.
In five crucial areas for a quarterback prospect -- accuracy, velocity, mobility, decision-making and intangibles -- Lawrence measures on every front.
In this area, Lawrence's arrow points directly up.
He improved his accuracy more in 2020 than any other area of his game -- that's how he sees it, how scouts interviewed for this story see it and how Jeremiah sees it.
To be clear, his accuracy was never exactly lacking -- Lawrence frustrated tight coverage throughout his college career, either from the pocket or on the run. But in a season where countless draft prospects showed little to no development, with the COVID-19 pandemic leading to canceled practices, workouts and games, Lawrence is among those who managed to sharpen their play.
He completed a career-high 69 percent of his throws, although completion percentage is an almost recklessly poor measure of passing accuracy. Pro Football Focus analytics grade accuracy with downfield ball placement, and Lawrence topped all of college football with an accuracy rate of 56.6 percent on throws traveling 10-plus yards past the line of scrimmage. That metric eliminates cheap completions on screen passes and other short throws that have become commonplace in college football. It also demands that a pass connect with the receiver easily and in stride to be marked as accurate, whether it's caught or not.
"The biggest (improvement) is accuracy," Lawrence said in evaluating himself. "Especially from last year, I think I've taken a big step up in that. That was something I really wanted to work on."
Part of accuracy, too, is delivering with the timing and trajectory needed to complete certain types of throws into certain types of coverages. In evaluating Lawrence's 10 games in 2020 -- he missed two with his own positive COVID-19 test and lost another canceled by virus concerns -- Jeremiah saw strides in that area, as well.
"He showed an ability all year to layer the ball or drive the ball," Jeremiah said. "Those over-under balls are litmus tests for pure passers, if you can get it over the linebacker and under the safety. And he does that really well."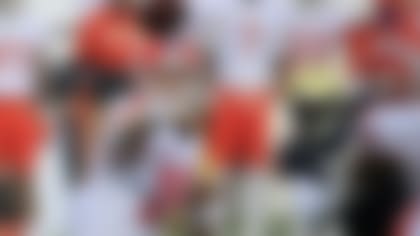 The touchdown pass against Georgia Tech happens to be Veal's favorite of any throw Lawrence made in college. He likes it because it flashed a blend of Lawrence's best quarterback traits, all in a single play -- but among them, velocity is front and center.
Remarkably, Lawrence wasn't even a starter yet when he unleashed just his sixth career touchdown pass; instead, he was a freshman playing in the last of four games as a backup before taking over the starting job. Lawrence rolled to his left, squared his shoulders and connected with Hunter Renfrow with much-needed zip to split two defenders. (Watch the play at the 0:45 mark of this video.)
"It showed his talent in a few different ways," Veal said. "But the arm strength on that throw was special."
Veal has worked with Lawrence since the seventh grade and personally witnessed his growth through junior high that catapulted him into the driver's seat, as an incoming freshman, of one of the top high school offenses in Georgia. Even then, the former University of Arizona quarterback saw in Lawrence an explosive delivery and next-level spin on the ball.
According to Miller Forristall, a 2021 tight end prospect from Alabama, Cartersville High coaches once brought a radar gun to practice in Lawrence's freshman year at the Georgia prep school and clocked his velocity as hot as some freeway speed limits.
"We were throwing bang eights in practice, which is a quick post, his freshman year when they got him at 55 (mph)," Forristall said. "I turned to (then-coach Joey King) and said, 'That's not normal.' "
Whether the gun provided an accurate reading on the then 14-year-old's arm is lost legend, but that's the same velocity NFL Rookie of the Year Justin Herbert threw with at last year's NFL Scouting Combine (55 mph to the left, 54 to the right). Seven years later, and three after the throw against Georgia Tech, Lawrence enters the draft with as much heat on his fastball as any NFL club could ask for.
"The arm is a rifle," said an area scout for an NFC team. "But more than that, he can rifle it when he's got to let it go in a bad body position. When his feet and balance are off, he still has the zing."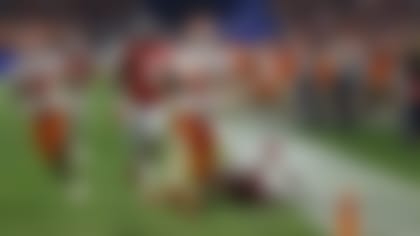 Lawrence chose one of the biggest Clemson wins of his career, on the grandest of stages, to serve notice that his running skill as a quarterback is more than just impressive -- it's flat-out dangerous.
With the Tigers trailing Ohio State 16-7 in a 2019 College Football Playoff semifinal and just 1:22 remaining before halftime, Lawrence raced 67 yards for a touchdown. But this was no scramble against man coverage where quarterbacks can often get an easy head start; this was a designed quarterback draw play on which free safety Josh Proctor was juked off his feet despite having a clear, unblocked opportunity to make a stop in the open field.
"I'm not sure the world knew what kind of pure athlete he was until that run," said the NFC scout. "He's fast, but there's also some short-area quickness there that a 6-foot-6 guy isn't supposed to have."
The play turned the momentum in a 29-23 win over the Buckeyes, but Lawrence's ability as a runner only comes in flashes -- the game turned out to be the only 100-yard rushing effort of his college career. Lawrence uses his athleticism more often to extend pass plays, maintaining downfield vision while awaiting the receiver separation that inevitably comes as he lopes away from pass rushers. He'll take an easy first down with his legs if the defense gives it to him and can pick up yardage in big chunks on RPO (run-pass option) keepers.
While Lawrence can unleash rare athleticism outside the pocket, it's inside the pocket where scouts would like to see him develop a better sense for the subtle steps that buy more time to throw. Jeremiah noted this, as well, in evaluating Lawrence's final college season.
"Pocket feel is a little bit of an issue," Jeremiah said. "That's the No. 1 thing to me as far as areas he can work on."
Dabo Swinney insists Lawrence's pending adjustment to pro football will be physical, not mental. The Clemson head coach holds his hands a couple feet apart, palms facing, to illustrate his point.
"In college, that's an open man," he said.
Then he closes the distance between his hands to a few inches.
"In the NFL, that's open," he said. "The margin for error is slimmer. The game is more precise."
When it comes to decision-making, however, Swinney is convinced Lawrence will instantly read and exploit defenses as well as any quarterback in the league.
"He's as good as there is, and he'll be as good as there is the first day he gets in the NFL," Swinney said. "He might see a faster version of things -- you're talking about the best of the best in the world. … (But) you can play cloud coverage, man coverage, zero coverage, quarters coverage, trap coverage, you can roll coverage, you can do anything you want. This guy will be as good as there is pre-snap and post-snap."
While NFL evaluators are duly impressed with the way Lawrence sees the field, there's a bit less conviction that his elite recognition skills always translate into making the right throw. He is occasionally fearless to a fault, in part because he's been surrounded by receivers who consistently made contested catches in close coverage.
"He's got the Marino thing going where he can be a little stubborn about throwing into tight spaces," said the AFC scout. "It's a gunslinger mentality. You love the confidence, but sometimes you wish he'd just take the checkdown."
Last summer, Swinney told everyone involved in the Tigers football program that there would be no hard feelings and a clean-slate return in 2021 -- not just for players, but coaches and support staff, as well -- for anyone who chose to opt out of the 2020 season due to COVID-19.
Nobody in the room -- indeed, no player in the entire country -- had less to gain by playing in 2020 than Lawrence. Already considered the top draft-eligible quarterback in college football, he'd loaded a library of game tape for scouts with two spectacular seasons and a 25-1 record as a starter.
Lawrence didn't hesitate. He was in, draft millions be damned.
Football character, defined by scouts by competitive spirit and love for the game, is an easy checkmark for Lawrence.
"That's who he is, that's why he's special," Swinney said of Lawrence's decision not to opt out. "And that's why he'll be the first pick, without a doubt."
As an incoming freshman, Lawrence wasted no time serving notice to his new Clemson teammates that, beyond the laid-back, surfer look of his long blond hair and the hype of being a five-star recruit, he was a true gamer with an edgy competitive streak. Clemson running back Darien Rencher recalls eventual first-round draft picks Christian Wilkins and Clelin Ferrell combining to sack him in one of his first practices in the spring of 2018, then barking at the heralded newcomer as a rude welcome to the college game. Lawrence responded by completing a bomb on the very next snap, then directed a little barking of his own toward Wilkins and Ferrell.
"It was their way of checking his oil, to see what he had mentally," Rencher said. "and he just let them know, 'I'm [still] here.' "
Lawrence considers that 2018 Clemson defense, the one he had to cut his college quarterbacking teeth on, as his ultimate litmus test for proving not only his skill but his mettle. That defense included five eventual first-round picks.
"Every (starting) D-lineman we had is playing in the NFL right now," Lawrence said. "(We had) two first- or second-round corners. Everyone -- the safeties, the 'backers; we were really, really good."
Though adept at sliding before contact to avoid taking hits, in certain situations -- on crucial third downs at the line to gain, or near the goal line -- he is unafraid to take on contact. He'll even throw a block as needed; in the ACC title game last December against Notre Dame, he sprung Travis Etienne with a key block on a stretch play, sealing off safety DJ Brown for a gain of 15.
Plays like those, along with a calm demeanor in pressure situations, translated to a level of leadership that Clemson players rallied toward.
"Within a couple practices, you could already see the savvy," Rencher added. "That calm coolness you want in the quarterback, it was all there."
Five quarterbacks have been drafted No. 1 overall since the Colts selected Luck first in 2012: Jameis Winston, Jared Goff, Baker Mayfield, Kyler Murray and Joe Burrow. With a variety of skill sets, all were exciting prospects, but none checked every box for NFL scouts as thoroughly as Luck did. The former Colts star retired after seven NFL seasons, his four-time Pro Bowl career cut short by injuries. But given the fortune of better health than Luck had, Lawrence is thought to be the sort of can't-miss, franchise quarterback scouts saw in Luck coming out of Stanford.
Blake Beddingfield can go back a lot further.
The former Tennessee Titans director of college scouting began as an area scout in 1999, and going back even that far, he never saw anything quite like Luck as a prospect -- Lawrence included.
"Of the quarterbacks I evaluated, he was as high as there's ever been. I went through Eli (Manning) and (Philip) Rivers, and (Ben) Roethlisbrger, (Michael) Vick, Drew Brees, all those guys," Beddingfield said. "I had Luck graded higher than all of them coming out of college."
Indeed, Luck's grade as a prospect stands above not only those to come along since, but those who came years before. Buried amid the expansive scouting report Jeremiah filed on Luck in his last year as an NFL scout, working for the Philadelphia Eagles in 2012, is a notation that the Stanford coaching staff compared Luck to Lawrence's guy, Peyton Manning.
The reason Lawrence wore No. 16 at Clemson? Because Manning wore it at Tennessee, and although Manning's college career was done before Lawrence was born, he grew up a Volunteers fan, regaled by tales of Manning's college dominance. Wherever the two have played, they've left too big of a jersey for anyone else to fill -- Manning's number has been retired by the Indianapolis Colts, Tennessee and Isidore Newman High in Louisiana.
Cartersville High coach Conor Foster has already put Lawrence's jersey away for good, and the same is likely to happen for Lawrence in short order at Clemson.
These are the marks legends leave.
"As long as I'm coach here, nobody will wear No. 16," Foster said. "That's too much to put on any young man."
When the most important position in America's most popular sport converges with what could be generational talent, seas tend to part. Championships are won. Coaching fortunes are secured. And money is made. Lawrence didn't ask for quarterbacks at every competitive level to step aside upon his arrival. He didn't ask for coaches to change their offenses to suit his other-worldly skill, or for high school and college booster club donations to soar on his success, or for a phone call from the President of the United States.
He just threw footballs, and all those things happened organically.
And now it's come to this for the quarterback prodigy -- the excitement surrounding him is way past crowning him the most prolific talent in college football, or the top quarterback prospect in the 2021 NFL draft, or even the presumed salvation of the quarterback-starved Jaguars.
Two passers before him offer something else at which to aim.
Luck, the golden prospect.
And Manning, he of the golden career.