When it comes to NFL draft picks, more can be better -- but it can also just lead to more of the same.
During my time working with the Dallas Cowboys, in general, we always felt that if you had more draft picks, you'd be better off. But we didn't want too many, because you can only really realistically expect around nine picks to make your roster. I'd say 12 was probably the perfect number -- that gives you a couple of extra lottery tickets.
In the past 10 drafts, there have been 11 draft classes of 12-plus players. To get a sense of whether volume has translated to success, I went back and examined eight of those groups -- excepting the 2015 Browns class and the 2014 49ers and Jets classes, as it's still a bit too soon to really evaluate those -- then ranked them from best to worst, as you can see below:
1) 2010 New England Patriots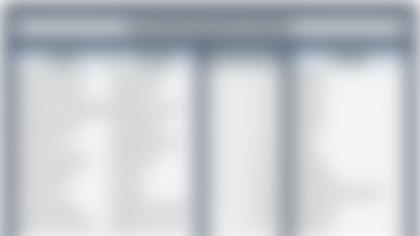 Picks: 12. Rookie contributors: 8. 2010 record: 14-2.
Rob Gronkowski (5,555 career receiving yards, 65 career receiving touchdowns) made this draft. It's rare to get a franchise player like that with the 42nd overall pick. Having all the extra picks no doubt made it easier to trade up in the second round and take a bit of a chance on Gronk, who missed the 2009 season at Arizona with a back injury. Aaron Hernandez's life obviously went off-track in a major way in the following years, but while he was on the field, he did very well, forming an imposing duo with Gronkowski that played a huge role in the team's success for the next several seasons, including the 14-2 2010 campaign. Devin McCourty (18 career picks, including seven as a rookie) has been a key defensive figure and top-notch starter throughout his career. Brandon Spikes (286 tackles, five forced fumbles in four Patriots seasons) developed into a starter who had the competitiveness needed to succeed at linebacker -- he's an example of how focusing on key characteristics can help a team draft well.
This was a very good draft that, in combination with the 2009 haul, proved to be pivotal in keeping New England's dynasty rolling. The Pats had started slipping, missing the playoffs in the Tom Brady-less 2008 season and exiting in the first round in 2009. This class helped the team get back to its Super Bowl-caliber ways.
2) 2006 Green Bay Packers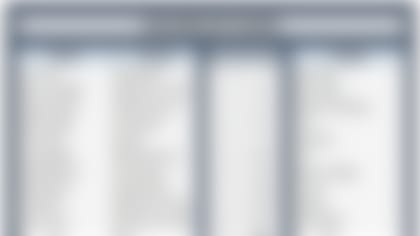 *Picks: 12. Rookie contributors: 11. 2006 record: 8-8. Next winning season: 2007 (13-3). *
This class was the first with Mike McCarthy in the coaching chair, following Mike Sherman's 4-12 swan song, and helped lay the groundwork for a turnaround that led to a Super Bowl title. A.J. Hawk (921 tackles, 19 sacks, nine picks, three fumbles forced in nine Packers seasons) could play all three downs well. Daryn Colledge helped a great deal, as did Greg Jennings, who was not particularly fast but caught a lot of passes and made a lot of big plays (425 catches for 6,537 yards and 53 touchdowns in seven Packers seasons) in Green Bay's offense. Johnny Jolly had some good years, while Will Blackmon excelled on special teams and Jason Spitz and Tony Moll added depth to the O-line. The Packers took a big step with this class. Hawk, Colledge and Jennings all served as key starters on the team that won Super Bowl XLV.
3) 2008 Kansas City Chiefs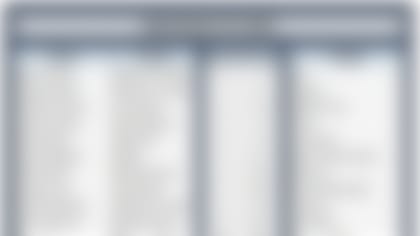 Picks: 12. Rookie contributors: 11. 2008 record: 2-14. Next winning season: 2010 (10-6).
First, some caveats: The Chiefs' record got improbably worse in these players' collective rookie year, dropping from 4-12 in 2007 to 2-14. And Jamaal Charles is the only player still with the team, as Glenn Dorsey, Branden Albert, Brandon Flowers and Brandon Carr all eventually left for greener pastures. But all those players -- along with Barry Richardson -- contributed to Kansas City's 10-win 2010 campaign. Charles was a bit of a gamble, but he turned out to be a star with a career average to date of 5.5 yards per carry -- the best back in a class that also included talent like Darren McFadden, Jonathan Stewart, Rashard Mendenhall, Chris Johnson, Matt Forte and Ray Rice. To the extent that drafting Charles in the third round was a risk, it was blunted by the surplus of picks. No wonder Al Davis called him the steal of the draft. Dorsey might have been slightly overdrafted, but that's standard for defensive lineman. This Chiefs crop included some very good players who couldn't always make up for the franchise's quarterback troubles.
4) 2009 New England Patriots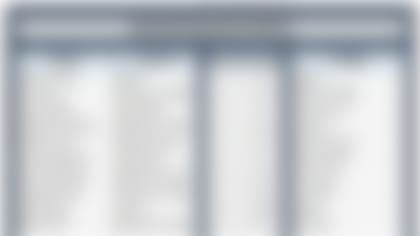 Picks: 12. Rookie contributors: 9. 2009 record: 10-6.
This class is an example of how, if you know what you're doing, you can trade down for more picks and have a successful draft. Through a succession of trades, the Patriots moved out of the first round, accumulating four second-round picks (one of which came via the trade of former seventh-round pick Matt Cassel to the Chiefs) and basically hitting on three of them (Patrick Chung, Darius Butler and Sebastian Vollmer). Chung and Butler became significant defensive contributors, and while both eventually moved on, Chung returned in 2014 and remains with the team today. Vollmer was a risk, given that the product of Germany had a very limited football background, but New England bet on him as an athlete and it paid off. He proved to be a very valuable member of the offensive line who could play both left and right tackle. And, of course, scooping up Julian Edelman in the seventh round ended up being a major coup: The former college quarterback blossomed into a 1,000-yard receiver in 2013 and has been a key offensive piece since. I'm sure he rated highly in competitiveness.
5) 2011 Washington Redskins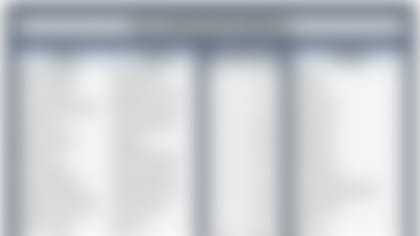 Picks: 12. Rookie contributors: 10. 2011 record: 5-11. Next winning season: 2012 (10-6).
Ryan Kerrigan, who made the Pro Bowl after his second season, remains a cornerstone of the defense. His 47.5 career sacks easily lead the team over the past five seasons, while his 214 tackles rank fourth in that span. Any time you nab an overachiever like Kerrigan, that counts as a pretty good draft. On top of that, a total of 10 players contributed to the team at some point that season, albeit mostly as spot players or backups. Niles Paul has been OK -- but not great -- after converting from receiver to tight end. He notched a career-high 507 receiving yards in 2014 before being named the starter last preseason, only to have his year end with an ankle injury in August. Jarvis Jenkins (who just signed with the Jets) is a prime example of an overdrafted D-lineman. Leonard Hankerson (now in Buffalo) is a big, tall receiver who keeps finding jobs, as does Roy Helu (Raiders). Evan Royster was serviceable as a rookie.
6) 2010 Philadelphia Eagles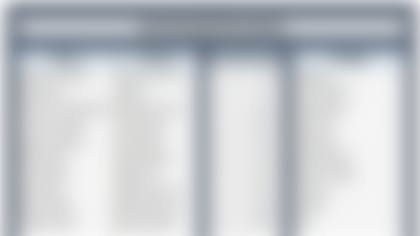 Picks: 13. Rookie contributors: 10. 2010 record: 10-6.
This class was part of Andy Reid's final playoff season in Philly. Brandon Graham has played in every game the past four seasons, but he's only started 23 in his career, including a career-high 10 last season, when he also notched a career-high 6.5 sacks. He has yet to reach his expected potential. Nate Allen (now with the Raiders) was solid if not spectacular in five Eagles seasons. Jamar Chaney, who stayed in Philly through 2013, was a pretty good player. Riley Cooper -- cut in February -- was a big, tall receiver whose modest contribution peaked with an 835-yard season in 2013. Mike Kafka was a fourth-round dice roll that didn't pay off. Kurt Coleman didn't do much in four Philly years, but he nabbed a career-high seven picks as a member of the Carolina Panthers last season.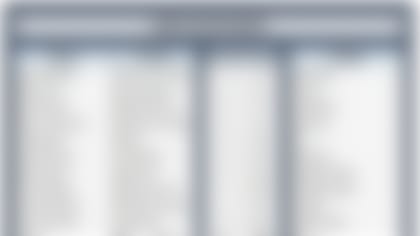 Picks: 12. Rookie contributors: 8. 2008 record: 9-7.
This group was all about Matt Forte, the linchpin of this Bears class. Forte came right in and rushed for 1,238 yards and eight scores -- and he chipped in 63 catches for 477 yards and four touchdowns. I don't think anyone envisioned him being as good a receiver as he ended up being; Forte went on to collect 12,718 career yards from scrimmage to date, the most in the NFL since 2008. The two-time Pro Bowler even led Chicago in receptions (102) in 2014, when he added a career-high 808 receiving yards to his 1,038 rushing yards.
Chris Williams appeared in 47 games (37 starts) in his initial four-season stint in Chicago. That's not horrible, but you want more out of a first-round pick. Earl Bennett was a possession receiver whose career peaked with 717 receiving yards in 2009, when old Vanderbilt pal Jay Cutler first came to town. The guy who was going to be a really good player was Marcus Harrison, but he had just 55 tackles over three seasons and was released before the 2011 season. Craig Steltz was a hitter who didn't have the speed to play in the NFL -- he should have bulked up and become a lineman. Zack Bowman (10 picks in six Bears seasons) and Kellen Davis (11 touchdowns in five Bears seasons) were good fifth-round choices.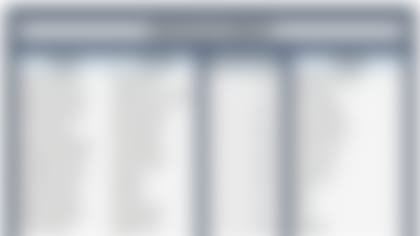 Picks: 12. Rookie contributors: 5. 2009 record: 11-5.
This class is in a distant eighth place. Don't be swayed by the 11-5 record -- over the next four seasons, Dallas went 30-34. I'm not sure what the Cowboys were trying to do, but when you come out of a draft without a single first- or second-round pick, as they did in 2009, you have dug yourself a considerable hole. Roy Williams, the receiver for whom they traded away that year's first-rounder, fizzled, to put it mildly (1,324 yards over two-and-a-half seasons). No one Dallas drafted this year ever really amounted to anything, including top pick Jason Williams -- aside from John Phillips, currently the Chargers' backup tight end. Meanwhile, the player Buffalo nabbed with the second-rounder it acquired from Dallas, Andy Levitre, became a successful starting O-lineman.
The lesson: While it's true that value can be found in later rounds, and while "trading down" can be a viable strategy, you ultimately need high picks to win. You don't want to go without a first- or second-rounder if you can help it. It's just way too much to give up.