There are a number of scientific efforts underway and new technologies in development that aim to advance how concussions are diagnosed.
"The symptoms of concussion may not be immediately apparent," said Dr. Teena Shetty at the Hospital for Special Surgery in New York, where she is a neurologist.
"It would be very helpful to have a technology which would allow us to identify concussion as quickly as possible," she said. "To diagnose the injuries in real time, for example, on the sidelines or in the locker room."
Moving from "Subjective" Diagnosis to Objective Diagnosis
"We're trying to develop the best and most advanced tools," Shetty said.
"The swift identification of a concussion is essential to prevention of further injury," she said. "This will really allow us to better detect these injuries earlier and prevent players from returning to play too quickly when their brains may be in a vulnerable state."
According to Shetty, doctors and medical professionals currently only have relatively subjective methods to diagnose concussions.
In addition to the use of neuropsychological testing, "we ask a patient whether they have headache, nausea, dizziness, concentration difficulty or memory problem," Shetty said. "In an ideal world, what we'd like to do is to be able to do a finger prick for example and note that they have an abnormally elevated protein which would allow us to tell them that you should [not] be playing right now, and you should be seeking medical attention."
She said this and other kinds of technology, such as those that can assess abnormal patterns in brainwaves, would help with prognosis of concussions—and with return-to-play decisions.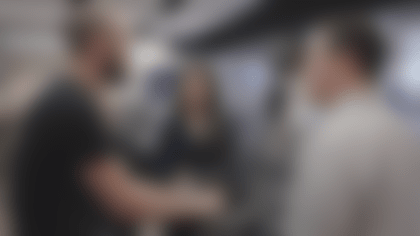 The Forefront of Diagnosis Technology
In 2013, GE and the NFL teamed up to launch the GE-NFL Head Health Initiative, a four-year, $60 million collaboration to accelerate diagnosis and improve treatment for traumatic brain injury.
The initiative's three-part Head Health Challenge open innovation program allocated $20 million for awarding grants to scientists, academics, entrepreneurs and other experts with leading ideas.
Quanterix, a health care technology company, used support from the Head Health Challenge to develop what they hope to be a ground-breaking tool to measure biomarkers in blood.
It's the kind of objective tool Dr. Shetty says could assist medical professionals in identifying the biomarkers, or molecular signatures, of brain injury in blood.
Another company, BrainScope, has developed a new hand-held device that also has the potential to transform front-line care of head injuries.
BrainScope's Ahead 300 headset and smartphone uses "sophisticated algorithms" to analyze patients with head injuries. It's a quick test that is intended to provide "a rapid, objective assessment of the likelihood of the presence of traumatic brain injury (TBI) in patients who present with mild symptoms at the point of care."
It was built in part through grant support from the GE-NFL Head Health Challenge. The U.S. Department of Defense also collaborated on the project.
In September 2016, the U.S. Food and Drug Administration gave the green light to BrainScope to begin marketing the Ahead 300.