The New York Jets have yet to spell out Mike Goodson's fate on the heels of Friday's arrest, but at least one teammate believes the running back could be on his way out of Florham Park.
Fallout from Garrard's departure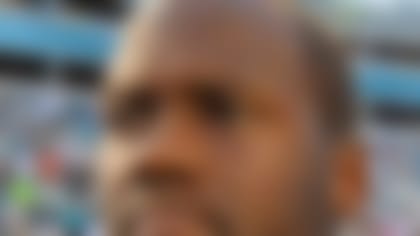 How does David Garrard's exit affect Mark Sanchez? Gregg Rosenthal says it's tougher for the Jets to cut the underachiever. **More ...**
"It's sad. Mike could have been huge for us," Colon said. "He wasn't around a lot, so I didn't really get to see him a lot. For the most part, I was kind of anticipating seeing how he was going to do in OTAs."
Goodson was charged with suspicion of possession of marijuana (less than 50 grams), possession of drug paraphernalia, possession of a loaded handgun, unlawful possession of a handgun and (still with us?) possession of hollow-point bullets after he and another man were discovered possibly intoxicated inside an SUV stopped on Route 80 in Denville.
Goodson has done little to earn a second chance under new general manager John Idzik, but New York is hurting in the backfield. Chris Ivory is a solid pickup, but Bilal Powell and Joe McKnight are role players. The Jets might be willing to keep Goodson around, but even if he sticks, an NFL suspension appears likely.