Kimberly Jones also wrote a great piece making the case that Joe Flacco is simply carrying the Baltimore Ravens in the playoffs. (Can't argue with that.) But does that really make him a top quarterback, or do you need sustained regular-season success?
Brady and Manning nearly had identical votes. I'm shocked Rodgers wasn't higher; he would be the first guy I mentioned. I'm also surprised Flacco nearly cracked the top five. As fans, we are often too focused on wins and losses that are out of a quarterback's control.
There was a huge drop-off after Flacco in the voting. The rest of the list:
Super Debate: Kaepernick or Flacco?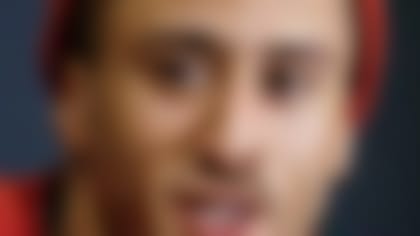 Starting a team from scratch, who do you take: Colin 
Kaepernick or Joe Flacco? Our analysts provide quite a statement. More ...
Yikes. Wilson had a great rookie season, but it's insane that Roethlisberger isn't higher. He might be the most oddly underrated two-time Super Bowl champion quarterback ever. Roethlisberger has been one of the top five quarterbacks in the NFL for a long time, and he's only improved his overall game during his career.