Twenty-nine NFL teams have wrapped up practice for the summer. While the Minnesota Vikings, Tennessee Titans and Atlanta Falcons still have minicamp next week, it's not too early to take stock of where key position battles stand heading into camp.
Let's start with the quarterbacks. We consider only five quarterback jobs up for grabs this offseason, with a sixth situation mentioned below all but decided before the end of "Football in shorts" season.
The release of Tarvaris Jackson helps to clarify this battle. Kevin Kolb took the first snap each day during minicamp, but rookie EJ Manuel got nearly as much time with the starters. Manuel showed rookie mistakes, but improved during the offseason. Training camp will be more telling because both players have questions about how they handle pass pressure.
Kolb remains the slight favorite to start in Week 1, but this one remains wide open.
I wanted to mention the Browns just to point out there really isn't a competition. Brandon Weeden is the man, at least for 2013. He's getting all the first-team reps. It's possible that Brian Hoyer could wind up beating out Jason Campbell for the backup job.
The Jaguars aren't handing this job to Blaine Gabbert. He split reps evenly with Chad Henne, and general manager David Caldwell said waiver pickup Mike Kakfa would even get a chance to start. Gabbert remains the favorite because of his draft pedigree, but there haven't been a lot of puff pieces touting his growth this offseason. That's never a great sign. It really wouldn't shock us if Henne pulled off the upset here.
Mark Sanchez and Geno Smith both had plenty of time with the first team throughout organized team activities and minicamp, although Sanchez rarely took snaps behind the second-team offensive line. Reading between the lines of coaching comments, it sounds like Smith has ground to make up in camp if he's going to start early in the season. Talk that Smith could run a package of read option or Wildcat plays off the bench doesn't help matters. Sanchez looks like a bigger favorite for the job now than he was at the beginning of the offseason.
Debate: Most enticing QB battle?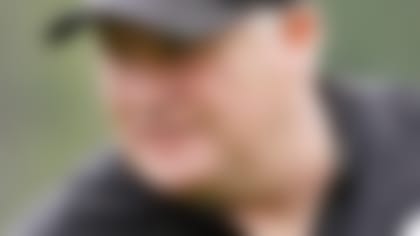 It's Matt Flynn's job until proven otherwise. The Raiders' offseason practices have reportedly looked awful, with the quarterbacks struggling to complete routine plays. Flynn's deep ball has been questioned. (No surprise.) But it appears that Flynn, Terrelle Pryor and rookie Tyler Wilson all have struggled equally. If anyone has fallen behind, it's probably Pryor.
Flynn's hold on the starting job looks very secure.
No matter what Michael Vickwants, Chip Kelly is not going to announce his starting quarterback before training camp commences. The big takeaway from OTAs here is that Nick Foles has a legitimate chance to win this job. Logic and contract details indicate Vick is the favorite, but many onlookers suggested Foles out-played Vick in the offseason sessions. Foles could be taking a big second-year leap like many quarterbacks and he has better athleticism than people believe. Don't be surprised if Kelly holds off on naming a starter until deep into the preseason.