In Amendola, the Patriots hope they are getting another Welker, but one who's four years younger. "The Patriot Way" eschews emotion for cold-blooded transactions, but it sure seems like emotion got in the way of this negotiation. New England was willing to pay Welker $9.5 million last season, before he caught 118 passes, and then it was only willing to pay him $10 million over two years? NFL.com's Ian Rapoport reported that Welker gave the Patriots a chance to make a counteroffer, but they chose not to. It sure seems like there was "mild disdain" from both sides.
Welker's departure will reverberate throughout the AFC for the rest of 2013, but it was only one move on a day full of them. Here's what else we learned Wednesday:
More high-profile departures coming
Bargains already starting
Welker wasn't the only veteran to take a moderately humbling deal Wednesday. Our top-ranked pass rusher, Cliff Avril, accepted a two-year, $15 million contract, according to NFL.com's Albert Breer. It was only a year ago that Avril passed on a three-year, $30 million offer from the Detroit Lions because he believed he was worth more.
Avril might have been right, but that was in the 2012 market. This one is different. The big money dried up quickly, and Avril is coming off a bad year. Welker possibly could have earned more if he accepted a Patriots offer last year, too. There aren't a lot of monster deals left out there like the one safety Dashon Goldson signed Wednesday with the Tampa Bay Buccaneers. It's only going to get more humbling for players.
If the Miami Dolphins were the stars of Day 1, Avril's old team, the Lions, got the most work done on Day 2. They got the best cover safety available in Glover Quin. They got the best passing-down back available in Reggie Bush, who is a perfect fit for Scott Linehan's offense. Defensive lineman Jason Jason adds another pass rusher to their defensive front. And they brought back one of the best cornerbacks on the market, Chris Houston, on a three-year deal.
Lions general manager Martin Mayhew has built up a lot of talent in Detroit. Last year was a disaster, but this is a team that is ready to contend. Wednesday's moves should help.
Cornerbacks still available
Houston is our highest-ranked cornerback to sign thus far, but plenty of big names are left: Nnamdi Asomugha, Aqib Talib, Brent Grimes, Sean Smith and Antoine Winfield. Look for some of those players to start signing in the next two days. Dominique Rodgers-Cromartie had to settle for a one-year contract with the Denver Broncos. These cornerbacks aren't going to get the money they wanted.
Running backs start to move
I like the fit of Bush in Detroit. It's an offense that will make him look good. (Enough with that inside running.) Rashard Mendenhall was a risk worth taking for the Arizona Cardinals. The perplexing move of the day was Shonn Greene's arrival in Tennessee. Seems like $4.5 million guaranteed is a lot for a player who only figured to be a flier if the Titans waited him out. Chris Johnson didn't want competition in the Titans' backfield, and he got his wish.
Instant Debate: Bush vs. Mendenhall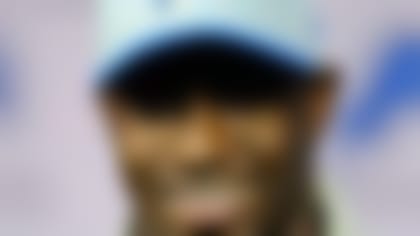 Reggie Bush ( Lions) and Rashard Mendenhall
Gosder Cherilus and Jermon Bushrod landed big-money deals in free agency. Andre Smith and Sebastian Vollmer still are out there. In all, three of my top 10 players overall remain available. That includes wide receiver Greg Jennings. Rapoport said Jennings is more likely to return to Green Bay the longer he remains a free agent. Smith and Vollmer also are more likely to return to their teams the longer this drags out.
In all, 31 of the top 85 free agents are accounted for. Eleven signed Wednesday, and we got a new member of the list when the Pittsburgh Steelers cut guard Willie Colon.
The feverish pace and the fireworks of Day 1 are over, but there are a lot of big signings like Jake Long still to come. Steady deals will keep coming into the weekend. Now is when the smarter teams usually start to jump into the fray.