CANTON, Ohio -- "It's borderline overwhelming. ... It's almost like a consistent sense of awe."
That was Curtis Martin's take on being part of the Pro Football Hall of Fame's 50th anniversary celebration and group photo. Martin was speaking for so many of his Hall of Fame teammates, but he could have been speaking for me.
It's surreal to watch scores of Hall of Famers walk past in gold jackets, leaving their hotel rooms on their way to boarding a bus. The former players love being here so much that it feels like an intrusion to be a witness. There are 121 Hall of Famers in Canton this weekend, the biggest collection of all-time greats in one place at the same time.
Here are a few things I learned from them Friday:
It took one question and 10 seconds before longtime Minnesota Vikings wide receiver Cris Carter had to pause and collect his emotions. Carter will be the final speaker Saturday night, and his speech will include a lot of tears. Carter reflected Friday on the day he gave up alcohol:
"That day, September 19, 1990, when I stopped drinking, that life choice I made on that day is the most significant thing to getting here," Carter said.
He had to stop for a full minute as he cried after beginning to talk about his counselor who helped him through his personal struggles, repeatedly apologizing to the media.
"I just started on that day trying not to have a drink for one week. ... And here I am, August 1, 2013, and I still haven't had that drink. And I could have ended doing so many different things than what I am right now," Carter said before sobbing again. "Oh my gosh, I'm so sorry. Man."
There was nothing to apologize for: Seeing how much this moment meant to Carter is what makes this weekend special.
Bill Parcells told a story about calling Carter when the Philadelphia Eagles placed the wide receiver on waivers. "The Big Tuna" asked Carter how fast he could make it up to New York to play for the Giants. Carter said two hours, and drove up. But the Vikings claimed Carter too and the rest is history.
I asked Carter what defined his game: "I catch the ball. You throw the ball, I catch it. You throw it close to me, I catch it. If you make me do something crazy to catch, I still catch it."
Baltimore Ravens offensive tackle Jonathan Ogden is excited about speaking first on Saturday night. Don't expect a long speech for him or veteran's committee choice Curley Culp.
"It's like taking a Band-Aid off real quick," Ogden said. "Just get it over with. I'm not the type of guy that wants to talk about myself."
Parcells spoke about considering the New Orleans Saints' interim head-coaching position last year. He didn't take the job in part because he "bets" there was one or two people within the organization who didn't want him there.
Football lifer Gil Brandt has watched the Hall of Fame grow with the game. Check out 50 of his favorite Hall memories. **More ...**
"Its going to be hard enough. You don't want to be fighting City Hall," Parcells said.
Parcells spoke about his love for rebuilding projects, which I found fascinating:
"I hate routine. I really do, even it's a successful routine, I don't like it. I'm just a little ... impatient for the next challenge. That grew as I went along. It did. I can't say that's a great quality," Parcells said.
This was a kinder, gentler Parcells. He was reflective, but wasn't afraid to bust the chops of a reporter who stumbled over a question.
"You need to get your facts straight," he said.
Parcells said he spoke more with Joe Gibbs on Friday than he ever had in his life.
"You learn to respect your enemies, but you execute all traitors," Parcells said. "That's how it was with Joe. You learn to respect your enemies."
Debate: Biggest Hall of Fame snub?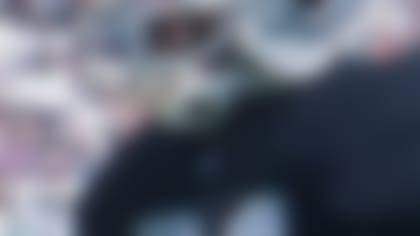 There are seven new Hall of Famers, but what about those left out in the cold. Our analysts campaign for Tim 
Brown and others. **More ...**
Martin said he'll remember Parcells' quips more than anything. Martin recalled Parcells missing a practice for a funeral. When the coach returned the next day, Parcells told fullback Jerald Sowell that he watched the tape of practice and Sowell could have started practice with two eggs on his helmet and they still would have been there when practice ended.
"I always say, words from the heart go to the heart," Martin said.
In a star-filled room, Warren Sapp commanded the most attention and drew the most laughter. Sapp had an on-and-off relationship with the Tampa press, but he had them rolling Friday.
Harrison: The All-Hall Team
To celebrate the Pro Football Hall of Fame turning 50, Elliot Harrison picks a team made up of Canton's finest inductees. **More ...**
Longtime Dallas Cowboys guard Larry Allen was concise with his words, but effective. He was asked why he once hit Cowboys kicker Jose Cortez upside the head after a missed kick in Week 3 of the 2005 season in San Francisco.
"We were out in California for about three weeks," Allen said. "We had a long drive and he missed the extra point. I just couldn't take it anymore."
I'll have more from the entire 2013 class throughout the weekend, including many of them choosing their signature play. Allen's answer was particularly cool.