EAST RUTHERFORD, N.J. -- The New York Jets gave embattled right tackle Wayne Hunter a much-needed day off from practice.
Hunter attended meetings Tuesday at the team's facility in Florham Park, N.J., but was excused from practice later in the day at MetLife Stadium on "Family Night" for what the Jets called a "personal reason." Coach Rex Ryan said he spoke to Hunter earlier in the day, but wouldn't elaborate on what they talked about.
Schein: Why Rex will get a ring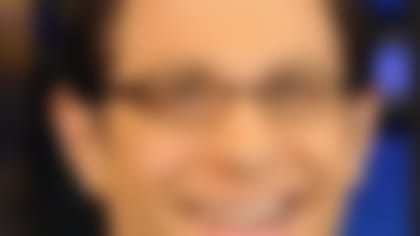 "It was a personal thing and that's the way it'll remain," Ryan said. "And, it was excused."
When asked if he was worried about the potential reaction the crowd of 2,500 would have to Hunter at the practice, Ryan quickly responded: "No, I wasn't."
Ryan expected Hunter to be back at practice Wednesday at the team's facility, and added that the right tackle will play with the first-team offensive line against Carolina on Sunday night.
Linebacker Calvin Pace also missed practice to have a wisdom tooth removed, but was also expected back Wednesday.
On Monday, Ryan wouldn't commit to Hunter being the starting right tackle for the regular-season opener against Buffalo after the offensive lineman had a lousy performance in the Jets' 26-3 loss to the Giants on Saturday night. He played a part in three sacks of Mark Sanchez, and there would've been a fourth if it hadn't been negated by a penalty.
"At this time, people are looking to move a player or this player," Ryan said, "but right now to say that we are in the market for a starting right tackle - I don't believe that to be an accurate statement."
The offensive line has taken its share of heat over the last year, particularly after Sanchez was sacked 39 times last season. With a shaky start this preseason, Hunter has shouldered a lot of the criticism.
"We all struggle at times," center Nick Mangold said. "Wayne is a heck of a fighter and he'll keep on fighting. We're expecting big things out of him."
Copyright 2012 by The Associated Press